Written by Staff on July 1, 2018 – 2:08 pm -
Ray Reese is interviewed by Matt Fouch on this latest episode of On the Couch with Fouch
When you think of male quartets in Southern gospel music, for several decades, one name always comes to mind and that name is the Kingsmen Quartet.
This month I have the privilege to share my interview with their bass singer, Ray Reese. Ray has been the bass singer for the Kingsmen for over 50 years!. That is an amazing accomplishment.
In this episode you will hear some amazing history on the Kingsmen and get to know Ray a little more personally.
Sit back, relax, grab a cup of coffee and enjoy this interview with the Dean of bass singer, Ray Dean Reese.
Read the June 2018 SGNScoops Magazine HERE.
Find SGNScoops Magazine On Facebook HERE
Download The PDF Version Of SGNScoops June 2018 Magazine HERE
Listen To The Best In Todays Gospel Music Online HERE
Tags:
gospel music
,
Kingsmen
,
Matt Fouch
,
On the Couch With Fouch
,
Ray Dean Reese
,
Ray Reese
Posted in
announcements
,
artists
|
Comments Off

on Ray Reese is On the Couch with Fouch
Written by Staff on August 18, 2015 – 9:09 am -
Few groups in any genre of music have been able to enjoy such a longstanding presence in their industry as The Kingsmen Quartet. Since their beginning in 1956, this beloved group of singers has continued to bring us songs of hope for the Christian life. Their quartet harmonies have provided a constant soundtrack for decades in a world that is continually changing. Listeners have enjoyed their Southern Gospel style, their incredible musical talent, and their powerful testimonies for almost 60 years.
If you ask any member of this much-loved quartet what their secret is for remaining such a strong influence in Gospel music, they will tell you that there is actually no secret at all – The Kingsmen Quartet is simply following the call that God has placed on their hearts to minister for Him through song, and He is doing the rest!
Started by the three McKinney brothers in the hills of North Carolina, The Kingsmen would go on to steadily gain a large following in Christian music. Many renowned artists have been blessed to call The Kingsmen home for a time. Such artists include Eldridge Fox, Big Jim Hamill, Squire Parsons, Johnny Parrack, Anthony Burger, Ernie Phillips, Ed Crawford and Gary Sheppard. The group has received numerous awards, including Dove awards, Hall of Fame awards, and Singing News awards.
The Kingsmen have five members past and present in the Southern Gospel Music Hall of Fame, which are Eldridge Fox, Jim Hamill, Anthony Burger, Squire Parsons, and Ray Dean Reese. The group is also in the Gospel Music Hall of Fame and the Christian Music Hall of Fame. The Kingsmen Quartet currently consists of Ray Dean Reese, Brandon Reese, Bob Sellers, Chris Jenkins, and Randy Crawford. Read more »
Tags:
Bob Sellers
,
Brandon Reese
,
Chris Jenkins
,
gospel music
,
Paige Givens
,
Quartet Music
,
Randy Crawford
,
Ray Dean Reese
,
sgn scoops
,
southern gospel
,
The Kingsmen
Posted in
artists
,
christian entertainment
,
Christian interest
,
sgn scoops magazine
|
Comments Off

on The Kingsmen Quartet: Decades of Following the Call
Written by Staff on November 18, 2014 – 12:53 pm -
Today's Southern Gospel music is a range from traditional quartets to country-styled family groups to edgy trios and everything in between. The shift can be heard as radio deejays play an early Statesmen record followed by The Booth Brothers and then perhaps an Isaacs' song. One group that has survived this evolution of sound is The Kingsmen and they have done it with flare, winning Dove Awards, being nominated for Grammy Awards and becoming members of the Gospel Music Hall of Fame. The Kingsmen came on strong in the '70's and '80's with several live albums, showing that they were the best in live performances that engaged the audience.   Now they are back with a new live album, demonstrating that the Kingsmen of today are still the masters of live quartet performance. [Editor's note: Feature first published in July 2013 in SGN Scoops.]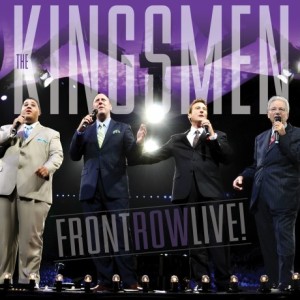 Front Row Live showcases the best of the current Kingsmen lineup, including Bob Sellers, Chris Jenkins, Randy Crawford and the patriarch of the group, Ray Dean Reese still belting out a powerful bass. Ray's son Brandon, who serves as the drummer and bandleader whenever the group appears with a live band, handles their live sound and co-produced this recording. The recording was made during the 2012 National Quartet Convention and highlights some older favorites like "Traveling Home" to newer ones like "He's Everything I Need", a number one song and song of the year nominee from their 2010 recording, Grace Says. The Kingsmen's current radio single off the live recording is "Land Of The Free", written by Phil Cross, a patriotic anthem that is garnering a lot of airplay.
Live Kingsmen albums have always had their own place in Southern Gospel history and Front Row Live is long overdue. Brandon Reese says, "I think people have wanted a great live recording from the Kingsmen for a long time and the best way to give them that live Kingsmen sound is to mix some old and some new music that everyone will love."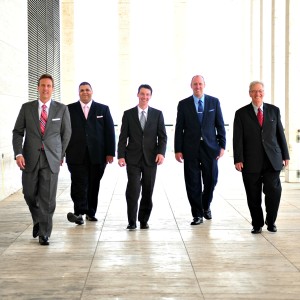 Kingsmen fans know that the group's sound is still much the same as it was when the group became known as the Ton of Fun in the 1970's, and baritone Randy Crawford says that is not just by chance. "The Kingsmen have always been filled with excitement," says Crawford, "Excitement for the music and the message.  The reason the style has changed so little over the years is because it works!  You find a formula and stick with it.  Each group must find its own style and sound to really set themselves apart.  The Kingsmen established theirs in 1973 with Big and Live and have never looked back.  Because of the excitement in the music and message it continues to ring with old and young listeners alike."
Ray Dean Reese explains that the reason the music still clicks with so many is a mixture of several ingredients. "The Kingsmen have a 57-year heritage of spreading the Gospel," says Reese. "We have always tried to keep the presentation of the message of the Gospel as a priority, down through the years. As for our sound, we try to stay in touch with what the people want to hear and would open their hearts to the message of Jesus. We have been blessed to have talented singers through the years who have each added their particular gifts to the mix."
Tags:
Bob Sellers
,
Brandon Reese
,
Chris Jenkins
,
Christian Music
,
gospel music
,
Lorraine Walker
,
Randy Crawford
,
Ray Dean Reese
,
sgn scoops
,
southern gospel
,
The Kingsmen
Posted in
announcements
,
artists
,
sgn scoops magazine
|
Comments Off

on The Kingsmen: Alive and Well
Written by Staff on February 6, 2014 – 2:36 pm -
[Editor's note: First published April 2013 on SGM Radio website. Written by Lorraine Walker. See information below.]
Gospel Music Association's Hall of Fame members. Dove award winners. Grammy nominated artists. After over five decades of quartet singing, The Kingsmen seem indefatigable, regardless of health issues and personnel changes. Their strong traditional harmonies, powerhouse ballads and convention-style upbeat songs engage their audiences from coast to coast, with each Kingsmen vocalist giving it their all night after night. Member Bob Sellers talks to SGM Radio about his Kingmen adventure, going 'in-depth' as we discuss his co-workers, his family and his personal walk with the Lord.
Bob Sellers is one of the most positive, optimistic quartet men in Southern Gospel. From Facebook to Twitter, his conversations with fans are personal, funny and transparent. Sellers is obviously a people-person and this overflows into his workplace, the bus and the stage of a full-time gospel group. He talks about the latest news from the Kingsmen.
"Well, the best news is that Ray Dean Reese is doing great after having had his prostrate removed almost a year and a half ago due to cancer," Sellers begins. "The current lineup will have soon been together for a complete year. The environment on the bus is great.  We really are best friends on and off stage. Musically, we have really jelled as a group.  By that, I mean we have learned each others' nuances as far as phrasing, who's going where and when vocally, how to feed off each other on stage, etc., and since those things are instinctive now and we no longer have to constantly focus on them, we are better able to minister and present our music as a single unit."
The Kingsmen's latest recording, Once Again, is a compilation of past Kingsmen songs. With so many great hits in the group archives, Sellers finds it hard to name his favorite. "God has blessed this group through this years with some of the greatest songs in all of gospel music," says Sellers. "We still perform many of the classic hits like 'Glory Road,' 'Saints Will Rise,' 'I Will Rise Up From My Grave,' 'Old Ship of Zion,' and so many more. That's the music I grew up listening to and those songs and the voices behind them are what hooked me on what I believe is the greatest music on earth. To now be performing those songs with my favorite group is just an honor and a dream come true."
"It is really hard to pinpoint one favorite but 'Look For Me At Jesus' Feet' is definitely high on the list, because it was one of my grandfather's favorite songs and those who know anything about me know how great of an impact he had on my life, not only as a role model but as my pastor," Sellers shares. "Granddaddy has gone on to Heaven now and my grandmother joined him there just this past year, so every time I sing that song I think of them both. I envision the two of them experiencing the message in that song every time we sing it, and I think of myself falling at Jesus' feet one day. What a reunion that will be for all of God's children! What an awesome promise we have! That should put a smile on all our faces, no matter what else is going on in our lives." Read more »
Tags:
Bob Sellers
,
Brandon Reese
,
Chris Jenkins
,
Christian Music
,
gospel music
,
Quartet Music
,
Ray Dean Reese
,
southern gospel
,
The Kingsmen
Posted in
announcements
,
artists
|
Comments Off

on In Depth With: Bob Sellers of The Kingsmen
Written by SGN Scoops Staff on August 10, 2013 – 8:44 am -
Signal Mountain, TN,  This week's Harmony Road TV program features special guest co-host Ray Dean Reese of the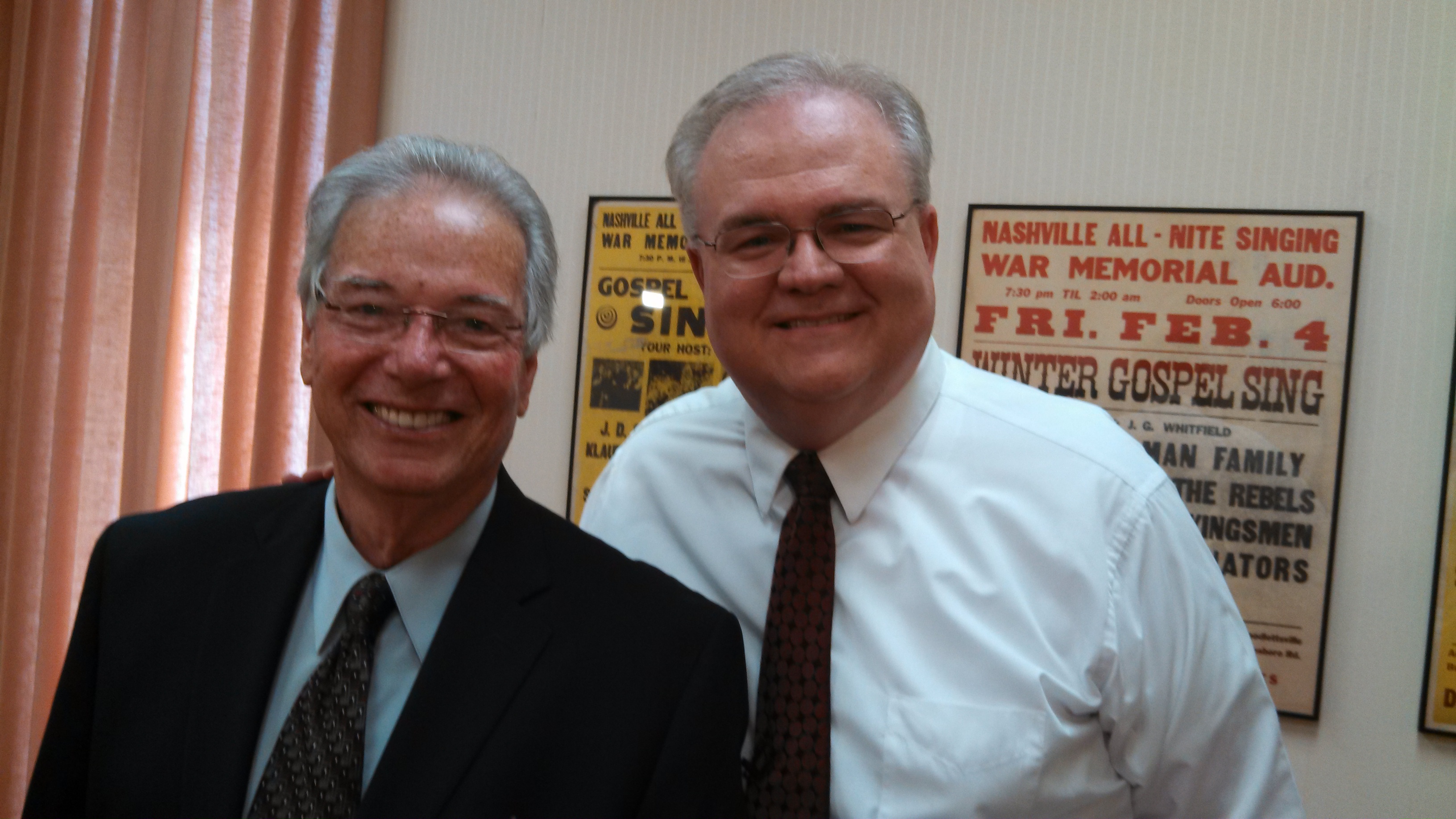 Kingsmen Quartet.  This special all quartet program also features music from Gold City, The Kingsmen, Brian Free
and Assurance and a special Cathedrals Tribute featuring former members of the group. The program originates from the James D. Vaughan Museum in Lawrenceburg, TN during the recent James D. Vaughan Gospel Quartet Festival.
Hosted by Singing News Publisher and Solid Gospel Radio host, Les Butler, Harmony Road is aired every Sunday morning at 8 Eastern on TNN/The Nashville Network.  For affiliates, go to www.watchtnn.com.  You can also find the program on WATC-TV57 in Atlanta every Saturday afternoon at 2 Eastern.  The program is streamed online at www.watc.tv.  Other stations and outlets include theWALKtv, Saturday evenings at 7:30 Eastern (streamed online on ROKU), WMJNtv29 Saturday evenings and streamed at www.wmjn29.com, and more.  Detailed info at www.harmonyroadtv.com.
Harmony Road is a thirty minute program, taking Southern Gospel music into tens of millions of homes across the country every week.  Rounding out the Harmony Road broadcast team is pianist Cody McVey.  Other team members include  Allan Rhodes, technical director and Roger Spears, producer. For advertising, sponsorship information and video submissions email roger@harmonyroadtv.com
Tags:
brian free and assurance
,
Cody McVey
,
gold city
,
Harmony Road TV
,
James D. Vaughan Museum
,
Ray Dean Reese
,
singing news
,
The Kingsmen
,
The Nashville Network
Posted in
announcements
|
Comments Off

on Harmony Road TV Special Features All Quartet Videos And Guest Co-Host Ray Reese
Written by SGN Scoops Staff on November 16, 2011 – 3:12 pm -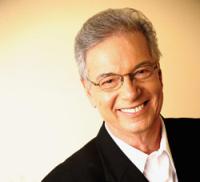 Tuesday, November 15, 2011-Brandon Reese, manager of the Kingsmen Quartet reports that two weeks post-surgery for prostate cancer, Ray Dean Reese is recovering and gaining strength on a daily basis. And that is exceptionally good news because he is going to be a grandfather again in the very near future!
Brandon and his wife, Shannon are happy to announce that they are expecting a baby girl, already named Ava Bentley Reese, in the next several weeks.
Tags:
Faith
,
Kingsmen Quartet
,
Ray Dean Reese
,
Southern Gospel Music
,
Southern Gospel News
Posted in
announcements
,
christian entertainment
|
Comments Off

on GOOD NEWS FROM THE KINGSMEN!
Written by SGN Scoops Staff on November 2, 2011 – 5:13 pm -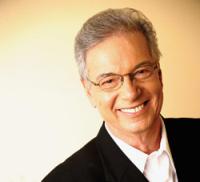 Brandon Reese, manager of the Kingsmen has reported the good news that  Ray Dean Reese, bass singer and owner, had surgery last Wednesday,  October 26, related to his recent diagnosis of prostate cancer. While
the surgery was successful, Ray's physicians feel that additional
treatment would be beneficial due to lymph node involvement. This
further treatment will begin in several weeks in order to give him some
recovery time. Ray spent the week following the surgery at home resting
and would like to thank everyone for their prayers and ask that you
continue to remember him as he finishes the suggested protocol.
Tags:
Brandon Reese
,
Kingsmen
,
Ray Dean Reese
,
Southern Gospel Music
,
Southern Gospel News
Posted in
announcements
,
breaking news
|
Comments Off

on News On Ray Dean Reese