Written by Staff on February 8, 2020 – 2:44 pm -
For this edition of Beyond the Song, I  caught up with Rodney Griffin and talked about his writing career. Rodney has been selected as "Best Songwriter" many times, by many award programs.
Jantina Baksteen: What was your first song that you wrote? At what age?
Rodney Griffin: It was a non-recorded song, not very good: "When Will We  Care," written in 1989 at 23 years old.
JB: When did you feel the calling to be a songwriter?
RG:1989, I was working at Newport News Shipbuilding in Newport News, Virginia.  Song ideas would come to me during the day and I would write them down during lunch break.
JB: Is there a song you wish you had written?
RG: Oh yes, several…but I really don't think about that.  I'm just grateful for the ones God has allowed me to write. Anytime I hear a congregation sing a hymn, I think about how meaningful that would be to those songwriters if they were still living.
JB: Which song, of all you have written, do you think has the most important message for people to hear?

RG: I wrote "Faces" to encourage those who never get credit for their Christian work while here on earth. What I didn't know is how many people would come to me and tell me that the song put them under conviction for not doing enough for the Lord.  That is the most important message I could write about…encouraging people to witness for the Lord.

JB: What works for you, writing the lyrics first or the melody first, or both at the same time?

RG: The initial idea usually lends itself to a musical meter..fast or slow. Then, I work them both at the same time until I feel the song is the best it can be. The best advice for young writers is to concentrate more on the structure of great songs that have stood the test of time, over studying your songs. Ask yourself: "Why is this song great and why do people love singing this song?"  I usually find that it's a simple, but profound, lyric that sings well. Those are the songs that seem to stick.

JB: Who do you wish you had written a song with that is no longer here?
RG: I would love to have had the chance to have written with Dottie Rambo…unbelievably gifted writer, for sure!

JB: What's your favorite song you have written?
RG: I used to say "The Spirit Of Brokenness," because of its message of humility, but these days, I say "Faces" is my favorite. Seems it's being used by a special "pastor appreciation" or "missionary appreciation" service every week somewhere.  I believe it will be around for a long time. 
JB: What is the fastest you wrote an entire song?
RG: I remember my first cut was with the Dixie Melody Boys, "I Have A New Song To Sing," back when I sang with them in 1992. I wrote that song in my pickup truck in about 10 minutes. When you hear the song, it's obvious (as it is) really simple.

JB: Do others ask you for advice for songs they have written?
RG: Always. Yes, I receive songs every week from songwriters who are asking for advice. I'm honored and certainly don't feel like the "go to" writer or anything like that. I'm just like them, trying to hone my craft and be the best I'm capable of.
JB: What if you were were not able to be a singer or a songwriter, what would you have done?
RG: My degree is in Biology with a lot of horticulture classes. I enjoy landscape design and installation as well as forestry. I guess that's why I enjoy four-wheeling through the woods when I get a chance to on a day off.

Thank you, Rodney, for your time sharing your gift to the readers of SGNScoops. Your songs will touch many 'Faces' you might never meet.

Tags:
Beyond the Song
,
gospel music
,
Greater Vision
,
Rodney Griffin
,
Southern Gospel Music
Posted in
artists
,
Beyond the Song
|
Comments Off

on Beyond the Song with Rodney Griffin of Greater Vision
Written by Staff on December 1, 2019 – 10:30 am -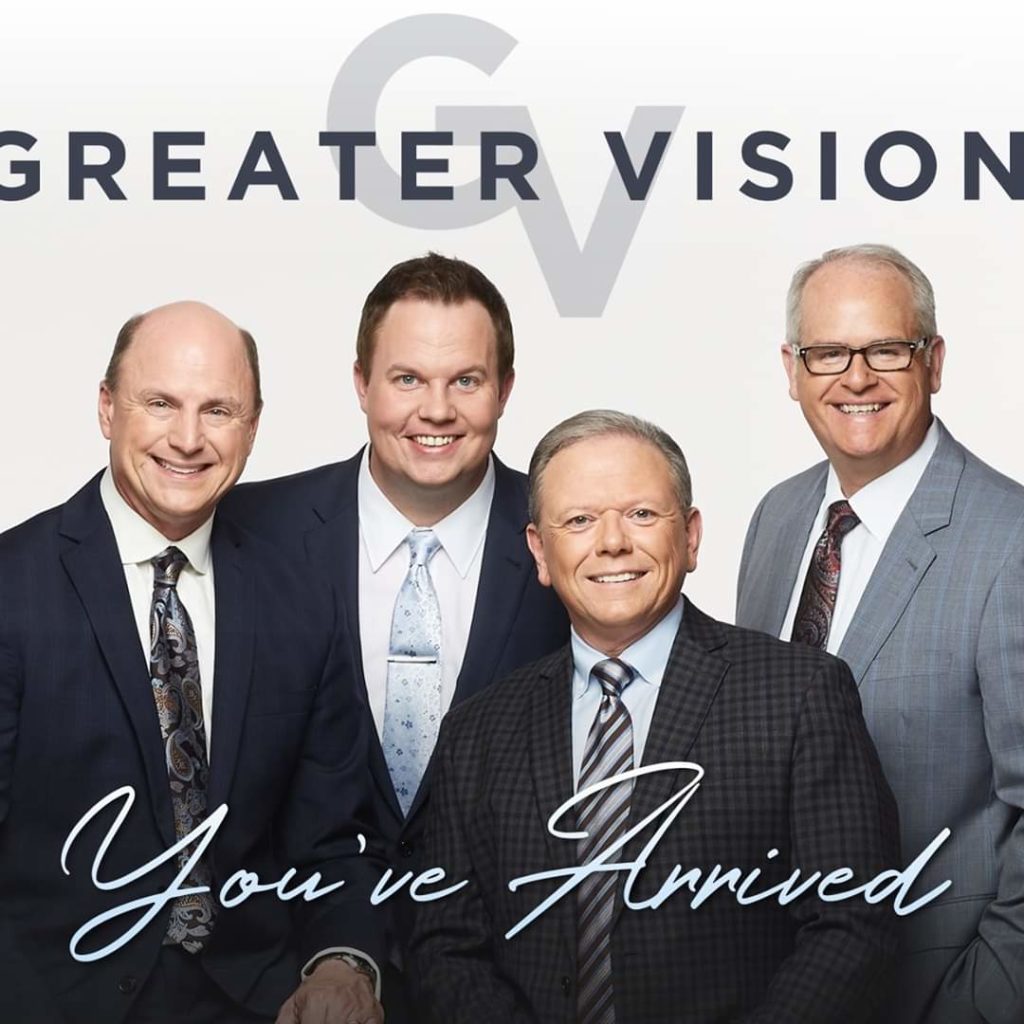 Beyond the Song: Greater Vision sings "You've Arrived," interview by Jantina Baksteen
I caught up with Gerald Wolfe of Greater Vision for this interview for Beyond The Song.
Group members of Greater Vision include: Gerald Wolfe, Rodney Griffin, Chris Allman, and Jon Epley.
Jantina Baksteen: December of this year, you celebrate 29 years of Greater Vision! What was your greater vision when the group was formed in 1990?
Gerald Wolfe: I wouldn't say we had some sort of epiphany, but I would say we had a strong desire to put a group together that would focus on strong lyrics that would convey a clear message, good arrangements that would be interesting to listen to, and that would convey the message of the lyric to the listener.  We also wanted to have a group that would compliment a church service, as well as be entertaining enough to be effective on a concert platform. Looking back, it's easy to see how the Lord guided those early steps that set us on the right course.
JB: To me, you are my Southern gospel music hero. What exactly is your definition of Southern gospel music?
GW: Thank you so much! You're very kind. Your question is one I've been seriously asking for a couple of years now. I was listening to gospel music, and going to concerts, before "Southern Gospel" existed, as a term or genre label. To me, what we do has always been "Gospel Music."  If an unchurched person asks me what I do, I tell them I'm involved in Christian music. Usually, they will have some sort of concept about what that is, but I'm not certain "Southern Gospel" has ever been an effective term to describe the kind of music we do, to someone who has never been exposed to it. These days, our genre of music encompasses such a wide variety of musical styles, I'm really not sure "Southern Gospel" is an adequately descriptive term anymore, even among people who might have an idea of what they think it is. The definition seems to depend on the personal tastes of the person describing it. So… the short answer to your question is, I don't really know what Southern Gospel is. I just know what I like, personally, and I call it Gospel.
JB: How would you describe the music Greater Vision is singing now?
GW: I've always called it "Gospel Music," "Christian Music," or "Church Music."  Overall, our basic style and sound hasn't changed over the last 29 years. However, we've never been afraid to stretch and challenge ourselves, musically. So, in that respect, we do a lot of different varieties of musical styles, within the confines of keeping the "Greater Vision sound" we've become known for, and that our listeners expect. People will usually go with you on a little musical journey, as long as you bring them back "home."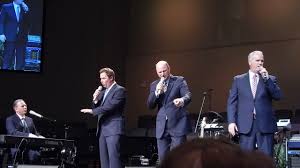 JB: You had to step down from singing and Jon Epley has taken your position. Has this changed the dynamic?
GW: I actually think bringing Jon onboard has actually broadened our dynamic, and allowed us to do some things we hadn't been able to do before, especially in our concerts. Jon's voice is easy to blend with, and he has a great ear, so he quickly adapted to our sound; and on recordings, most people can't tell the difference between the old Greater Vision, and the new GV.  He's been a great addition.
JB: Do you miss singing? If the crowd asks you, will you step up and sing?
GW: I can't say I miss singing, since I still do sing when I feel good, or when someone makes a special request for something I can still do.
JB: I enjoy the radio release of the same titled album, "You've Arrived." How did this song come together?
GW: "You've Arrived" was sent to us by Rick Shelton, at Daywind Publishing. It was written by Kenna Turner West, Sue Smith, and Marcia Henry. The first time we heard it, we knew it would make a great opener for the album, but a couple of lines needed to be changed to make it work. The writers graciously agreed to make the changes we suggested, and now we sing it every time we walk onto the platform.
JB: Who orchestrates your music since your long-time friend is home with the Greatest Orchestrator?
GW: Since my long-time friend, Lari Goss, passed away, we've worked with two young arrangers: Trey Ivey and Cody McVey, and well-known arranger, Steve Mauldin. It's been an interesting journey, having worked with Lari for so long. I first worked with him in the studio in 1981, and there are still days I cry when I listen to some of beautiful work he did for so long. He was a friend and a hero, and there'll never be another Lari Goss. Thankfully, The Lord is still raising up gifted people to help create arrangements that will lift the songs from paper and deliver them to the heart of the listener.  On our new CD, Trey Ivey did all the arrangements.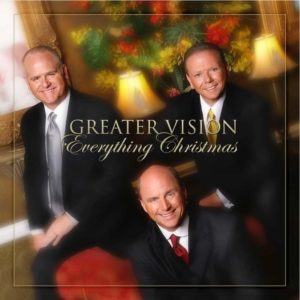 JB: Even before summer time starts, you start talking about Christmas. For you, what makes the best Christmas?
GW: There's nothing better than listening to Christmas music when it's 90F degrees outside! For me, there's never a wrong time to talk about Christmas. Since we call it "the most wonderful time of the year," why should we limit it to four weeks, between Thanksgiving and December 25? I prefer having "the most wonderful time of the year" all year long!  Seriously, when we think about the real gift of Christmas, and what it really meant for God to come to earth as a baby, we should be overwhelmed, whether it's in July, September, December, or February.  So, the best Christmas for me, is whenever I think about it!  Merry CHRISTmas!
JB: Who has the most jokes /funny stories when you are on the road?
GW: I'd say it's a close tie. When we get on the bus for a trip, everybody usually has at least one funny story about something that happened while we were at home. Anybody who's traveled with us for a weekend will tell you the laughs start when we get up in the morning, and usually continue until the last light is turned out at night.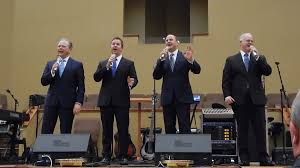 JB: I know you like to drive. Do you make the most miles behind the wheel?

GW: All of us share the driving responsibilities on the road. Everybody on the bus has a Commercial Driver License (CDL) and we have to remain in compliance with current DOT regulations for buses. We drive 250-mile shifts, and driving is something I really enjoy, unless I happen to end up with the 2:00 p.m. 'til 6:00 am shift, when we have an all-night drive on the schedule. I don't think anyone enjoys that!
JB: What is your favorite quote to share?
GW: I love good quotes. One of my favorite is,  "Obey God, and leave all the consequences to Him." (Dr. Charles Stanley).
JB: Thank you, Gerald, for giving us a little insight into Greater Vision. May God continue to bless your ministry, that wherever the bus stops to share your music, the words sung and the words spoken won't return empty. 
Please enjoy this video preview of Greater Vision singing the songs from "You've Arrived!"
Read more Gospel Music News in the latest SGNScoops Magazine Online HERE.
Download The SGNScoops Magazine PDF
Here
Find SGNScoops Magazine On Facebook
Here
Listen To Gospel Music
Here
Tags:
Beyond the Song
,
Chris Allman
,
Christian Music
,
Gerald Wolfe
,
gospel music
,
Greater Vision
,
Jon Epley
,
Rodney Griffin
,
Southern Gospel Music
Posted in
announcements
,
Beyond the Song
|
Comments Off

on Beyond the Song: Greater Vision sings "You've Arrived"
Written by Staff on May 11, 2019 – 5:45 pm -
Jantina de Haan brings us another Beyond the Song look at a tune by Day Three, entitled, "I Fail, But I'm Not A Failure," written by Rodney Griffin and Joseph Habadank. This song can be found on their recording, "Just Sing."
Please talk to us about "I Fail, But I'm Not a Failure." Why did you include this in your latest recording?
This is one of our most requested songs. We chose this because we could each identify with the lyrics. I think we have all come to a place in life where we feel like we've failed the Lord. This song is a constant reminder that God is always near, and He still saves, He still picks us up when we are down. He still forgives and most importantly, He forgets. No matter what you're going through today, you're not a failure in God's eyes.
Day Three is from Mobile, Alabama, and is made up of Scott Washam, Amy Dunnam, and Bo Sullivan. They have been singing since 2014 and have made a mark in gospel music for their tight harmony and warm presentation.
We hope you enjoy this song as performed by Day Three. Producer Jonathan Goodwin, Redemption World Records.
Released on June 4, 2017.
Download the latest edition of SGNScoops Magazine 
HERE
Tags:
Christian
,
Day Three
,
gospel music
,
I'm Not A Failure
,
Jesus Christ
,
Joseph Habedank
,
Rodney Griffin
,
Southern Gospel Music
Posted in
artists
,
Beyond the Song
|
Comments Off

on Beyond the Song: Day Three sing "I Fail, But I'm Not A Failure"
Written by Staff on January 30, 2019 – 10:29 am -
Rock Hill, S.C. (JANUARY 30, 2019) – Andrew Brunet and Friends is celebrating recent growth as the radio show now is a nationally syndicated show, reaching millions of listeners across the nation with the sound of Southern gospel music.
"Our goal is to reach the lost and dying souls in the world with the message of hope and encouragement, to share that no matter what trial they face, Christ is with them and will supply their needs according to His riches in glory," shared Andrew Brunet.

It all began in 2014 with a vision to share encouragement and to carry the light of Jesus in a lost and dying world.

Andrew said, "I started listening to gospel music by the Inspirations and the Gaither Homecoming Hour, among others, when I was 14 years old. I knew that this was the industry I wanted to become a part of. God put me in touch with a special friend in Alabama over at WZCT, Rejeana Leeth, who was willing to give this boy a shot at trying to spin the best of gospel music and the rest is history."
Major artists such as Gordon Mote, Rodney Griffin of Greater Vision, Les Butler, Charlotte Ritchie, Bradley Walker and Buddy Liles have made appearances on the show, and there is a strong lineup of artists on the calendar for 2019.
Artists wishing to schedule an appearance can call Andrew Brunet directly at (803) 374-4069 or send an email to abrunetandfriends@gmail.com
Listeners can tune in Monday through Friday from 10am to Noon on www.bikertv.org to watch the broadcast live online or can tune in to the radio broadcasts listed below:
Saturdays: 7:00 a.m. (PST) – RacMan Christian Radio
Sundays: 10:00 a.m. (CST) – WLDX – The River; 1:00 p.m. (EST) – AM 760 WCIS; 4:00 p.m. (EST) – Notespire Radio; 7:00 p.m. (EST) – Star99 Radio
Mondays: 4:00 p.m. (EST) – Appalachian Gospel Radio
Wednesdays: 6:00 p.m. (EST) – RacMan Christian Radio; 8:00 p.m. (EST) – WBNI Radio
For more Gospel Music news Read the latest issue of the SGNScoops Magazine HERE.
Download SGNScoops Magazine PDF 
Here
Find SGNScoops Magazine On Facebook 
Here
Listen To Today's Gospel Music 
Here
Tags:
Andrew Brunet
,
Andrew Brunet and Friends
,
Bradley Walker
,
Charlotte Ritchie
,
gordon mote
,
gospel music
,
Greater Vision
,
Les Butler
,
Rodney Griffin
,
southern gospel
Posted in
announcements
,
artists
|
Comments Off

on ANDREW BRUNET AND FRIENDS BECOMES NATIONALLY SYNDICATED
Written by scoopsnews on December 28, 2015 – 12:20 pm -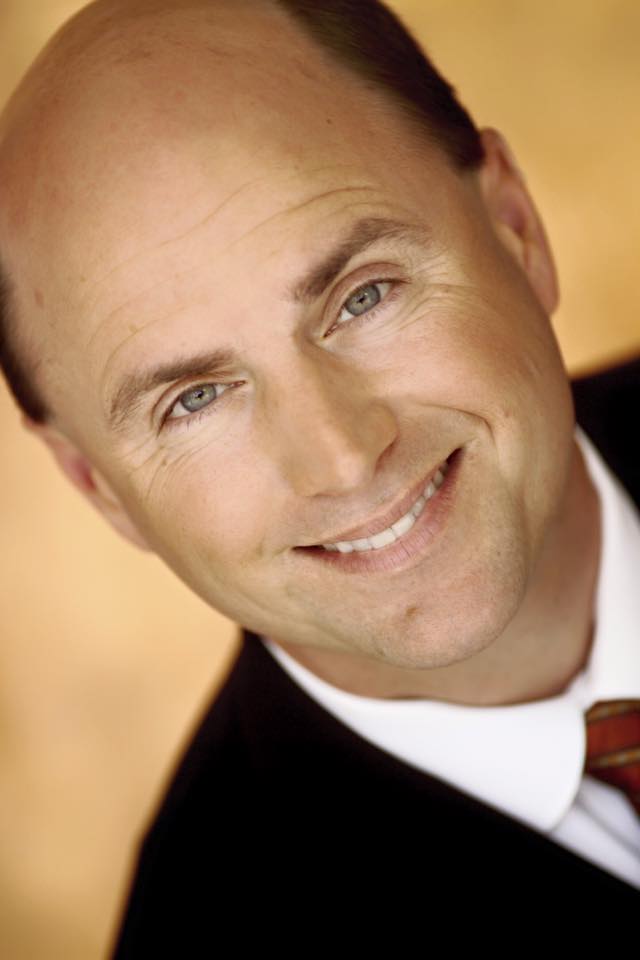 Congratulations Rodney Griffin. Today marks 22 years that Rodney has been with Greater Vision.  Griffin has been named favorite songwriter in the Singing News Fan Awards every year from 1998 to 2014. He was also named Favorite Baritone in 2006. Many of his songs, including My Name is Lazarus (1999), Just One More Soul (2000), Just Ask (2003), Faces (2005), and Preacher Tell Me Like It Is (2014) have won Favorite Song. In 2014, at the Singing News Fan Awards Greater Vision received Favorite Song Award for, as Wolfe calls it "Our Preacher Song," entitled Preacher Tell Me Like It Is written by Griffin.
Griffin joined Greater Vision to replace baritone Mark Trammell, who left the trio in 1993. Besides being a talented singer, Griffin began writing many of Greater Vision's songs including the hits He'd Still Been God, Common Garments, Faces, A Pile of Crowns, Just One More Soul, and My Name is Lazarus. Griffin has also written songs performed by other groups, including Don't Let the Sandals Fool Ya (Triumphant) and Temporary Tomb (Legacy Five).
WATCH THIS VIDEO featuring Rodney with Greater vision  CLICK HERE: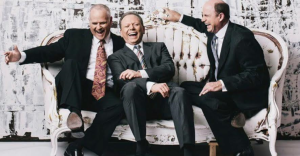 Congratulations Guys from your friends at SGN SCOOPS!
For more information on Greater Vision
Tags:
Greater Vision
,
Rodney Griffin
Posted in
announcements
|
Comments Off

on Congratulations Rodney Griffin!
Written by scoopsnews on December 16, 2015 – 9:25 am -
Happy Birthday to Rodney Griffin.
We at SGN Scoops would like to wish Rodney Griffin a Happy Birthday!
From the Greater Vision website:
Almost 200 times every year, the three gentlemen collectively known as Greater Vision, unite to present the gospel in a way that has endeared them to audiences across the United States and around the world. Their deepest desire is to encourage the Christian listener to share their faith with others and to cause the listener who isn't a believer to see their need for a personal relationship with Jesus Christ. With each new opportunity, Gerald, Rodney, and Chris continue to move forward as they share their "Greater Vision".
You can see them on December 30th in Morristown, Tennessee at their 25th Anniversary Celebration.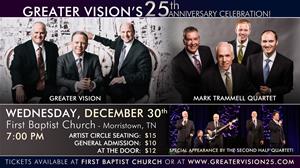 Get your tickets HERE
Tags:
Greater Vision
,
Rodney Griffin
Posted in
announcements
|
Comments Off

on Happy Birthday Rodney Griffin
Written by Staff on May 12, 2015 – 2:09 pm -
By Matt Baker
It was 2006. I was scheduled to sing in a church in Clovis, New Mexico. I didn't realize whom I was opening for until that week. The group I opened up for that night made a lasting impact on me; they became my favorite group and still are to this day. I'm talking about Greater Vision, from Morristown, TN: lead singer/emcee Gerald Wolfe, baritone Rodney Griffin, and Chris Allman singing the tenor part.
Gospel music fans from all over the world have fallen in love with the smooth harmony and the timeless lyrics heard on each project they release. What I've come to love is their class and consistency on and off the stage; the Greater Vision I saw in 2006 is the same Greater Vision I saw a couple weeks ago in Morganton, NC. Their love for the Lord is evident in their music, and in this conversation, we'll see some of the heart behind this faithful journey they've been on for 25 years now.
Gerald Wolfe is a powerhouse in the world of Southern Gospel, and it's hard to imagine Greater Vision, or the Southern Gospel industry itself, without his presence. However, he says, that almost happened. "During High School, my plan was to go to the Navy after graduation, using the ROTC Program to pay for my education, since I had finished my High School's three-year ROTC program. Thankfully, God had a different plan that brought me to where I am today.  If I had followed my plan, I would probably be retired from the Navy by now, and playing the piano or organ in a church in Morristown, TN., or leading congregational worship."
Chris Allman is the most recent addition to this bunch and after a break of several years you'd think there would be changes to the focus of Greater Vision. "Well," says Allman, "At this point I wouldn't really be considered the newbie anymore. I've been back nearly five years. Believe it or not, it's not much different. We're just all older and more patient!"
This older group of Greater Vision still has the powerful singing and heart-gripping songs of the earlier version. It's not often that in a group, you have at your fingertips two of Gospel Music's most prolific songwriters. Rodney Griffin and Allman have written literally hundreds of songs in their career and they say this desire to write came out of the need to express themselves more personally in their music.
"Sitting at my desk in Newport News Shipbuilding in Newport News, Virginia in 1989, I wrote my first song," says Griffin. "I found myself writing during my lunch breaks. The only problem was I didn't have an outlet for any of my songs. I wasn't singing with a group at the time, yet I had a desire to say something. I had written 25 to 30 songs before I had the nerve to try to pitch something to a group."
Allman notes, "I just had a real desire to say something through music. It was as if just singing other people's thoughts wasn't altogether satisfying. I prayed for the gift to write and God granted it."
Occasionally the writers will bring forward a song that just doesn't work for the trio, and other artists then record these works. Griffin comments, "I've been blessed to write several songs that we haven't recorded. One of those that touches me deeply is: "Will You Marry Me."  I believe it was recorded on Lauren Talley's first solo project. Musically, it doesn't fit us, but wow, when I think of the message, it is deep."
Griffin and Allman songs have garnered awards and accolades for the group, but this doesn't make the Greater Vision men stand-offish or place themselves apart from their audience. On any given night, a concert attendee will find any of the men, or all three of them, at the product table. Griffin comments, "It's always a treat for me to hear how a particular song we sang encouraged someone in some particular instance. There is nothing more encouraging to a writer than to hear what God did with a song in someone's life – especially when you are looking them in the eye!" Read more »
Tags:
Cathedrals
,
Chris Allman
,
Gerald Wolfe
,
gospel music
,
Greater Vision
,
Hymn Sings
,
Matt Baker
,
Rodney Griffin
,
sgn scoops
Posted in
artists
,
christian entertainment
,
Christian interest
,
guest
,
sgn scoops magazine
,
special feature
,
Uncategorized
|
Comments Off

on Greater Vision:  A Legacy of Faithfulness
Written by Staff on April 28, 2015 – 2:37 pm -
By Erin Stevens
It's one thing to impact thousands of people's lives through the example of your ministry, songwriting, and personal life, but it is entirely another thing when you are your children's hero. The shoulder they run to in times of defeat, the hug they crave after a long day at school, and the sounding board to all life's 'wonders and whys.' That is exactly the case in the life of Rodney Griffin. Today I am delighted to introduce to you his darling daughter, the lovely Miss Reagan. Get to know this young lady, budding with talents, and a remarkable dedication to serving others. Reagan, take it away…
Erin: What was it like growing up with your dad being such a prominent figure in Gospel music?
Reagan: It was always normal for me to see him leave every weekend. That's just who he is. Dad loves what he does and I love being his daughter. I take so much pride in his ministry. 
Erin: When did you first discover your love for the piano?
Reagan: My love for playing began in church a few years ago; that was a huge push for me! I've recently started having fun playing the ukulele too.
Erin: It's apparent on social media that you are becoming quite the scarf maker! How are you enjoying your latest businesswoman endeavor? 
Reagan: Honestly, it's a blast! When I have spare time, I love to just sit and crochet. It's quite relaxing.
Erin: For those who are missing out, try to put into words the magical joy that comes from growing up with your family at 'the happiest place on earth?'
Reagan: Disney World is such an exciting place! It has always been somewhere I look forward to going back year after year! I feel like I'm a little child all over again when we walk inside. 
Erin: What is your life-verse or verses? And why?
Reagan: One of my favorites is Proverbs 3:5-7: "Trust in the Lord with all your heart, And lean not on your own understanding; In all your ways acknowledge Him, And He shall direct your paths. Do not be wise in your own eyes; Fear the Lord and depart from evil." It reminds me that, yes, I will fail me, but God won't.  
Erin: While being a junior in high school, what are the most effective ways you have found to be an example of Christ to those around you?
Reagan: My youth pastor has a quote he always says: "Treat everybody like somebody." There is much truth in that statement. Everyone wants to be appreciated. I've discovered that when you take time and really listen and pay attention to someone, they will notice something different in you. Another way is to simply go out of your way to do extra, tiny deeds. Whether it's picking up empty water bottles left after practice, or throwing away the gum wrappers left in the church pew; these are things that are overlooked as 'unimportant.' Someone has to do them. Let's be that person. 
Erin: Who would you most likely be found jamming out to on your iPod?
Reagan: I love the 1940-50s swing music: Louis Armstrong, Ella Fitzgerald, Rosemary Clooney, and Nat King Cole. 
Erin: If there was one defining moment in life you could relive, what would that be?
Reagan: Last year, I was chosen to be the Singing News Fan Awards 'Trophy Girl.' I had the privilege of walking on stage and presenting the awards to those I look up to. It was an incredible experience that I'll remember for a long time!
Erin: Being surrounded by Southern Gospel fans since you were little, what is the craziest thing a fan has said to you?
Reagan: I was standing to the side of a walkway with some friends, listening to my dad sing, when an older lady came up behind me and said, "You know I'm stalking you, right?" With a nervous giggle, I said "Uh, okay." and moved a little closer to my friends. 
Erin: Are you a songwriter like your dad?
Reagan: When I was growing up, my best friend, my sister, and I wrote several little songs with the most obnoxious tunes. "Poor Little Doughnut," "Mr. Dan and The Hotdog Stand," and one about cowboys. I don't think you'll be seeing those up on the 'One-Hit-Wonders Chart' anytime soon.
Erin: In closing, how would you personally encourage young ladies in their walk with the Lord as you make steps every day to become closer to Him?
Reagan: I am learning more and more all the time about how much God cares for me. As young ladies, we tend to compare ourselves to the other girls around us; therefore, finding our self worth in the wrong things. God wants to be that one person we go to when those insecure thoughts cross our mind. He wants to wrap you up in a big hug and say, "I love you. I made you just the way you are."
We all come from different walks of life, but I am certain that Reagan's moving words can speak to every heart. You may be 18 or 80, it doesn't matter; insecurities plague every age group. Coming from a mind so sharp and a heart so full as Reagan's, I pray you can see that YOU are enough. You are capable enough when you lean on Jesus as your Rock. When we are weakest, that's when He is the strongest in our lives. Thank you, Reagan, for gracing us with your presence and allowing us to see a glimpse into your life today. May God's hand of blessing rest upon you. Until next month, Scoops fans…
And that's my take on it.
For current Younger Perspective features, see the latest SGN Scoops magazine here.
Tags:
Erin Stevens
,
gospel music
,
Greater Vision
,
REagan Griffin
,
Rodney Griffin
,
sgn scoops
,
Younger Perspective
Posted in
announcements
,
artists
,
guest
,
sgn scoops magazine
|
Comments Off

on Younger Perspective: Reagan Griffin
Written by SGN Scoops Staff on April 11, 2015 – 10:02 am -
This week's program on "Good News Music Radio with Woody Wright" features Part 1 of our interview with Rodney Griffin and music from Greater Vision, Charlotte Ritchie, The Goodman Revival, The Hoppers, Guy Penrod, Wilburn & Wilburn, The Oak Ridge Boys and MORE!
Tune-in to one of the stations listed on our site or listen online for an hour of great gospel music, inspiring ministry and fun with Woody Wright and D. Scott Kramer at:
Find Good News Music Radio On Facebook Here
Tags:
Good News Music Radio with Woody Wright
,
Rodney Griffin
,
southern gospel
,
Southern Gospel News
Posted in
announcements
|
Comments Off

on This Week on Good News Music Radio with Woody Wright
Written by Staff on January 15, 2015 – 11:43 am -
Lari Goss, native of Cartersville, Georgia, passed away on January 10, 2015 at the age of 69. Most recently residing in Brentwood, Tennessee, Goss is survived by his wife Carolyn, sons Benjamin (B.J.) (Julie) Goss, Nicholas (RaeAnna) Goss, Jonathan Goss and Cameron Goss; brother, Roni (Linda) Goss; grandchildren, Samantha, Joseph, Alexandria, Christian and Eva Mae Goss.
Funeral services for Goss were held on Thursday, January 15 at Brentwood Baptist Church. Many of his friends from the music industry and across the country were there to give tribute, along with officiating Pastors Jim Cymbala and Stan Mitchell.
Goss was well known as arranger, producer, writer, orchestrator, keyboardist and musical genius in all areas of the Christian and secular music world. He began his career in the Goss Brothers and continued in music for over 60 years. Multi-award winner, including  a Grammy award, several Doves and an induction into the Gospel Music Hall of Fame, this gentleman's resume includes the Brooklyn Tabernacle Choir, Christ Church Choir, many symphonies, orchestras, and artists world-wide. Goss was also an ordained minister.
Lari Goss will be mourned by many throughout the music industry and by all whose lives have been touched by the music that Lari Goss molded into artistry. Many of Lari's friends have already expressed their condolences and memories on social media, but some have shared them with SGN Scoops:
Rodney Griffin: 
How do I sum up in one paragraph the influence Lari had on our music?  It's impossible.  Looking back at all the "hits" he arranged over the years..70's, 80's, 90's 'til today, it's hard to see where his influence starts…and ends.  I look at it this way…if you remember a song that you fell in love with, he probably produced it.  Way beyond his years, even as a young teenager, he was writing orchestrations.  He was not just filling in the parts, but mapping out those lush chords of transition that revealed the "heart" of the song.  If you met him, you'd understand.  His soft spoken demeanor, and friendliness to all reflected his heart.  My greatest memory will be watching him create a "mood" with one of my songs on the piano…knowing he was hearing the full orchestration in his mind.  His eyes would leak as he'd say, "I think this is going to be good."  What an understatement!  We're blessed every night as we sing along with tracks he created.  Genius.  Just enough power in the track, and just enough melodic calmness…kinda like God…always including His power, yet always reminding us of His quiet assurance.  Lari listened to God…obviously.  Let's pray for the Lord to fill the huge void left with Lari's home going with another creator who will closely listen to God every time he sits down at the piano…and live for Him every time he stands up.
Kelly Nelon Clark:
Words can't express the hurt and sadness over the loss of our friend Lari Goss. I have spent a lifetime with him, from The LeFevres till now and love him like family. The very first time I went into the studio at LeFevre Sound I was terrified but Lari and the Goss brothers made me feel so at home. It was always my dream to have him work with us so Amber could work with him and be a part of that genius mind of his. He did that on The A Capella Sessions. He is irreplaceable! I always said if you can't sing with Lari you can't sing! Heaven is singing loudly now!
Tags:
Christian Music
,
Dove Award
,
gospel music
,
grammy
,
Kelly Nelon Clark
,
Lari Goss
,
Rodney Griffin
Posted in
announcements
,
artists
|
Comments Off

on Friends Remember Lari Goss