Written by Staff on July 13, 2016 – 6:04 pm -
Nashville, Tennessee (July 13, 2016) – Rob Patz joins Roger Spears in Nashville today to begin taping the new season of Harmony Road TV.
The staff of Harmony Road welcomed Rob Patz of SGNScoops and Coastal Media as they began work on new shows featuring special guests and great music.
Be sure to watch for Harmony Road this fall. For all the latest updates on Harmony Road television visit the Harmony Road Facebook page.
For more Gospel music click here.
Tags:
Harmony Road Television
,
rob patz
,
Roger Spears
Posted in
announcements
,
artists
|
Comments Off

on Harmony Road begins taping new season
Written by Staff on October 9, 2015 – 1:52 pm -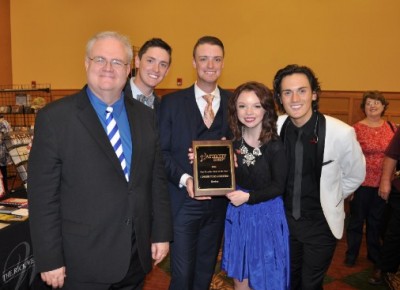 The Erwins Receive Award During NQC
Signal Mountain, TN (October 6, 2015) Harmony Road TV, a thirty minute Southern Gospel television program, recently announced the winner of their inaugural "Fan Favorite Video of the Year" award. A plaque commemorating the award was presented to The Erwins, during this year's National Quartet Convention, by program host, Les Butler."I Choose to be a Christian," the inspiring video from the Erwins, was chosen from a group of eleven videos in an online fan poll of the programs most popular Southern Gospel videos of the year.
Keith Erwin, of the Erwins, said, "We were so surprised to have been given this award! This was our first video, and for it to win an award… just WOW! We are thankful for everyone who voted for "I Choose to be a Christian." We are blown away by your support."  Erwin continues, "Also, we want to thank Landon Beene and Stowtown Records, along with Scott Godsey for making the video.  Thank you also to Les Butler and Harmony Road TV for sharing it with the world."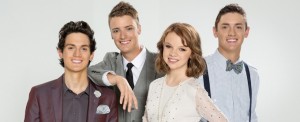 "All of us at Harmony Road TV appreciate artists who go to the time and expense of creating concept videos, which bring their songs to life," said Roger Spears, program producer. "In today's media climate, with more and more competition for the viewers attention, and families sifting through hundreds of TV channels, a great concept video will catch the viewers eye, gain their attention, and allow them to hear the message the song presents," he concluded. Harmony Road TV wanted to offer this award as a thank you to all the artists and producers who develop these inspiring videos.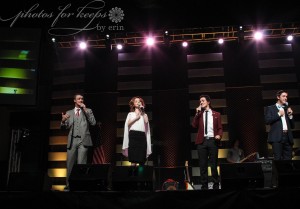 Harmony Road TV is produced by Harmony Road Productions, and is now available to over 90 million homes nationwide through a series of networks, cable systems, local stations, online networks, a mobile app, DirecTV, and Amazon Fire.  For details, visit www.harmonyroadtv.com.
Allan Rhodes is the programs Technical Director and Associate Producer.  Gospel Music veteran Les Butler is the show's host.
For for all the latest artist news and features visit SGN Scoops
mainpage
.
Tags:
Allan Rhodes
,
gospel music
,
Harmony Road TV
,
I Choose To Be A Christian
,
Les Butler
,
Roger Spears
,
southern gospel
,
The Erwins
Posted in
announcements
,
artists
|
Comments Off

on Harmony Road TV Announces 2015 "Fan Favorite Video of the Year"
Written by SGN Scoops Staff on July 26, 2013 – 1:32 pm -
This weekend's Harmony Road television program will be the first of two to exclusively feature videos

from the 2012 National Quartet Convention. Harmony Road is teaming up with the convention to help promote the last NQC in Louisville, before it moves to Pigeon Forge, TN in 2014. The dates for this year's historic event are September 8-14.
Hosted by Singing News Publisher and Solid Gospel Radio host Les Butler, Harmony Road can be found weekly on TNN/The Nashville Network and other broadcast stations and cable outlets. More information can be found at www.harmonyroadtv.com. Viewers are also encouraged to "like" Harmony Road on Facebook at www.facebook.com/harmonyroadtv to be entered in a contest to win a pair of tickets to this year's evening events at the National Quartet Convention. Other contests will follow with chances to win an online streaming package and more.
Clarke Beasley, Executive Vice President of the National Quartet Convention says "We are delighted to be partnering with Harmony Road to help promote the 2013 NQC, which will be a very special and historic year as we conclude a wonderful era in Louisville, Kentucky." Roger Spears, Harmony Road Producer adds "Clarke and the staff at the National Quartet Convention have offered encouraging support of Harmony Road since its inception. We're proud to team up with them on this series of programs and the exciting contests". Music on this week's program includes Legacy 5 with "Living in the Palace", Tribute Quartet with "Homesick Angel", "The Old White Flag", performed by the Triumphant Quartet, Mark Bishop with "God Builds Churches with Broken People" and Jeff and Sheri Easter (with special guest Les Butler on piano) bring us "A Little Bit of Sunshine".
Other members of the Harmony Road team include Gospel musican Cody McVey with interviews and stories from the road as well as Allan Rhodes, Technical Director.
Tags:
Clarke Beasley
,
Homesick Angel
,
national Quartet Convention
,
Roger Spears
,
singing news
,
Solid Gospel Radio
,
southern gospel concerts
,
Southern Gospel News
,
The Nashville Network
Posted in
announcements
|
Comments Off

on This Week's Harmony Road TV Program Features National Quartet Convention Videos
Written by Staff on January 30, 2013 – 1:14 pm -
TNN Adds Affiliate WPVN, Bringing Southern Gospel to the Chicago Market

SIGNAL MOUNTAIN,TN (JANUARY 28, 2013):Harmony Road, a weekly southern gospel television program, is pleased to announce that TNN, The Nashville Network, has added Chicago affiliate WPVN to its stable of affiliates. The addition of WPVN means that Harmony Road is now being seen in the nation's third largest media market, adding millions of potential viewers.
Harmony Road host Les Butler states, "I am excited to hear that Harmony Road is now being broadcast in my hometown. I was born in raised in what is commonly referred to as the Chicago-land area. Southern Gospel has a rich history in Chicago and I'm glad to know that Harmony Road will now be added to that list!"
According to the website www.watchtnn.com, "The Nashville Network (TNN) today announced WPVN – Chicago, IL (DMA 3) as its latest affiliate. WPVN began broadcasting TNN's programming over-the-air on channel 24.3 last Friday when its new transmitter came online atop the Trump International Hotel and Tower. TNN anticipates carriage of WPVN's TNN channel via Chicago cable outlets in the near future."
TNN, The Nashville Network continues to grow quickly and will be making more announcements regarding additional markets and stations in the coming days. Each addition means that Harmony Road can reach more people with the best in Southern Gospel music and the message of hope it brings as well as the other family friendly program on the network.
Harmony Road can be found each week on TNN, The Nashville Network on Sunday mornings at 8 Eastern, and on other outlets. Go to www.harmonyroadtv or www.facebook.com/harmonyroadtv for times and channels. Information on TNN and its growing list of affiliates can be found at www.watchtnn.com.
Harmony Road's on air team consists of host Les Butler, publisher of "The Singing News" and Solid Gospel Radio Host, and Southern Gospel Musician Cody McVey providing special interviews and insights. Others in the Harmony Road crew include Randy Liner, Technical Director and Roger Spears, Producer.
Tags:
Chicago
,
Cody McVey
,
harmony road
,
Les Butler
,
randy liner
,
Roger Spears
,
The Nashville Network
,
TNN
Posted in
announcements
,
breaking news
,
christian entertainment
,
Christian interest
,
gospel events
,
industry news
,
special feature
,
Uncategorized
|
Comments Off

on Harmony Road Now Seen in Chicago