Written by Staff on December 31, 2015 – 2:51 pm -
The bus loaded up early on Wednesday. Ed Hill told all the Singing Americans to be at the bus Thursday night at midnight. We were heading to Ashland, KY to sing on the New Year's Eve Gospel sing for Barbara and Sonny Sites. On the program…the Singing Americans, Jerry and The Goffs and Gospel Harmony Boys.
We went early that morning to the Paramount to set sound and practice new material. Later we had a huge dinner at the Sites home. They were special friends to the Singing Americans.
But wait, this is New Year's Eve! And gospel music abounds just about everywhere. Read on.
Meanwhile in Charleston, WV Sonny Simmons with Century Two Promotions was ushering in the New Year with the Inspirations, Kingsmen, Rex Nelon Singers, Royalmen Quartet, Conrad Cook and the Calvarymen Quartet and a host more.
Down in Birmingham, AL at Boutwell Auditorium the Happy Goodmans, Florida Boys, Dixie Echoes and Bibletones were getting ready to sing out the old and sing in the New Year.
Dick Carper with Garden Spot Promotions with dinner concerts with Hopper Brothers and Connie, Jacobs Brothers,
DeLawders and Dixie Melody Boys were settling in for their annual New Year's Eve festiveness at Good-n-Plenty and at The Lighthouse Restaurants.
Dayton, Oh with Norm Livingston at the Dayton Arena featured The Spencers, Freemans, Primitive Quartet and others on their New Year's Eve sing.
In Greensboro at the Greensboro Civic Center, The Masters Five, Gold City Quartet, Heaven Bound, Wendy Bagwell and the Sunliters were singing down the glory as the clocks passed midnight.
Out west in Fort Worth,
TX WB Nowlin hosted the Cathedral Quartet, Bob Wills and the Inspirationals, Speer Family with Sisters and Talleys
East Point, Ga-Bill Flurry and the Joyful Noise welcomed in the New Year with the Palmetto State and the Flurries. While in Newton, NC the Hallelujah Supper Club welcomed the New Year
with Harvesters Quartet and Singing Winebargers!
In LaPlata, MD, Guy Latimer promoted the Journeymen singing out the old and in with the new with their dinner concert series.
The Lesters, Rhythm Masters and Crownsmen
welcomed in the Cincinnati New Year at Landmark Baptist Temple.
In Gainesville, GA Hayne Tatum featured the Singing Echoes, The Perrys, Felecia Shiflett and Called Out with the Singing Cookes.
In Macon, GA at the Opry House, the beloved Naomi and the Segos, Lewis Family, Georgians and Deep South Quartet took to the stage to ring the midnight bell.
Add to the mix countless churches across the land with Watch Night Concerts featuring the
best regional music artists and church quartets. There are thousands of opportunities to hear our gospel music.
That is really just about any year or time in Southern Gospel music. Oh the some of the groups and the promoters
may change, but southern gospel music abounds. But there is one thing that lives even after the concerts have ended. HISTORY!
There are stories, "Let me tell you what happened" moments that live to this day from concerts 50 years ago. Those special
history moments are being renewed with keen interest on Facebooks social media group, WE LOVE OUR SOUTHERN GOSPEL MUSIC HISTORY.
36,000 plus are members. Videos, photos, collectibles, audio clips, stories and just plain chatter fill the posts of gospel music enthusiasts around the world. A new generation is learning history and chronicling it for future generations.
But the love goes much farther than just a social media gathering place. Now there is a convention in the music city dedicated just to history, sharing the stories, searching for collectibles, food, friendship, reunion concerts, lots of gospel music and other activities.
March 21-22, 2016 will gather are the convention facilities of the Airport Holiday Inn in Nashville, TN. Two Day Event – March 21-22, 2016 – 2 Evening Concerts, Banquet, Lunch on Tuesday, sing-a-longs, funny stories, memorabilia, periodicals, thousands of records for sale, and more.
Talent includes, Blackwood Brothers, Dove Brothers, Jeff Stice, Pine Ridge Boys, Charlie Griffin, Ann Downing, Downings, Sheltons, Collectors Quartet, Rita Robinson Spillers, Hannah Kennedy, John Crenshaw, and Harold Timmons. There will be other surprise guests and artists during the event as well.
The interest is explosive and is rekindling relationships from years gone by. Commitments from across America are leading the charge to grow the history convention. Yet it is the most affordable way to reacquaint with the participants and history makers. It is up close and personal time with artists and fans. It is a social gathering spawned by the love of quartet or southern gospel music and our history.
CONVENTION DETAILS AND LINKS:
The early bird special expires at midnight Eastern Time, this Thursday, December 31st. The rate increases $20 per person on Jan 1, 2016.
MORE INFORMATION – PAYMENT and HOTEL RESERVATION LINKS
For more information on Hotel reservations and registration, see the pinned post on our Facebook Page.
https://www.facebook.com/groups/sgmhistory
https://gospelgallery.com/WLOSGMH2016.htm
Tags:
gold city
,
Kingsmen
,
New Year's Eve
,
Singing Americans
Posted in
announcements
,
artists
|
Comments Off

on IT'S NEW YEAR'S EVE AND GOSPEL MUSIC IS RINGING LOUD
Written by Staff on July 1, 2015 – 2:00 pm -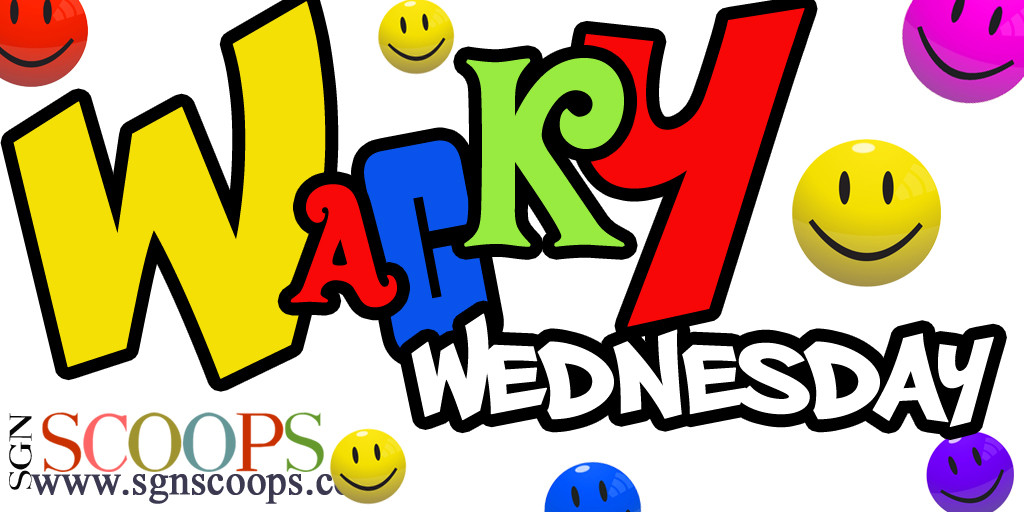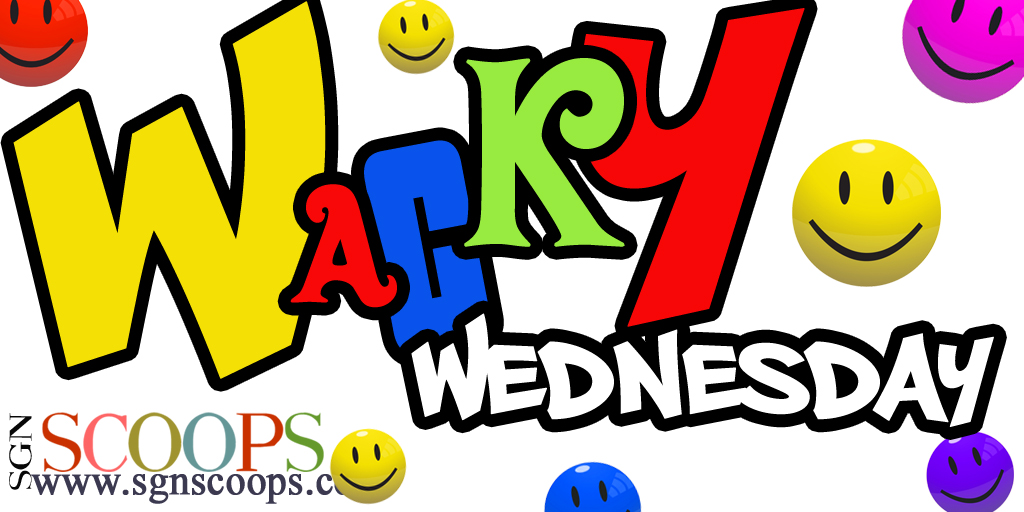 Thanks for joining us for another SGN Scoops Wacky Wednesday! Today's question for our fearless panel of artists: "What is the one album every Gospel fan should have in their collection?" As you might expect, some of the answers are a little less than scientifically proven.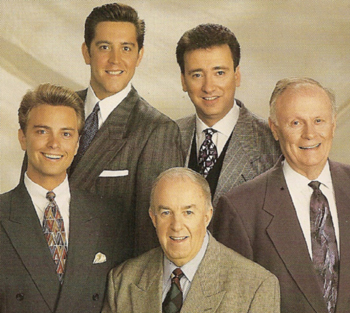 Nevertheless, SGN Scoops polled about 18 or so artists about various things and tabulated their answers. We have used this (not so great) scientific process to create today's Wacky Wednesday Top Ten. Our panel of expert artists gave us the following answers.
The artists whose albums should be owned by every Southern Gospel aficionado are the incomparable Cathedrals.
All of the Booth Brothers were united in their response, giving three votes to Live in Atlanta by the Cathedrals. Donna King says, "Anything by the Hinsons or Cathedrals (can't pick one!)" And no, Donna you didn't fail that one! Michaela Brown also voted for any of the Cathedral albums.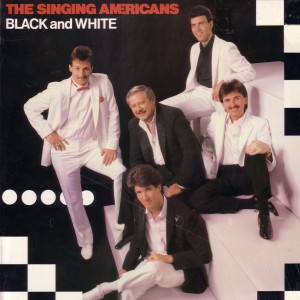 The Singing Americans, a quartet ahead of its time, and the 24-karat Gold City were tied for second place. Gary Casto, Scotty Inman and Greg Bentley chose Black and White by the Singing Americans. Chris Jenkins and Joseph Habedank put their votes in for Pillars of Faith by Gold City. David Sutton's choice is Gold City's Double Take.
In third place was Bill Gaither, with two of his groups each earning a vote. Phil Collingsworth Sr. said, "HYMN CLASSICS – THE BILL GAITHER TRIO (1990 – only Gaither Trio Album produced by Lari Goss – last Trio Album released.)"
Karen Peck's choice was, "Anything from Gaither Vocal Band!"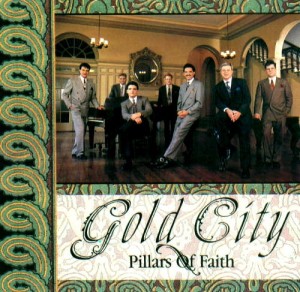 Other top picks included:
Speer Family: Heritage Series. "Little is much when God is in it! The best!" – Hannah Webb
"A Triumphant one!" – Clayton Inman
Blackwood Brothers Quartet latest project. "Our new one, Forever." – Billy Blackwood
The Talleys latest project. "This would probably be a bad time to admit that I don't listen to much music, so I'll say whatever the Talleys' newest is!" – Lauren Talley Alvey
The Three Bridges' newest album. "The latest Three Bridges album, of course!" – Shannon Smith
So now you know! There may be more than one answer that is a little suspect, but that is how we roll on the SGN Scoops Wacky Wednesday!
Thanks again to all of our participants. Be watching SGN Scoops mainpage for more Wacky Wednesdays in the weeks to come. Do you want to suggest a subject or an artist? Email us at sgnscoops@gmail.com
For more on the artists who have subjected themselves to our poll questions, visit them at their group websites:
Chris Jenkins http://kingsmenquartet.musiccitynetworks.com/
Joseph Habedank http://www.josephhabedank.com/
Clayton Inman http://www.triumphantquartet.com/
Lauren Talley Alvey http://thetalleys.com/
Phil Collingsworth Sr. http://www.thecollingsworthfamily.com/
David Sutton http://www.triumphantquartet.com/
Greg Bentley http://crossroadslabelgroup.com/
Gary Casto http://tributequartet.com/
Billy Blackwood http://www.blackwoodbrothers.com/
Shannon Smith http://threebridgesgospel.com/
Michaela Brown http://thebrownsmusic.com/
Booth Brothers http://boothbrothers.com/
Scott Inman http://www.triumphantquartet.com/
Karen Peck http://www.karenpeckandnewriver.com/
Donna King http://www.zaneanddonnaking.com/
Hannah Webb http://rickwebbfamilymusic.com/
Tags:
Bill Gaither Trio
,
Cathedrals
,
Gaither Vocal Band
,
gold city
,
hinsons
,
sgn scoops
,
Singing Americans
,
Speer Family
Posted in
announcements
,
artists
,
sgn scoops magazine
,
SGNScoops Wacky Wednesday
|
Comments Off

on SGN Scoops Wacky Wednesday Poll: What Album Should Every Gospel Fan Own?
Written by Staff on June 11, 2015 – 4:35 pm -
By Charlie Griffin
When you speak of Gospel music, there are many great names mentioned. Some names are even generational names of Gospel music such as Speer, Nelon, Easter, Hopper, Goodman and the list goes on. But when you mention the name Stewart, those in the southeast will know it is a heritage name for bass singers.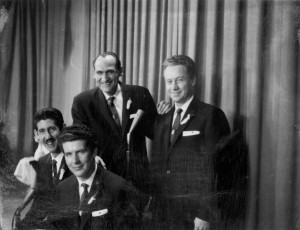 The Blue Ridge Quartet (L to R: Jim Stewart, Kenny Gates, Elmo Fagg, Ed Sprouse.)
First generation, Charles Ed Stewart, sang with the Smith Quartet and Singing Hills. He was known for a resounding bass and singing the old Convention songs the Stamps Baxter way. Second generation, Jim Stewart, came along, singing bass too. Big Jim was often noted as the bass singer with the booming low notes. His tenure included stints with the Calvary Quartet, Blue Ridge Quartet and Pine Ridge Boys. Then the third generation, Larry Stewart, started following in the family bass singing footsteps. But his story took a few turns, giving a powerful testimony that really mirrors the lives of so many people.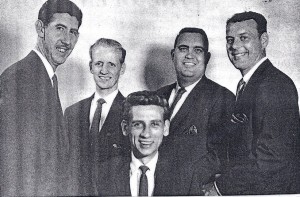 The Pine Ridge Boys 1963: (L to R: Jim Stewart, Wayne Shuford, Darius Shuford-seated, Charles Burke, Miles Cooper.)
Larry Stewart recently shared his experiences of getting started in Gospel music. As a high school sixteen-year-old in chorus, he was offered a job to sing bass with the Bob Hulsey Singers. Larry says, "The piano player was in chorus too and knew I could sing the bass part. It wasn't too low as they sang everything pretty high. But that was my first taste of Gospel singing, although I had been around it all my life."
A year or so later, Larry began singing with the Golden Chords. Marion Lanford and three of his children plus the four piece band made up this group. "They wanted a young person to sing bass and they called me." It was with the Golden Chords that Stewart recorded his first album. He continues, "Marion promoted a lot of Gospel concerts back in the day with the Rex Nelon Singers. I heard this song and later it became my song too, 'I Love To Call His Name.'" Larry then sang with The Seekers from Seneca, SC. But that was a short lived experience.
Graduating from high school in 1979, Larry got a call from Homer Wofford, who owned the Singing Americans. Larry states, "I drove to Asheville, tried out and was selected. I drove every week to Asheville to practice. But we never sang anywhere. I got tired of that and quit. But as fate would have it, Charlie Burke bought the group and moved it to Maiden, NC. He calls me three times to come sing bass. But I said no. I mean, I had already gone down that road. Yet after the third time I turned him down, one month later he signed a record contract." Larry admits, "I really thought my chance had come and gone. I didn't sing much after that."
Tags:
anchormen
,
Blue Ridge Quartet
,
Dwayne Burke
,
gospel music
,
Larry Stewart
,
Pine Ridge Boys
,
Quartet Music
,
Singing Americans
Posted in
announcements
,
artists
,
christian entertainment
,
Christian interest
,
exclusive report
,
sgn scoops magazine
,
special feature
|
Comments Off

on Larry Stewart: A Gospel Bass Singer's Testimony
Written by Staff on January 16, 2014 – 1:28 pm -
By Craig Harris
Before he was a well-known fixture in Southern Gospel music, Ivan Parker was an advertising executive. "I enjoyed that, but nothing rings the bell like when you jump into your calling," Parker said.
After more than 30 years in the industry, Parker's calling still brings him excitement. "I live this statement … an old gentleman told me a few years ago, he said, 'Ivan, if you really enjoy what you're doing, you never work a day in your life,'" Parker said. "There is a passion that I have for ministry, gospel music, and there's a passion for those people that is really even hard to put it into words how you actually feel. It's so rooted into your heart and fiber. I wouldn't be good at anything else."
Parker has been successful in each avenue of his journey through Southern Gospel music. He joined the Singing Americans in 1982, remaining with the North Carolina-based group for one year before embarking on what turned into an 11-year tenure with Gold City. While with Gold City, the male quartet won seven awards for favorite group, had 19 top-ten songs and won a Dove Award in 1993 for the Southern Gospel Song of the Year "There Rose a Lamb." He has now performed as a solo artist for the last 20 years. 
"It was very odd," Parker said. "We went from nine people on stage to one. The transition was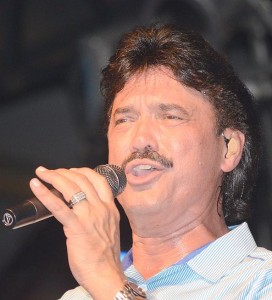 very different. When you walk out on stage by yourself, something inside you makes it seem a lot easier and simpler, but when I went solo, I realized it's probably the hardest work I've ever done. That's when the rubber meets the road (when you're on stage alone). It's so normal now. It's like in anything you do in life … you learn how to survive. You learn how to push forward even when there's obstacles that says you can't. You learn how to go around obstacles. You learn how to do your program to where it's going to be a lot easier for you."
Once launching his solo ministry, Parker began to carve out a new niche. He has often received favorite soloist awards, and in 2007, he became the first soloist to perform on the main stage at the National Quartet Convention. "I am a soloist," Parker said. "I am one man in a quartet world. When I first went solo, soloists weren't cool. You had to be a group in order to be accepted.With what God did in my life, He placed me in a very strategic place. What it proved was that we all have a message to sing. Regardless of what your style – whether it be a group, quartet or soloist – we all have a message. It's about the message. It's about Jesus. It's not about us. We're not the stars. It's about the Lord. It's because of him that any of us are here doing what we do."
Parker makes approximately 175 appearances each year, and his on-stage dynamic has now changed somewhat as the youngest of his two sons – 25-year-old Josh – has been playing electric guitar with Ivan for the last 10 months. 
"That has been one of the most fun things that I have ever done," Parker said. "All of my career, I've never traveled with my family. It's always been other people. Now that I have my son here, it's a great piece of home away from home. He's young, and he's really doing a great job as far as winning the young people. I think our industry has gotten to the place to where a lot of the audience is getting older. We're not seeing the young people take an interest.  That's part of my process of having him on board, to let the young people know that it's cool to love Southern Gospel. He plays in a manner to where it should draw and attract the young people." 
Parker admits that being away from family has been the most difficult aspect in his 30-year career. "The hardest part in what I do even after all of these years is leaving," Parker – who resides in Lebanon, TN – said.
"That's always the hardest part. Walking out the door and going to get on the bus seems like it can be a 10 or 12-hour trip (just getting) out there. You have to focus on why you do what you do. There has to be something spiritual and emotional that keeps you in that place. I have thought often times, if I ever want to see God in my life, look where I've come from and the places he's brought me through, and I'll see the fingerprints of God in my life. I know every time I perform, there's somebody that's hurting, somebody who is searching who needs to hear the truth. That keeps me motivated. When you chance a life for eternity, that's a pretty big deal."
It's the audience that Parker is singing to that helps to make the journey enjoyable. "We get a lot of e-mails in every week," Parker said. "In every concert, I'm a very hands-on artist. I take time with the people, whether it be during intermission or after the concert. I'm never in a hurry. The reason I do is because I humbly accept the position I'm in. I'm not on a call to do it. It's because of those fans that I'm able to do what I do. It's very important that if they spend their money to buy a ticket and take time out of their busy, crazy life to give me two hours for a concert, I think they deserve it."
Parker's latest project is Timeless Treasurers, which includes songs such as "It Is No Secret," "Tell Me the Story of Jesus" and "Sweeter As the Days Go By." 
"I have recorded all of these years and there's a lot of songs I never got to," Parker – who had a No. 1 song in 2008 with "I Choose" – said. "So I got some songs from when I grew up that I have loved for years." 
In addition to all of his success as a member of Gold City and as a soloist, Parker has also been a fixture on the Gaither Homecoming Series. "I think I'm one of the most blessed singers in Gospel Music, because I have been able to not only be a part of one of the greatest quartets to ever walk on stage but to also be with the Gaither Homecoming Video family," Parker said. "That whole deal will go down in history. That space in time of what we did will go down in history. It's already historical to the point to that it was the longest-running tour in music history. It's a great feeling to have been a part of the great caravan that stretched all the way from Gold City to the Homecoming years and intermingled in all of that to have the solo career sitting in the middle of that. For God to have blessed me personally with the ability and opportunity to communicate one on one, that's been a blessing. That's been huge."
Written By Craig Harris
First Published in October 2013 in SGN Scoops Magazine.
Tags:
Dove Awards
,
Gold City Quartet
,
ivan parker
,
Josh Parker
,
Singing Americans
Posted in
artists
,
christian entertainment
,
Christian interest
,
sgn scoops magazine
,
Uncategorized
|
Comments Off

on Ivan Parker Flying Solo
Written by SGN Scoops on October 14, 2011 – 6:15 am -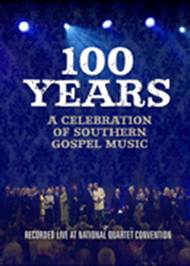 It was one of the most talked about showcases in NQC history, and now you can receive it on DVD.  The 100th Anniversary of Southern Gospel Music Showcase produced by Daywind Records at the 2010 NQC is now available.  See the incredible reunions of the original Gold City, the Hinsons, the Rambos, the Downings, the Singing Americans, the Cathedrals plus many special performances that were exclusive to this presentation. To order, just click the image to the left or go to www.nqconline.com  To see highlights from the DVD, click this YouTube link:  http://www.youtube.com/watch?v=2G5fEIxAKeo&feature=player_detailpage
Tags:
Cathedrals
,
gold city
,
national Quartet Convention
,
Singing Americans
,
Southern Gospel Music
,
Southern Gospel News
,
the Downings
,
The Hinsons
,
the Rambos
Posted in
new music
|
Comments Off

on [Nqc] 100th Anniversar​y DVD Now Available