Written by Staff on January 25, 2013 – 3:19 pm -
NASHVILLE, TN – Christian recording artist Adam's Call is excited to welcome Melissa Duvall to the ministry. Melissa will begin filling the alto position for the group this weekend in Pigeon Forge, TN.
Melissa is originally from Mantachie, MS, but currently resides in Franklin, TN with her husband Joe and children Jacob and Sydney. Melissa states, " I am very excited to be a part of the ministry of Adam's Call, and I am even more excited to use the talents God has given me to be a witness to others and to glorify His Name."
"We are so blessed to have Melissa joining us both on stage and in ministry. When she emailed her demo and testimony to us I knew it was a prayer answered. During her audition we all sat around the living room singing, and the blend and anointing just brought tears to the eyes of everyone in the room. It was clear beyond a doubt that God had sent Melissa our way," says Bobby Davenport for Adams Call.
Adam's Call recently released their Debut project "Simplify" and it is available online at www.adamscall.com or in the ITunes Store.
"I have received several emails and letters from pastors and promoters testifying to the emotional worship experience that Adams Call is experiencing in their concerts. It has been very encouraging to see such an overwhelming response for such a new ministry. Each letter reads of tear-filled eyes, lives being changed and uplifted congregations. I am personally very excited to see what the future holds for Adam's Call and their new vocalist, Melissa," says Sophia Davis of the Adoration Agency.
More information on Adam's Call can be found online at www.adamscall.com . For booking information you may contact Sophia Davis of the Adoration Agency at 615-590-7453 or Sophia@adorationagency.com
Melissa makes her debut in their brand new video for "Don't Give Up" which can be seen HERE.
Tags:
Adam's Call
,
Adoration Agency
,
Christian Music
,
God
,
gospel music
,
Jesus
,
Lord
,
Melissa Duvall
,
Pigeon Forge
,
Sophia Davis
,
southern gospel
Posted in
announcements
,
artists
,
breaking news
,
Christian interest
,
special feature
,
Uncategorized
,
video
|
Comments Off

on ADAMS CALL ANNOUNCES NEW VOCALIST & DEBUT VIDEO
Written by Rhonda on November 24, 2010 – 5:34 am -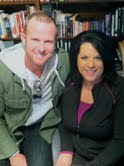 Nashville, TN (Nov. 18, 2010) – Dynamic vocal trio, Beyond The Ashes (BTA) and the Adoration Agency are pleased to announce an exclusive booking agreement for BTA's growing ministry.  The Adoration Agency is already in full swing on scheduling the trio.
 
According to Sophia Davis of the Adoration Agency, "We are excited about the addition of Beyond the Ashes to the Adoration family! Their ministry, heart, and sound appeal to audiences of all ages, the addition of live music helps to set them apart from other male trio's in Southern Gospel Music today.  Christian and I are both honored and fortunate to be part of their future in the Gospel Music industry."
 
To learn more about Beyond the Ashes, visit www.beyondtheashesonline.com.  You can also visit their My Space at www.myspace.com/beyondtheashesonline or follow them on Twitter (@beyondtheashes1) or Facebook (www.facebook.com/pages/Beyond-The-Ashes/61861448534).
 
Beyond The Ashes may be scheduled by calling the Adoration Agency at 615.590.7453 or via scheduling@adorationagency.com.  More information and a complete list of artists scheduled by the Adoration Agency are available at www.adorationagency.com.
Tags:
Adoration Agency
,
Beyond the Ashes
,
Sophia Davis
Posted in
announcements
|
Comments Off

on Beyond The Ashes Signs With The Adoration Agency