Written by SGN Scoops Staff on February 8, 2014 – 1:20 pm -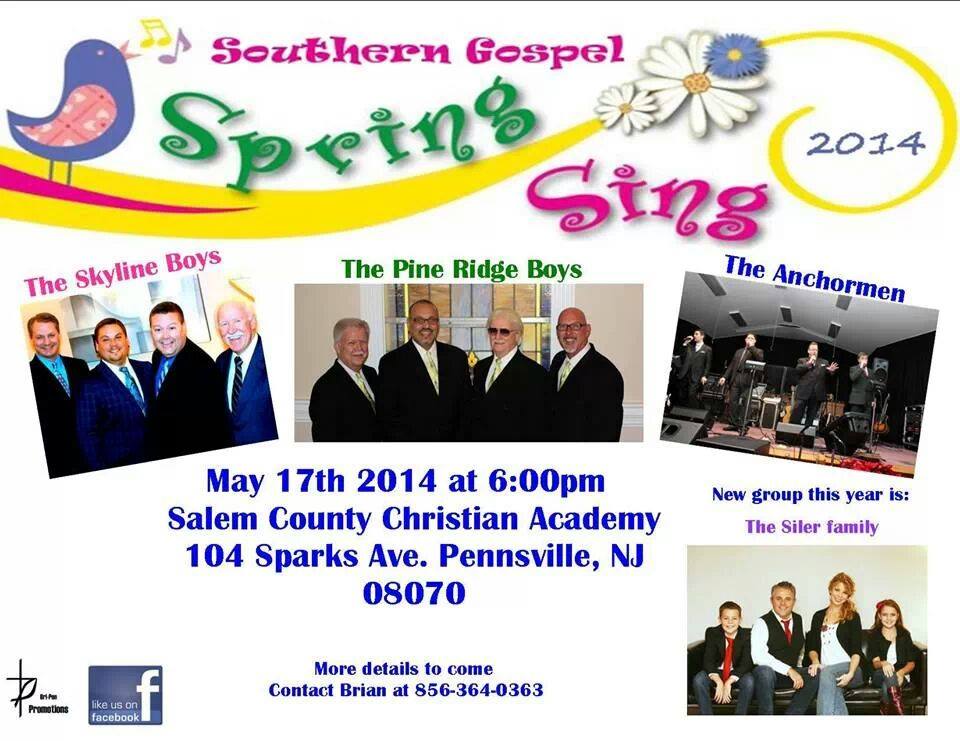 Tags:
Pine Ridge Boys
,
southern gospel
,
Southern Gospel Concert
,
The Skyline Boys
Posted in
announcements
|
Comments Off

on Spring Sing 2014
Written by Staff on September 9, 2013 – 11:42 am -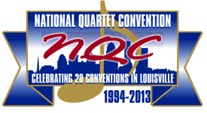 Change is always hard and the NQC Board made a bold step twenty years ago when they announced the move from Nashville to Louisville for Gospel Music's favorite yearly event.
From scheduled sings on the Belle of Louisville to concerts in the downtown square; from impromptu songs in various area restaurants to special gatherings in local hotels; from Elvis sightings to Uncle Sam in the Exhibit Hall, there are many unforgettable moments for the Gospel music fan at NQC.
As a writer for SGM Radio and SGN Scoops, I've had the opportunity to interview many interesting people at NQC.
Over the years, I have been privileged to interview such artists as Karen Peck,  Kim Hopper,   Susan Whisnant,Marshall Hall,  Jim Mahalick, Shelly Brown of The Browns, Wayne Haun, Jeff Pearles, The Apostolic Boys, The Skyline Boys, The Prophets, Rambo McGuire, The Booth Brothers, Mark Trammell Quartet, Greater Vision, Legacy Five, Triumphant Quartet, Brian Free and Assurance, and Jonathan and Jordan Wilburn, among others.
Many of these artists wouldn't have the time to sit with an interviewer during an ordinary concert setting. NQC is also the opportune time for fans to also talk with their favorite singers. What a great opportunity it is to attend NQC and be able to sit down with the makers of the music!
SGM Radio and SGN Scoops would like to extend a special thank you to the board of the National Quartet Convention for continuing on a tradition that began many years ago, for making the necessary decisions for the growth of the festival and for embracing artists, fans and industry alike as we celebrate together our music and our faith.
We look forward to 2014 in Pigeon Forge!
****As a fan who attended the first Louisville NQC, I have many memories of the National Quartet Convention at Freedom Hall. I'm sure our readers do as well, and I invite you to submit these memories for posting here this week. Please submit your NQC thoughts and pictures to lorraine@sgnscoops.com
Tags:
brian free and assurance
,
Greater Vision
,
Jeff Pearles
,
Jim Mahalick
,
Jonathan and Jordan Wilburn
,
Karen Peck
,
Kim Hopper
,
legacy five
,
louisville
,
mark trammell
,
marshall hall
,
National Quartet Convention 2013
,
nqc
,
Pigeon Forge
,
Rambo McGuire
,
Shelly Brown
,
susan whisnant
,
The Apostolic Boys
,
the booth brothers
,
The Browns
,
The Prophets
,
The Skyline Boys
,
triumphant quartet
,
Wayne Haun
Posted in
announcements
,
artists
,
christian entertainment
,
Christian interest
,
gospel events
,
guest
,
industry news
,
scoops
,
sgn scoops magazine
,
special feature
,
Uncategorized
|
Comments Off

on Leaving Louisville: Twenty Years of NQC
Written by SGN Scoops on August 29, 2013 – 3:34 pm -
The first is the return of one member and the addition of another.  Outstanding tenor singer, Jodi Hosterman, is back with the Skyline Boys. The group is thrilled to welcome him, along with a brand new addition, lead singer, Brian Alvey.  Alvey, who is new to the Skyline Boys, is not at all new to Gospel music.  Both gentlemen have vast experience and tremendous talent.  The two, along with bass singer and group owner, Dennis Powers, and baritone singer, Chris Little, are excited about the days, months, and years ahead as they strive together to serve God and share the music that tells the story of His love.
The latest great news for the prominent Southern Gospel Quartet is a brand new, long term booking agreement with the acclaimed Dominion Agency (one entity of the mutil-faceted Michael Davis & Associates).  Dennis Powers shares, "God is doing things we couldn't do and we are very excited about being with Michael Davis at Dominion Agency. We have a new project being released at NQC called " Favorite Hymns and Classics Vol. 2 with special guest Squire Parsons helping us on " Beulah Land.  Everything we do is only possible because of the hope of Christ and our prayer is that every door He leads us through will lead us and others closer to Him."
Another highlight is that the group is back in the studio at Crossroads with producer, Jeff Collins, working on a dynamic new recording. Collins expresses, "It's great to be working again, in the studio here at Crossroads, producing the Skyline Boys, with Dennis, Chris, and new members Jodi Hosterman and Brian Alvey. I'm excited with the tracks we recently recorded and look forward to the upcoming vocal sessions at the end of September. This line up of singers promises to be one of the strongest yet for the quartet. In our preproduction sessions I've been blown away by the ability of this group of guys. I've known and worked with Jodi, Brian, Chris and Dennis in different groups before but there seems to be a special and unique blend that this specific group possesses. I can't wail until we get the project completed so folks can hear this fantastic quartet!"
The group's current single "Cool Drink Of Water" is now playing and climbing the charts on Southern Gospel radio around the world. Be listening for it and be watching for more great things to come from this quartet.
Tags:
crossroads
,
skyline Boys
,
Southern Gospel News
,
The Skyline Boys
Posted in
announcements
|
Comments Off

on The Skyline Boys Announce Exciting Changes
Written by SGN Scoops Staff on May 11, 2013 – 1:15 pm -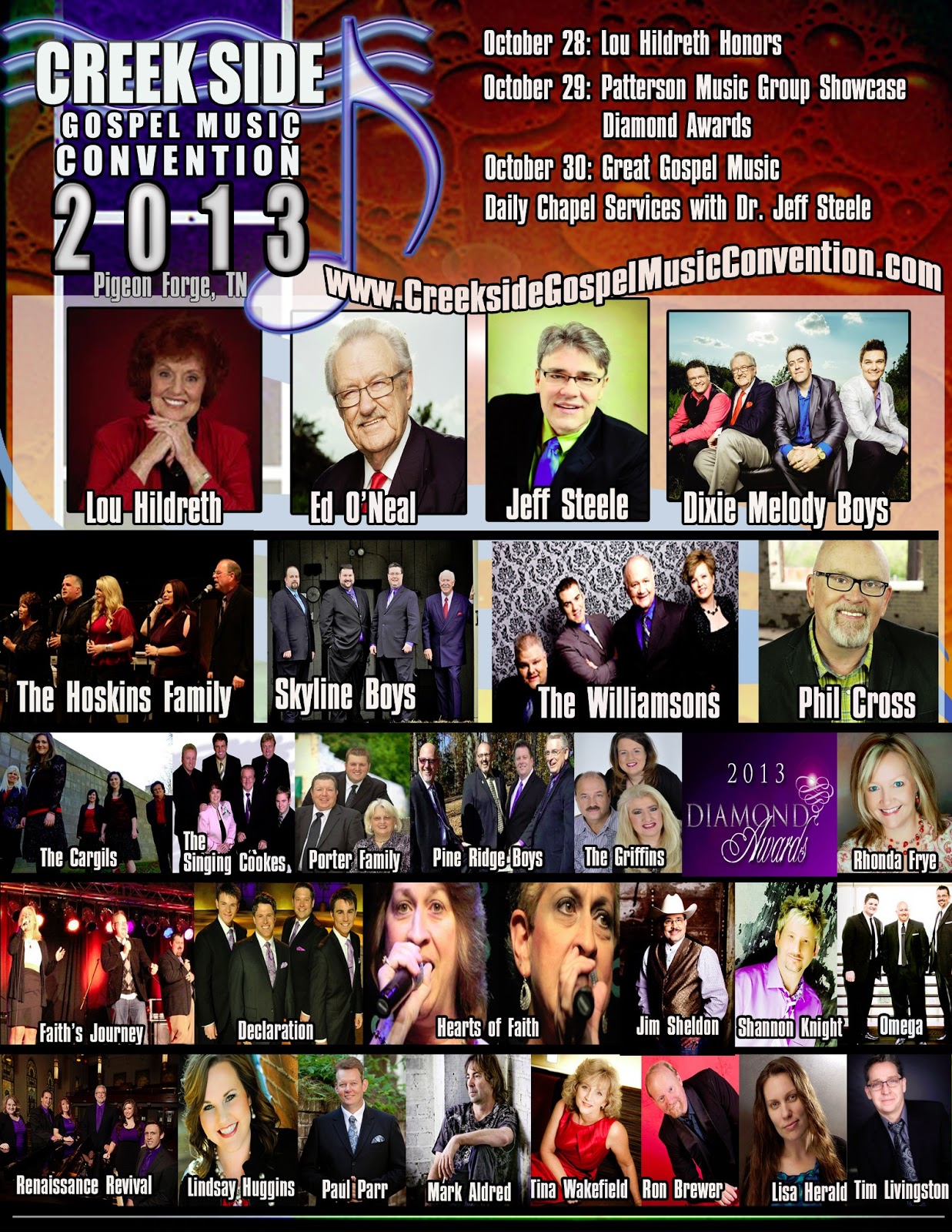 For More Information www.creeksidegospelmusicconvention.com
Tags:
Creekside Gospel Music Convention
,
Declaration
,
diamond awards
,
Dixie Melody Boys
,
Dr. Jeff Steele
,
Ed O'Neal
,
Lindsay Huggins
,
Lou Hildreth
,
phil cross
,
shannon knight
,
Southern Gospel Concert
,
Southern Gospel Music
,
The Singing Cookes
,
The Skyline Boys
Posted in
announcements
,
diamond awards
|
Comments Off

on You Are Invited To Creekside Gospel Music Convention 2013
Written by SGN Scoops on March 11, 2013 – 5:58 am -
Jonathan and Jordan Wilburn of Wilburn and Wilburn and Duane Garren are the guests on Gospel Music Today this week.  The Feature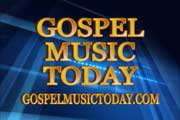 Group is Unity Quartet.  Jean reviews a new CD by Sonship Quartet,and shares an article called "Where Are They Now" in Singing News Notes. The Skyline Boys and The Gibbons Family sing, and the show includes an exclusive concert video of The Ellis Family, captured by the Gospel Music Today cameras at the Deep South Quartet Convention, in Sperry, OK. The show is on KWHB TV47 in Oklahoma every Monday at 6:00 PM, and it's online now at the Gospel Music Today website, www.gospelmusictoday.com.
Tags:
Ellis family
,
Gospel Music Today
,
sonship quartet
,
Southern Gospel News
,
The gibbons Family
,
The Skyline Boys
,
wilburn and wilburn
Posted in
announcements
|
Comments Off

on Wilburn & Wilburn Special Guests on Gospel Music Today
Written by SGN Scoops Staff on August 8, 2012 – 9:10 pm -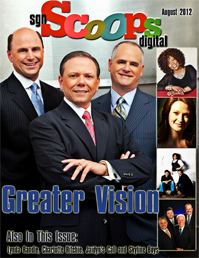 We're serving up another sizzling hot summer issue! This packed August edition unveils the list of the 2012 Diamond Awards Nominees! Also this month, Lorraine Walker, Sandi Duncan Clark, Jennifer Campbell, Charlie Sexton and Laura Kennedy presents the latest happenings in the ministries of Greater Vision, Charlotte Ritchie, Lynda Randle, The Skyline Boys, Jeff Steele and Jaidyn's Call. Look behind the music with Rob Estep as he talks with Ben Storie, and focus on the young with Victoria Shirey as she shines the spotlight on Rebecca Reynolds. Don't miss Rob Patz' Publisher's Point and enjoy a Media Minute with him along with Sylvia Green. Charlie Sexton covers the Lari Goss Celebration and Rhonda Frye catches up with Union Street, Roy Webb and Bruce Taliaferro on the road. Lou Wills Hildreth shares legendary memories, John Mathis Jr. offers a word of encouragement and Laurrette Willis' reminds us to eat healthy! Jeff Hawes shares memories from his home town, and special guest writer, AJ RINALDI offers post-trauma faith sharing tips. We also share our excitement regarding 2 major upcoming events: The National Quartet Convention and Creekside Gospel Music Convention! See what songs are topping the charts and who is releasing new music in this all-digital, all free August Edition! And… Share with your friends!
Download The Magazine Here
Tags:
AJ RINALDI
,
Ben Storie
,
Bruce Taliaferro
,
Charlie Sexton
,
Charlotte Ritchie
,
Greater Vision
,
Jaidyns Call
,
jeff hawes
,
Jeff Steele
,
Jennifer Campbell
,
Lari Goss
,
Lorraine Walker
,
Lou Wills Hildreth
,
LYNDA RANDLE
,
national Quartet Convention
,
Rebecca Reynolds
,
Rob Estep
,
rob patz
,
roy webb
,
Sandi Duncan Clark
,
Sylvia Green
,
The Skyline Boys
,
Union Street
,
Victoria Shirey
Posted in
announcements
,
sgn scoops magazine
|
Comments Off

on August 2012 SGNScoops Magazine