Written by Staff on August 28, 2015 – 1:56 pm -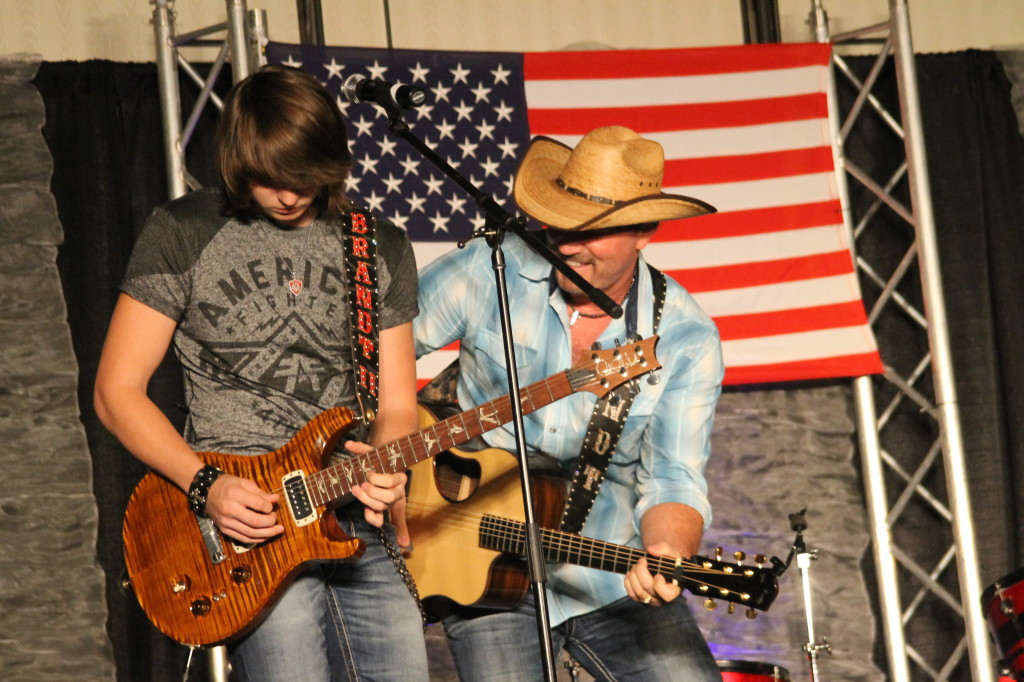 Pigeon Forge TN (August 28, 2015) –  The Christian Country Expo at Pigeon Forge Tennessee, came to a close on Thursday, August 27 before an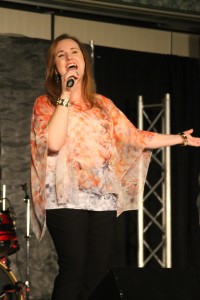 appreciative audience.  The morning showcases were full of talented artists and terrific music. Several of the lovely ladies of Christian Country graced the stage again. Lindsay Huggins, Tina Wakefield, Sharron Kay King, Robin Springs, Ava Kasich, Jan Harbuck, Ty Hodges, Gail Cogburn, Kelly Coberly, were among some of the many singers the audience had the pleasure of hearing on Thursday. The daytime and evening concerts again featured artists such as Chris Golden, Kevin Rowe, The McKay Project,  Tommy Brandt and Tommy Brandt II, The Schoefields, The Branscombs, Jim Sheldon, Steve Shirey and a stage full of artists during the opening.
Christian Country Expo presented many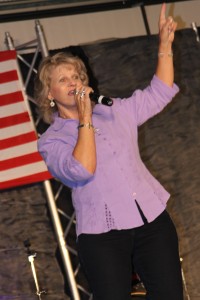 of the Christian Country artists that are hitting the charts and bringing in new audiences to this style of music. CCE 2015 thanks each and every one for sharing their heart and soul all week. You have blessed us!
Thanks again to Firehouse Subs, sponsors of the pre-concert jam session, and all of the sponsors for Christian Country Expo!
We hope our readers enjoy these pictures of artists that appeared on Thursday and  that everyone will make plans now to attend Christian Country Expo 2016 which will include the brand-new Christian Country Diamond Awards. Keep watching the Christian Country Expo Facebook page and SGN Scoops for more information.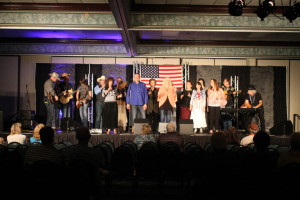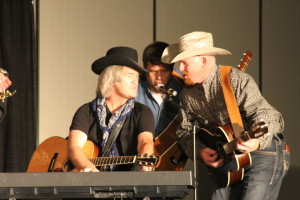 Click Here for More Pictures from Michelle Drummond!
Tags:
Ava Kasich
,
Chris Golden
,
Christian Country Expo
,
Gail Cogburn
,
Jan Harbuck
,
Jim Sheldon
,
Kelly Coberly
,
Kevin Rowe
,
Lindsay Huggins
,
Pigeon Forge
,
rob patz
,
Robin Springs
,
sgn scoops
,
sharron kay king
,
Steve Shirey
,
The Branscombs
,
The McKay Project
,
The Schoefields
,
Tina Wakefield
,
Tommy Brandt and Tommy Brandt II
,
Ty Hodges
,
Vonda Easley
Posted in
announcements
,
artists
,
christian entertainment
,
Christian interest
|
Comments Off

on Christian Country Expo comes to a close
Written by Staff on April 7, 2015 – 2:36 pm -
By Tina Wakefield
Four young women with a heart and passion for God and music mix together to create a transforming experience for any audience. While listening to the Hall Sisters perform, one could close their eyes and feel as though they had been transported back in time to the days of The Andrew Sisters where harmony was queen. Jessica, Natalie, Lydia, and Valerie Hall possess great talent for singing and playing their way into the very heart of their audiences. The Hall Sisters enjoy a variety of musical styles, and perform music from all genres including Gospel, Bluegrass, Folk songs, and Oldies, as well as fiddle and instrumental tunes. There is even an Annie Moses Band influence that is obvious within the group, coming from the instruction the girls received from this popular band.
Jessica Hall, the oldest of the sisters, plays mandolin, guitar, and piano and is the alto singer for the group. Jessica is also considered the leader of the group and is responsible for arranging the music for The Hall Sisters. Jessica says that in learning to lead, "I had to learn that I was not right all the time. To be a real leader, you need to be humble and willing to accept correction from others."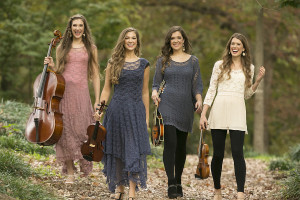 Being the one in charge can have its humorous side as well. Jessica was responsible for starting an a cappella song on a specific note. Unfortunately, she forgot the note and started the song too high. The group had to stop and restart the song on the correct note and that's one moment she'll never forget! Jessica says that while singing she feels the Lord's pleasure and as long as she can sing, she is happy. She adds that their parents have been their spiritual leaders and encouragers and the grandparents have been the prayer warriors praying for unity and safety as they travel.
Natalie Hall is a gifted musician as well as singer, possessing the ability to play the violin as well as the mandolin. Natalie's goal is that others would be drawn to Jesus through the light that shines in her. She is the high voice for the group and Jessica says that her voice is "one of the strongest that she has ever heard."
Music is Natalie's ministry to reach others but it does not define her totally. She enjoys being outside with her dad whether cutting grass, trimming bushes, or working in the garden. If she wasn't singing, Natalie says she would most likely be a Dental Assistant working for her father and also at home learning to be a homemaker.
Natalie truly has a strong tie with her family and loves spending her spare time with either parent. Just as she enjoys time with her dad outside, she equally loves to cook with her mom. Natalie has had her share of kitchen disasters and told us how a recipe went wrong. She was baking cookies with her mom and turned the page for the remainder of the recipe, but the page stuck and she ended up with a totally different recipe to finish the cookies. As it turned out, the cookies were mixed with a granola recipe, which was definitely interesting. The family didn't eat very much of that recipe, but they do love her homemade bread.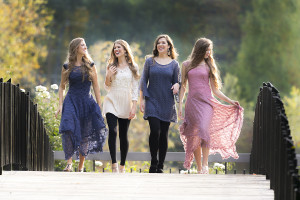 Lydia Hall has the great ability to light up the stage when she begins to minister through song and violin. Her steadfastness is based on the fact that, as she says, "I need Him everyday, and every hour of my life." Lydia continues, "We live in a dark world but music can definitely penetrate the darkness and I want everything I do to point to Jesus."
Lydia would love to perform overseas someday, as music speaks every language and she would love to meet others in different regions of the world. She has a tender heart for orphans and children and loves to understand how they see Jesus. A song that The Hall Sisters perform called: "Some Children See Him," is a favorite of the group because it speaks about children from all nationalities and how they view Jesus.
Lydia's beautiful voice can soar from alto to soprano for the group and her favorite song to sing is, "Brethren, We Have Met to Worship." She describes this song as glorious and worshipful and their performance of this song makes this writer smile.
Lydia encourages older singers who may be thinking of retiring and wondering if anyone still wants to hear the old songs to never give up. She feels that people love the old songs for the memories. These songs can recount a time when things were better for most people and the world was not so crazy. Even movies reach back and take songs from The Golden Era because they anchor people and give them a secure hook to the past.
Valerie Hall is the youngest member of The Hall Sisters. Valerie laughs, "It is hard learning to take correction from my older sisters!" She says that learning to pull her share of responsibilities of a singing group has been good for her, but if she could be the leader for just one day it would be fun to be the one correcting the older sisters. Honestly, she said she would not change a thing about The Hall Sisters because she feels the presence of God when performing and loves "feeling" the music when she plays.
Valerie sings soprano and plays the cello for the group. She says that she loves to relate to the audiences, smiling at them and seeing them smile back, and making sure she conveys the message behind the song. For Valerie, it is hard doing the same thing everyday, but she would never want to stop because she loves feeling the Lord's presence when performing. To other young people interested in music, she says: "Keep going, don't ever give up, but make sure that you are doing it for the right reason: to glorify God. It is worth all the practicing. It is definitely worth it!"
We are sure to be hearing more from The Hall Sisters in the very near future, as they are one of the up and coming young groups in Gospel music. The ladies have just finished filming several music videos in Nashville, TN. in January to be aired on YouTube. They have plans to return to the studio this spring to work on a full Christmas CD and another album.
Be sure to see The Hall Sisters in concert when they are in your area and you will be blessed by the music, spirit, and energy of these four young women. You may purchase one of their current projects entitled, Snow and True Blue Love on their website www.hallsisters.com .
Written by Tina Wakefiled.
First published by SGN Scoops digital magazine, February 2015. For current SGN Scoops issues, click HERE. 
Tags:
Annie Moses Band
,
bluegrass
,
Christian artists
,
christian country
,
Folk music
,
instrumental
,
sgn scoops
,
southern gospel
,
The Hall Sisters
,
Tina Wakefield
Posted in
announcements
,
artists
,
christian entertainment
,
Christian interest
,
exclusive report
,
industry news
,
sgn scoops magazine
,
special feature
,
Uncategorized
|
Comments Off

on The Hall Sisters: True Blue Gospel
Written by SGN Scoops Staff on November 15, 2014 – 7:14 am -
It's November and we are thrilled to present the latest edition of SGNScoops for you to read and enjoy. Creekside Gospel Music Convention was a blast and we have lots of pictorial coverage in these pages, as well as on the fabulous front cover. Inside we have an update on the event with a list of the Diamond Award winners and so much more. We say an extra thank you to all of those who went above and beyond to help make Creekside the best ever. If we were to make a list, we might leave someone out, so to each and every one of you: we are so grateful to have you as part of our team.
Thanks to our artists for brightening our pages this month! Featured guests for November are: Soul'd Out, Tim Parton, Melanie Walker, the LeFevre Quartet, Triumphant, Hannah Webb, Canaan's Crossing, Sherry Anne, the Jordan Family, Quinton Mills and DJ Ron Foster.
Thanksgiving is quickly approaching and you will find several articles with different views on this holiday. We appreciate all of our artists for contributing what they are thankful for and also their favorite holiday food!
Our monthly devotional writers are back with more insights, as well as a new column entitled "Pastor's Corner". This month we welcome Music Pastor, Terry Snyder.
Since this is the month of giving thanks, we would like to thank all of our current authors that spend so much of their time and talents on SGN Scoops. Special thanks to Candi Combs, Chris Clay, Craig Harris, Dan Duncan, Dean Adkins, Dixie Phillips, Erin Stevens, Hannah Webb, Jennifer Campbell, Laura Kennedy, Lynn Mills, Marcie Gray, Paige Givens, Scott Rhoades, Tina Wakefield, Robert York, Sandi Duncan Clark and Vonda Easley. There are others who contribute in other ways and we are thankful to you as well: Vivian Belknap, Michelle Drummond and Bev Byrd.
We so appreciate all of our columnists, including Lou Wills Hildreth, David Staton, Laurette Willis, Jeff Steele, Kelly Nelon Clark and Sherry Anne.
SGN Scoops would look really dull without the artistic team of Stephanie Kelley and Staci and Pete Schwager. Joan Walker makes sure all of our i's are dotted and our t's are crossed. Lorraine Walker as acting editor pulls it all together. And of course, SGN Scoops' Publisher Rob Patz keeps us all focused and enthusiastic about the future of the magazine. And SGN Scoops would not exist without our founder, Dr. Allen Smith.
Above all we give thanks to our Lord Jesus Christ, for Whom we give our gifts and to Whom we give all praise and thanksgiving.
Happy Thanksgiving!
Tags:
Candi Combs
,
Chris Clay
,
Craig Harris
,
Creekside Gospel Music Convention
,
Dan Duncan
,
Dean Adkins
,
diamond awards
,
Dixie Phillips
,
Erin Stevens
,
Hannah Webb
,
Jennifer Campbell
,
Laura Kennedy
,
Lynn Mills
,
Marcie Gray
,
Paige Givens
,
Robert York
,
Sandi Duncan Clar
,
Scott Rhoades
,
SGNScoops Magazine
,
Tina Wakefield
,
Vonda Easley
Posted in
announcements
,
sgn scoops magazine
|
Comments Off

on November 2014 SGNScoops Magazine
Written by SGN Scoops Staff on June 4, 2014 – 12:40 pm -
SGN Scoops, your destination for the latest in Gospel music news and information, is pleased to present SGNScoops Magazine Volume One…great new music from some of your favorite artists. Hear cuts from Creekside Gospel Music Convention artists like Ava Kasich, Clayton Watson, Faith's Journey, Hope's Journey, Lindsay Huggins, Omega Quartet, Page Trio, The Steeles, The Williamsons and Tina Wakefield. You will be blessed and your heart will be touched by the music on this album. Get your copy today!
Tags:
Ava Kasich
,
Clayton Watson
,
Faith's Journey
,
Hope's Journey
,
Lindsay Huggins
,
Omega Quartet
,
Page Trio
,
Southern Gospel Music
,
Southern Gospel News
,
The Steeles
,
The Williamsons
,
Tina Wakefield
Posted in
announcements
|
Comments Off

on SGNScoops Magazine Presents Today's Gospel Music Volume One
Written by SGN Scoops Staff on November 13, 2013 – 9:38 pm -
We are excited to present the November issue of SGNScoops Magazine! A picture is worth a thousand words, right? The cover this month captures the Spirit of this year's 2013 Creekside Gospel Music Convention! The spirit is certainly the spirit of Joy! The smiles almost tell it all, but catch the details of this year's event along with a listing of Diamond Award winners in this issue. Also, this month's issue is not the typical predominately Southern Gospel Music Magazine. We're just a bit on the COUNTRY side! This month, we're shining the spotlight on Christian Country like never before. Don't miss Rick Kiser's story, "Christian Country Gives Thanks," as well as features on Sharron Kay King, Steve Brown, Greg McDougal. This month also features Providence Quartet and Canaan's Crossing. Lorraine Walker and Rob Patz put together a fabulous Thanksgiving article allowing the Southern Gospel Community voice their gratitude. We all need our spirits boosted, so don't miss encouragement from Sherry Anne and Dr. Jeff Steele, and don't miss reading Lou Hildreth's special memories. A story on "Mary Anne Oglesby and The Veranda" is sure to warm hearts of families dealing with Alzheimer's and we hope will inspire other churches to care for the aged in their congregations. Award winning Songwriter, Belinda Smith shares her ministry and Ethan Whisnant shares his "Younger Perspective." Read about latest music, Christian Fitness, and more in this this well-crafted, beautifully designed online magazine. Remember, SGNScoops is digital and free! Please share with friends!
Tags:
Alzheimer
,
Belinda Smith
,
Canaan's Crossing
,
christian country
,
Christian Country Gives Thanks
,
Christian Fitness
,
Creekside Goispel Music Convention
,
Diamond Award winners
,
Dixie Phillips
,
Dr. Jeff Steele
,
Ethan Whisnant
,
facebook
,
gaither
,
Greg McDougal
,
Lorraine Walker
,
Lou Hildreth
,
Rhonda Frye
,
Rick Kiser
,
rob patz
,
SGNScoops Magazine
,
sharron kay king
,
Sherry Anne
,
southern gospel
,
Southern Gospel Music Magazine
,
Southern Gospel News
,
Steve Brown
,
Tina Wakefield
Posted in
announcements
,
diamond awards
,
sgn scoops magazine
|
Comments Off

on November 2013 SGNScoops Magazine
Written by SGN Scoops on January 7, 2013 – 9:44 am -
Music minister from Alabaster, AL and women's conference speaker Tina Wakefield kicked off the New Year by releasing her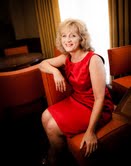 single 'The Choice' to YouTube.
The video is set in a small country church in Alabama.  The opening scene shows the familiar beloved preacher speaking to a lively congregation.  A sorrowful woman pulls into the church parking lot (played by Tina's sister) struggling with 'The Choice' to surrender her life to Christ.
As the video unfolds, a beautiful story of redemption is revealed.  Watch here:  http://www.youtube.com/watch?v=mMz36r1wdWw. 
The song comes off her newest self-titled album featuring other hit tracks like "Get Up in Jesus Name" and "If I Could Just Touch."
To find out more about Tina Wakefield, visit her website:  http://www.tinawakefield.com.
'The Choice' was produced by Godsey and Associates. To learn more about Godsey and Associates, visit http://www.godseyandassociates.com. 
To watch other videos by Godsey and Associates,
Visit their YouTube Channel:  http://www.youtube.com/godseyandassociates
Tags:
Godsey and Associates
,
Southern Gospel News
,
Tina Wakefield
Posted in
announcements
|
Comments Off

on 'The Choice': Tina Wakefield releases new single to YouTube this month