Written by Staff on December 1, 2019 – 10:30 am -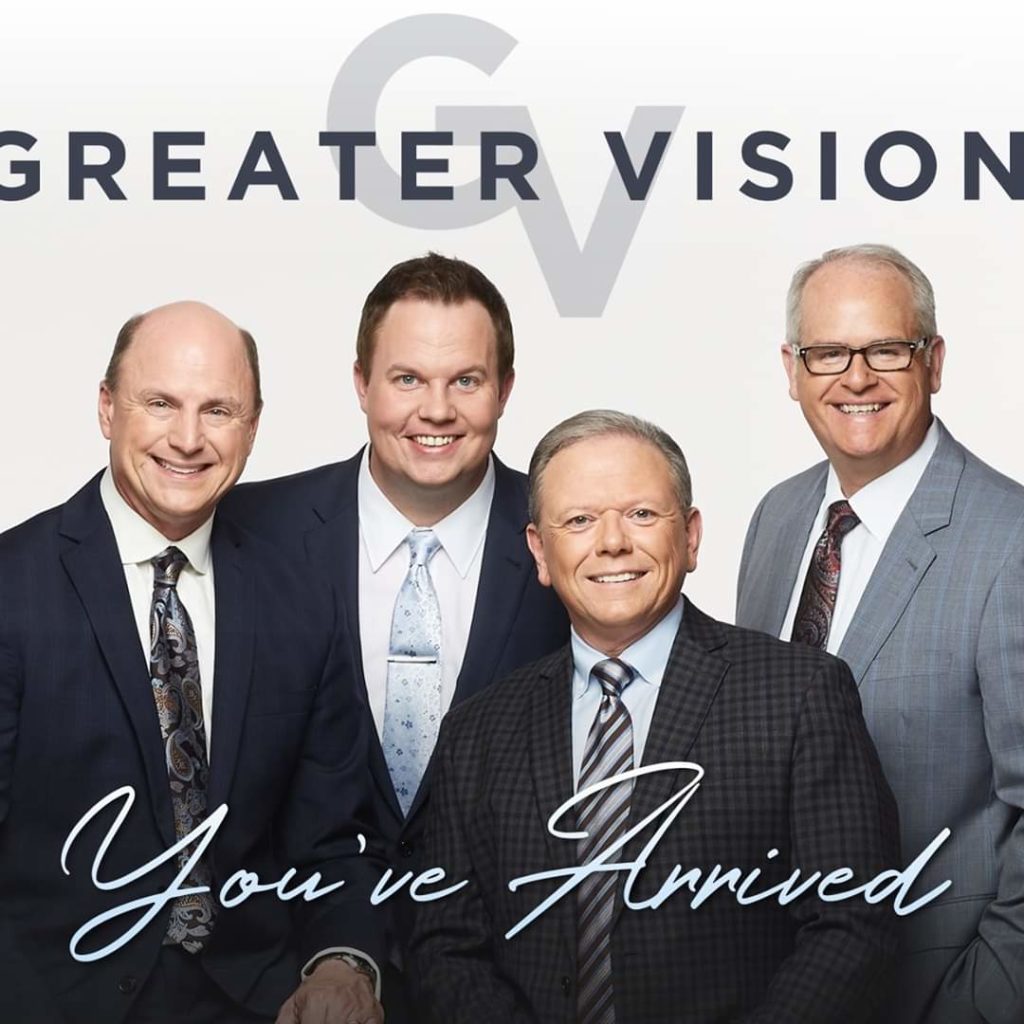 Beyond the Song: Greater Vision sings "You've Arrived," interview by Jantina Baksteen
I caught up with Gerald Wolfe of Greater Vision for this interview for Beyond The Song.
Group members of Greater Vision include: Gerald Wolfe, Rodney Griffin, Chris Allman, and Jon Epley.
Jantina Baksteen: December of this year, you celebrate 29 years of Greater Vision! What was your greater vision when the group was formed in 1990?
Gerald Wolfe: I wouldn't say we had some sort of epiphany, but I would say we had a strong desire to put a group together that would focus on strong lyrics that would convey a clear message, good arrangements that would be interesting to listen to, and that would convey the message of the lyric to the listener.  We also wanted to have a group that would compliment a church service, as well as be entertaining enough to be effective on a concert platform. Looking back, it's easy to see how the Lord guided those early steps that set us on the right course.
JB: To me, you are my Southern gospel music hero. What exactly is your definition of Southern gospel music?
GW: Thank you so much! You're very kind. Your question is one I've been seriously asking for a couple of years now. I was listening to gospel music, and going to concerts, before "Southern Gospel" existed, as a term or genre label. To me, what we do has always been "Gospel Music."  If an unchurched person asks me what I do, I tell them I'm involved in Christian music. Usually, they will have some sort of concept about what that is, but I'm not certain "Southern Gospel" has ever been an effective term to describe the kind of music we do, to someone who has never been exposed to it. These days, our genre of music encompasses such a wide variety of musical styles, I'm really not sure "Southern Gospel" is an adequately descriptive term anymore, even among people who might have an idea of what they think it is. The definition seems to depend on the personal tastes of the person describing it. So… the short answer to your question is, I don't really know what Southern Gospel is. I just know what I like, personally, and I call it Gospel.
JB: How would you describe the music Greater Vision is singing now?
GW: I've always called it "Gospel Music," "Christian Music," or "Church Music."  Overall, our basic style and sound hasn't changed over the last 29 years. However, we've never been afraid to stretch and challenge ourselves, musically. So, in that respect, we do a lot of different varieties of musical styles, within the confines of keeping the "Greater Vision sound" we've become known for, and that our listeners expect. People will usually go with you on a little musical journey, as long as you bring them back "home."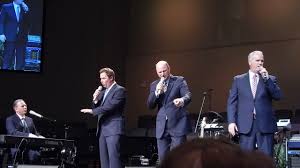 JB: You had to step down from singing and Jon Epley has taken your position. Has this changed the dynamic?
GW: I actually think bringing Jon onboard has actually broadened our dynamic, and allowed us to do some things we hadn't been able to do before, especially in our concerts. Jon's voice is easy to blend with, and he has a great ear, so he quickly adapted to our sound; and on recordings, most people can't tell the difference between the old Greater Vision, and the new GV.  He's been a great addition.
JB: Do you miss singing? If the crowd asks you, will you step up and sing?
GW: I can't say I miss singing, since I still do sing when I feel good, or when someone makes a special request for something I can still do.
JB: I enjoy the radio release of the same titled album, "You've Arrived." How did this song come together?
GW: "You've Arrived" was sent to us by Rick Shelton, at Daywind Publishing. It was written by Kenna Turner West, Sue Smith, and Marcia Henry. The first time we heard it, we knew it would make a great opener for the album, but a couple of lines needed to be changed to make it work. The writers graciously agreed to make the changes we suggested, and now we sing it every time we walk onto the platform.
JB: Who orchestrates your music since your long-time friend is home with the Greatest Orchestrator?
GW: Since my long-time friend, Lari Goss, passed away, we've worked with two young arrangers: Trey Ivey and Cody McVey, and well-known arranger, Steve Mauldin. It's been an interesting journey, having worked with Lari for so long. I first worked with him in the studio in 1981, and there are still days I cry when I listen to some of beautiful work he did for so long. He was a friend and a hero, and there'll never be another Lari Goss. Thankfully, The Lord is still raising up gifted people to help create arrangements that will lift the songs from paper and deliver them to the heart of the listener.  On our new CD, Trey Ivey did all the arrangements.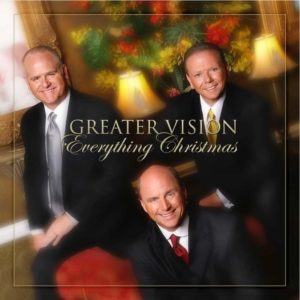 JB: Even before summer time starts, you start talking about Christmas. For you, what makes the best Christmas?
GW: There's nothing better than listening to Christmas music when it's 90F degrees outside! For me, there's never a wrong time to talk about Christmas. Since we call it "the most wonderful time of the year," why should we limit it to four weeks, between Thanksgiving and December 25? I prefer having "the most wonderful time of the year" all year long!  Seriously, when we think about the real gift of Christmas, and what it really meant for God to come to earth as a baby, we should be overwhelmed, whether it's in July, September, December, or February.  So, the best Christmas for me, is whenever I think about it!  Merry CHRISTmas!
JB: Who has the most jokes /funny stories when you are on the road?
GW: I'd say it's a close tie. When we get on the bus for a trip, everybody usually has at least one funny story about something that happened while we were at home. Anybody who's traveled with us for a weekend will tell you the laughs start when we get up in the morning, and usually continue until the last light is turned out at night.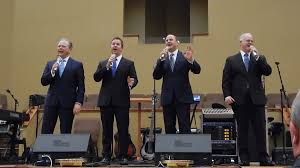 JB: I know you like to drive. Do you make the most miles behind the wheel?

GW: All of us share the driving responsibilities on the road. Everybody on the bus has a Commercial Driver License (CDL) and we have to remain in compliance with current DOT regulations for buses. We drive 250-mile shifts, and driving is something I really enjoy, unless I happen to end up with the 2:00 p.m. 'til 6:00 am shift, when we have an all-night drive on the schedule. I don't think anyone enjoys that!
JB: What is your favorite quote to share?
GW: I love good quotes. One of my favorite is,  "Obey God, and leave all the consequences to Him." (Dr. Charles Stanley).
JB: Thank you, Gerald, for giving us a little insight into Greater Vision. May God continue to bless your ministry, that wherever the bus stops to share your music, the words sung and the words spoken won't return empty. 
Please enjoy this video preview of Greater Vision singing the songs from "You've Arrived!"
Read more Gospel Music News in the latest SGNScoops Magazine Online HERE.
Download The SGNScoops Magazine PDF
Here
Find SGNScoops Magazine On Facebook
Here
Listen To Gospel Music
Here
Tags:
Beyond the Song
,
Chris Allman
,
Christian Music
,
Gerald Wolfe
,
gospel music
,
Greater Vision
,
Jon Epley
,
Rodney Griffin
,
Southern Gospel Music
Posted in
announcements
,
Beyond the Song
|
Comments Off

on Beyond the Song: Greater Vision sings "You've Arrived"
Written by Staff on March 30, 2018 – 8:40 am -
The Torchmen Quartet: Faithful
Recorded at Crossroads Recording Studio, Grant Ave Studios
Producers: Chris Allman, Amy King, Jon Hisey
Label: Independent
Review by: Lorraine Walker
It was a pleasure to receive the latest album from the Torchmen Quartet, entitled "Faithful." Appropriately named, this recording talks about being faithful to the Lord Jesus every day, through every difficulty, and in every circumstance. I have known the TQ's members, Mike Moran, Jon Hisey, Sandy MacGregor and Jeff Tritton for a long time and can attest to the fact that these gentlemen have been faithful to their call and to the Lord.
From the very first play of the first cut on the project, this CD feels like the TQ you know and enjoy, but upscaled to an even better version of themselves. "It's An Everyday Thing," has the type of instrumentation and vocals that listeners of Torchmen projects are used to, with violin and steel guitar, and the melody line seems perfect for MacGregor, who handles the song with ease. Special note that the drums on this track were played by Michael Booth, who has an excellent touch on the toms. This tune was written by Rebecca J. Peck, who also wrote two more cuts on this album.
"Faithful Father" is an easy-listening quartet song, written by Rodney Griffith and Chris Binion. It's a good reminder that no matter what, our Heavenly Father is faithful; much more so than we can possibly be. I enjoy Tritton's vocals regardless of what he sings, and he adds his smooth tones to this song which is polished and so comforting to the ear and the heart.
"Crown Him King," a quartet favorite by Luther G. Presley and Wally Varner, is handled effortlessly by this seasoned group. So well, I'm almost positive they have recorded it before. The quartet has recorded over 30 projects and I don't claim to have every project, so it could well be that they have. Regardless, it is an excellent track.
"What If Someone" is another smooth Tritton song, written by Lanny Wolfe. It will make you wonder what if you had never been told about Jesus…and who you should be telling about Him today that may not hear about the Lord in any other way.
"I Want to Live Like Jesus," written by Ernie Haase and Dianne Wilkinson, has the flair and instrumentation of a Cathedral Quartet cut. I so enjoyed the precision and thought behind this tune.
Torchmen listeners may not be overly surprised at some song choices by MacGregor, but I have to admit, when I heard the opening strains of this song and realized what it was, I couldn't believe my ears. But what a treat! If you listened to Christian music in the '80s, you couldn't help but hear Twila Paris sing, "The Warrior is a Child." MacGregor takes this song to new places and it truly becomes a quartet song. Great job, gentlemen. Kudos to your producer, Chris Allman.
"Good Things" is another Rebecca Peck song, this time with David Jenkins. Another finger-snapping tune shows the men's crisp timing and more great vocals by Tritton.
"Reunion with You" begins with a melancholy tone in both lyric and notes, but sadness changes to hope with the chorus which reminds us that there will be an eternal reunion with our loved ones someday. This song by Tim Lanier immediately reminded me of my mom who passed away almost 8 years ago; however, the pang of separation never seems to diminish. Mike Moran tells this story with finesse and the ability to communicate emotion, thought and lyric, that has made him a favorite with Canadian audiences.
"Wonder Working God" lists among its writers the husband/wife team of Zane and Donna King. I prefer to listen to a new project without reading the liner first, so I knew this was a special cut even before reading that Donna was a part of it. She is one of the most talented people in Christian music and it seems that anything she is a part of becomes touched with a special sparkle that is all her own. One of my favorite cuts.
"I'm Gonna Keep Praying," another Rodney Griffith song, reminds us what a privilege it is to be able to talk to God any time, anywhere. Another easy-listening song that has powerful, understated lyrics. That may sound like an oxymoron but when you listen to the song, you will agree.
"What Kind of Man," another Dianne Wilkinson song, helps us look at the humanity of Jesus, which is not a subject often addressed by preachers, let alone Christian music. Well done, Dianne and Janice Crow. Well sung as well, as the harmonies are lovely.
"When the Preacher Gets to Preaching," written by Rebecca Peck and Christine Degazio, is a fun song that reminds me of the old-time pastors you hear about, the kind who preaches it so straight that the listeners' hair is parted. Those of us who have been privileged to sit under that kind of sermon totally get this song. Jon Hisey, great vocals! Totally enjoyed this song.
"Oh, What a Price," the last Peck/Jenkins song, is a beautiful ballad that should be picked up by those churches who present an Easter choir performance. Lyrically and melodically, this song catches the enormity and solemnity of the cost of salvation.
Chris Allman's comments on the liner indicate that he understands this quartet and his work on this project confirms it. Amy King and Jon Hisey, your talents are also greatly appreciated. For the rest of the album information, the reader is encouraged to buy a copy for themselves.
If you are a fan of Southern gospel music, or just like well done music of any kind, please pick up this album. Thanks so much, Torchmen Quartet, for continuing to raise the bar on your recorded music. Here's to another 50 years!
For more Reviews of Gospel Music, Download The PDF Version Of SGNScoops Magazine HERE
Find SGNScoops Magazine On Facebook HERE
Listen Online To The Best In Todays Gospel Music HERE
Tags:
Amy King
,
canada
,
Canada's premier gospel group
,
Chris Allman
,
Jon Hisey
,
Quartet Music
,
Rebecca Peck
,
Torchmen
,
Twila Paris
Posted in
artists
,
reviews
,
special feature
|
Comments Off

on The Torchmen Quartet prove "Faithful" after almost 50 years
Written by scoopsnews on May 13, 2016 – 3:29 pm -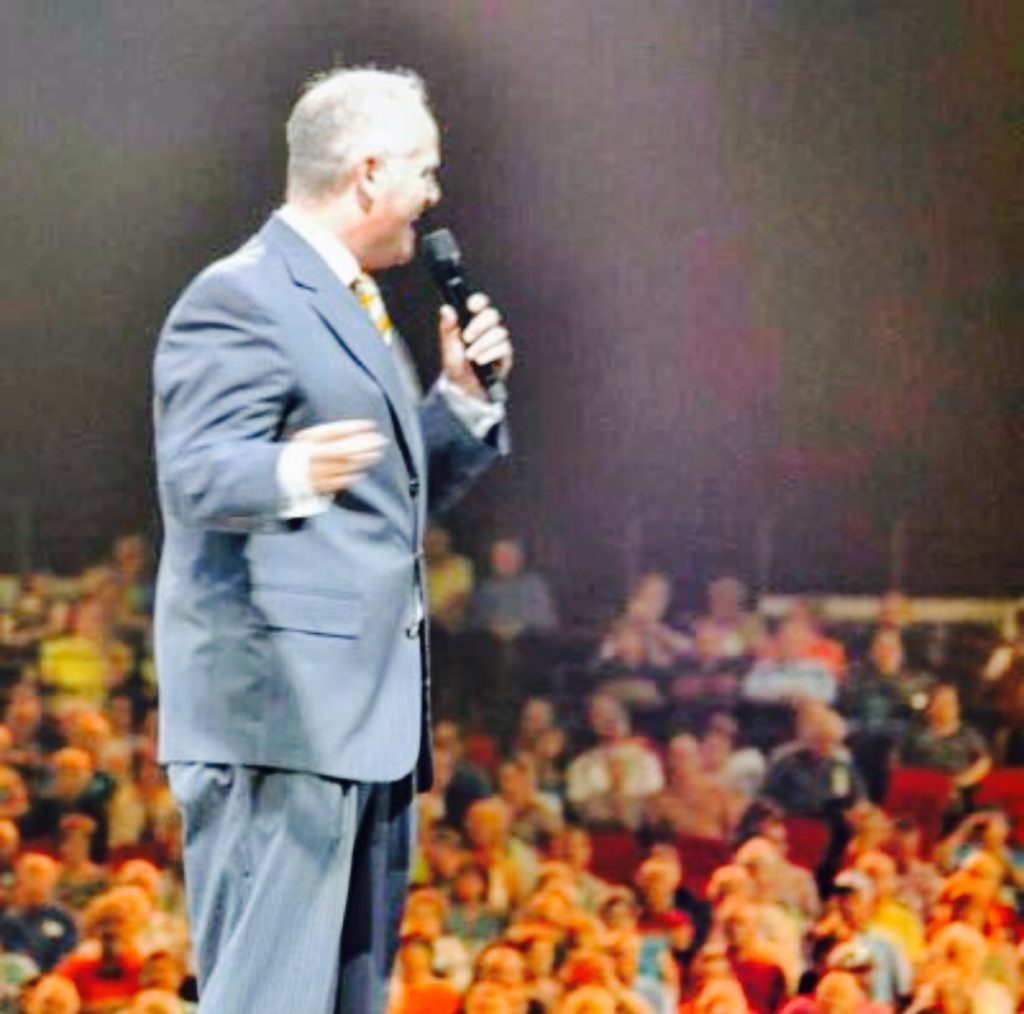 Trudat Chris!
Tweet of the Day:
These days r a sign of the soon return of Christ. Those who don't believe will b able to use whatever bathroom they desire when we are gone.

— Chris Allman (@chris_allman) May 13, 2016
Tags:
Chris Allman
Posted in
announcements
|
Comments Off

on Tweet of the Day! Chris Allman
Written by scoopsnews on April 14, 2016 – 1:28 pm -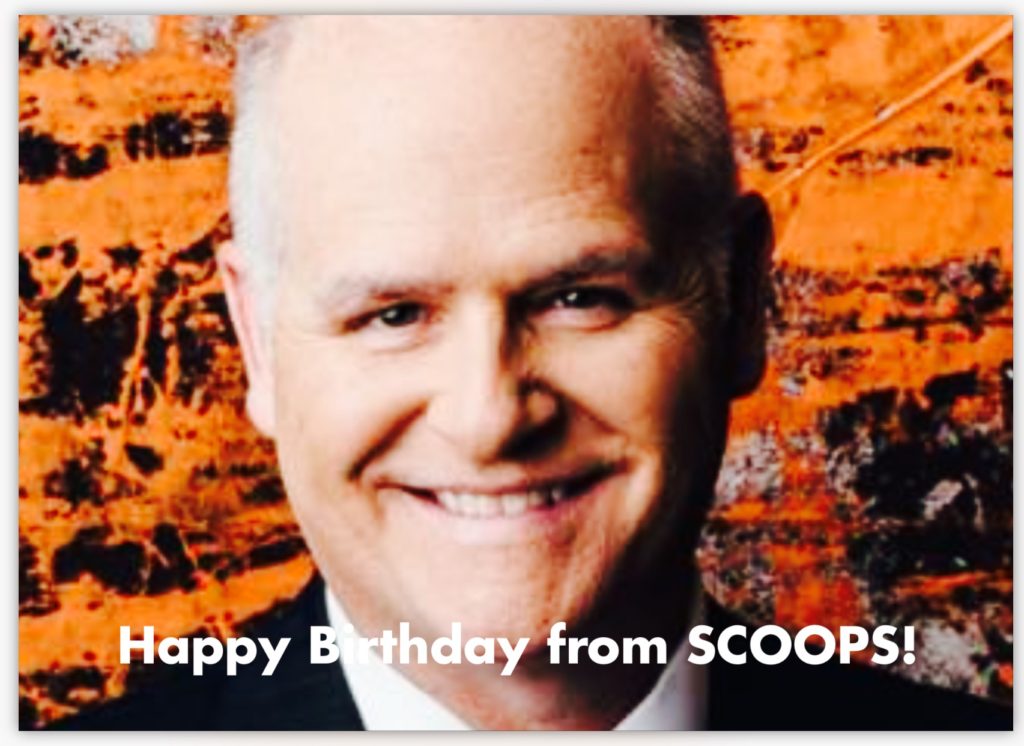 The Tweet of the day was from Mr. Gerald Wolfe which reminds us…..
Happy Birthday Chris from SGN Scoops!
Hope you guys had a nice lunch!
Lunch at Five Guys & Fries today, with Birthday celebrant, @chris_allman ! (I'm buying.) #LastOfTheBigSpenders
Lunch at Five Guys & Fries today, with Birthday celebrant, @chris_allman ! (I'm buying.) #LastOfTheBigSpenders

— Gerald Wolfe (@geraldwolfe1) April 14, 2016
Tags:
Chris Allman
,
Greater Vision
Posted in
announcements
|
Comments Off

on Twitter News of the Day! – Chris Allman
Written by Staff on October 20, 2015 – 12:26 pm -
Audiences love to hear The Mark Trammell Quartet and Greater Vision, and often when these two groups get together, Pat Barker will join them to
create the Second Half Quartet. With just piano and bass guitar accompaniment, this group made up of Gerald Wolfe, Chris Allman, Mark Trammell, Rodney Griffen and Pat Barker sing Gospel favorites, to the delight of the crowd.
Yesterday on Facebook, Pat Barker announced that the Second Half Quartet is appearing solo, going on the road to perform for the first time, on March 31, 2016, in Oxford Alabama. For all the details, listen to Pat's announcement below!
Check out Pat Barker's website Here.
View the Second Half Quartet's Facebook page here.
For all the artist news and information, view the SGN Scoops Facebook page.
Tags:
Chris Allman
,
Gerald Wolfe
,
Greater Vision
,
mark trammell
,
mark trammell quartet
,
Pat Barker
,
Rodney Griffen
,
Second Half Quartet
Posted in
announcements
,
artists
|
Comments Off

on Second Half Quartet Goes On The Road!
Written by Staff on May 12, 2015 – 2:09 pm -
By Matt Baker
It was 2006. I was scheduled to sing in a church in Clovis, New Mexico. I didn't realize whom I was opening for until that week. The group I opened up for that night made a lasting impact on me; they became my favorite group and still are to this day. I'm talking about Greater Vision, from Morristown, TN: lead singer/emcee Gerald Wolfe, baritone Rodney Griffin, and Chris Allman singing the tenor part.
Gospel music fans from all over the world have fallen in love with the smooth harmony and the timeless lyrics heard on each project they release. What I've come to love is their class and consistency on and off the stage; the Greater Vision I saw in 2006 is the same Greater Vision I saw a couple weeks ago in Morganton, NC. Their love for the Lord is evident in their music, and in this conversation, we'll see some of the heart behind this faithful journey they've been on for 25 years now.
Gerald Wolfe is a powerhouse in the world of Southern Gospel, and it's hard to imagine Greater Vision, or the Southern Gospel industry itself, without his presence. However, he says, that almost happened. "During High School, my plan was to go to the Navy after graduation, using the ROTC Program to pay for my education, since I had finished my High School's three-year ROTC program. Thankfully, God had a different plan that brought me to where I am today.  If I had followed my plan, I would probably be retired from the Navy by now, and playing the piano or organ in a church in Morristown, TN., or leading congregational worship."
Chris Allman is the most recent addition to this bunch and after a break of several years you'd think there would be changes to the focus of Greater Vision. "Well," says Allman, "At this point I wouldn't really be considered the newbie anymore. I've been back nearly five years. Believe it or not, it's not much different. We're just all older and more patient!"
This older group of Greater Vision still has the powerful singing and heart-gripping songs of the earlier version. It's not often that in a group, you have at your fingertips two of Gospel Music's most prolific songwriters. Rodney Griffin and Allman have written literally hundreds of songs in their career and they say this desire to write came out of the need to express themselves more personally in their music.
"Sitting at my desk in Newport News Shipbuilding in Newport News, Virginia in 1989, I wrote my first song," says Griffin. "I found myself writing during my lunch breaks. The only problem was I didn't have an outlet for any of my songs. I wasn't singing with a group at the time, yet I had a desire to say something. I had written 25 to 30 songs before I had the nerve to try to pitch something to a group."
Allman notes, "I just had a real desire to say something through music. It was as if just singing other people's thoughts wasn't altogether satisfying. I prayed for the gift to write and God granted it."
Occasionally the writers will bring forward a song that just doesn't work for the trio, and other artists then record these works. Griffin comments, "I've been blessed to write several songs that we haven't recorded. One of those that touches me deeply is: "Will You Marry Me."  I believe it was recorded on Lauren Talley's first solo project. Musically, it doesn't fit us, but wow, when I think of the message, it is deep."
Griffin and Allman songs have garnered awards and accolades for the group, but this doesn't make the Greater Vision men stand-offish or place themselves apart from their audience. On any given night, a concert attendee will find any of the men, or all three of them, at the product table. Griffin comments, "It's always a treat for me to hear how a particular song we sang encouraged someone in some particular instance. There is nothing more encouraging to a writer than to hear what God did with a song in someone's life – especially when you are looking them in the eye!" Read more »
Tags:
Cathedrals
,
Chris Allman
,
Gerald Wolfe
,
gospel music
,
Greater Vision
,
Hymn Sings
,
Matt Baker
,
Rodney Griffin
,
sgn scoops
Posted in
artists
,
christian entertainment
,
Christian interest
,
guest
,
sgn scoops magazine
,
special feature
,
Uncategorized
|
Comments Off

on Greater Vision:  A Legacy of Faithfulness
Written by Staff on December 19, 2014 – 12:28 pm -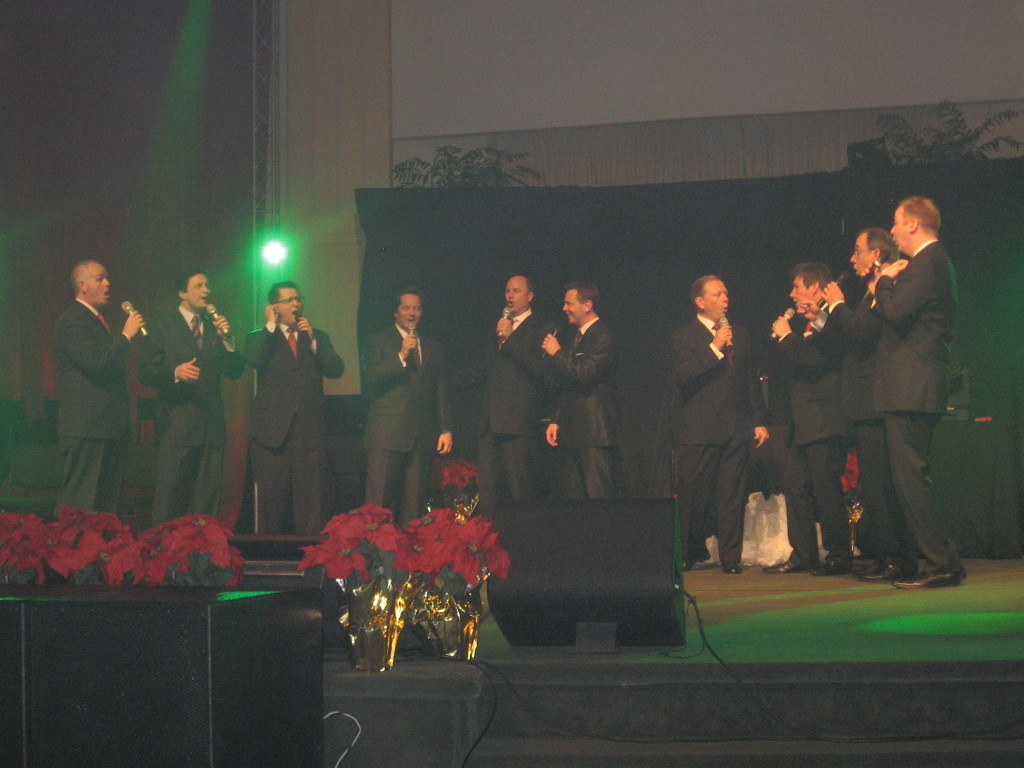 The Jubilee artists were recently in Ontario, Canada to present a Jubilee Christmas and SGM Radio caught up with them to talk about everyone's favorite, Christmas vacation.
[Editor's note: See below for link to the Jubilee Christmas concert review.]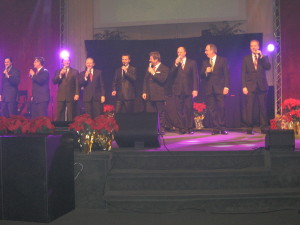 IMC Concerts and Greater Vision, Booth Brothers and Legacy Five bring the Jubilee series to many States throughout the year, as well as performing a special Christmas series in December. Gerald Wolfe who does most of the emcee work for the Jubilee presentation, is looking forward to having some time off from the stage work. "By the time I get home, our house will be in full Christmas mode, probably have a half-dozen trees up. We go out and run around, look at lights, go to the mall, eat, do what everybody else does. Then right after Christmas week, we get right back on the road. I'm looking forward to it though, I'm looking forward to putting my feet up!"
Wolfe is not the only one looking for a bit of rest. Fellow Greater Vision singer, Chris Allman says, "I look forward to relaxing, but that usually doesn't happen. Because we are out here so much, when I get home there is a lot that my wife wants me to do. Then I will be just hanging out with the family. I always take my wife and my two daughters who still live at home (my two sons are married), to a city like Atlanta or Cincinnati and we shop for a couple of days. We like to go to big cities to get away. So when I'm away, I'm on the road, and when I get back home, I'm on the road! But it's just different when you are with your family." Allman adds, "And this year of course my grandkids are going to be with us. My two grandbabies are going to spend Christmas Eve and Christmas Day with us. So Santa is going to come to see them at our house, so that's going to be fun."
Rodney Griffin is looking for to a couple of celebrations once he gets off the Greater Vision bus. "I'm looking forward to seeing my wife and two daughters. The day after we get home is my wife's and my 20th anniversary. So that will be a fun day. I've got her a gift kind of hidden away. I hope she doesn't find it!" (Note: Rodney told us where but we aren't saying!) Griffin continues, "A couple of years ago we moved back to Kentucky where we are from. My mom and dad are there as well as my wife's mom. I look forward to home cooking from my mom. She cooks as often as we will come over! We love that."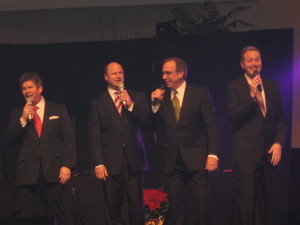 Legacy Five's Matt Fouch comments, "This Jubilee stretch is 12 days and last year was 17 days. So we got five days less this year, so that's good. I look forward to doing what everyone else does at Christmas: spending time with the family, especially after having been gone for 12 days. I get to see my little boy and my wife. I look forward to just relaxing and getting to go see our extended family." The other Legacy Five members may need some rest, but Scott Howard isn't planning on going home to put his feet up; at least, not for his entire vacation. "We finish on the 15th in Chattanooga and I will get home the morning of the 16th. My family will already be out of town for our little Christmas get-together. My son and I will catch up with them in Texas. We are doing a big deer-hunt down in south Texas. We'll get back home around Christmas Eve and spend a few days there and then start in on the New Year's sing. It's right around the corner…it's amazing how quickly it's gotten here."
With the New Year swiftly approaching, we asked the guys about their New Year's Resolutions. Trey Ivey intends to keep abstaining from soda pop, and Scott Fowler intends to stop making New Year's Resolutions! Scott Howard says, "I'm not a good resolution maker because I'm not a good resolution keeper. I think my resolution will be to try to be healthier in 2015. I have discovered that the older I get, the faster my health deteriorates." He laughs and continues, "So I think that is going to be a resolution of mine; to eat a little bit healthier, live a healthier lifestyle, work out a little bit more, try to be not quite so fat and happy as in 2014." Howard smiles and says, "Well, I still want to be happy, just less of the fat and more of the happy!"
IMC's Landon Beene comments, "I say 'lose weight' every year, but this year it needs to be a reality. And to find a nice balance of being at home and spending time with my babies, and doing more of what I love and less of what I don't." Matt Fouch remarks, "It's too early! I still have a month or so before I have to decide that. We do a New Year's Eve thing at the Opryland Hotel so I try to hold all of my resolutions off until after that because the food they have in the green room is awesome. So any type of diet or food resolutions, I try to hold off on until after that event."
Gerald Wolfe is not a Resolution maker. "I don't make them because I'm no good at keeping them. My New Year's Resolution, this coming year, is to eat. That's the only one I can keep!" Chris Allman says he wants to keep his weight off. Rodney Griffin comments, "I want to draw closer to the Lord. I want to read my Bible more intently. I try to read it through every year but I don't want it to become mechanical. I want the Lord to speak to me next year, give me songs He wants me to write, to live for Him and be a blessing to someone."
It seems that Michael Booth is also on a health-kick for his New Year's Resolution. "It's pretty much just my health, to exercise and have a little better diet. I'm 43 now and that is still young, but I'm feeling the miles more than I used to. And I can feel it in my voice too. If you want to sing well into your sixties, you need to be really careful and eat right. And you know, God says it's a temple. I've ignored that because it's hard to do on the road. This is the hardest part of the day [following the evening concert] because I'm starving, and we will soon be going to bed. If you eat wrong then you get acid reflux and all that stuff. It's really challenging."
Ronnie Booth is working on his spiritual health for the New Year. "Keep walking closer, staying more in the Word and being more obedient. True success in life is doing the will of God."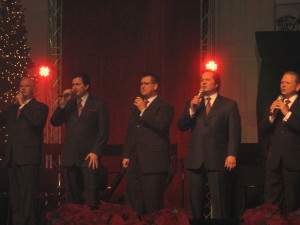 We also asked some of the men what they foresee for the coming year and whether there were any changes ahead. Scott Fowler comments, "The older I get, the more I don't like change. I hope there are no changes on the horizon. When things are going well, I like for them just to stay put. I'm hoping things will just stay as they are and life is good." He says there won't be a new Legacy Five release for a little while. "We are still kind of enjoying our latest recording which is Great Day, and we've had two radio singles off of that so far. We will start recording again in 2015, but nothing in the next couple of months." Scott Howard echoes Fowler's remarks when he says, "I don't know of anything I would predict. There's always change and the older I get, the less I like it. I don't really plan for change but I've grown to kind of accept it. I don't foresee anything changing. Our group will still be out doing our thing, unless the Lord tells us something different. I feel like we are doing what we are supposed to be doing now. I tell people all the time that it is subject to change. Sometimes God will steer you in a different direction, for whatever reason. I don't foresee that, but I never know. So I just wait and see what happens."
The Legacy Five men are looking forward to their New Year's Concert and Fowler is also looking forward to his family's New Year's celebrations. "We usually spend New Years Eve at our event in Nashville, Tennessee. We have a three-day event at the Opryland Hotel. 12-million Christmas lights are up, 12 life-sized nativity scenes, and it's just a lot of fun. When the hustle and bustle of that is over, we'll have a delayed New Year's party and celebration dinner at my in-laws. They are of Norwegian descent, so they have some Norwegian dishes they prepare for us, so it's a lot of fun to taste that culture."
Gerald Wolfe is looking forward to the New Year, though maybe not so much any of the inevitable alterations that life brings. "There's always change. That's the only certainty in life. We are releasing a new album in March, the first major one we've released in two years. Also, we are now getting into our 25th year, so all of 2015 will be leading up to our 25th anniversary. So we will do some special events along the way, we are giving away a cruise to the Caribbean, all kinds of special stuff like that!"
In 2015, Chris Allman is looking forward working on his personal projects and with Greater Vision. "There are different goals that I have. I enjoy producing. I'm producing a group right now called The Wrights from Kansas; we just did tracks with them. I'm very excited about what is happening there. They have a great CD that is going to be released next year. I'd like to produce some more groups and do several more of those during the year. So we'll try to get that underway." He continues, "We have a new project coming out in 2015; it's already in the can as they would say. It's already mixed and ready for release. It has some new songs I've written and some new ones that Rodney's written." Allman notes, "This past year was the busiest we have ever been. Ever, ever, ever. It's good and bad. It's good because there is a demand, and bad because it wears you out. You have to have a balance and this year we got close to crossing that balance. So we are getting pretty tired here at the end of the year. We are still enjoying it though."
Rodney Griffin is looking a little closer to home for changes in the New Year. "The biggest news in the Griffin household for 2015 will be if we get a dog. We had two family dogs and both of them lived about 19 years, and we lost both of them this year. It was a tough 'dog year' at our house as both of them had lived the extent of their lives."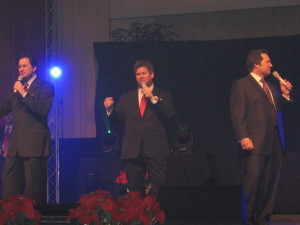 Legacy Five's Matt Fouch is excited about an unusual trip that they will be making in the fall. "In 2015, Legacy Five is going to Israel! We are doing a Holy Land trip and that is exciting and something new for me; I have not done that before. As you hear from other people who have gone there before, it's one of those things that is an experience of a lifetime especially for Christians, because you get to see with your eyes and walk the places, physically, that you read about in the Bible. I am looking forward to that and I know most of the guys in the group are looking forward to it as well. We are going in October 2015, so I have a little time to wait, but that is one of the things I am most excited about in the New Year."
Fouch says the unrest in the Middle East doesn't worry him, when it comes to the Israel trip and personal safety. "Scott went there with Dr. Charles Stanley and In Touch, as well as Greater Vision. Scott wanted to check it out and he was there when the fighting was at its peak. He said that he never heard anything, or saw anything, because it was taking place in a different part of the country. He said that with all the different religions of the people that lived in that area, everyone was peaceful. I think it's a thing where everyone understands that this is a tourist area, so they stay away from it. Scott said there were no problems, no issues with security, so we are not really concerned about that at all."
A Social Media interview guru; Matt plans to continue his On The Couch With Fouch in 2015. "I love doing it. For those who are reading, one of the really unique things about the interview series is that the audience gets to ask the questions! It's Social Media driven. So if you are reading this, you are probably on the Internet, or on Facebook. I read a statistic that about 70 or 80% of Americans have a Facebook account. So I put out there whom I am interviewing and you guys get to tell me the questions. I ask the questions you guys want me to ask. That's what makes it so unique. So if you want to follow me on Facebook, you can go to Matthew Fouch – Bass Singer, or if you are on Twitter you can follow me @L5bass. When I do have upcoming interviews you guys can let me know what you want to know!"
With a big smile, Fouch adds: "I love Legacy Five, I love being here, and everything is going wonderfully. I've been here for over two years now. September 2012 was my first date with the group. It fit like a glove from the beginning. They made me feel very comfortable. I guess they don't have a problem with me because they haven't run me off yet!"
We hope you have enjoyed these insights into the lives and hearts of the men from the Jubilee series and Jubilee Christmas. To read the concert review on Jubilee Christmas, visit https://www.sgnscoops.com/2014/12/11/jubilee-christmas/
For more information on the following groups, visit their websites:
IMC Concerts   http://www.imcconcerts.com/
Greater Vision   http://www.greatervisionmusic.com/
Booth Brothers   http://boothbrothers.com/
Legacy Five   http://www.legacyfive.com/
Find them on Facebook and Twitter too
First published on SGM Radio website in December 2014
For more artist features, visit SGM Radio today! Click on the button to listen to Gospel music 24 hours a day, seven days a week.
Tags:
booth brothers
,
Chris Allman
,
Gerald Wolfe
,
Greater Vision
,
Gus Gaches
,
imc concerts
,
Jim Brady
,
Jubilee Christmas
,
Landon Beene
,
legacy five
,
Matt Fouch
,
Michael booth
,
Rodney Griffin
,
Ronnie Booth
,
Scott Fowler
,
Scott Howard
,
Trey Ivey
Posted in
artists
,
SGM Radio
|
Comments Off

on Jubilee Artists Look Forward To Christmas and 2015  
Written by Staff on December 11, 2014 – 11:22 am -
By Lorraine Walker
 Jubilee means 'celebration' and that's exactly what we had when the Jubilee singers came to Hamilton, Ontario on December 5, 2014. IMC brought the Jubilee Christmas with Greater Vision, Legacy Five and the Booth Brothers all the way to Canada and the audience couldn't have been any more grateful. Over a thousand people filled Bethel Gospel Tabernacle, where they were delighted to see a platform full of lit Christmas trees, ready to host this special musical celebration.
Having traveled many hours through the night to reach their destination, Landon Beene of IMC said, "It's been a wonderful trip. We've had great weather and great ticket sales. A lot of people are excited about this tour. It was a breeze through the border last night, so as the Road Manager, that makes me really happy! We'll see how it goes tonight on our way back through." He added, "This is the first time that we've ever presented one of the Christmas Jubilee programs in Canada. We are sold out tonight, so I think the people are excited about the guys being here."
The crowd certainly was eager as the ticket holders burst through the doors to find their seats. The decorated foyer was filled with the colors of the season and the merchandise of the artists. Preparing for the evening, Scott Fowler of Legacy Five remarked: "It's good to be back in Canada. We always look forward to coming here and the Canadian folks are fun to sing to, so we are glad to be back. This is our last tour of the year and we are doing 12 Christmas shows in 12 days, so we call it the 12 days of Christmas. The Christmas Tour is the highlight of our year."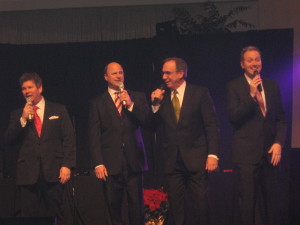 The artists were as energized as the audience as they filed on stage for the opening number. What a delight to hear 10 voices in four-part harmony fill the sanctuary with the opening notes of "Hark the Herald Angels Sing," along with a huge quartet-ending. Following this, Chris Allman of Greater Vision entertained the crowd with "The Most Wonderful Time Of The Year." Allman later remarked, "My favorite thing about the Jubilee is hanging out with the guys, of course. We love the shows and we love to see the people enjoy themselves. Tonight was a great crowd. If we can see them having fun, it's a lot of fun for us. We have fun on the stage, just hanging out with the guys. It's a really special experience."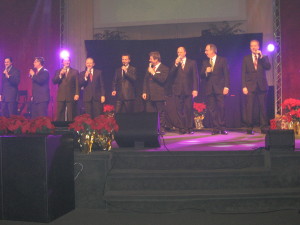 Everyone certainly did have fun during the course of the evening, with emcee Gerald Wolfe of Greater Vision often playing the straight man to jokesters Scott Howard, Michael Booth and Rodney Griffin. One example was the "Twelve Days of A Gospel Singers' Christmas," where even Trey Ivey joined in the hijinks. Howard remarked, "It's always fun when we get together with all our buddies from Greater Vision and Booth Brothers, our best friends out on the road. We always have a good time. I tell people that we are going to have fun and we just hope you do too! The Christmas stuff is fun to do and I think everyone enjoys Christmas music. We only do it one month a year but I think people would like it year-round. So we may extend this tour next year." There were several hints of a tour extension and a return to Canada during the evening, but as we know, a lot can change in a year!
One group who is dealing with change is the Booth Brothers, who sang the Evie Karrlson classic, "Come On, Ring Those Bells!" Jim Brady, who is leaving the Brothers to form his own group, the Jim Brady Trio, in the New Year, blessed the crowd with leading the Booths in "It Came To Pass," written by Gerald Wolfe. Ronnie Booth showed his 'crooner' side by smoothly singing about "Chestnuts Roasting On An Open Fire." The addition of Rodney on saxophone was a surprise to the crowd and one of the many laugh-out-loud moments of the evening.
Legacy Five sang such Christmas favorites as, "I'd Sure Like To Go To Grandma's House For Christmas," and "Christmas With A Capital C." Their pianist, Trey Ivey showed his prowess on "Here Comes Santa Clause," "O Little Town of Bethlehem," and this writer's personal favorite, "O Holy Night," on which Legacy Five lent their vocals to bring the carol to a powerful, worshipful end. Bass singer Matt Fouch had his work cut out, as he was the only bass on the platform. His rendition of "I'm Dreaming Of A White Christmas" turned dreams into reality with more comedy from his fellow singers.
Several times during the evening, different members of the groups would join together to bring different songs, carols and comedy. Rodney Griffin stated later, "My favorite part is how the three groups kind of forget their identities as individual groups. As Ronnie Booth explains it, when we get on this tour, the three groups become one. So there is no Greater Vision, Legacy Five and Booth Brothers. It's just a team of 11 of us working toward the same goal. Right now we are hauling everything out together. A few moments ago we were greeting the people together and now we are hauling out Christmas trees together. We do as much as we can to make it a success together."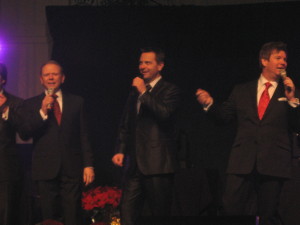 From the big ballads to the acapella numbers to newer songs like, "It Will Always Be Christmas To Me," as well as fun songs like "Hunting For Christmas," the men kept the audience on the edge of their seats. Wolfe led the crowd in the favorite carol, "Silent Night." Later in the evening, Wolfe commented, "The best thing about the Jubilee is hearing the audience sing. They are better than we are! You heard it tonight: "Silent Night"…that's my favorite part of the whole evening." He added, "I would do it all year. I just love this kind of music, I love the guys and it's a lot of fun. It's different every night because our memories [of how it was done the night before] aren't that good!"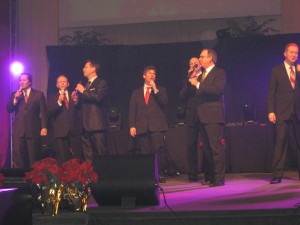 At the end of the second half, Ronnie Booth opened up the Bible to Luke 2 and reverently began the Christmas story. Scott Fowler followed this with "Welcome To Our World," beautifully sung as only he can do. The men then sang the energizing, "Go Tell It On the Mountain," and the lovely, "Christmas Benediction." Ronnie said later, "My favorite part is the Benediction and the arrangement of that particular one by Larry Goss. That is my favorite of all the songs we do. The other one is the one we sing called, "The Right Time," written by Mosie Lister. It says so much in such a little space. Obviously there is a lot of fun and people need that, but we are not here just to have fun, we also get very serious at the end, presenting Christ and the Gospel."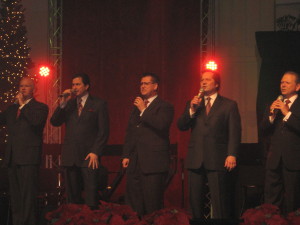 Matt Fouch agreed with Ronnie. "I enjoy the laughter, the fun stuff; but one of my favorite spots is coming to the very end when Gerald brings it all together and shares with everyone, 'You know, we've talked about how the story began with Jesus, and that's the season that we celebrate. But let me tell you the rest of the story…' That's the part I look forward to every night, because that is where we see the hope with His resurrection."
Michael Booth, one of those who certainly kept up his part in the comedy routines said, "Selfishly, my favorite part is that it is an easy night for me because in our programs I do all the emceeing, for the most part and I'm singing on every song. So it is a very easy program for all of us because we share the load. I also just like being with the guys. We are all pretty good friends. People ask us if we are having as much fun or getting along as well as it looks we are, and we do. We will get up on each other's buses tonight and ride across the border, then when it gets around 2:00 or 3:00am we will get in our own buses to sleep."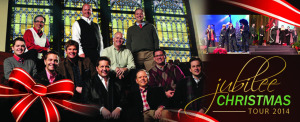 Many thanks to IMC and Greater Vision, Legacy Five and The Booth Brothers for presenting a beautiful, professional program, suitable for all those who enjoy Christmas music. If they come near your area, be sure you attend and bring an unsaved friend. The music will thrill them, the comedy engage them, and the presentation of the Gospel will bring them closer to the Christ of Christmas. Special thanks as well to Landon Beene, Brian Hutson, the Jubilee crew and the staff and ushers of Bethel Gospel Tabernacle, Hamilton, Ontario. We certainly had a Celebration of Christmas!
For more information, visit http://www.imcconcerts.com/tour
Tags:
booth brothers
,
Chris Allman
,
Gerald Wolfe
,
Greater Vision
,
Gus Gaches
,
Jim Brady
,
Jubilee Christmas
,
legacy five
,
Matt Fouch
,
Michael booth
,
Rodney Griffin
,
Ronnie Booth
,
Scott Fowler
,
Scott Howard
,
Trey Ivey
Posted in
artists
,
concert reviews
|
Comments Off

on It's a Jubilee Christmas!
Written by Staff on June 24, 2014 – 2:14 pm -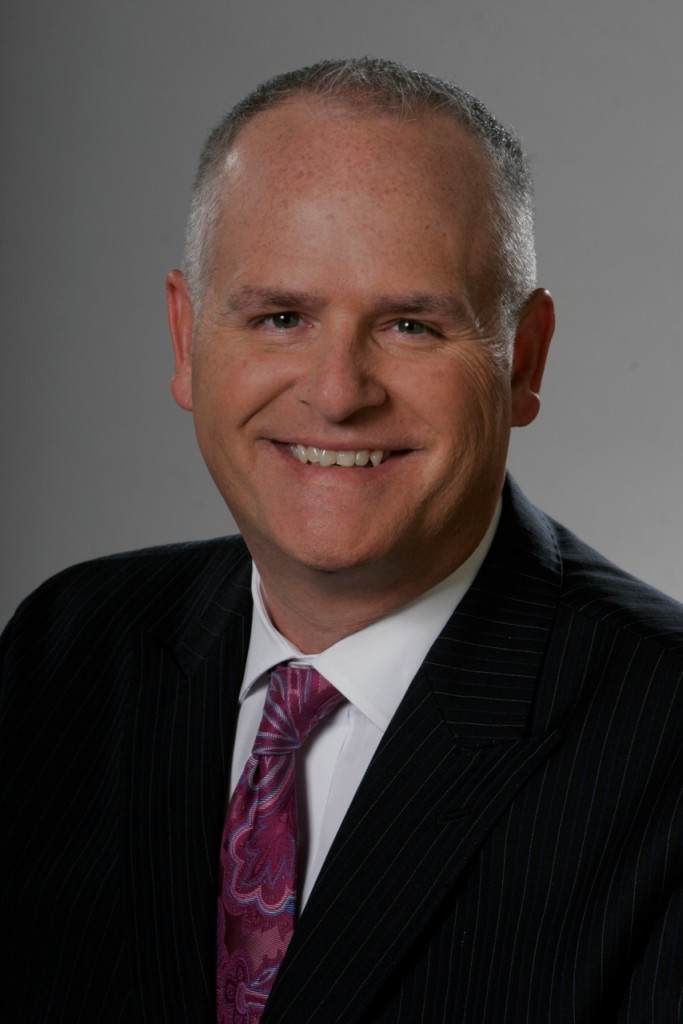 By Craig Harris
Priorities thrust Chris Allman out of Greater Vision. Then, a lofty goal took him further away from Southern Gospel Music. However, the veteran tenor singer is enjoying his second stint as a part of the industry's most-awarded trio. "We're cut out of the same cloth when it comes to humor and personality," Allman said of the group members. "We laugh all the time. We've all grown up too."
Allman's circular path to once again stand next to baritone Rodney Griffin didn't have many stops.
In fact, Allman first performed a soloist for seven years after leaving Greater Vision in 1995, which was five years after the formation of the group. "I had three kids, and all were relatively young," Allman said. "It was tough on me being away from them."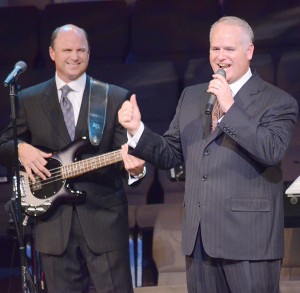 During his tenure as a soloist, most of his performances took place on the weekends, and his family often traveled with him. However, it was while seated in a pew at a Bailey Smith Real Evangelism Bible Conference that Allman's path took a significant turn. "I heard Jerry Falwell preach a sermon that said, 'what is your BHAG (Big Hairy Audacious Goal),'" Allman said. "I already had the calling (to preach). I didn't know what to do. I didn't know whether to go to school. Right then, I figured out that my Big Hairy Audacious Goal was to build a church from the ground up."
Allman didn't waste any time. "I heard the sermon on a Friday," Allman said. "Me, my wife (Kimberly) and kids (Dustin, Jillian, Emory and Jules) started the Church in Burlington (North Carolina) at my house. The next Sunday, my youngest son (Emory, who was nine years old at the time) was out getting kids in the neighborhood to come. I basically preached to a bunch of kids. In three weeks, one of the kid's moms came. We eventually outgrew the house and went to the YMCA. We stayed in the YMCA for two years. We grew from (an attendance of) 35 to right at 200."
Allman's father – Max Allman – served as a pastor for 32 years before he passed away approximately 12 years ago. "As far as pastoring, I said, 'I will never do that,'" Allman said. "My father was a pastor, and I saw what he dealt with. When God called me to do it, he literally changed my heart."
Allman pastored the church for eight years. "Looking at in respect, it blows me away that it happened," Allman said. "My wife Kimberly was a great pastor's wife. She had a great ladies ministry. It was by far the best ministry in the church. I couldn't have done any of that or any of this without her. It all happened very fast. To God be the glory."
However, Allman knew when his time in Burlington was coming to a close. "In November of 2009, I remember specifically telling my wife that my season was ending and that if God opened the door somewhere else that I was going to walk through it," Allman said. "It was a hard thing (leaving). I loved those people. That next March, I received a text (message) from Gerald (Wolfe, one of Greater Vision's founding members and lead singer)."
Timing was everything. A month before that text message transpired, Greater Vision sang at Allman's church. "I jokingly said, 'if you ever need me, give me a call,'" Allman said. "On March 20, he texted. He said, 'Are you serious about ever moving back to Morristown (located in East Tennessee)?' I said, 'yes.'" Read more »
Tags:
Chris Allman
,
Christian Music
,
Craig Harris
,
Gerald Wolfe
,
gospel music
,
Greater Vision
,
Rodney Griffin
,
southern gospel
Posted in
sgn scoops magazine
|
Comments Off

on Chris Allman – Round Two Going Well