Written by Staff on September 19, 2014 – 10:21 am -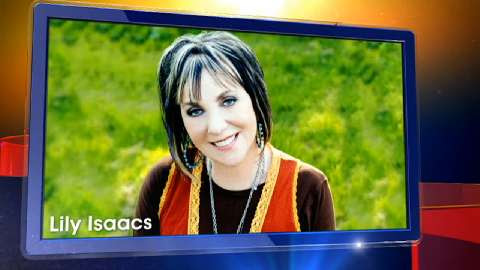 Nashville, TN (September 19, 2014) Lily Isaacs is set to appear on Daystar TV on the 'Joni Table Talk' program September 22nd. Lily is interviewed by Marcus and Joni Lamb about her book titled "You Don't Cry Out Loud" which encompasses her life and the Holocaust survival of her parents. She also discusses her conversion to Christianity and her Jewish parent's reaction.
The show airs on Daystar TV at 2AM – 7AM – 8:30 PM EST
To learn more about Lily and all of the Isaacs got to http://www.theisaacs.com or https://www.facebook.com/TheIsaacs or Twitter at https://twitter.com/IsaacsMusic .
If you are interested in booking Lily or the Isaacs go to the Harper Agency at www.harperagency.com or info@harperagency.com .
****
About The Isaacs
The Isaacs, a multi-award winning family group who began singing 30 years ago, are based out of Nashville, TN . The vocalists are Lily Isaacs, Ben Isaacs, Sonya Isaacs Yeary and Rebecca Isaacs Bowman. Playing their own acoustic instruments and joined by other band members, The Isaacs have a unique style that blends tight, family harmony with contemporary acoustic instrumentation that appeals to a variety of audiences. Their musical influences emerge from all genres of music including bluegrass, rhythm and blues, folk, and country, contemporary acoustic and southern gospel. Zak Shumate is on percussion and is the only non family member in the group.
Family also just recently sang anthem at Indiana Pacers game and got a standing ovation. They perform frequently at the Grand Ole Opry, are active members on the Gaither Homecoming Videos and Concert Series and travel throughout the year performing internationally. Concert venues include civic centers, auditoriums, arenas, fair grounds, parks, churches and other locations. They have performed the National Anthem for many sporting events, including a Cincinnati Bengal's football game, several Nashville Predators Hockey games, an Astros/ Braves pre-season baseball game as well as various political gatherings. They also received a standing ovation for their patriotic performance at Carnegie Hall.
Tags:
Bluegrass artist
,
Christian Music
,
Daystar TV
,
Gospel artist
,
Joni Lambe
,
Lily Isaacs
,
Marcus and Joni Lambe
Posted in
announcements
,
artists
|
Comments Off

on Tune-In Alert – Lily Isaacs On 'Joni Table Talk'
Written by Staff on September 18, 2014 – 12:10 pm -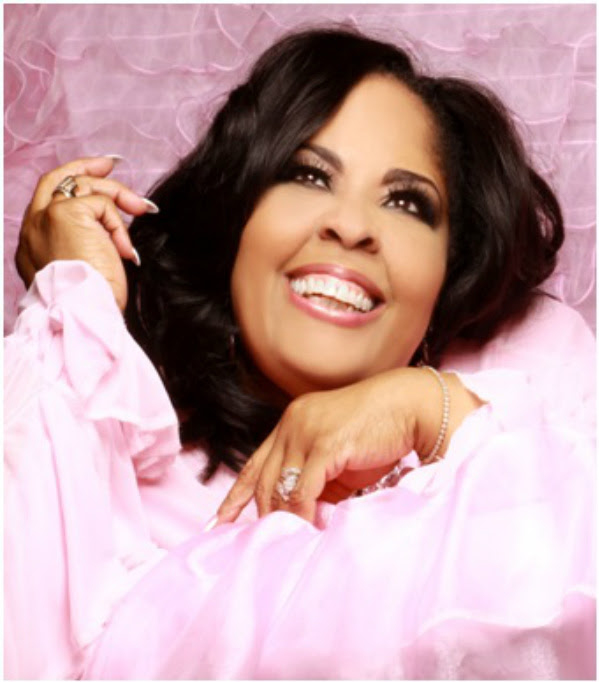 Nashville, TN (September 18, 2014) Angela Primm is no doubt known for being the most successful backup singer in the recording industry throughout all of Nashville. You have her melodious voice on such recordings as Reba McEntire, Aretha Franklin, Dolly Parton, Andre' Crouch, Barbara Mandrell, Patti Austin, Bill Gaither, and even the late Vestal Goodman. This phenomenal singer who has sung as backup for some of the greatest singers in the world is poised to enter that same arena as a powerhouse Gospel singer in her own right.
After Bill Gaither tapped her on the shoulder and designated her as one of his featured soloists on his famous Gaither Homecoming Videos, it was evident that the time had come for Angela to stretch herself and produce a major recording of herself.
What better atmosphere to record in than the songs of one of her heroines, namely mega-star herself, Mahalia Jackson. Mahalia Jackson was known for being able to sing the simple songs of the Gospel and bring them to life with her spirited singing. No one can bring as much enthusiasm to Mahalia Jackson's songs than Angela Primm. Angela will be bringing the old standard hymns and spirituals with all the dignity they deserve, yet adding her own personal touch which is sure to rapture your soul to new heights of ecstasy.
Now for a couple of stark facts. Angela is not one of those artists born with a silver spoon in her mouth, nor does she have a big record label to finance this exciting project. The truth is recording such a monumental project as this requires money, and a good bit of it. Producers, engineers, musicians and studios all have to be paid at the time of the recording.
This is where you come in. Angela Primm needs your help and support to accomplish this enormous task. The total cost of this memorial project, which is sure to touch the lives of millions of souls, is $28,000.00. That sounds like a tremendous amount, but in actuality if Angela's friends and fans who believe in what she does will help just a little, this mountain can become a molehill.
The Kickstarter program allows you to be a vital part of the ministry of Angela and also allows you to get a much greater insight into who and what Angela is. There will be many surprises for you the supporters as well as some very nice benefits. How would you like to give a private concert for you and your close friends in the Nashville, TN area? How would you like to have Angela sing Happy Birthday to you or one of your loved ones on the phone, the day of that big birthday? How about on your anniversary? A lot of very exciting things will be happening as a result of this Kickstarter program, plus you will be helping Angela go on about doing the Father's business.
Your time to help is NOW!!!!!!
Click the link below to help Angela TODAY!!!!!
<iframe width="480″ height="360″ src="https://www.kickstarter.com/projects/1650821011/angela-primm-spirituals-the-songs-of-mahalia-jacks/widget/video.html" frameborder="0″ scrolling="no"> </iframe>
$10 – MP3 download of a song from her current CD
$25 – A signed copy of one of Angela's previously recorded CD's (you choose which one) and a personalized hand-written Thank You note from Angela.
$50 – An ADVANCE copy of the NEW CD and a personalized hand-written Thank You note from Angela.
$100 – INCLUDES an ADVANCE copy of the NEW CD, an autographed picture and a personalized hand-written Thank You note from Angela.
$250 – Want Angela to personally call you on the phone and sing your favorite song to you? Here's your chance! INCLUDES an ADVANCE copy of the NEW CD and a – Includes personalized hand-written Thank You note from Angela.
$500 – Personalized video greeting from Angela and her singing a song of your choice! Includes an autographed Angela Primm picture, an autographed copy of the NEW CD as well as her current CD and a personalized hand-written Thank You note from Angela.
$1000 – (Limit 6) Be in the studio as Angie records the new project. A view from behind the scenes for one day. Includes an autographed copy of the NEW CD as well as her current CD and a personalized hand-written Thank You note from Angela.
$2500 – (Limit 4) Here's your chance to have Angela sing LIVE at your church! Angela will come to your church and perform a concert and/or perform as part of the worship service, whichever you desire. (within 250 mile radius of Nashville) Also includes a private meeting before the concert for you and a few close friends as well as an autographed copy of the new CD.
$5000 – (Limit 2) Not close to Nashville but still want Angela to sing at your church? Here's how! Angela will visit your church (anywhere in the continental US) and perform a concert and/or perform as part of the worship service, whichever you desire. (Travel and lodging accommodations INCLUDED) This also INCLUDES an autographed copy of the NEW CD.
$10,000 – (Limit 2) WOW!!! Come to Nashville and spend the day with Angela! She will show you around Music City and take you on a tour of one of Nashville's famous recording studios! INCLUDES an autographed copy of the NEW CD. (you must provide your own travel and lodging) Your name will be printed in a special thank you section inside the CD booklet of my new album.
To learn more about Angela go to www.angelaprimm.com or https://www.facebook.com/angela.hewlettwrightprimm .
If you would like to book Angela for you church or concert E-mail her at angela@angelaprimm.com or Twitter her at https://twitter.com/AngelaPrimm .
****
About Angela Primm
Angela Primm is one of the premier voices of our time. Her musical history spans genres, continents, and audiences. She has commanded the attention of mega-stars from Aretha Franklin, Barbara Mandrel, and Brooks and Dunn to Southern Gospel music legends, Dolly Parton, and the late Vestal Goodman.
Angela's background is what dreams are made of, and she is only beginning to step into the fullness of her purpose. Singing behind musical geniuses, Andre Crouch, Patti Austin, Bill Gaither, Gretchen Wilson and others, her four-octave soprano voice added rich tones and depth of sound to each artist's recording. Angela Primm whose gift of song, love of the Gospel and Gospel music has catapulted her, as the Bible says, "before great men."
Her current and inevitable step as solo artist is the natural progression of a life divinely designed. Angie is also a wife and business woman. True to her down-to-earth personality, she considers her most important achievement to be marrying her soul mate, John Primm. A successful business man as well as fine vocalist himself, he is Angie's biggest fan, chauffeuring her and caring for her on many of her personal appearances. He knew how to love her 20 years ago and continues to do so to this day. Together, they established "Still Waters, Christian Light Club, Inc.," a live Christian cabaret that never compromises the Gospel. The fresh and exciting show is a huge hit in Nashville!
Angela was raised in the church by her precious mother, who was also a singer. Angie's mom would sing the foot-stompin' and joyful, "Couldn't Keep It To Myself!" with such fervor, she would often lose her wig; but she would swoop it up and place it back on her head – backwards, and not miss one beat of her favorite song! Church members would laugh and shout right along with her! (Telling this particular memory of her mother makes Angie rear back in laughter herself!) "Couldn't Keep It To Myself!" is also a favorite song of Gospel legend, Bill Gaither and is featured on Angela Primm's sophomore project, Sanctuary. This CD along with her debut CD, A Little Bit of Heaven have been selling out wherever Angie performs – from concerts to cruises.
Bill and Gloria Gaither have embraced her as a daughter and always make room for her to sing in their sold-out concerts and Gaither videos. Angie's beautifully wide smile lights up a room and her fun-filled disposition carry an exuberance that is electric and contagious! Moreover, her anointed and powerful voice makes the cares of this world melt into puddles at your feet. Angela Primm is "a little bit of heaven" to those blessed to know her, or experience her music, her joy, and her wonderful laugh!
What lies ahead for Angela Primm? Her future rests securely in God's hands. But one thing we know for sure is that wherever Angie goes, and whatever Angie does, she will be giving her heart and soul to the people God loves, for the love of her Lord. That's the way it was, the way it is, and the way it always will be.
Tags:
Angela Primm
,
bill gaither
,
Gospel artist
,
gospel music
,
Mahalia Jackson
Posted in
announcements
,
artists
|
Comments Off

on Angela Primm Initiates Kickstarter For New Memorial Project
Written by Staff on September 11, 2014 – 1:03 pm -
By Matt Baker 
While I was on the road full time, I made some great friends in the gospel music industry. Some friends were people I loved to cut up with and still do. Some I gained great amounts of wisdom from. Some poured incredible amounts of encouragement into my heart and life. The singer featured in this article has been all three of those to me. Aaron Hise of the Whisnants has anchored the lead part for the group for many years now, and he is a big reason that the Whisnants have enjoyed great success on the stage, as well as the airwaves. I had the chance to ask him a few questions recently:
Matt Baker: You're a northern Indiana boy. How did you end up in North Carolina with the Whisnants?

Aaron Hise: While I was living in southern Illinois, I was filling in for a local quartet. One night we sang with the Poet Voices and Phil Cross asked me if I'd be interested in singing full time. Of course, I said yes. So Phil and I exchanged numbers and I never thought I'd hear from him again. Well, that was Friday, and on Monday morning Phil called and explained that Tim Greene of the Greenes was sick and they needed someone to fill his position. So I thanked Phil and immediately called Tony Greene. As I spoke to Tony he explained the details of what they were looking for and what they needed. Again…this was Monday morning. Tony then overnighted four CD's and marked the songs I needed to learn.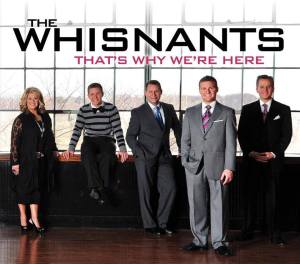 I drove to Boone, North Carolina, on Wednesday morning. That afternoon we ran through a couple songs, got on the bus that evening and sang in Pearl, Mississippi on Thursday night. I stayed with the Greenes for four and a half months and loved it! While my venture with the Greenes was coming to an end, the gentleman that was currently with the Whisnants came off the road. Tony mentioned it to me and said he'd call Jeff and set up an audition. I had my audition in December of 2000, got the job and I've been here ever since. To this day, I'll always be grateful to Phil Cross, Tony Greene and of course Jeff Whisnant for giving this Indiana boy a chance.
MB: Who were some of your early Gospel music influences and heroes?
AH: Being from Indiana we didn't get a lot of Gospel Music but when we did it was mostly quartets. My very first concert I attended was in 1983 at the South Bend High School in South Bend, Indiana, featuring the Kingsmen and the Cathedrals. I was hooked! To this day, I've always admired Glen Payne. Not only for his voice, but how he carried himself on and off the stage. My Dad, Ron Hise, will always be my hero for instilling a love and respect for Gospel music into my life. His love for sharing Jesus through this music became a love of my own through his influence.
MB: You've been with the Whisnants for quite a while now. Do you have a favorite place/venue to sing at? Why?
AH: There are several different venues that I love, but one of my favorite places will always be the National Quartet Convention. Singing at an event where so many of the Gospel greats have sung before still excites me to this day. We are also blessed to be a part of many Bible Conferences through out the year. One in particular, Mims Baptist Church in Conroe, Texas, is another favorite. Being a part of their Conference every January always starts my year out right, they are a true blessing.
MB: Most folks who follow Gospel music know that you're married to Suzanne (Taylor) Hise of the Taylors. How did you two meet? 
AH: Suzanne and I met at a concert in Kankakee, Illinois, where both of our groups were singing that night. I told Susan Whisnant that I was going to talk to Suzanne and I'm glad that I did. A month later at the National Quartet Convention we met up again and went out a couple of times. At the time, Suzanne was still in college and like myself, very busy. So we decided to slow down and get to know each other as friends. I knew she would be graduating from Liberty University that May. So I messaged her and asked if I could take her out for dinner to celebrate. She said yes and we started dating. Suzanne said yes again when I asked her to marry me on November 8th, 2012. We were married May 21, 2013.
MB: Because of your busy schedules, time together at home is precious. What are some of your favorite activities that you both enjoy to make the best of your time at home?
AH: We are like most Gospel Music couples in that we love our time at home. We enjoy going to see movies or staying at home to watch our favorite TV shows. We love to take road trips to Pigeon Forge, Asheville, or even the Coast. We love going out on dates to our favorite restaurants. Suzanne loves to cook as well, so she usually tries to cook dinner at least once a week while we're home. She's a great cook!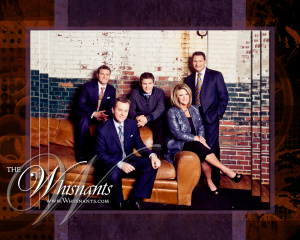 MB: What's your favorite Whisnants' song that you get to sing and why?

AH: My favorite song that I have had the privilege to sing is "I'm Trusting The Blood." When Joel Hemphill sent us the song, I knew I wanted to sing it. I'm a simple guy and I love simple songs that still have a message and say something. Sadly enough, there are people that are putting their trust in things to gain salvation. Worldly deeds are not going to get them to heaven. The bible clearly says, "Without the shedding of blood, there is no remission of sin". I truly love this song and we sing it every night.
MB: Share with us your funniest road story.

AH: There are too many to list, Matt! Here's one: We were singing at a church that was having a special celebration in their family life center. Like any church event there's always food involved. During intermission, a gentleman came to the product table while eating a hot dog. While he was walking back and forth admiring the CDs, he literally dropped ketchup, mustard, onions, and chili all over my product table. Needless to say, he didn't buy anything!
MB: Night after night, folks come by your table and share testimonies of how The Whisnants' music blesses them. Share a story with us that motivates you each weekend out on the road.
AH: Recently, we had an 87-year-old man come forward and give his heart to Christ. After the concert, the pastor told us that this same man had told him that he would never give in to Jesus Christ. While singing, "I'm Trusting The Blood" that man came forward and said "I Give Up." That is one night that I will never forget!
MB: You started out in Gospel Music while you were very young. What advice would you give to an aspiring Gospel singer? 
MH: Have a love for this music, a love for people, and most importantly a love for the Lord. Pray that this IS what the Lord wants to you do. Do your best to listen and learn from your favorite singer or singers. Oh yeah, and practice.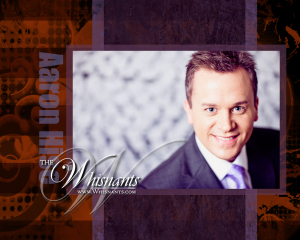 MB: You've got one last song to sing. What song would it be and why? 

AH: "And Life Is Worth The Living, Just Because He Lives." In that line alone, we have all been given the hope that our Savior is alive and coming back for all of those who place their trust in Him!
I hope you've enjoyed this short chat with one of my favorite singers. And judging by all those Number One songs they've been blessed to have, many of you who read this and listen to Gospel music, have made him one of your favorite singers as well. Keep Aaron and the rest of the Whisnants in your prayers as they minister each week across the country!
Find out more about Aaron Hise and The Whisnants here: http://www.whisnants.com/
Matt Baker writes for SGM Radio website.
First published in August 2014 on SGM Radio website.
For current features, visit http://www.sgmradio.com/
Tags:
Aaron Hise
,
Christian Music
,
Gospel artist
,
Matt Baker
,
southern gospel
,
Suzanne Taylor
,
The Whisnants
Posted in
artists
,
christian entertainment
,
Christian interest
,
SGM Radio
|
Comments Off

on Aaron Hise of The Whisnants
Written by Staff on August 22, 2014 – 10:55 am -
By: David Staton
Surely You Know Better!
I have always been amazed how many church people can compartmentalize their church life from how they live their lives Monday through Saturday. I have been in ministry all of my life and I've also worked secular jobs during many of my years in ministry. I will probably speak for many folks in ministry in this article. I am going to address a few issues from many different views concerning business and ministry.
My dad always told us kids that if anyone tries to get you to ignore common sense in anything, we should stay away from that person. There have been times when I ignored what my dad taught me, and I can tell you that I have regretted every one of those times.   He always told us that God created you with a brain and if you don't use it, you will live a life with a lot of regrets. Your brain is what allows you to make important choices.
How do we choose to follow Christ and live according to the scriptures? You have to use the brain that God so wonderfully created and placed between your ears.   Common sense is not living a faithless life, it is using wisdom based on biblical principles and learning from past mistakes.   I heard a great preacher say once that those who won't listen must feel. It's the difference between foolishness and wisdom. What you are about to read is based on common sense, biblical instruction and what I have had to feel.
First topic: Recording
This is directed to gospel artists everywhere. The average budget for a recording by a major artist is anywhere between $20,000.00 and $40,000.00. With any recording project, time is money. When you see someone advertise that they can produce a 10 song project for $2950.00 and it will compare with anything on the radio, surely you know better! When you get in the studio and realize your budget recording only allowed enough time to get three songs done and now you have to come up with additional money in order to finish 7 more songs, surely you knew better.
Then when a radio promoter tells you they can take your demo quality recording and get you on the charts, surely you know better! And on the occasion that someone does manipulate the charts and gets that demo quality recording on the air, please know that the entire industry and most fans knows better. If you were in any other genre of music, it wouldn't even enter your mind that such a scenario could be possible. But somehow, since this is GOSPEL music, we open the window and let common sense sprout wings and take off.
To all of my artist friends, surely you can hear the difference.   Surely you know better. If you don't, I'm telling you with all the love I have for you and gospel music, you may want to consider a different way to make a living.
To all of my radio friends, surely you can hear the difference.   Surely you know better.
If I'm wrong about the last two, we are in really big trouble.
This is for my fellow artists who are struggling and those who consider themselves leaders in the gospel music industry. If Macintosh / Apple Computers didn't set retail prices and just gave away their products for whatever people thought they were worth, do you know how much that iPhone 5S, iPad or mac laptop would be worth? You guessed it, nothing. Then imagine the board of directors and stockholders of Apple sitting around a conference table as each one gives their opinion on why the company is about to go bankrupt.
The first one says, "I think it's because there are too many little computer companies with inferior products that is killing our industry."   Another says, "I think we just need to make more products." Another says, "I think we should train these smaller companies to make better products so there wouldn't be so much junk in the marketplace." Someone speaks up and says, "Forget the laws of supply and demand and let's just work harder and make more products." Each one gives their opinion and no one even addresses the fact that Apple has stopped setting a retail price on their technology and they are giving away their products. The obvious problem never gets addressed and Apple continues to give their product away. How can anything that Apple creates have any worth if they keep manufacturing with real numbers, real overhead but they only ask for donations?
If you are or have ever been a leading artist in our industry and you can't figure out this little parable, let me just go ahead and say it. STOP SINGING FOR FREE! Why should anyone go to NQC or any other promoter's event, stay in a hotel, pay a ticket price and have to buy food when most any of the artists on these events will be somewhere this year within an hour from my house singing for a love offering? Does that mean you will work less? Probably! But when you do work, there will be some worth and value to your music and what you do. I'm amazed that this has gone on for so long and everyone is still wondering why the crowds are getting smaller. YOU'RE GIVING AWAY YOUR PRODUCT! Not many people value the music and what you do. How can it have worth?
Now, I know I'm going to get comments from the spiritual elite that will want to talk about how these artists need to sing for the right reason and preach about the artist's lack of faith while ignoring their own lack of responsibility. All of a sudden, their spirituality just asked someone to ignore common sense and do something stupid. If you have six guys who each have families, riding on a bus that blows out $100 bills from the exhaust pipe, how can you ignore common sense and lose money? Surely you know better!
To the pastors and promoters who book these artists in their church or at their event, surely you know better. Even if the artists don't own a calculator to figure their real expenses, you have a responsibility for any ministry that is coming to minister and edify your church. I realize that the default response is that if the artist is right with God, they'll just drive blindly across the country and hope and pray that someone at your church cares enough to invite folks to come to this free event.
I would love to know how 1 Corinthians 16 gets ignored in all of the planning. If you're going to take a biblical position on this, don't just pull the lack of faith card; let's look at real biblical instruction. The apostle Paul told the church of Corinth to do what the Galatian church did. Paul told them to take up multiple offerings the first day of every week and set aside some so they wouldn't have to take up an offering while he was there.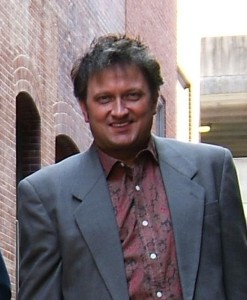 In other words, don't burden the folks who are visiting the night of the event to take care of the ministry coming in, set the money aside and plan ahead! The need should be met before the bus gets fired up. If there is a debate that singers are really ministers, then you should really examine the ones that are and bless them like they will bless your church. I have been on too many buses that have travelled for 20 plus hours to get to a date that is only guaranteeing them a love offering that night and refused to get them a hotel room.
My first thought is shame on the artist for neglecting common sense and putting your families at risk because you have not put any kind of value on what you do. After we arrive at the church and there's only 50 people that show up, my second thought is shame on the leadership of this church for putting no value on this ministry or the event itself. It's not worth more than a collection that night and it's not even worth putting some effort into trying to fill the seats.
The gospel has more value in a third world country. You don't have to bring a sound system, lights or even a singer. Just show up with some bibles and people will literally risk being tortured or killed to hear the gospel. Why do ministers who sing or preach have such little value to the American church?   Someone has to put value on this if it's going to last. So I say to both the pastors and to the artists, surely you know better!
I'm not trying to place blame on the artists or the churches, I'm just saying that we all need to wake up and use some common sense. There are thousands of part time, regional artists who don't do this for a living that will sing for free and that's fine, but if you are a professional artist and you devote all of your time and money into your ministry, there should be a difference between you and the artists who do this as a hobby.
The difference should be apparent in the quality of the music, the vocals and your overall presentation of the Gospel should be so powerful that it's obvious that you have worked and perfected what you do. All of this should make churches want to work toward an event where no financial need is left unfulfilled because you have made sure that no spiritual need is left unfulfilled that night.
For the artists who feel like this should strictly be entertainment, I applaud you. There is nothing wrong with Christian entertainment. In my opinion this should have a ticket price and if it's worth the ticket price, folks will show up. If not, you need to up the entertainment value by maybe making the music worth the price. If you think that people will pay a ticket price for a generic concert that most regional artists do, well…surely you know better.
To anyone who is wondering what the difference is between music ministry (which does have an element of entertainment value) and strictly entertainment, surely you know better!
David Staton is a monthly columnist with SGN Scoops digital magazine.
This column was originally published in April 2014 by SGN Scoops.
For current SGN Scoops issues visit https://www.sgnscoops.com/
Tags:
Can You Handle The Truth
,
Christian Music
,
David Staton
,
Gospel artist
,
gospel music
,
sgn scoops
,
SGN Scoops digital magazine
,
southern gospel
,
Truth
Posted in
sgn scoops magazine
,
special feature
|
Comments Off

on Can You Handle The Truth?
Written by Staff on August 5, 2014 – 6:14 am -
By Erin Stevens
Last year, I sat down with Amber Nelon Thompson to talk about her life on the road. This time around, it's her sister Autumn's turn to take the spotlight. Enjoy the next few moments as you get to know The Nelons' youngest daughter, who as of late has been stepping up and joining her family on stage. Oh and if you're in need of mandolin lessons, or the best place to get crab legs, I have just the girl to put you in contact with! The floor's yours, Autumn…
Erin: As a little girl, did you imagine yourself singing with your family? 
Autumn: I guess it's just part of my DNA. I've never really had another pursuit, music is my life and I've always loved it.
Erin: What does a typical roadie day in the life of Autumn Nelon Clark look like? 
Autumn: After a restful sleep in my bunk, I practice my mandolin, usually eat lunch with our crew, study schoolwork that normally may not get finished and help load our gear into the venue for the concert that night. By that point, it's time to sing!
Erin: On social media it has become apparent that you've become quite the musician. Tell us what your fingers have taken to? 
Autumn: Well, I love Bluegrass music! So the mandolin is by far my favorite instrument. Once I got a little more comfortable with it, I got a banjolin, which is the same thing, just sounds like a banjo. That's what I'm up to when I'm not singing.
Erin: Would you consider yourself: A (the prankster) B (the comedian) or C (the one who NEVER gets in trouble)? 
Autumn: Hmm, I'll go with C (the one who NEVER gets in trouble). Oh no, I'm only joking! It's probably more accurate to choose B (the comedian). What can I say? I like to have fun!
Erin: Can you describe what your most memorable concert was and why it holds meaning for you personally? 
Autumn: When my sister tried out for American Idol, I had to fill in as soprano for her. I was only 12-years-old and I was scared to death, but thank the Lord, I made it through!
Erin: Other than your family, who has been your biggest musical influence and why? 
Autumn: Like I mentioned before, I love Bluegrass music and to me, there's none better than The Isaacs. Sonya is one of my all-time favorites and a huge influence on me, not only because of her voice, but her incredible mandolin playing, too.
Erin: Here's a must ask question! What's your favorite food? 
Autumn: Crab legs! They are by far my favorite food. I could eat them all the time…and I pretty much do!
Erin: What would you consider are the pros and cons of traveling with your sister? (Be honest!) 
Autumn: It's a good and bad thing when your sister wears the same size as you. My clothes vanish, and somehow my earrings always end up in her jewelry bag. It's a good thing I love her!
Erin: I know you have plenty of time to decide, but at this point, can you see yourself doing this the rest of your life, or is there another avenue you feel the Lord may be leading you to? 
Autumn: Singing is always going to be a part of my life, and I could never see myself being apart from music.
Erin: While growing up in the Gospel music industry all your life, what are some struggles you've had to face as a young lady? 
Autumn: Missing my junior prom was hard. I miss going to my church regularly and not seeing my friends as much as I'd like to; however, I am grateful that my parents chose to come off the road for six years so Amber and I could enjoy those years of our childhood at home. It makes me love this life even more.
Yet again, how blessed this industry is to have teenagers like Autumn who have made the ultimate sacrifice of praise, week-in and week-out alongside their families. This vibrant young lady has a bright future in store; and in her words, no matter what that future looks like, you can be certain she'll be somewhere singing and playing her mandolin wherever the highway may take her next.
And that's my take on it. 
For more on Autumn Nelon Clark and the rest of The Nelons, go to http://kellynelon.com/
Young Perspective on Autumn Nelon Clark was first published by SGN Scoops in June 2014.
For current SGN Scoops issues, visit https://www.sgnscoops.com/
Tags:
Amber Nelon Thompson
,
Autumn Nelon Clark
,
Christian Music
,
Erin Stevens
,
Gospel artist
,
Kelly Nelon Clark
,
sgn scoops
,
the nelons
Posted in
sgn scoops magazine
|
Comments Off

on A Younger Perspective: Autumn Nelon Clark