Written by SGN Scoops Staff on June 19, 2011 – 3:48 pm -

Dallas, Ft. Worth, TX— David C Cook and Integrity Media reached an agreement whereby Integrity Music became part of the David C Cook family. The decision to acquire Integrity Music was motivated specifically by David C Cook's desire to expand its global impact in the area of worship. Per the agreement, David C Cook has acquired only those assets specific to Integrity Music. Integrity Media, based in Mobile, AL will still exist consisting of Integrity Direct, Integrity Worship Institute, and the international companies in the UK, South Africa and Singapore. Industry veteran C. Ryan Dunham, formerly David C Cook's senior vice president of sales and marketing, will serve as president of Integrity Music, effective immediately.
"At David C Cook we are committed to the Great Commission. Our mission is to 'Equip the Church with Christ-centered resources for making and teaching disciples who obediently transform today's generations.' We are delighted to have Integrity Music join the David C Cook family in serving the body of Christ," states Cris Doornbos, CEO of David C Cook.
"The acquisition of Integrity Music makes sense from both a ministry as well as a business standpoint. Both organizations are widely respected for their international reach and their worship music catalogs," states Ryan Dunham, Integrity Music president. "David C Cook is no newcomer to the worship music ministry. In 1993 Cook acquired Kingsway, a worship music company in Eastbourne, England, and partnered with EMI Christian Music Group to produce the Thank You Music song catalog. Kingsway artists include Matt Redman, Tim Hughes, Brenton Brown, The City Harmonic, and many others whose original songs are shaping the way a world-wide generation of Christians experiences worship," continues Dunham.
Integrity Music has profoundly influenced the worship music culture over the past 24 years. "Cris Doornbos and I share a deep passion for serving the global church and for the role worship music plays in making disciples around the world," says Integrity co-founder and CEO Michael Coleman. "As Integrity prepares to celebrate 25 years in ministry, I look forward to seeing the expanding impact of Integrity songs and products around the world."
The acquisition benefits David C Cook by adding an even greater variety of worship titles to the organization's current offering. It will also benefit Integrity worship artists and writers by providing a fresh perspective and an ownership structure as part of a nonprofit with an expanding realm of influence. Most importantly, it will provide the global church more options than ever for meaningful worship.
"I am honored that Michael Coleman, a man whom I highly respect and who has meant so much to the worship music movement, has chosen to entrust us with Integrity Music's worship catalog," Doornbos says. "Our vision for Integrity Music songs and recordings is to see them sung by people in their native languages in churches all over the world."
Integrity Music will operate independently within David C Cook as a Strategic Ministry Unit and be relocated to the company headquarters in Colorado Springs after a transition period of 3 months. Distribution of Integrity Music products in the U.S. will continue through Provident-Integrity Distribution and Columbia and Sony Music Distribution.
Tags:
David C Cook
,
EMI Christian Music Group
,
Integrity Media
,
integrity music
,
Michael Coleman
,
Provident-Integrity Distribution
Posted in
announcements
,
Christian interest
|
Comments Off

on David C Cook Acquires Integrity Music From Integrity Media Inc.
Written by SGN Scoops Staff on January 5, 2011 – 5:13 pm -
MOBILE, Alabama (January 5, 2011) – Integrity Music announces the February 22 U.S. release of Level Ground, an innovative CD and DVD project from award-winning Canadian worship leader/songwriter Brian Doerksen.
The Covenant, Juno and GMA International Award winner was inspired by a unique concept for Level Ground. Doerksen wanted to produce a live recording that placed the musicians and singers among the worshippers and embraced the intimacy and simplicity of a small group while reserving the stage for people to share stories of grace.  The live recording took place at "The Barn," a gathering place in Doerksen's hometown of Abbotsford, B.C. The result: a 13-song CD and a DVD that features music and inspiring stories of lives transformed by the power of God.
"
Level Ground
is not just a collection of my new worship songs," said Doerksen.  "It was inspired by Isaiah 40 which says, 'Every valley shall be raised up, every mountain and hill made low; the rough ground shall become level. And the glory of the LORD will be revealed, and all mankind together will see it.' It's one of the most well-known passages of the scriptures. But the reality of grace and the leveling it speaks of continues to elude most of us in our cultures of competition."
"We love elevating 'stars' and shaming 'sinners'," he continues. "God's heart as Father longs to embrace us all and place us on level ground!  Through Him, we can all experience grace that transforms. My hope and prayer is that is exactly what you will experience as you listen to these songs and stories!"
The Level Ground DVD is a two-hour film that brings together a hybrid of several elements – it's part concert film with all the songs from the CD (plus a new version of "Broken and Beautiful") and part documentary with interviews, "grace stories" and behind-the-scenes footage.
Of the DVD, Doerksen says: "On the film version you are placed right in the middle of our gathering; you hear and see the music happen all around you. You witness an 8' by 14' painting that captures the concept of 'level ground' as it emerges. But beyond the music and the painting, perhaps best of all, you get to hear and see the grace stories. For me that's the highlight of this project."
Integrity Vice President Robert Brenner adds: "I've been to many recordings in my 20 years at the label, but I have never experienced anything like this evening of worship. We were all standing together, musicians amidst the worshippers and the powerful exchange that occurred between one another and with our God was transformational. This CD and DVD have the potential to open up an entirely new model of worship that takes the focus off of the leader and places it directly on our God."
The Level Ground CD features new songs written by Doerksen along with co-writes by Paul Baloche, Kathryn Scott and Doerksen's longtime collaborator/producer Phillip Janz.
The song list for Level Ground is:
1. Welcome To The Place Of Level Ground (writers Doerksen, Paul Baloche)
2. The Jesus Way   (writers Doerksen, Steve Mitchinson)
3. Lifelong Passion (writer Ali Berry)
4. Enter The Rest Of God (writer Doerksen)
5. Everything/God In My Living (writer Tim Hughes)
6. Will You Love Me In The Winter (writer Doerksen)
7. Here Is Love with Give Thanks (writers William Rees, Robert Lowry and Henry Smith)
8. No Condemnation (writers Doerksen, Janz)
9. Giver Of Life (writers Doerksen, Mitchinson)
10. Altar Of Love (writers Doerksen, Mitchinson, Janz)
11. Whatever Comes (writers Doerksen, Mitchinson)
12. Thank You For The Cross (writers Doerksen, Kathryn Scott)
13. First (writer Doerksen)
In addition to the CD and DVD, Level Ground worship resources (trax/songbook/digital songbook) are available.
Brian Doerksen is more than a songwriter and worship artist.  He is also an author, conference speaker and pastor. His songs, which are sung in churches around the world, include "Come, Now is the Time to Worship", "Hope of the Nations", "Faithful One", "Refiner's Fire", "Hallelujah (Your Love is Amazing)" and "Holy God".  He has recorded six albums in partnership with Integrity Music – Level Ground; It's Time; Holy God; Live in Europe; Today and You Shine.
In 2008, Doerksen received a JUNO award (Canadian equivalent of the GRAMMY Awards) for Holy God (Contemporary Christian/Gospel Album of the year). For creating worship music that has impacted the global Church, he was honored by the Gospel Music Association with its "International Award." In addition, he has received numerous Covenant Awards from Canada's Gospel Music Association.
Born and raised on the west coast of Canada in Abbotsford, Doerksen now lives with his family (wife of 26 years Joyce and their 4 youngest children) in the same home that he spent his childhood in.  He continues to make his church home at 'The Bridge' in Matsqui village in Abbotsford, which he helped plant in the spring of 2006.
Tags:
Brian Doerksen
,
gma
,
integrity music
,
worship
Posted in
artists
,
christian entertainment
,
new music
|
Comments Off

on Integrity Music's Brian Doerksen Brings Worship Music To Level Ground with new DVD and CD
Written by Rhonda on November 23, 2010 – 2:18 pm -
MOBILE, Ala. – November 23, 2010 – New Zealand's Parachute Band will release their new CD Love Without Measure on February 1, but the band and label Integrity Music will give listeners a free preview through a download  promotion that includes songs from the project.
Between now and December 31, Integrity Music is giving away nine, free Parachute Band songs at
http://www.freeparachutemusic.com
. In addition to six songs from the band's last two critically acclaimed projects
Roadmaps & Revelations
and
Technicolor
, the promotion also features three songs from
Love Without Measure
. 
Love Without Measure is the first self-produced and third studio album for the New Zealand Music Awards People's Choice winners.  The new album features 12 tracks and includes guest vocals from Martin Smith (Delirious?). The CD takes its title from a song lyric ("Savior of the Broken Heart") that is central to the theme of the record and the band's new partnership with World Vision.  Together, Parachute Band and World Vision are raising awareness and funding for Tubehoneza, a community in Rwanda's capital city of Kigali.  Almost $250,000 has been raised at the Parachute Band's last four music festival appearances and more than 1,870 children have been sponsored to date.
While finishing the album, the Parachute Band has been touring the U.S., including leading worship with Martin Smith at the Joyce Meyer Conference at Lakewood Church in Houston on November 4.  The Kiwi worship band also played U.S. festivals this summer, including Big Ticket Festival, Cornerstone, Lifefest and Lifelight.  
Integrity Music first started working with Parachute Band, with a different band line-up, in 2006 for the release of All The Earth.  In 2007, Omega Levine (front man) and Sam de Jong (drummer/producer) formed New Zealand's 'next gen' Parachute Band, carrying on the mission of the original band members.  They built a team of like-hearted musicians for one purpose: to translate God's Word into sounds that could be understood on city streets. Since then, they have toured relentlessly in the U.S., Canada, South Africa, Rwanda, the Philippines, Malaysia, Thailand, Hong Kong, England, Italy, Scotland, Hungary, and Romania.
But theirs is not only a sound that resonates within the global Christian music industry. Parachute Band speaks straight to their generation, weaving together their own blend of indie-rock that somehow incorporates the diverse stylings of Sigur Ros, the Yeah Yeah Yeahs and Passion Pit. Their impact led them to win the coveted People's Choice Award at the mainstream NZ Music Awards in 2008 and prior to that the band received the Gospel Music Association's "International" Award recognizing their impact on the global Church.
Tags:
integrity music
,
Parachute Band
Posted in
new music
|
Comments Off

on New Zealand's Parachute Band and Integrity Music Offer the Gift of Free Music This Christmas Season
Written by Rhonda on November 12, 2010 – 11:37 am -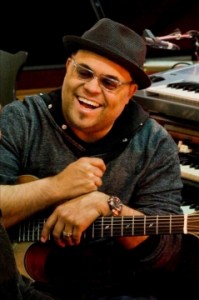 November 12, 2010 —
Integrity Music's Israel Houghton
is interviewed on Fox News this Saturday, Nov. 13 at Noon CST/1:00pm EST.  Hougton is interviewed by Fox reporter Kelly Wright as part of his regular "Beyond the Dream" segment, which has recently featured Denzel Washington and Joel Osteen.
Multiple GRAMMY, Stellar and Dove Award winner, Soul Train Award winner and double RIAA certified Gold-selling artist Israel Houghton released his critically acclaimed album, Love God. Love People, in August on Integrity Music/Columbia Records. 
Love God. Love People has garnered praise from critics reaching out to a diverse variety of music fans nationally and beyond.  Critics at media outlets ranging from CCM to Gospel Today and ChristianityToday.com to SoulTracks.com, CBA Retailer + Resources, GospelFlava.com, Breathecast.com, Crosswalk.com and more have lauded the new album, calling it "gospel music milk and honey," "profound" "uplifting," "spectacular," "God dropped it out of heaven," "excellent," "amazing," "musical and spiritual masterpiece," "relentlessly original," "wonderfulness" and more.
Writing or co-writing all but one of the songs on Love God. Love People., Israel is an innovative worship leader, singer, composer, multi-instrumentalist and producer who has also written or co-written 11 CCLI Top 500 favorites.  Breaking down barriers and defying categorization with his music, Israel uses his own multi-cultural upbringing as a reference point with a desire to draw people of all races, ages and cultures together. 
Tags:
Beyond the Dream
,
Fox
,
integrity music
,
israel houghton
Posted in
announcements
|
Comments Off

on Israel Houghton To Appear on Fox News This Saturday in Beyond The Dream Feature
Written by Rhonda on November 3, 2010 – 9:29 am -
MOBILE, Ala. – November 2, 2010 — Jackie Evancho, the 10-year-old soprano prodigy whose performances on "America's Got Talent" won the hearts of millions and brought her into the national spotlight will release her first record O Holy Night on November 16 to Christian retail through Integrity Music and via Columbia Records/Sony Music to general market retail.
Jackie's debut CD features the Christmas favorites "O Holy Night" and "Silent Night" plus the beautiful opera classics "Pie Jesu" (Blessed Lord Jesus) and "Panis Angelicus" (Heavenly Bread) – both of which Jackie performed on America's Got Talent.
The DVD features Jackie's performances from America's Got Talent including the audition tape that landed Jackie her spot on AGT.  Lastly, it includes an interview with Jackie filmed the week following the show's finale.
O HOLY NIGHT CD/DVD combo
CD Track Listing
"O Holy Night"
"Pie Jesu"
"Silent Night"
"Panis Angelicus"
DVD Track Listing
"Panis Angelicus" (Youtube Audition)
"O Mio Babbino Caro"
"Time To Say Goodbye"
"Pie Jesu"
"Ave Maria"
An Interview With Jackie
Since appearing on "America's Got Talent," Jackie's accumulated more than 30 million combined YouTube views and was the #1 Hot Google Search on August 10 and 11.  She had the #1 video on YouTube the week of August 11 and has YouTube's biggest non-ad-supported video of 2010 (so far).  The "America's Got Talent" finale on September 15 was the show's highest rated in three years.
Evancho catapulted into the "America's Got Talent" quarter finals round when her unaffectedly pure performance of Puccini's "O Mio Babbino Caro" (one of Maria Callas's signature arias) and handily won the show's YouTube round, selected by online fans.  An odds-on favorite with viewers, Jackie performed four times on "America's Got Talent" over the summer.  Rocketing into the finals, her astonishing classical crossover soprano performances marked the arrival of a major musical talent.
"In my typically humble opinion, I've seen a lot of auditions over the last five years in Britain and America and the point of this show is to find undiscovered talent – proper, raw talent – that can go on to potentially be a huge star," said Piers Morgan, Judge of America's Got Talent. "I have never, ever, seen an act on this show, or the British show, or any of the other talent shows in the world that I have seen with more potential than Jackie Evancho."
Jackie Evancho first began singing at the age of 7 after watching "The Phantom of the Opera" on DVD.  She launched her own YouTube channel and started seriously vocal lessons when she was 8 years old.  A Pittsburgh native, Jackie performed at local talent shows, going on to perform at high profile events including singing the national anthem at Pittsburgh Pirate games.
Tags:
America's Got Talent
,
Columbia Records
,
integrity music
,
Jackie Evancho
Posted in
new music
|
Comments Off

on America's Got Talent's Jackie Evancho Releases Christmas CD
Written by Rhonda on October 14, 2010 – 10:19 am -
MOBILE, Ala. – October 14, 2010 – Gateway Church, from which "Revelation Song" was birthed and best-selling new artist Kari Jobe was first introduced, will release God Be Praised on November 9.  The new album is the third Gateway project released by Integrity Music and Gateway Create.
Recorded live, the 15 new songs on God Be Praised once again reflect the passionate worship arising from Gateway Church in Southlake (Dallas), Texas.  Led by Assoc. Pastor and Worship Leader Thomas Miller,  along with the entire Gateway Worship team, God Be Praised features both energetic praise and intimate worship for a project that centers around the theme of "the victory we have in Christ," according to Miller.
"I am praying that the music from this album will be songs for people and churches everywhere to declare the absolute, complete, overwhelming victory that we all have in Jesus," says Miller. "Since He conquered all, we are more than conquerors and can live a life of complete victory through Him. When we live in victory and freedom, we live a life that naturally overflows in praise to God."
Gateway Church, which began ten years ago with just 200 people, has grown into an influencing and equipping center that weekly ministers to thousands. At the heart of this dynamic church is its vibrant worship ministry that has become known for offering some of the most popular new worship songs of this generation. These include "No Sweeter Name," "Come Thou Fount, Come Thou King," and "Revelation Song," the 2010 winner of a Dove Award for Worship Song of the Year.
Comprised of worship leaders, singers, and songwriters, Gateway's worship team offers a rich tapestry of experience, talent, and perspective. Team members include Miller, Walker Beach, Rebecca Pfortmiller, Sion Alford, Zach Neese, David Moore, Jason Tam, and Dove Award-winning artist Kari Jobe. Filled with more than 40 contributors, the group is committed to expressing how God is moving through and speaking to the church.
The song-list for God Be Praised is:
"God Is With Us Now"
"Praise Him"
"Victory"
"For A Thousand"'
"Stay Amazed"
"The Blood"
"I Hear The Lord Passing By"
"One Single Drop Of Blood"
"By The Grace Of God"
"How To Worship A King"
"Praise Is The Offering"
"Glorify You Alone"
"Faithful God"
"You Are For Me"
"God Be Praised"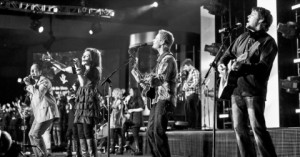 Tags:
Gateway Church
,
integrity music
,
kari jobe
,
Thomas Miller
Posted in
new music
|
Comments Off

on GATEWAY CHURCH BRINGS NEW MUSIC WITH GOD BE PRAISED, RELEASING NOVEMBER 9
Written by Rhonda on October 12, 2010 – 2:04 pm -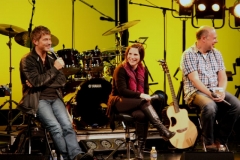 MOBILE, Ala. – October 12, 2010 – Church music teams across the nation still have the unique opportunity to come together for training and encouragement at Integrity Music's popular Seminars4Worship Glorious events  this fall and based on the response from the first event held last week in Pittsburgh, the upcoming Seminars in Boston, Raleigh-Durham, Augusta and Mobile are not to be missed.
 
As part of Integrity Music's commitment to serve and equip local churches, each Seminars4Worship Glorious event features internationally renowned worship leaders/songwriters Paul Baloche, Kathryn Scott and Brian Doerksen and offers skill-building workshops, faith-building general sessions and soul-feeding worship for everyone involved in music ministry.  Some of the comments from attendees in Pittsburgh:
"This was excellent. A thoroughly positive, encouraging, edifying, educational experience. I firmly believe attending this conference once a year should be mandatory for all worship leaders." 
  "Glorious is the best conference on any topic that I have attended so far this year." 
"Thank you so much! I really feel as though my head and heart are being realigned and reconnected through this conference. Like I am being brought to a place of sincerity."  
"This has been an absolute blessing! I'm so thankful for the opportunity to be fed and encouraged by such skilled and godly examples. I've rested in the presence of God these two days and am leaving changed, as a result. Therefore, my local church will be impacted, thanks to Kathryn, Brian, Paul, and the Integrity team. Thank you for loving the King AND the Kingdom!"  
"This is the most personal conference I have ever been to. The "unconference". I am learning a lot as well as being blessed by the Lord during times of worship."
The two-day conferences are taught by Baloche, Scott, Doerksen and a host of skilled musicians and clinicians, offering both practical instruction and a spiritual foundation in an intimate setting.   After wrapping up a successful first Seminar in Pittsburgh, the team of worship leaders and speakers will move on to four remaining dates in the Fall 2010 version of Seminars4Worship.
 
This year's Seminars4Worship Glorious remaining schedule is:
October 29-30            Boston, Mass.
November 1-2             Raleigh-Durham, N.C.
November 5-6             Augusta, Ga.
November 8-9             Mobile, Ala.
 
Special pricing for groups (such as church worship teams) and "alumni" of Integrity Live events is also available.  Information and registration details can be found at www.seminars4worship.com.
 
The Seminars4Worship Glorious conferences include inspirational and encouraging general sessions as well as personalized breakout sessions that will address distinct roles in worship. The class topics include: songwriting, effective worship leading, vocal technique, audio mixing, worship space design/lighting, music production/technology, women in worship, technology for multi-site churches, etc. 
 
Worship leaders Paul Baloche ("Above All," "Offering," "Glorious"), Kathryn Scott ("At the Foot of the Cross," "Hungry," "I Belong") and Brian Doerksen ("Come Now is the Time to Worship," "Faithful One," "Refiner's Fire") are joined by top audio and visual experts who offer practical, interactive training and "behind-the-scenes" perspectives. This includes an opportunity for registrants to observe sound checks and dialogue with the worship leaders and guest musicians such as Carl Albrecht, Michael Rossback and Ben Gowell.
 
At each of the five seminar cities, Baloche, Doerksen and Scott will present a ticketed worship concert that is open to the public.  Registrants of Seminars4Worship will receive free concert tickets as part of their registration. Ticket information available at http://www.itickets.com/.
 
Previous Seminars4Worship conference registrants make a strong case for attending the events together with their teams or on an individual basis. Said Lisbet Siebert who attended last year in Portland, Ore.: "The worship seminar was wonderful, and we learned so many awesome things! I walked away with a desire to seek God more, and was inspired as a worship leader! It was a refreshing time of drawing closer to God and learning some profound things about leading worship!"
 
Jim Caswell, a Seminar alum from Cleveland, Ohio, states: "I have been to Integrity seminars before, but being able to bring our whole team will really bless our congregation in ways that I can't wait to see!"
Tags:
Brian Doerksen
,
integrity music
,
kathryn Scott
,
paul Baloche
,
Seminars4Worship
Posted in
Christian interest
|
Comments Off

on Seminars4Worship Glorious Coming to Boston, Raleigh-Durham, Augusta and Mobile After Successful Kick-off in Pittsburgh
Written by Rhonda on October 4, 2010 – 2:04 pm -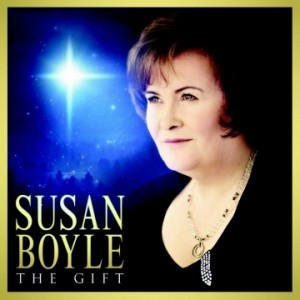 Oct. 1, 2010 – MOBILE, Ala. – Integrity Music, in partnership with SYCO/Columbia Records, proudly announces the Christian retail release of The Gift, the eagerly awaited second full-length album from the top-selling international singing sensation Susan Boyle, available everywhere on Tuesday, November 9.
 One of the most highly anticipated releases of 2010, Boyle's The Gift premieres ten new performances from the former "Britain's Got Talent" contestant whose debut album, I Dreamed A Dream, sold more than 9 million copies worldwide since its release in November 2009.  Like its predecessor, The Gift is produced by Steve Mac.
 
Along with her selection of beloved sacred music — "Do You Hear What I Hear?," "The First Noel," "O Holy Night," "Away In A Manger," "Make Me A Channel For Your Peace," and "O Come All Ye Faithful," Boyle puts her stamp on some unforgettable pop classics including Lou Reed's "Perfect Day," Leonard Cohen's "Hallelujah," and Crowded House's "Don't Dream It's Over."
 
Boyle's The Gift also features the debut of Amber Stassi, winner of the "Susan's Search" online talent contest, singing a transcendent duet with Boyle on "Do You Hear What I Hear?"
 
Boyle explained; "When making this album, I really wanted the songs to touch hearts. Music has always been a companion to me, particularly on special occasions. I wanted there to be a mix of songs that would flow with all our moods this holiday season. As much as the season is a time for reflection, it is also a time for fun and enjoyment with those closest to us."
 
An unexpected pop icon with the voice of an angel, Boyle rocketed to international fame when her performance of "I Dreamed A Dream" (from Les Misérables) on "Britain's Got Talent" became the most watched YouTube video of 2009, with Boyle generating more than 500 million YouTube hits.
 
Boyle surprised the world with her powerful, heart stopping voice when she walked onto the Britain's Got Talent stage in April 2009. By November she had conquered the international music charts with her debut multi platinum album I Dreamed A Dream, selling over 10 million copies worldwide. Her debut album I Dreamed A Dream made Boyle the biggest selling artist in the world in 2009, the fastest selling artist in the world for a decade and the fastest selling artist in the history of the UK charts. I Dreamed A Dream shot straight to the number one spot in over 21 countries including the UK, USA, Canada, Australia, Japan, New Zealand and South Africa.
 
The track list for The Gift:
1. "Perfect Day"
2. "Hallelujah"
3. "Do You Hear What I Hear" (Duet with Amber Stassi)
4. "Don't Dream It's Over"
5. "The First Noel"
6. "O Holy Night"
7. "Away in A Manger"
8. "Make Me A Channel Of Your Peace"
9. "Auld Lang Syne"
10. "O Come All Ye Faithful"
 
Britain's Got Talent Judge (and American Idol creator and former judge) Simon Cowell said; "Susan broke all the rules, became famous literally overnight and has become one of the world's most popular singers. I'm incredibly proud and pleased for her. I think Susan has gone a step further with this new album. She is a very special lady."
Tags:
integrity music
,
Steve Mac
,
susan boyle
Posted in
new music
|
Comments Off

on SUSAN BOYLE RELEASES CHRISTMAS RECORD THE GIFT ON NOVEMBER 9
Written by Rhonda on September 20, 2010 – 4:20 am -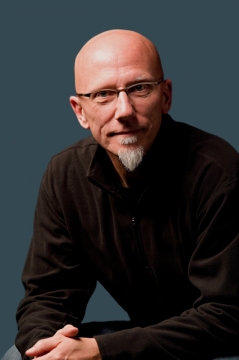 MOBILE, Ala. – September 13, 2010 – Christian entertainment executive Douglas Mann has joined Integrity Music Label Group as Vice President of Sales and Marketing, bringing a wealth of skills from his previous experience in music, book publishing and music business in both the U.S. and abroad.
 
At Integrity, Mann will oversee all marketing and sales-related issues for the Integrity Music Label Group, home to best-selling worship artists including Kari Jobe, Lincoln Brewster, John Mark McMillan, Jonathan Nelson, Paul Baloche, Vicky Beeching, Carlos Whittaker, and the Grammy Award winning Brooklyn Tabernacle Choir and Israel Houghton.  He reports directly to John Coleman, Senior Vice President/General Manager for Integrity Label Group.
 
"Douglas brings a rare combination of talents and experiences to Integrity that enables him to lead from business, creative and God-centered perspective.  Our team is excited to work with Douglass and we look forward to the impact he will have here in Mobile," said Coleman.
 
Mann's diverse background is reflected by his dual citizenship in the U.S. and the Republic of Ireland.  He has spent time working in both countries, most recently in Colorado Springs with David C. Cook Publishing where he served as Sr. Director of Marketing – Books & Multi-Media where he worked with such best-selling authors as Francis Chan (Crazy Love: Overwhelmed by a Relentless God).  Mann was responsible for re-branding of DCC publishing, development & implementation of marketing plans and supporting strategic partners including Integrity, EMI and Kingsway Music.  Before working at David C. Cook, Mann was Director of Brand Marketing at Navpress, which is also in Colorado Springs.
 
Throughout the 1990s and early 2000s, Mann worked in Christian music, playing a key role in the formative years of Forefront Records becoming one of Christian music's most successful labels.  As Director of A&R and then Vice President of Marketing, Mann managed the development and marketing of artists like D.C. Talk, Audio Adrenaline and Rebecca St. James.  After leaving Forefront, Mann continued working in Nashville as a consultant with clients ranging from Forefront Records, Ardent Records and INO Records as well as individual GRAMMY and Dove Award-winning artists.
 
Notable in Mann's career was a detour to Dublin, Ireland from 2001-2005, where he consulted on Urban Balleyfermot, a training and educational initiative funded by the European Union to help disadvantaged communities.  Mann specifically worked on music business training programs including songwriting, record production, marketing and promotions.
 
Among Mann's achievements accolades, he is a graduate of Middle Tennessee State University's prestigious Recording Industry Management program; he also attended the Irish Film Institute for Digital Film Editing and DVD Authoring.  Mann is a member of NARAS, BMI and GMA.  He is a multiple Dove Award nominee for songwriting and the recipient of 26 ADDY (advertising) Awards.
Tags:
Douglas Mann Integrity Music Label
,
integrity music
,
John Coleman
Posted in
announcements
,
christian entertainment
|
Comments Off

on Integrity Music Appoints Christian Entertainment Executive Douglas Mann to VP, Sales/Marketing
Written by Rhonda on September 8, 2010 – 1:39 pm -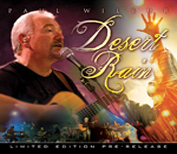 MOBILE, Ala. – September 8, 2010 – With more than 4,000 Christian pilgrims from 75 nations joining him in the Israeli desert near Ein Gedi, renowned Messianic worship artist Paul Wilbur recorded Desert Rain, his new live CD which releases on Integrity Music on Oct. 12.
 
Desert Rain is a vibrant live worship experience featuring new and classic Messianic worship songs.  The CD was recorded during a spectacular concert last October attended by Christians who traveled from all over the world to celebrate the Jewish Feast of the Tabernacles holiday.  The concert was the opening event for the 30th anniversary of the International Christian Embassy Jerusalem sponsoring the holy pilgrimage.
 
 "Desert Rain was designed to remind Christians of God's unfailing love and covenant with Israel, and to give them songs to sing over the people and the Land to prophesy and to declare the timeless promises of the God of Abraham, Isaac and Jacob," said Wilbur.  "This recording takes us on a journey of the faithfulness and passion of God from Zechariah where He declares his burning jealousy for Zion and His promise to dwell in Jerusalem all the way to the return of the Lord in the Book of the Revelation to fulfill that promise of Zechariah with 'Salvation belongs to our God.'"
 
 Wilbur, whose previous recordings like Shalom Jerusalem, Jerusalem Arise, Lion of Judah and The Watchman have helped popularize Messianic worship music around the globe, says the new CD is musically distinct from his older, more orchestral projects.  The lyrics are full of scriptural exhortations for both Israel and the nations, while the fusion of musical styles varies from Hebraic to jazz rhythms.  Overall, the CD is more rhythm-driven and has an emphasis on guitars as Wilbur wanted Desert Rain to reflect the urgency and prophetic perspective to the message of music.
Desert Rain features 12 worship songs and includes guest vocalists – Brazilian worship artist Ana Paula (Bessa) and Wilbur's own daughter-in-law Sharon Wilbur, who also co-wrote three of the new songs with Wilbur.
 
The track listing for Desert Rain is:
1.  Zealous Over Zion
2.  Out Of Zion
3.  Mountains Of Israel
4.  Hallelu Et Adonai
5.  I Will Never Leave You (with Sharon Wilbur)
6.  Why Should I Be Afraid
7.  You Are
8.  Blessed Is The Lord
9.  Who Is Like Thee (Mikamocha)
10. The Diamond Turns
11. Behold The Lord
12. Salvation Belongs To Our God
 
Among the many special moments Wilbur remembers from the recording, was one which almost ended  the concert before it even started.   A piece of electrical gear that controlled all the sound and recording equipment on stage burned up about five minutes before the concert.  In the middle of the desert, a three-hour round trip away from Jerusalem, Wilbur and Ana Paula asked the audience to pray for rain – both physical and spiritual.  At Ana Paula's instructions, thousands tapped their fingers on their palms, producing the sound of the soft patter of raindrops that built to a downpour. "As she did," Wilbur recalled, "a man stepped forward, spliced a couple wires together and ran 220 volts directly into the stacks of equipment; literally a miracle happened as the racks of sound and recording equipment sprang back to life and held strong for the entire performance!"
 
Later, Israel experienced an end to its drought as much-needed rain moved over the nation.
 
Desert Rain will be available on CD, CD Trax, Songbook and Digital Songbook
 
About Paul Wilbur:
In 1990 Wilbur recorded his first release with Integrity entitled Up To Zion. Since then he has recorded five more solo albums including three performed live in Jerusalem: Shalom Jerusalem, Jerusalem Arise, and Lion Of Judah.  Holy Fire (1997) and The Watchman (2006) were recorded in Houston and San Antonio respectively. Two more special collections entitled Pray For The Peace of Jerusalem and Praise Adonai were released in 2007 and 2008 to honor the 60th birthday of Israel and the 40th anniversary of the re-unification of Jerusalem.
 
Wilbur has also recorded seven projects in Spanish and two in Portuguese. These award-winning discs enable the team to minister to more than one third of the world's population in their own language.
 
Wilbur Ministries is headquartered in Jacksonville, Florida, where he makes his home with his wife Luanne, their two sons Nathan and Joel, and their daughter-in-law Sharon Chernoff Wilbur.
Tags:
integrity music
,
Paul Wilbur
,
Wilbur Ministries
,
worship music
Posted in
new music
|
Comments Off

on MESSIANIC WORSHIP LEADER PAUL WILBUR RELEASES DESERT RAIN, RECORDED LIVE IN ISRAEL