Written by Staff on March 7, 2016 – 3:01 pm -
The Facebook group, WE LOVE OUR SOUTHERN GOSPEL MUSIC HISTORY (WLOSGMH)  is a phenomenon. Over thirty six thousand members, hundreds of remarks, audio and video shares and photo posts are commonplace every day.  Friendships have been renewed, acquaintances become friendships and it all due to the love of southern gospel music.
Globally the group members span North and South America, Europe and even a few members from south East Asia. Each day, membership increases to relive those special one of a kind southern gospel moments and the historical music clips while sharing their music memorabilia and collections.
March 21-22, 2016 the Holiday Inn Airport-Opryland will host this annual convention of gospel music enthusiasts.  The two day event features concerts, Monday evening banquet, Tuesday luncheon buffet, Q & A sessions, videos, sing-alongs, conversations, time for browsing for the gospel music memorabilia and friendships.
The talent list is a who's who in gospel music. Featured is one of gospel music most acclaimed all-time quartets the Blackwood Brothers, convention music hosts the Pine Ridge Boys, the Sheltons, New Dove Brothers, the Downings, Jordan's Bridge, Gary Timbs, Jeff Stice, Collectors Quartet, Ellen Marsh, Buddy Burton, Charlie Griffin, Rita Spillers and convention hosts Harold Timmons, Ann Downing, John Crenshaw and Hannah Kennedy. During this convention the music history will be represented and shared by hundreds of years of experienced participants.
What makes this event so unique? Why is the interest so intense? There are other heritage events in gospel music. The NQC, Albert Brumley Gospel Sing, Grand Ol' Gospel Reunion, Singing At Sea and many more, too numerous to list. This event is the only one of its kind designed for a social media group that emphasizes the history of gospel music. It is the only event that features legacy artists whose music careers are rooted in gospel music. Those artists have and are still making contributions to our music.
The roots of gospel music start early to many fans and artists. Many enthusiasts were children who were 'dragged' to a concert by parents who were involved in church music or local groups. Others stumbled into a concert and the music bug just bit them. The WLOSGMH page administrators are no different in their exposure to southern gospel music.
Administrator, John Crenshaw (fan) remembers, "I was nine years old when I attended my first "all night sing" in Burlington, NC.  It was held on New Year's Eve, 1966.  Funny thing was, three of the WLOSGMH administrators were at the concert, but we didn't realize it until many years later.  HT and I were in the audience, and Ann was singing with the Speer Family.  Hannah was probably selling tickets, but we haven't confirmed that.
It was a great show with the Speers, Chuck Wagon Gang, Oak Ridge Boys, Blue Ridge Quartet, Harvesters, and LeFevres.
Not long after that, I was at the Reynolds Auditorium every time they had a concert.  This poster is from one of my favorites from 1969.  Although they were not on the printed advertisement, the Downings were there and tore up the place!  It was one of their first big NC performances." Crenshaw is an active gospel music fan and historian with an extensive collection of gospel music and memorabilia.
Administrator Ann Downing (singer) shares, "I was about 8 or 9 years old when I heard a reel to reel recordings of a little local group close to where I grew up in North Mississippi.  If my memory serves me right, the song was "Wait 'Til You See me in My New Home".  I'm sure it wasn't all that great, but I loved the harmony.  Up until then, about all I'd known was convention singing out of the Stamps-Baxter, Vaughn, et al songbooks, which I love to this day.
Shortly after that, I went with a member of this group to my first "quartet concert" in Columbus, MS.  The Statesmen and Blackwood Brothers were there…I was captivated. 
I'm so grateful that it's possible for a young cotton picker from a rural area to have a singing dream to come true." Downing was vocalist for the Speers, Downings and is currently a touring soloist.
Administrator Harold Timmons (musician) states, "My first gospel sing was in the 1954. I was only seven years old.  I think it was summer, because there either was no air conditioning in the building, or it was broken.  This was at Reynolds Auditorium in Winston-Salem.  There were many groups on the program, but my folks came to see the Chuck Wagon Gang for their first time.  The building was sold out and it was standing room only.  We were in the upper balcony, and folks were actually sitting on the steps in the balcony.  Every now and then, the emcee would announce that the fire department was going to shut the program down if folks did not get off the stairways in the balconies.

The CWG was late getting there.  While another group was on stage, a guitar amp sitting in a chair was slipped through the center of the back curtain.  There was
thunderous applause, I didn't know why, but that amp signaled to the rest of the audience that the CWG had arrived.  This was my only time to see Dad Carter perform with them.
My parents started going to other programs in the area, and I was fascinated.  When I got my driver's license, I took myself to many concerts all around.  I began collecting records of most all groups…78s, then 45s, then albums, and signed up for their newsletters.  By the 60s I had pretty well determined I wanted to be a gospel pianist someday, as I was hooked on this music.
I started taking piano lessons, went to the Stamps Quartet School of Music, and started making contacts, readying myself for this business." Timmons was instrumental in music staging with the Sheltons, Barnetts, Hemphills and Chuck Wagon Gang. He continues the gospel music connections with Gospel Gallery, selling collectibles and vintage gospel music.
The youngest administrator is 21 year old gospel music fan, Hannah Kennedy.
Kennedy says, "When I was 5, I went to my first gospel concert in Fort Wayne, IN. I was hooked right away. I wanted to learn all of the songs and know the names of every singer I heard. The living legends who traveled on Bill Gaither's Homecoming tours quickly became my heroes and my family graciously took me to as many concerts as possible so that I could see them.
Shown is a picture Hannah took of Jake Hess at the Gospel Barn in LaGrange, GA when she was 5. August 26, 2000. And one of her favorite Gaither concert posters.
Collector and fan, Brent Joiner says, a night or two before I was born, my parents were at a Southern Gospel concert so I've been around it my entire life.  My dad was a huge fan of Southern Gospel Music and that's where the love for the music began for me.  However, the Southern Gospel "bug" really bit me with full force when I was around 11 years old or so.
Joiner is shown with the ultra-rare albums, "Songs and Hymns by the Plainsmen" & "Sweet Beulah and" by the Statesmen Quartet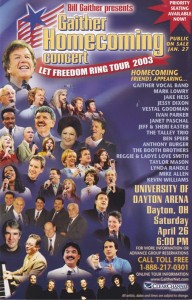 During my teenage years any money I earned through allowances, etc. I used on buying Southern Gospel Music.  As well, the Grand Old Gospel Reunion videos were really where I started learning the history of the Southern Gospel genre and enjoyed it tremendously.
My all-time favorite group is the Statesmen Quartet and my all-time favorite singer is Jake Hess.  My wife, Christina, also loves Southern Gospel Music and when we got married in 2004 that's when I decided that collecting was "my calling".  I'm always looking for the next item to add to my collection, which most of the time is on a daily basis.
Another one of my daily activities is being involved in the "We Love Our Southern Gospel Music History" Facebook page.  As far as my collecting, I collect everything associated with Southern
Gospel Music… vinyls, CD's, cassettes, books, etc.  One of my favorites pieces in my collection is the the marquee off of the Statesmen Quartet's bus.  At the inaugural "We Love Our Southern Gospel Music History Convention" in March 2015, I was able to get my hands on two of my most wanted recordings; "Sweet Beulah Land" by the Statesmen and "Songs & Hymns" (infamous red vinyl) by the Plainsmen Quartet.  These two recordings are extremely rare to find, and I had been looking for them for a long time, so to add them to my collection was a thrill.  By the way, the "WLOSGMH" Convention is one of the greatest new events in Southern Gospel Music to come along in a long time.  I love Southern Gospel Music and being able to discuss it with my wife and friends, (who are like family) John Crenshaw, Dean Adkins, Harold Timmons, Hannah Kennedy, Aaron Rich, and many others is one of the great joys of my life.
Gospel music fan Nancy Carollo exclaims, "As a young teenager, in the mid to late 50's, my older sister and I traveled 90 miles to Nashville on the first Friday of each month, to the Ryman Auditorium for the Wally Fowler all night sings.  I followed southern gospel music till I married and moved to New York state in 1960, where southern gospel music wasn't a familiar thing.  I more or less lost track of southern gospel music until 1993.  On a visit back to Tennessee, I went to see JD Sumner and the Stamps at Loretta Lynn Dude Ranch.  My love for southern gospel music was rekindled.  The match that really reignited the fire, was in 1996.  On our way back to NY after my Mother's funeral in Tennesse, we stopped in Auburn, IN for a concert of The Statesmen, Blackwoods, Stamps, Speers, and Nelons…just a little taste of Heaven.  At this point, there is no turning back!"
As most can see young and old are bitten by the gospel music bug. The love shared by these countless fans is exciting and contagious to newcomers.
There are still limited packages available for the two day event. Also single concert tickets are available. For more information contact Harold Timmons at 615-885-8000 or visit the websites below.
Vital links:
www.gospelgallery.com/WLOSGMH2016.htm
www.facebook.com/groups/sgmhistory/
More news.
Tags:
Ann Downing
,
Hemphills
,
Jake Hess
,
southern gospel
,
We Love Our Southern Gospel Music History
,
WLOSGMH
Posted in
announcements
,
artists
|
Comments Off

on WLOSGMH Convention is Contagious To Social Gospel Music Lovers!
Written by Staff on March 5, 2015 – 1:37 pm -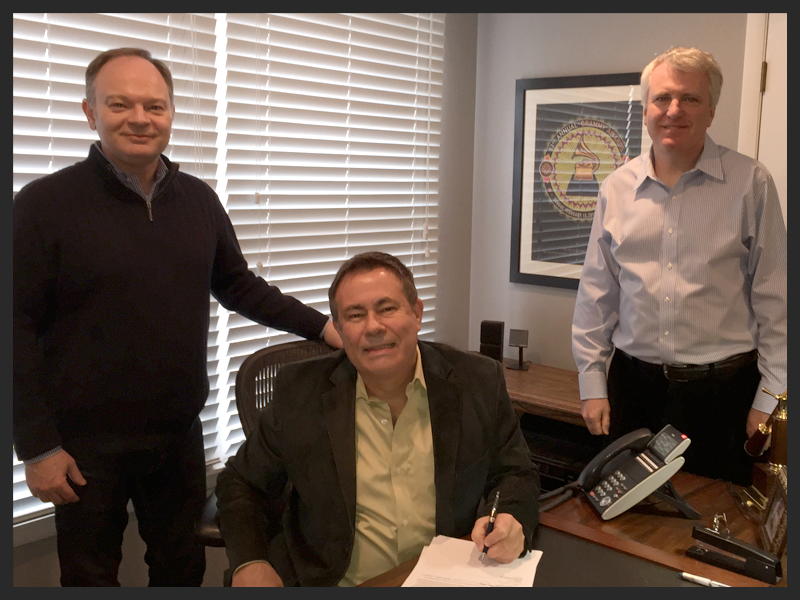 HENDERSONVILLE, Tenn. (March 4, 2015) – Dove Award winner Marty Funderburk has signed an exclusive agreement to remain as a part of the Daywind Music Publishing roster of songwriters. The veteran Funderburk has been affiliated with Daywind Music Publishing for the past 17 years.
"Songwriting is a privilege I hope I never take for granted," explains Funderburk. "Daywind Publishing has nurtured my creativity and allowed me the freedom to express that which God places in my heart for the past 17 years. I look forward to all that God has in store as we re-commit ourselves to moving forward with the work at hand."
While he has had dozens of songs land on the radio charts, Funderburk has had two No. 1 singles – the Kingdom Heirs' hit "Forever Changed" and the Talley Trio's chart-topping "Life Goes On." His songs have been recorded by Kenny Rogers, Ricky Skaggs and the Whites, Gold City, Jake Hess, Janet Paschal, Sisters, Brian Free & Assurance, the Hoppers, the Blackwood Brothers, Greater Vision, Mark Lowry, Karen Peck and New River, The Mark Trammell Trio, the Perrys, Ernie Haase & Signature Sound and the Bowlings.
Of his nine Dove Award nominations, the latest came earlier in 2014, with Funderburk's Christmas musical – "The Highest Glory" – winning the Dove Award for Musical of the Year.
"Marty Funderburk brought his talent to Daywind Publishing in the very early days of its existence," points out Daywind Vice President of Music Publishing Rick Shelton. "His brilliant songs have been recorded by every major artist in our genre, and his choir music has been performed by thousands of church choirs. Marty is a dear member of the Daywind family. We are so very proud of him and the impact of his songwriting."
Daywind Music Publishing is the premier source of new songs for the Southern Gospel and church print/choral markets. The organization is home to an award-winning roster of songwriters, including Belinda Smith, Dianne Wilkinson, Jason Cox, Joseph Habedank, Kyla Rowland, John Darin Rowsey, Ronny Hinson, Gerald Crabb and Scott Inman, among others. For more information, visit www.daywindpublishing.com  or e-mail info@daywindpublishing.com.
For more information on Mary Funderburk, visit his personal page on the Daywind Music Publishing web site at http://www.daywindpublishing.com/?page_id=402
Tags:
Brian Free & Assurance
,
Daywind Music
,
Dove Awards
,
gold city
,
Jake Hess
,
Janet Paschal
,
Kenny Rogers
,
Marty Funderburk
,
Ricky Skaggs and the Whites
,
sgn scoops
,
sisters
,
The Blackwood Brothers
,
The Hoppers
Posted in
announcements
,
artists
|
Comments Off

on Award-winning songwriter Marty Funderburk to remain with Daywind Music Publishing
Written by Staff on September 25, 2014 – 2:38 pm -
My Southern Gospel Experience : A Canadian's Journey Into An American Tradition
By Phil Foster
As I walk in the front door of the huge auditorium, a smell of caramel popcorn invades my nostrils! I can hear the sound of some group singing in the background and find myself unconsciously singing along to whatever song is being sung. I see hundreds of people walking in every direction. Then, all of a sudden, I see Mark Trammel, or Gerald Wolfe or Peg McKamey walk by! I'm at the National Quartet Convention for the very first time. It seems that every emotion I possess has been activated!
A few years back, I think it was in the late 80's, I had the privilege to go to the Quartet Convention in Kentucky. Wow! What an experience. The first time I went to Louisville, or Looville, or Looeyville, however you pronounce it, I was wide-eyed like a little kid in a candy shop.
Everywhere I turned, I saw many of the artists I had listened to over the years. I saw a particular group, and recalled singing along with them to some song on one of my old cassettes. I remember walking down one of the aisles, gawking at everything in sight, not really paying attention to where or what I was doing. At one point, I was walking, looking to my left at the Nelon's display and bumped into Naomi Sego, nearly knocking her over. I was so embarrassed, but being the woman of God she is, she was very gracious. She smiled and said, "Excuse me." She apologized to me!
That was a very small thing but something I never forgot.   It was not just the "excuse me", that she said, but the manner she said it, the look of kindness in her eyes and the smile on her face. This woman shone with the love of God in her life. Believe it or not, that simple incident left a huge impact on me.
As I wandered around up and down the aisles that seemed at times to go on forever, I found myself at the end of one of the aisles in front of the Gaither display. There, standing all by himself, his arms folded in his familiar pose, stood Jake Hess. I am sure I must have looked like a complete idiot standing there, gawking and staring. Then he walked over to me. I wasn't sure if I should run or stay. He smiled at me, stuck out his hand and said, "Hi, I'm Jake Hess." WOW! Jake Hess is introducing himself to me! I can't remember if I said anything back or not, but he asked me, "What is your name?"   WOW again!    Jake Hess wants to know my name! I told him and then he asked, "Where are you from?" WOW again. I told him I was from Peterborough, Ontario, Canada.
I finally composed myself and found myself thanking him for all the years in Gospel Music, and for all the blessings that came my way, because of him and the Statesmen. I babbled on and on for what seemed like an eternity. Jake stood there the whole the time, with that famous hand on elbow; hand on face pose of his. He was genuinely moved by what I was saying.
He had tears in his eyes as I thanked him.   Before I left, he asked me one more time, "What did you say your name was?" I won't say "Wow" again, but I was amazed that he was genuinely interested in knowing my name and what I had to say. In my whole lifetime, I can honestly say, Jake Hess made more of an impact on me than any other person has to date. I vividly remember floating back to my seat in the auditorium; my wife looked at me and said, "Who did you meet?"
As the years passed from that moment, I have often wondered to myself whether what I felt was just infatuation over one of my heroes, or was it a genuine presence of the love of God in this man? Personally, I think it was both. But there is no denying the presence of God that Jake Hess had in his life. It shone from him. It poured out of his mouth when he talked. It flowed from him when he sang. It will be a moment in time that I will never ever forget. I remember reading somewhere that Elvis Presley had said that Jake Hess was his favorite singer. I wonder whether Elvis felt that love of God that flow from Jake? I'm sure he must have.
After I came down from that experience a little, I wandered around to the far side of the hall. Standing there, all alone in a little booth, was James Blackwood. I instantly felt sorry for him. Here was a pioneer in Southern Gospel Music, all by himself. It did not seem right to me. I walked over to him, and basically said the same thing that I said to Jake. I thanked him for all those years and informed him that his group was one of the first professional concerts I had ever been too.
I don't know who the promoter was, but I remember going to PCVS School in Peterborough, back in the 70's where I saw the Blackwood Brothers and the McDuff Brothers. I told him that and he said he remembered being in Peterborough. As we chatted, I recalled the same type of experience that I encountered with Jake Hess. James Blackwood was a gentleman all the way. We both reminisced about days gone by and I asked if I could take his picture,. I walked away from that experience once again amazed at the presence of God that I felt. I was learning great life lessons but didn't realize to what extent for many years after.
There were many experiences from attending the National Quartet Convention in Louisville. I met many people, and so many of them had an impact on my life. I learned that they are people just like you and me. I guess what I mean by that is I had a tendency of putting people on pedestals, whether they were a Gospel artist, or a minister of the Gospel. Certain preachers that I used to put on that proverbial pedestal let me down. The media just loves it when a man of God slips up and it goes public. Well guess what? They are human. I had to learn that. I believe God allows things to happen to people in the public eye, if only to bring the focus back to Him.
Jake Hess taught me that. James Blackwood taught me that. Just having a simple conversation with these men of God, they taught me to put my focus on God, not man. They are just people, ordinary men and women that make mistakes just like I do. Man will let you down every time.   God will never let us down.
Written by Philip R Foster
First published by SGM Radio website in March 2012
For current SGM Radio features visit http://www.sgmradio.com/
Tags:
Christian Music
,
Ed O'Neal
,
gospel music
,
Jake Hess
,
James Blackwood
,
Naomi Sego
,
nqc
,
the nelons
Posted in
announcements
,
artists
,
gospel events
|
Comments Off

on My NQC Memories: Philip Foster
Written by Staff on September 22, 2014 – 1:39 pm -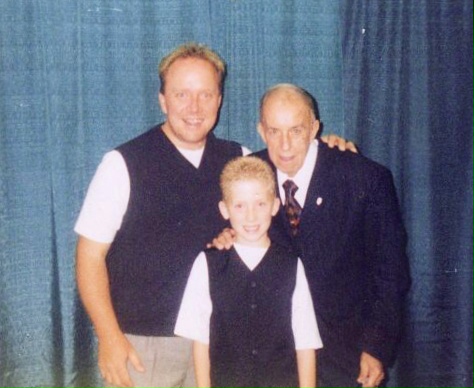 I remember when I was 11 years old at the 2001 NQC.  I was so excited to see the quartets I loved and the chance to meet them.
I got to meet some of my heroes that week like Jake Hess, Tim Riley, Howard and Vestal Goodman, Ray Dean Reese, Ed O'Neal, Bill Gaither, and others!
The moment that stands out the most from that week was when I got to meet my favorite singer of all time, George Younce, who was with the Old Friends Quartet at the time. He was so kind and joked around with me like George would always do.
About a year or two after that, he called to encourage me to keep on singing and follow the Lord's guidance. He has made a lasting impact on my life.
I believe God used George Younce to influence me to sing in Gospel music. I will never forget that NQC!
Submitted by Aaron Perkins, Sound Technician/Bass Vocalist at The Taylors
Please submit your NQC memories to sgnscoops@gmail.com
Tags:
Aaron Perkins
,
Christian Music
,
George Younce
,
gospel music
,
Jake Hess
,
nqc
,
sgn scoops
,
The Taylors
,
Tim Riley
Posted in
announcements
,
artists
,
christian entertainment
,
Christian interest
,
sgn scoops magazine
|
Comments Off

on My NQC Memories: Aaron Perkins
Written by Staff on September 11, 2013 – 1:04 pm -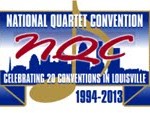 As the National Quartet Convention prepares to move from Louisville, Kentucky to Pigeon Forge, Tennessee, several SGN Scoops magazine staff writers share their memories of NQC past.
Lou Wills Hildreth shares: My family –the Wills Family of Ft. Worth, Texas–sang at the first NQC in Memphis, and many years thereafter. I have only missed one NQC in all 56 years of the event. Howard and I will be greeting friends this year at the Scoops Booth. Praying God's blessing on every song and testimony!!!!
Dixie Phillips shares: When I was 16, my Mom and Dad started attending church. The new pastor was an avid southern gospel fan. He and his wife invited my parents and me to attend NQC in Memphis. I was so excited when my parents agreed to go. I will never forget when Ben Speer sang "The Brush." My life was changed forever. I was hooked. Southern Gospel Music is music with a message and I am so honored to be a part of it.
Lorraine Walker shares: I began to attend the NQC when it was still in Nashville. I remember a few highlights as well as the long cement slope to the basement  exhibit hall . I remember hearing one of the last times that JD Sumner and the Stamps sang together, the announcement of Kim Hopper Greene joining the Hoppers, Tony Greene's proposal to Taranda Kiser, as well as what would be the last NQC of Jake Hess, Vestal and Howard Goodman, George Younce and Roger Bennett. I remember watching a new family group called The Crabb Family come on stage with their whole church in one section of the auditorium cheering them on. I am sorry to be missing this last year in Louisville but I know great things are in store for future NQC's!
Craig Harris shares: Moments and memories are what life in general is all about. They are what make anything that is important to you special. This is my 14th year of attending the National Quartet Convention and it's hard to believe that it's been that long. A one-song spot on the main stage on Tuesday evening surprisingly took me back to some of my earliest of days at NQC here in Louisville, which is the only NQC venue that this Southern Gospel follower has ever experienced.
As the Stephens Family stepped out on the stage, I had no idea that the soprano singer – Melody Stephens – was going to lead me on a brief stroll down Memory Lane. Stephens was the soprano for the Nelons when I first started following Southern Gospel music. I didn't grow up around the genre as so many did. I simply discovered it – with the assistance of a few friends and borrowed CDs – around 1998. But the Nelons were one of those groups that came to the main stage in those early days and just brought it.
I was still learning and understanding the dynamics of Southern Gospel music when I attended my first NQC in 2000. I only stayed for two nights that year. NQC has been a week-long event ever since. That configuration of the Nelons – with Melody, Paul Lancaster (one of my favorite singers) and Dan Clark (who had a pleasant-sounding bass tone that simply fit the group well) – was probably my favorite. Songs like "Where Sin Had Been Pardoned," "He Called Me Out," and the vastly-underrated "You Ain't Seen the Last of Jesus" suckered me in to this genre of music hook, line and sinker. In fact, "He Called Me Out" was on the NQC Live 1999 DVD and CD (along with the Perrys unbelievable version of "When He Spoke"), prompting me to want to make the journey from the Nashville area to Louisville to see what this Quartet Convention was really all about.
The Nelons followed that era up with more great singers like Katy Van Horn Peach and more great songs, such as "He Rolled Back the Stone." They are still producing great music today and undoubtedly making memories for some person out there who is just figuring out what NQC is all about. The Stephens family brought some memories back to life for me on Tuesday night. I hope that you all are not only having fond remembrances this week but are also making new memories. Don't waste an opportunity to truly live and experience all that there is to offer. Have a great week and simply enjoy.
Tags:
Ben Speer
,
Craig Harris
,
Dixie Phillips
,
George Younce
,
Howard Goodman
,
Jake Hess
,
JD Sumner
,
Katy Van Horn Peach
,
Kim Hopper Greene
,
Lorraine Walker
,
Lou Wills Hildreth
,
Melody Stephens
,
national Quartet Convention
,
nqc
,
NQC 2013
,
Roger Bennett
,
The Crabb Family
,
The Greenes
,
The Hoppers
,
the nelons
,
the perrys
,
The Stephens Family
,
Vestal Goodman
Posted in
artists
,
christian entertainment
,
Christian interest
,
exclusive report
,
gospel events
,
guest
,
industry news
,
scoops
,
sgn scoops magazine
,
special feature
,
Uncategorized
|
Comments Off

on Leaving Louisville: SGN Scoops Staff Share NQC Memories
Written by SGN Scoops Staff on November 15, 2011 – 10:17 am -
NASHVILLE, Tenn. – (November 14, 2011) – The father of Mark209's Jym Howe suffered a major heart attack last week.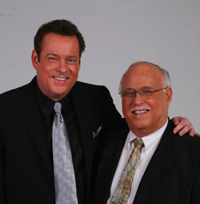 Howe's father, Tommy Howe, was admitted to the CVICU at Vanderbilt University Hospital at around noon on Tuesday, November 8, 2011.
He was presented with extreme pain in his back between his shoulder blades, which started on Monday (November 7, 2011) at approximately 8:00 p.m.
Jym recounted, "After a restless night, Dad went to work at Vanderbilt University/Chemistry Dept Glassblowing Shop, still with extreme back pain.  After the pain did not subside, he decided to call his doctor who advised him to go to the Emergency Room.  He walked 1/2 mile to the ER. Can you believe that?  After examining him, he was advised that his pulse rate was 40 and dropping fast, and that he was having a heart attack. The ER cardiologist directed the nurses to bring the paddles in case they were needed.  His pulse dropped even further — down to 30.  Further testing showed he was going to need bypass surgery (3 grafts), which was scheduled for Friday at 8:00 a.m.  This would allow his body to rest some before the surgery.  However, after having a severe episode of pain, three nitro pills, and two additional EKGs, the surgery was moved up immediately.  Surgery lasted just under five hours, and he received five grafts instead of three!"
Tommy is recovering well and visiting with family and friends.  He walked his first steps approximately 12 hours after the surgery.  The surgeon said there is very little damage to his heart, and he is expected to be released from the hospital on Tuesday of this week.
Many Southern Gospel fans will remember Tommy filling in for Jake Hess and James Blackwood with the Masters V, for Ed Hill with J.D. Sumner & The Stamps, and filled some dates with Hovie Lister & The Statesmen.
"All our fans sent tons of support to me and prayers up for my family and especially father," mentioned Jym. "The support shown to my family during this time has been so amazing. We appreciate your continued support and prayers!"
More information will be posted periodically to Mark209's website at www.mark209.com or on their Facebook at www.facebook.com/MARK209 .
About Mark209
Mark209 is one of the most exciting Gospel quartets touring the country today. The intricate harmonies, detailed arrangements, energy, and versatility place this group in a league of its own. In a time when mediocrity is widely accepted, this group has raised the bar and exceeds everyone's expectations. The group consists of Jym Howe, Nathaniel Justice, Joe Armstrong, and Jimmy Reno.
Tags:
Hovie Lister
,
Jake Hess
,
James Blackwood
,
Jym Howe
,
Mark209
,
Masters V
,
Southern Gospel Music
,
Southern Gospel News
Posted in
announcements
,
Prayer Requests
|
Comments Off

on Father of Mark209's Jym Howe Suffers Major Heart Attack