Written by Staff on February 1, 2020 – 5:11 am -

We are thrilled to announce the opening of the nominations for the 2020 Diamond Awards on Monday, February 3. Anyone, anywhere, can vote on their favorite gospel music artists. The Diamond Awards will be presented on Tuesday, October 27, 2020 during the Creekside Gospel Music Convention held at Pigeon Forge, Tennessee Oct. 25 – 30, 2020.
What are the Diamond Awards?
The prestigious Diamond Awards have a history of almost 30 years, recognizing the best in Gospel Music from coast to coast. The Awards began in 1991, hosted by Allen Smith and the Gospel Voice Magazine. Today, that same publication is known as SGN Scoops Digital Magazine, and both SGNScoops and the Diamond Awards are owned by Coastal Media Group and Rob Patz.
What are some of the categories?
J.D. SUMNER LIVING LEGEND AWARD
This is a once-in-a-lifetime honor to recognize the living performer whom the fans feel has made the greatest contribution to Southern Gospel  music over a career spanning 25 years or more. Previous winners are not eligible to be nominated. Anyone from artists to industry professionals
can be considered.
Some of the past winners were:
2011: Gloria Gaither
2012: Ann Downing
2013: Squire Parsons
2014: Ed O'Neal
2015: Gerald Crabb
2016: Ronny Hinson
2017: Brian Free
2018: Gerald Williams
The 2019 winner was Eddie Crook.
MIXED GROUP OF THE YEAR
A group of any number with male and female vocalists. Must be full-time Southern gospel artists. Consider duets, trios, quartets, and families. As long as there is a mix of men and women (or boys and girls).
Some of the past winners were:
2014, 2015, and 2016: Karen Peck and New River
The 2017, 2018, and 2019 winners were The Williamsons.
QUARTET OF THE YEAR 
A traditional group with four vocalists, featuring four-part harmony. Most often considered the male quartet category, broad ranges of styles can be seen in the list of past winners, but no Bluegrass or Christian Country. Must be full-time Southern gospel artists.
Some of the past winners were:
2011 and 2012: The Gaither Vocal Band
2013: Ernie Haase and Signature Sound
2014 and 2015: Brian Free and Assurance
2016: Gold City
2018: The Kingsmen Quartet
The 2017 and 2019 winners were The Triumphant Quartet.
Who will you nominate? Stay tuned to this site as we continue the countdown to the 2020 Diamond Award Nominations!
For more Gospel Music news Read the latest issue of the SGNScoops Magazine HERE.
Download SGNScoops Magazine PDF 
Here
Find SGNScoops Magazine On Facebook 
Here
Listen To Today's Gospel Music 
Here
Tags:
Creekside Gospel Music Convention
,
diamond awards
,
gospel music
,
JD Sumner
,
Pigeon Forge
,
Southern Gospel Music
,
Tennessee
Posted in
announcements
,
artists
|
Comments Off

on Road to the 2020 Diamond Awards
Written by scoopsnews on April 11, 2016 – 10:42 pm -
JD Sumner shared his testimony on an old Gaither taping.  We found this on YouTube and are posting today in honor of Testimony Tuesday! JD was one of the best….
Watch HERE:
Tags:
JD Sumner
Posted in
announcements
|
Comments Off

on Testimony Tuesday❤️
Written by Staff on September 24, 2014 – 11:36 am -
The NQC – The Grand-daddy of them all!
I was a teenager and had started singing with a regional group. I had been to a few concerts at the Lake Norman Music Hall to see the big names of gospel music. But that year, 1979, as "Convention time " came around the word came down that we were going to the NQC in Nashville, Tennessee. I was told of the singing, the groups, the booths around the main level of the Municipal Auditorium and how much fun it would be.
October came and there I was in Nashville at the NQC. The first night I heard the Blackwood Brothers, Kingsmen and Cathedrals and about a dozen more groups.  I sat enthralled at every singer on stage. I remember walking the circle and meeting the artists and the fans. They were everywhere! I spoke with Eldridge Fox, George Younce, The Speers and got to meet so many artists that I had grown up with. I was in heaven.
We went to the Auditorium early, to walk around Nashville. Then at the auditorium I met NQC volunteer worker Jim Sheets, who became a dear friend. We walked the circle and talked to the groups
getting ready for the night. Walked around the auditorium looking at buses and talking to other fans doing the same thing. Then we talked with DJs from around America. Yes I was truly in heaven.
In Nashville we ate at Hap-Towns Diner, Elliston Place Soda Fountain, went to Opryland, the Grand Ol' Opry, Printers' Alley and had a picnic in Centennial Park. We went down Music Row, saw the historic studios, met JD Sumner at the Stamps Building, talked to Ben Speer in the Speer Recording Studio, went to the Country Music tourist sights and just saw it all! Yes I was in Gospel music
heaven.
I will never forget those memories and the people! The smells, the excitement and most of all the music!
Submitted by Charlie Griffin 
Please submit your NQC memories to sgnscoops@gmail.com
Tags:
Ben Speer
,
Blackwood Brothers
,
Cathedrals
,
Charlie Griffin
,
Christian Music
,
Eldridge Fox
,
George Younce
,
gospel music
,
JD Sumner
,
Kingsmen
,
nashville
,
national Quartet Convention
,
nqc
,
southern gospel
,
The Speers
Posted in
announcements
,
gospel events
,
special feature
|
Comments Off

on My NQC Memories: Charlie Griffin
Written by Staff on September 11, 2013 – 1:04 pm -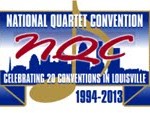 As the National Quartet Convention prepares to move from Louisville, Kentucky to Pigeon Forge, Tennessee, several SGN Scoops magazine staff writers share their memories of NQC past.
Lou Wills Hildreth shares: My family –the Wills Family of Ft. Worth, Texas–sang at the first NQC in Memphis, and many years thereafter. I have only missed one NQC in all 56 years of the event. Howard and I will be greeting friends this year at the Scoops Booth. Praying God's blessing on every song and testimony!!!!
Dixie Phillips shares: When I was 16, my Mom and Dad started attending church. The new pastor was an avid southern gospel fan. He and his wife invited my parents and me to attend NQC in Memphis. I was so excited when my parents agreed to go. I will never forget when Ben Speer sang "The Brush." My life was changed forever. I was hooked. Southern Gospel Music is music with a message and I am so honored to be a part of it.
Lorraine Walker shares: I began to attend the NQC when it was still in Nashville. I remember a few highlights as well as the long cement slope to the basement  exhibit hall . I remember hearing one of the last times that JD Sumner and the Stamps sang together, the announcement of Kim Hopper Greene joining the Hoppers, Tony Greene's proposal to Taranda Kiser, as well as what would be the last NQC of Jake Hess, Vestal and Howard Goodman, George Younce and Roger Bennett. I remember watching a new family group called The Crabb Family come on stage with their whole church in one section of the auditorium cheering them on. I am sorry to be missing this last year in Louisville but I know great things are in store for future NQC's!
Craig Harris shares: Moments and memories are what life in general is all about. They are what make anything that is important to you special. This is my 14th year of attending the National Quartet Convention and it's hard to believe that it's been that long. A one-song spot on the main stage on Tuesday evening surprisingly took me back to some of my earliest of days at NQC here in Louisville, which is the only NQC venue that this Southern Gospel follower has ever experienced.
As the Stephens Family stepped out on the stage, I had no idea that the soprano singer – Melody Stephens – was going to lead me on a brief stroll down Memory Lane. Stephens was the soprano for the Nelons when I first started following Southern Gospel music. I didn't grow up around the genre as so many did. I simply discovered it – with the assistance of a few friends and borrowed CDs – around 1998. But the Nelons were one of those groups that came to the main stage in those early days and just brought it.
I was still learning and understanding the dynamics of Southern Gospel music when I attended my first NQC in 2000. I only stayed for two nights that year. NQC has been a week-long event ever since. That configuration of the Nelons – with Melody, Paul Lancaster (one of my favorite singers) and Dan Clark (who had a pleasant-sounding bass tone that simply fit the group well) – was probably my favorite. Songs like "Where Sin Had Been Pardoned," "He Called Me Out," and the vastly-underrated "You Ain't Seen the Last of Jesus" suckered me in to this genre of music hook, line and sinker. In fact, "He Called Me Out" was on the NQC Live 1999 DVD and CD (along with the Perrys unbelievable version of "When He Spoke"), prompting me to want to make the journey from the Nashville area to Louisville to see what this Quartet Convention was really all about.
The Nelons followed that era up with more great singers like Katy Van Horn Peach and more great songs, such as "He Rolled Back the Stone." They are still producing great music today and undoubtedly making memories for some person out there who is just figuring out what NQC is all about. The Stephens family brought some memories back to life for me on Tuesday night. I hope that you all are not only having fond remembrances this week but are also making new memories. Don't waste an opportunity to truly live and experience all that there is to offer. Have a great week and simply enjoy.
Tags:
Ben Speer
,
Craig Harris
,
Dixie Phillips
,
George Younce
,
Howard Goodman
,
Jake Hess
,
JD Sumner
,
Katy Van Horn Peach
,
Kim Hopper Greene
,
Lorraine Walker
,
Lou Wills Hildreth
,
Melody Stephens
,
national Quartet Convention
,
nqc
,
NQC 2013
,
Roger Bennett
,
The Crabb Family
,
The Greenes
,
The Hoppers
,
the nelons
,
the perrys
,
The Stephens Family
,
Vestal Goodman
Posted in
artists
,
christian entertainment
,
Christian interest
,
exclusive report
,
gospel events
,
guest
,
industry news
,
scoops
,
sgn scoops magazine
,
special feature
,
Uncategorized
|
Comments Off

on Leaving Louisville: SGN Scoops Staff Share NQC Memories