Written by SGN Scoops Staff on September 20, 2016 – 10:23 pm -
THOMPSON'S STATION, Tenn., — Christian recording artist Lindsay Huggins is beginning a music scholarship for youth who might not otherwise be able to participate in their school's band program. This new scholarship will be awarded to three deserving students who desire to be involved in band but might be limited by finances. The scholarship will cover instrument rental costs and other participation fees.
Research supports that early music training dramatically enhances children's abstract reasoning skills and higher brain functions needed for mathematics, science, and engineering. Studies also support that participation in music and the arts aids in the development of necessary life skills, such as self-confidence, self-discipline, and teamwork, while lessening the likelihood of involvement in criminal activity and substance abuse.
The College Entrance Examination Board found that "students involved in public school music programs scored 107 points higher on the SAT's than students with no participation." [Profiles of SAT and Achievement Test Takers, The College Board, compiled by the Music Educators National Conference (2002).]
The first year of this scholarship program will focus on students near Huggins' home just outside Nashville, Tennessee. Spring Hill Middle School band teacher Jennifer Holmes is excited about the possibilities this new scholarship will provide. "As a music educator, I am witness to the profound effect that expressing themselves through music and belonging to a music program can have on a child's self-esteem and character. Every year, I meet students who I know would enjoy and benefit from participating in the band program, but have financial limitations. I am thrilled to have this new scholarship available for those students."
As a recording artist and worship leader, Huggins has a deep love and appreciation for music which began as a young child, carried her through college, and continues today.   "Studying and performing music together with my peers gave me a place of community and an outlet of expression in some of the most formative years of my life. I don't want anyone to miss out on that opportunity because of financial need," says Huggins. "We plan to start close to home here in the Nashville area, and expand the program to have a greater reach as funds allow."
The initiative kicks off just as Huggins is releasing a new single "You Can Use Me" to radio. The message of the song and the intent of this scholarship fund go hand in hand, with the focus on helping others and being used by God for a greater purpose.
This scholarship is an extension of Lindsay Huggins Ministries, a 501(c)(3) non-profit organization. For more information about Lindsay Huggins Ministries or to make a tax-deductible donation to the music scholarship fund, visit
www.lindsayhuggins.com
.
Tags:
Christian News
,
Lindsay Huggins
Posted in
announcements
|
Comments Off

on ARTIST LINDSAY HUGGINS ESTABLISHES MUSIC SCHOLARSHIP FOR UNDERPRIVILEGED STUDENTS
Written by Staff on January 11, 2016 – 4:10 pm -
Includes Interview with Guest Co-Host Larry Gatlin, Songs about the Power of Prayer
Signal Mountain, TN (January 8, 2016) This week's Harmony Road TV program, co hosted by Larry Gatlin and Les Butler, features videos showcasing the power of prayer. Songs include, "Praying Women," from Lindsay Huggins, "I'm Praying for You," by the Troy Burns Family, and Heaven's Mountain Band with "I'll Keep on Praying". Gatlin also shares a story about how prayer and faith changed his life.
Closing out this week's program is a rousing rendition of "Power in the Blood," from Les Butler and Friends. From the "Live at Dugger Mountain Music Hall" DVD, the instrumental features Ben Rochester, Anna Grace Shideler, Randy Miller, Matt Butler and Les Butler.
"We've been blessed to have a series of special programs co-hosted by Larry Gatlin," said Roger Spears, Harmony Road TV Producer. "This week's program, featuring songs about the power of prayer, is especially meaningful. We appreciate Larry Gatlin speaking of how prayer and faith helped him in a time of crisis. The episode also includes 3 excellent concept videos from great artists, as well as a classic, up-tempo song from Les Butler and Friends." he concluded.
This is the third of a series of programs including guest co-host Larry Gatlin. The episode was taped inside a log cabin at Jim Oliver's Smokehouse Resort, in Monteagle, Tennessee.
Harmony Road TV, hosted by Les Butler, is produced and distributed by Harmony Road Productions and features the best in Southern Gospel music and video. The program can be seen on multiple networks and stations including the Heartland Network, NRBTV, WalkTV, and many more. Current potential reach is over 90 million homes nationwide. Viewers can find out more at www.harmonyroadtv.com.
Allan Rhodes is the program's technical director. More about Jim Oliver's Smokehouse Resort is found at www.thesmokehouse.com.
For more information visit SGN Scoops on Facebook.
Tags:
Larry Gatlin
,
Lindsay Huggins
,
Troy Burns
Posted in
announcements
,
artists
|
Comments Off

on Lindsay Huggins, Troy Burns and Heaven's Mountain Band on Harmony Road TV
Written by Staff on August 28, 2015 – 1:56 pm -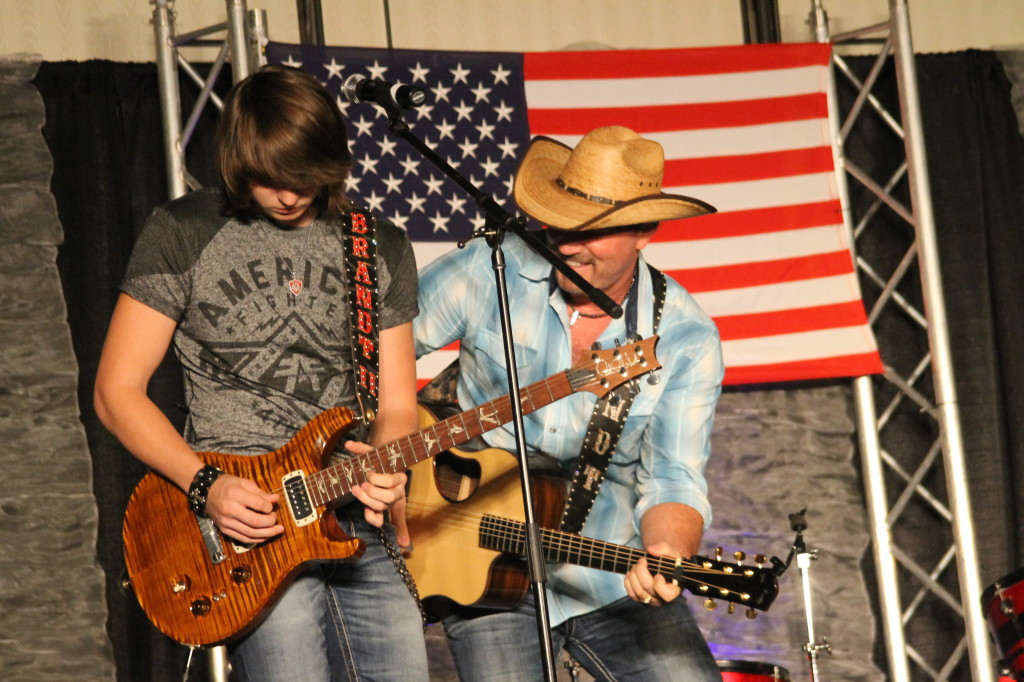 Pigeon Forge TN (August 28, 2015) –  The Christian Country Expo at Pigeon Forge Tennessee, came to a close on Thursday, August 27 before an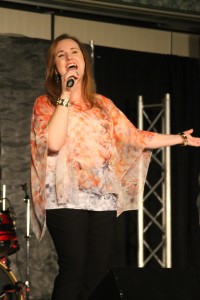 appreciative audience.  The morning showcases were full of talented artists and terrific music. Several of the lovely ladies of Christian Country graced the stage again. Lindsay Huggins, Tina Wakefield, Sharron Kay King, Robin Springs, Ava Kasich, Jan Harbuck, Ty Hodges, Gail Cogburn, Kelly Coberly, were among some of the many singers the audience had the pleasure of hearing on Thursday. The daytime and evening concerts again featured artists such as Chris Golden, Kevin Rowe, The McKay Project,  Tommy Brandt and Tommy Brandt II, The Schoefields, The Branscombs, Jim Sheldon, Steve Shirey and a stage full of artists during the opening.
Christian Country Expo presented many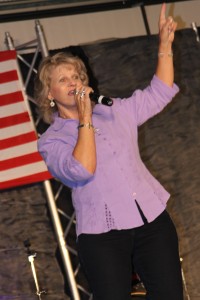 of the Christian Country artists that are hitting the charts and bringing in new audiences to this style of music. CCE 2015 thanks each and every one for sharing their heart and soul all week. You have blessed us!
Thanks again to Firehouse Subs, sponsors of the pre-concert jam session, and all of the sponsors for Christian Country Expo!
We hope our readers enjoy these pictures of artists that appeared on Thursday and  that everyone will make plans now to attend Christian Country Expo 2016 which will include the brand-new Christian Country Diamond Awards. Keep watching the Christian Country Expo Facebook page and SGN Scoops for more information.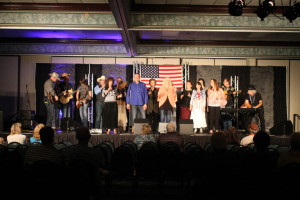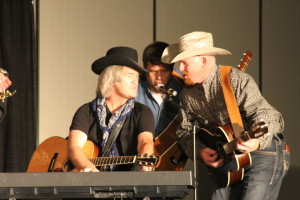 Click Here for More Pictures from Michelle Drummond!
Tags:
Ava Kasich
,
Chris Golden
,
Christian Country Expo
,
Gail Cogburn
,
Jan Harbuck
,
Jim Sheldon
,
Kelly Coberly
,
Kevin Rowe
,
Lindsay Huggins
,
Pigeon Forge
,
rob patz
,
Robin Springs
,
sgn scoops
,
sharron kay king
,
Steve Shirey
,
The Branscombs
,
The McKay Project
,
The Schoefields
,
Tina Wakefield
,
Tommy Brandt and Tommy Brandt II
,
Ty Hodges
,
Vonda Easley
Posted in
announcements
,
artists
,
christian entertainment
,
Christian interest
|
Comments Off

on Christian Country Expo comes to a close
Written by SGN Scoops Staff on May 22, 2015 – 9:15 am -
Program Also Includes LeFevre Quartet, Mark Bishop, Perrys, Mark Trammel Quartet
Signal Mountain, TN, This week's Harmony Road TV program will feature the broadcast premiere of, "Praying Women," from Lindsay Huggins. The Program also includes the LeFevre Quartet and their concept video, "Put it Right There," along with Mark Bishop, "God Builds Churches with Broken People," "Great is Thy Faithfulness" by the Perrys, and "I Believe, I Believe, I Believe" from the Mark Trammel Quartet.
Hosted by Gospel Music veteran Les Butler, this episode originates from The Barn at Bear Hollow in Monteagle, Tennessee, home of this summer's, "Fabulous Friday Nights," Gospel Music Dinner Theater.
Honoring our mothers and other praying women in our lives, Lindsay Huggins video has been touching people online as well as in churches and other venues. All the videos in the program are sure to bless, challenge and encourage.
Information on Harmony Road and its affiliates can be found at www.harmonyroadtv.com. Connect with Harmony Road TV on Facebook at www.facebook.com/harmonyroadtv. To find out more about "Fabulous Friday Nights" Dinner Theater go to www.butlermusicgroup.com.
Harmony Road is now available to over 85 million television homes across the country in addition to online streaming, ROKU, mobile app and more,
Allan Rhodes of Rhodes Media Center and WMJN29 is the programs technical director. More information can be found at www.wmjn29.com. Roger Spears is program program producer. He can be reached at roger@harmonyroadtv.com
Tags:
harmony road
,
Lindsay Huggins
,
southern gospel
,
Southern Gospel News
Posted in
announcements
|
Comments Off

on This Week's Harmony Road Features Broadcast Premiere of Lindsay Huggins "Praying Women"
Written by SGN Scoops Staff on April 21, 2015 – 10:56 am -
Nashville, TN  –  Lindsay Huggins recently teamed up with Compassion International as one of the organization's newest artist advocates.  Having longed to stretch beyond just sharing music, Lindsay is pleased to have connected with Compassion in their mission to aid and provide hope to children.
"I've been looking for a ministry to plug into and Compassion is doing great work," states Lindsay.  "I'm thrilled to be another voice for them and for these children in need of sponsorship, love, and mostly Jesus.  My latest project Then Jesus Came, includes a song titled "The Answer", which promotes helping others in need.  You never know – 'you can be the answer to someone else's prayer.'"
"We are so pleased to have Lindsay Huggins joining in our cause to speak up for children who live in poverty around the globe," says Zane King, Artist Relations Regional Director for Compassion.  "There's no question that her passion for seeing children released from poverty in Jesus' name will be making a tremendous impact upon lives now and long into the future."
Compassion International is the world's leading authority in holistic child development through sponsorship. Compassion revolutionized the fight against global poverty by working exclusively with the Church to develop children out of poverty to become responsible, fulfilled Christian adults. It is the only child sponsorship program to be validated through independent, empirical research. Compassion partners with more than 6,500 churches in 26 countries to release over 1.6 million babies, children and students from poverty in Jesus' name. Compassion has been awarded the highest rating for financial stewardship and transparency for 14 consecutive years by Charity Navigator, America's largest charity evaluator. For more information on the ministry, visit
compassion.com
  or follow them on Twitter at @compassion.
Tags:
Compassion
,
Lindsay Huggins
,
Southern Gospel News
Posted in
announcements
|
Comments Off

on LINDSAY HUGGINS JOINS ROSTER OF COMPASSION INTERNATIONAL ARTIST ADVOCATES
Written by SGN Scoops Staff on April 17, 2015 – 8:27 am -
Tribute to Moms and all "Praying Women" 
Nashville, TN,  Gospel music artist Lindsay Huggins has released the video "Praying Women".  This inspirational video brings to life the story portrayed in her new radio single of the same name.
Viewers of the video will be reminded of the power of prayer.  The story is a tribute to our mothers and other women who pray for us.  Released in time for Mother's Day, the video brings to mind these women of faith and how grateful we are for their spiritual support.
When asked about the song and video "Praying Women", artist Lindsay Huggins responded "I'm so pleased to release the music video for my single 'Praying Women'.  The song was special to me from the moment I heard it, because my mother prayed the prayer of salvation with me on our living room couch."  Huggins concludes "I know her prayers through the years have shaped me, and I want to leave that same legacy."  The song was produced by acclaimed songwriter and producer Jerry Salley, and is found on the newly released project Then Jesus Came.
"Praying Women" was penned by award-winning songwriters Lee Black, Marcia Henry and Kenna Turner West.   "I was sick and had called on several of my girlfriends and family to pray. The Lord moved and took care of the problem." said Henry.  "I shared with Lee and Kenna how thankful I was for praying women.  Lee started running with it and Kenna and I got excited. It was a memorable day!"
"Lee had the idea to turn the testimony into a song." said West. "And when Marcia began playing the piano, I think that all three of us could sense that we were part of something very special." she concluded.
The video was produced by Bryce Free and Paper Taxi Designs.  Regarding the video production, Huggins commented,  "I was thrilled to have Bryce Free direct and produce this video. I also owe a huge thanks to my very generous friends who volunteered to be in the video. They did a fabulous job and I'm really proud of what we created."
The video can be found online at https://youtu.be/lxqFntqBsRM and will also be broadcast nationwide on Harmony Road TV and other television programs in the coming weeks.
More information on Lindsay Huggins and her ministry can be found at www.lindsayhuggins.com.
Tags:
Faith
,
Kenna Turner West
,
Lindsay Huggins
,
Southern Gospel News
Posted in
announcements
|
Comments Off

on Lindsay Huggins Releases "Praying Women" Video
Written by Staff on March 17, 2015 – 12:32 pm -
The Ozark Gospel Music Convention 2015 in Branson, Missouri, will be held at the Stone Castle Hotel and Conference Center on May 4th through 6th.
Some of the artists that will be appearing include: The Williamsons, His Love, Ava Kasich, Faith's Journey, Majesty III, Lindsay Huggins, The Ascension Quartet, Broken Vessels, Hope's Journey, Lineage of David and many more.
For more information visit the OGMC Website HERE or call (417) 425-7856
Tags:
Ava Kasich
,
Broken Vessels
,
Faith's Journey
,
gospel music
,
His Love
,
Hope's Journey
,
Lindsay Huggins
,
Lineage of David
,
Majesty III
,
Ozark Gospel Music Convention 2015
,
southern gospel
,
The Ascension Quartet
,
The Williamsons
Posted in
announcements
,
artists
,
gospel events
|
Comments Off

on Ozark Gospel Music Convention 2015 Coming to Branson MO
Written by Staff on August 7, 2014 – 7:58 am -
By Lindsay Huggins
It's my honor today to feature some of my favorite folks in Southern Gospel music. We see lots of families singing and traveling together, but I want to share a very special group with you. The Browns hail from Le Mars, Iowa, making their way across the nation sharing God's love through music. And if this is your first introduction to this family, you can thank me later.
Shelly Brown, "mama" of the group, spent several years singing with a ladies trio. The kids would sing a song or two with them, which must have let Shelly know that they had something pretty special as a family. One of the first concerts as The Brown Family was for a Christmas banquet in Minnesota. Michaela says, "I remember Andrew was so little he just got up on one song and shook a rhythm egg!" They were very young at the time, and just starting out singing as a family. The kids only knew a few songs so they mostly backed up Shelly with their sweet vocals and, of course, cuteness.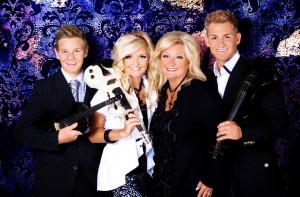 Fast forward to the present. The Browns have now been traveling in Southern Gospel music for 14 years, and those kids are some of the finest young people in gospel music today. Shelly, Michaela, Adam, and Andrew are the ones you will see on stage, but the whole family is involved. Dad Keith is the bus driver and keeps them all in line. From time to time, Keith and Shelly's oldest daughter Jessica Trammel (married to Nick Trammell of The Mark Trammell Quartet) will join them.   This family has grown recently with the addition of granddaughter Tessa, Jessica and Nick's two-year-old. And they are expecting a baby boy later this year!
Their bubbly personalities, beautiful smiles, and unquestionable talent have made them one of our genre's most loved family groups. My first time meeting this fine family was at National Quartet Convention a few years back. Our booths were just across the aisle from each other, and The Browns always had a crowd of folks coming to see them. It was easy to see that the folks loved them. It might have also had something to do with the brownies they gave away, but we'll just say that's a bi-product of their sweetness! Something else that impressed me about The Browns is how they encourage others in the industry, particular the young folks who are furthering the music we love. Each year at National Quartet Convention, they host a night of pizza and bowling and provide a time of fellowship, fun and encouragement, all on their dime! I think that's pretty cool.
For those who might not yet be familiar with their music, you don't know what you've been missing! They are always writing and creating new music, but also love the old hymns of the faith and have a way of taking them to a new level.   The kids all play violin, but when you add a little Southern Gospel flair it turns into a fiddle! Listeners of all ages will enjoy the hymns done "Brown style", and you can find these on their HERITAGE HYMNS COLLECTION albums.(more than one?)
Most importantly, though, is their testimony of God's faithfulness and indescribable love. This season in their ministry is focused on sharing the hope and joy that can only be found in a life rooted in God's love for us, and our love for Him and those He has placed in our lives. 1 John 4:16 says "And so we know and rely on the love God has for us. God is love. Whoever lives in love lives in God, and God in them." The Browns want to do just that: live in love. Michaela says, "Dad has always told us 'You don't have to look far for ministry,' and that is truer today than ever before."
Having recently signed with Stowtown Records (a record label formed by Ernie Haase and Wayne Haun), The Browns are delighted to share new music from their latest project LOVE LOUD. It's the perfect title for the heart of their ministry.   This journey with a new record label has been an exciting time. "It has been such a pleasure to team with Stowtown in taking our music to the people. Wayne Haun did an incredible job producing it as well as writing some of the music. All the family members had a hand in writing over half of the songs on the album. We love making new music and we hope you enjoy listening to it as much as we loved making it!"
This family has had the privilege of performing on some of the biggest stages across the country. Southern Gospel fans have followed them from the Gaither events such as Family Fest and Gaitherfest, to the main stage at National Quartet Convention, all the way to Branson, MO, where they performed over 30 Christmas shows in the Americana Theater. Their bus has seen many miles!
Speaking of the bus, life on the road is "CRAZY", they say. When you put the whole Brown family together 24/7, you never know what might happen, but they enjoy being with each other. Who knows what new song might be birthed from the next trip on the bus!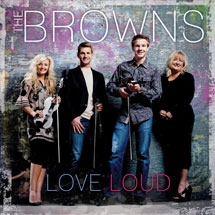 We've talked about the music and ministry, but did you know The Browns have a huge family farm? Yes, these beautiful people are farmers!! "Our farm is a century farm. We grow corn and soybeans… lots of them!  We all help in various ways and are no strangers to large equipment, hard work and a little dirt on our clothes now and then."   Luckily they clean up pretty well!
When they aren't working on the farm or singing on stage, you can find them furthering other creative outlets and ambitions. Michaela has studied at Le Cordon Bleu in Paris and Cambridge School of Culinary Arts, and has taken a few notes from the best cooks she knows…her mom and grandmas. You can find her delectable recipes at www.stagetothestove.com.   Michaela and Adam are also real estate entrepreneurs, and enjoy rehabilitating and managing properties.   See? They really can do it all.
You should probably be watching for a reality TV series soon! Okay, seriously I don't think there are plans for one, but with farming, hobbies, ministry on the road, and upcoming life events (Andrew is graduating high school, Adam is getting married this summer, and Grandbaby #2 is on the way), they'd have plenty of material. Not the least of which could be the retelling of the time the kids left Shelly at the airport because she was late to the gate!
By now, I know you can't wait to connect with The Browns, find them in concert in your area, and add their music to your collection. Take a moment to visit their website at www.thebrownsmusic.com. You'll be glad you did.
First published by SGM Radio website in May 2014.
For current features by Lindsay Huggins on SGM Radio visit http://www.sgmradio.com/
Tags:
Adam Brown
,
Andrew Brown
,
Christian artist
,
Christian Music
,
gospel music
,
Lindsay Huggins
,
Michaela Brown
,
sgm radio
,
Shelly Brown
,
The Browns
Posted in
SGM Radio
|
Comments Off

on Spotlight on The Browns
Written by SGN Scoops Staff on June 4, 2014 – 12:40 pm -
SGN Scoops, your destination for the latest in Gospel music news and information, is pleased to present SGNScoops Magazine Volume One…great new music from some of your favorite artists. Hear cuts from Creekside Gospel Music Convention artists like Ava Kasich, Clayton Watson, Faith's Journey, Hope's Journey, Lindsay Huggins, Omega Quartet, Page Trio, The Steeles, The Williamsons and Tina Wakefield. You will be blessed and your heart will be touched by the music on this album. Get your copy today!
Tags:
Ava Kasich
,
Clayton Watson
,
Faith's Journey
,
Hope's Journey
,
Lindsay Huggins
,
Omega Quartet
,
Page Trio
,
Southern Gospel Music
,
Southern Gospel News
,
The Steeles
,
The Williamsons
,
Tina Wakefield
Posted in
announcements
|
Comments Off

on SGNScoops Magazine Presents Today's Gospel Music Volume One
Written by Staff on May 22, 2014 – 10:17 am -
When an artist takes a step in a different direction, we often sit up and take notice of what they've accomplished thus far and where they are headed next. That's exactly the case with Joseph Habedank who recently came off the road after traveling with The Perrys to pursue a new endeavor in ministry. With Joseph stepping up and taking center stage as a soloist, it's a great time for Southern Gospel fans to learn more about the young man we've already grown to love.
Joseph Habedank began singing with his family when he was just five years old, but it's clear his mother knew he had a musical ear when he was a small infant. "My Mom says she would play notes on the piano when I was just 11 months old, and I would hum them back to her on key. So I guess you could say I've been singing all my life." Some of his most precious musical memories are from those childhood years. When questioned about his earliest memory of singing he says, "I remember singing in First Baptist Church in Forest, Ohio, when I was four or five years old with my two younger brothers. We sang the old Hemphill's song "He's Still Working on Me."
It wasn't long before Joseph's natural ear for singing was coupled with an innate ability to express his thoughts and worship by penning his own songs. Taking after his mom's passion for writing, he had a binder where he kept his treasured crafts, and remembers having probably 50 sheets of paper filled with songs he had written by the age of eight years old.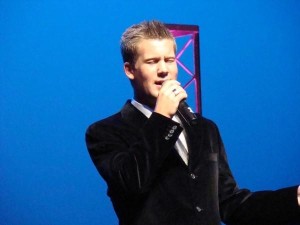 Music has always had a strong presence in Joseph's life, but the styles have broadened over the years. He grew up listening to all Southern Gospel in his young childhood years, and his main influences then were Gold City, Greater Vision, and The Cathedrals.   During his teenage years, his tastes expanded a bit to include Christian Contemporary artists like Steven Curtis Chapman, Phillips, Craig & Dean, and Larnelle Harris. This wide spectrum of artists and styles has provided significant musical inspiration over the years. Joseph has also found it very important to model his ministry and work ethic after some of the most respected men in the Gospel music industry, specifically citing Gerald Wolfe and Russ Taff as his mentors.
To list all his songwriting credits would be too numerous to include here, but Southern Gospel fans have an undeniable love for Joseph's heartfelt lyrics. Those lyrics have taken two of his songs straight to the top of the Southern Gospel radio charts. In 2010, "If You Knew Him", which was co-written with Rodney Griffin, was nominated for Southern Gospel Song of the Year at the GMA Dove Awards and won the Singing News Fan Award for Song of the Year. Joseph's songs have been recorded by many artists including: Gold City, Brian Free & Assurance, Karen Peck & New River, Lauren Talley, The Hoppers, The Kingsmen, Ivan Parker, Jeff & Sheri Easter, The Kingdom Heirs, Triumphant Quartet, The Hoskins Family and more.
While industry peers and fans have recognized certain songs with accolades and awards, each song is special to Joseph in different ways and for different reasons. When asked about his favorite song he's written, he finds it hard to narrow it down, but says the top two that come to mind are "Now I Know Him" which will be on his new solo project with Daywind Records due to release this summer, and "Mary's Wish" which was recorded by Ivan Parker.
Joseph has had quite a career already, spending a decade on the road with the beloved group The Perrys. During that time he experienced a fruitful time of music and ministry with some of the industry's finest folks. Following God's direction, Joseph recently made the move to pursue a solo ministry and is looking forward with great anticipation to the ways God will continue to use him. Three things that excite him about this new venture are helping people, creative liberty, and knowing that he's in the center of God's will for his life.
One of his most memorable "performances" was after he came off the road with The Perrys. Joseph was invited to participate as part of the staff at Write About Jesus, a songwriters' conference put on by songwriting extraordinaire Sue C. Smith and held in St. Louis. At the conference, Joseph shared a little bit of his testimony before singing his song "When the Lights Go Down," a very personal song for him. "That particular night stands out to me because it was one of the first times I had sung since coming off the road, and I really felt the presence of the Lord. What's really cool is that it didn't have much at all to do with me. It was all about Him."
"The heart of my ministry is pretty simple really. I just want to help and encourage people."   This desire has caused Joseph to push himself even farther with his writing and performing, longing to provide ministry of substance. This "conviction," as he puts it, came through experiencing a low point in his own life, when he was longing for some help. "I was begging for someone to help me. Whether it be in song or in sermon, I needed hope. It challenged me to help people when they are at their lowest, and also challenged me to no longer write 'fluff' just for the sake of having a fast song or a filler song for an album." It seems that the words of that childhood song "He's Still Working on Me" are still true in Joseph's life and career. And that's the way it should be!
Joseph Habedank fans will have several opportunities to add to their collection of his music this year! Joseph is most excited about his first album with Daywind, "Welcome Home", which will include 10 brand new songs all written or co-written by Joseph himself.   He says "I could not be more excited about a project! I have been wanting to record this particular album for years and I can't wait for everyone to hear it. The songs go hand in hand with the mission of my ministry."
Daywind Records is also releasing an album called "TEN", featuring 10 songs that were written during Joseph's 10-year tenure with the Perrys. Concert-goers can purchase these beginning this month!
Sometimes the best ideas for new albums don't come from the record label executives. Joseph's wife Lindsay suggested an outside-of-the-box project that fans are sure to love. Joseph says, "Since she's the intelligent one in our house, I listened." "The Demo Sessions" CD is comprised of 10 of Joseph's most familiar songs which have been recorded by other artists.   However, on this special project you will hear Joseph singing these as the author. Listeners will get to hear the demo versions of these songs just as the artists heard them before they decided to record the song. It's a sort of "backstage experience", if you will.
Speaking of his wife Lindsay (they married in 2010), Joseph cherishes time at home with his bride. (By the way, she also has a beautiful voice!) Traveling in ministry takes Joseph away on the road many days of the year, but his absolute favorite place is at home. In fact, when the suit and tie are gone, you'll likely find him relaxing in his beloved blue Adidas pants, watching a Green Bay Packers game, and chowing down on a pepperoni pizza (extra cheese, please!).   "Lindsay and I are pretty low-maintenance when we are home. We love to just relax, watch TV, and laugh. We are boring and fun all at the same time," he says.
When at home in Nashville, Joseph and Lindsay worship at Christ Church Nashville. After searching for a home church for years, they found Pastor Dan Scott and Christ Church and knew that was where the Lord wanted them. "This church has ministered to us more in the last year than most any congregation has. We love our pastor, we love our choir, we love our church!" Because Christ Church is a large church, they aren't as involved as they were accustomed to being, but Joseph is looking forward to singing with the Christ Church choir soon.
This new season certainly brings about new opportunities, challenges, and goals. Of course, there is the tour schedule that continues to fill up, including a Canadian tour this summer, and new music to be released, with three new records just this year. You can keep up with Joseph by visiting www.josephhabedank.com or go to www.facebook.com/JosephHabedankMusic and click the "like" button. Joseph also asks for your prayers as he continues to pursue God's calling on his life.
Even with all the excitement of a blossoming solo ministry, Joseph says his biggest goals are "to be a better husband, a better man, and to draw as close to Jesus as I possibly can." With that kind of desire, and the talent with which God has blessed him, it's unquestionable that Joseph Habedank has a bright future in ministry.
First Published by SGM Radio website in March 2014.
Written by Lindsay Huggins.
For current features, go to http://www.sgmradio.com/
Tags:
Christian artist
,
gospel music
,
Joseph Habedank
,
Lindsay Huggins
,
Lindsey Habedank
,
sgm radio
,
the perrys
Posted in
artists
|
Comments Off

on Joseph Habedank: Front and Center