Written by Staff on July 30, 2019 – 10:50 am -
The Mark Trammell Quartet  announced on Facebook the addition of new tenor Stephen Adair:
***Special Announcement***
The Mark Trammell Quartet is pleased to announce that Stephen Adair is joining the group as tenor vocalist. Adair has been a member of The Dixie Echoes since the year 2015.
"I am so thankful for my time with The Dixie Echoes," says Stephen, "and I greatly appreciate their investment into my life and calling. I look
forward to the future with The Mark Trammell Quartet, and I am excited to see what God has in store. Please be in prayer for not only myself, but also both of these fine groups during this
time of transition."
"It is a joy to have Stephen become a part of the MTQ family," adds Mark Trammell. "He comes from one of the finest groups in all of Gospel music. Please join us in welcoming Stephen to Alabama, and to his new position."
Adair's first official appearance with The Mark Trammell Quartet will take place in early September. In the meantime, long-time Mark Trammell Quartet friend Jeff Hawkins will be
filling the tenor role.
"Jeff is from Cookeville, Tennessee, and is a seasoned singer in his own
right," says Mark. "We greatly appreciate Jeff's assistance during this transition period, and we are truly humbled that these men are answering the call to help move this ministry into the future. To God be the glory!"
Several minutes later, after a time of stirring the little grey cells, Scoot Shelnut, aka Randy Shelnut, Jr., of the Dixie Echoes, posted the following rebuttal, reprinted by permission:
The REAL "press release"….😏
It is with mediocre sadness we announce the defection…uh…I mean…departure of our long time (relatively speaking) tenor, Stephen Adair.
"I've travelled with many…and I mean MANY tenors, and Stephen is certainly one of them," states bass player, Scoot Shelnut. "He has become like a 3rd cousin to all of us and we wish him average, at best."
Stephen will be joining another great quartet, Mark Trammell and the Trammellaires. Mark, as if anyone didn't know, is the former baritone/bass player for the Cathedrals…and Greater Vision…and Gold City…and the 2nd Half Quartet…and the Southmen…and the Kingsmen…and the Mark Trammell Trio.
The Dixie Echoes are currently accepting auditions for tenor/bus washing engineer/trash taker outer, so please send your resume', photo, demo (CD or cassette), $25 cash, and a bag of Skittles to:
Dixie Echoes Tenor Training Program
481 Ronda St
Pensacola, FL 32534
Please continue to pray for the Dixie Echoes and the Trammelltones+ Randy & Trevor during this transition.
John 11:35
For more on the Mark Trammell Quartet click Here
For more on the Dixie Echoes click Here.
For more Gospel Music news read the latest issue of the SGNScoops Magazine HERE.
Download the latest SGNScoops Magazine PDF Here
Find SGNScoops Magazine On Facebook Here
Listen To Today's Gospel Music Here
Tags:
Dixie Echoes
,
gospel music
,
mark trammell
,
mark trammell quartet
,
Stephen Adair
Posted in
announcements
,
artists
|
Comments Off

on Stephen Adair joins the Mark Trammell Quartet
Written by Staff on November 29, 2018 – 9:03 am -
Little Ernie Phillips, tenor for many years with the Kingsmen, man who helped to create their iconic quartet sound, has passed away.
Mark Trammell, part of the Kingsmen Quartet during Phillips' tenure, had this to say on his Facebook page this morning:
Woke up to a message from Eric Dean Phillips that his Dad, Ernie Phillips had slipped thru the pearly gates early this morning. SO much I could say about Ernie. He was one of the greatest encouragers in my life. 40 years ago last month, I joined the Kingsmen. He allowed me to live with he and his family the first month until my wedding. Ernie was my friend and protector. ..Couldn't help but think of the song Ernie, Wayne Maynard, myself, and Ray Dean Reese recorded years ago. "At Sunrise, I'm Going Home." Glad you made it home Ernie! We'll see you soon! (Read Mark's entire post here.)
All of our sympathies and prayers go to the family and friends of Ernie Phillips.
Tags:
Ernie Phillips
,
Kingsmen
,
mark trammell
,
Southern Gospel News
Posted in
announcements
,
artists
|
Comments Off

on Little Ernie Phillips passes away
Written by Staff on January 15, 2017 – 3:02 pm -
Mark Trammell is a legendary figure in this field and has one of the most recognizable baritone voices with a clear and smooth tone. Trammell, an artist many consider one of the greatest quartet men of his time, has graced the Southern Gospel stage for over forty years as of 2016 and shows no sign of slowing down.
Trammell has sung with many great groups including: The Senators, The Kingsmen, The Cathedrals, Greater Vision, Gold City, and now his own group, Mark Trammell Quartet. After leaving Gold City in 2002, Trammell decided to form his own group, The Mark Trammell Trio.
Trammell's son Nick has a unique perspective of the early days of the group. "I could write a book on the formation of this ministry from my perspective," Nick explains. "To keep it short, every single detail that needed to be in place, every door that needed to be opened, and every sign that needed to be given,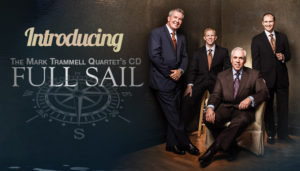 took place with only the willingness of my father to take the step of faith away from what was comfortable, into what he felt like God was calling him to do.
"I can remember standing in our driveway the week after he left Gold City. He said look around you and remember this moment. There was literally nothing there to start a group with. No other singers, no sound system, no mode of transportation, not even a microphone. Within three months, most of that was provided with little more than prayer and patience. I still to this day stand in the driveway and look around every once in a while to remind myself of what we have seen God orchestrate." 
Tags:
Blake Buffin
,
gospel music
,
Justin Gilmore
,
mark trammell
,
mark trammell quartet
,
Nick Trammell
,
Randy Byrd
,
SGNScoops Magazine
Posted in
artists
,
sgn scoops magazine
,
special feature
|
Comments Off

on Full Steam Ahead for the Mark Trammell Quartet
Written by Staff on October 20, 2015 – 12:26 pm -
Audiences love to hear The Mark Trammell Quartet and Greater Vision, and often when these two groups get together, Pat Barker will join them to
create the Second Half Quartet. With just piano and bass guitar accompaniment, this group made up of Gerald Wolfe, Chris Allman, Mark Trammell, Rodney Griffen and Pat Barker sing Gospel favorites, to the delight of the crowd.
Yesterday on Facebook, Pat Barker announced that the Second Half Quartet is appearing solo, going on the road to perform for the first time, on March 31, 2016, in Oxford Alabama. For all the details, listen to Pat's announcement below!
Check out Pat Barker's website Here.
View the Second Half Quartet's Facebook page here.
For all the artist news and information, view the SGN Scoops Facebook page.
Tags:
Chris Allman
,
Gerald Wolfe
,
Greater Vision
,
mark trammell
,
mark trammell quartet
,
Pat Barker
,
Rodney Griffen
,
Second Half Quartet
Posted in
announcements
,
artists
|
Comments Off

on Second Half Quartet Goes On The Road!
Written by Staff on May 6, 2015 – 8:14 am -
At SGN Scoops, we are having a focus on prayer during the week of the National Day of Prayer which occurs on Thursday, May 7, 2015. We have asked our friends in social media to talk to us about the importance of prayer in their lives.
Today's Bible verse: "Confess your faults one to another, and pray one for another, that ye may be healed. The effectual fervent prayer of a righteous man availeth much." (James 5:16 KJV)
Mark Trammell, of the Mark Trammell Quartet, talks about the constant provision of God:
It is customary that we pray before the bus leaves my house. I personally pray before going to bed and when I wake up, whether at home or on the road. Answers to prayer begin with the beginning of this group 13 years ago last week. God has answered prayer specifically, especially in the area of providing a way for us to continue to sing in the small church in America.
Eight years ago, Mark Trammell Outreach was formed. This is the non-profit missions outreach arm of our ministry. Jeff Haney approached me eight years ago and asked me if I truly had a burden for the small church and the desire to take the best quality gospel music to them. I told him that day that I grew up in a small church and I would love to be able to take our music to a part of the christian world that could not otherwise afford to have a "professional" group. God has blessed that outreach effort, so much so that our MTO bloodline members contribute enough annually to allow us to sing in 30 to 40 communities per year that would not otherwise be able to afford it. It blesses me and is a great lesson to my men that we give our all whether we sing to 50 or 12,000.
God has also been faithful in answering prayer and giving direction in the area of  member changes, as well as simple things like upgrading equipment and finding the right studio to use when recording. I believe that it is important to live by Proverbs 3:5&6. "Trust in the LORD with all thine heart; and lean not unto thine own understanding. In all thy ways acknowledge him, and he shall direct thy paths." (KJV)
God IS interested in the "little things" in our lives. The key to this scripture is having the faith to walk in the paths that he directs us to. God is only responsible to provide when we are obedient to His voice. Doesn't mean I always am. But it sure does make a difference when we are!
Mitzi Stamey, vocalist with His Mercies, has seen God answer many prayers:
Prayer is a closeness with God. I can go to him and pray for forgiveness, I can ask for healing or restoration for myself and others, and ask for desires of the heart as well. It's the straight path of leading others to Christ through salvation as well. I read and study his word daily and I try to pray several times a day. I pray in a quiet place: in my bedroom, or in my special chair in the living room.
When we travel, I can take needs to the father through prayer using the churches' altars, and can simply be praying on the way to our concerts.
I have seen God answer many prayers. Just recently I saw a man with stage-four lung cancer at a church and prayed for him. When I returned to the church a few months later he was completely healed.
It's not uncommon to see God's hand at work each and every day. We have been blessed to see over 40 lives accept Jesus as their personal Lord and Savior so far this year alone.
I have seen miracles in my own life. I was infertile and struggled with wanting a child for years and God gave me a special call from a doctor one day, who I didn't even know, and I ended up conceiving my son, who is now 13 (will be 14 June 12 th.)
I prayed again for a daughter and God sent a girl right into my path who blessed me with my daughter who is now eight years old. He spared my life from a car crash in which the car flipped three times. I felt the presence of God with me as the prayers were answered.
I'm here to tell you God is REAL. You can't convince me otherwise, I have too many stories to tell but I would be writing a book.
I may not be much but there is one thing for certain, I'm a born again child of God and I'm so thankful He cared enough to go to Calvary and take the nails and stripes for me and you!
Richard tells us: I just found KJIC 90.5 FM, a Christian radio station and then saw the link to this site. I see that the focus this week is on prayer, so I thought I would share with you(or maybe you already know about) the world wide prayer meeting taking place started by Times Square Church.
http://itstimetopray.org/
They get together and fast,worship, and pray once a week. It is about an hour and 30min. You can submit prayer requests and praise reports.
Christians tune in (live webcast) from about 150 countries to pray and seek the face of God. The pastor believes God called us for such a time as this and bases it on 2 Chronicles 7:14.
These are the one minute devotionals that focus on prayer.
http://itstimetopray.org/radio-devotionals/
Have you had a close encounter with God? Do you have a special place you go to be alone with Him? Tell us. lorraine@sgnscoops.com Thanks to everyone we have heard from so far!
Tags:
gospel music
,
His Mercies
,
mark trammell
,
Mark Trammell Trio
,
Mitzi Stamey
,
national day of prayer
,
Prayer
,
Prayer Focus
,
sgn scoops
Posted in
causes
,
Christian interest
,
sgn scoops magazine
,
special feature
|
Comments Off

on Wednesday Morning Prayer Focus: God IS interested in the little things in our lives
Written by Staff on March 24, 2015 – 1:09 pm -
By Craig Harris
2014 brought bountiful blessings in more ways than one for Mark Trammell Quartet bass singer Randy Byrd
The pieces to Randy Byrd's puzzle have miraculously fallen together. However, the "fit" happened a little later rather than sooner. Randy can vividly remember traveling to Robinson Auditorium in Little Rock, Ark., as a 12-year-old for a concert that included both the Kingsmen and the Cathedrals.
"I went home that night and I told my mom that I wanted to be a bass singer," Randy says. "I got every Cathedrals' album I could get my hands on. I tried to sound just like George (Younce, the legendary bass singer for the Cathedrals)."
However, Randy had to wait 28 years before even the outside edges of the jigsaw began to come into view. The road to full-time ministry was one that involved missed opportunities even from an early age.
"My first opportunity to ever sing was with the Bob Wills Family in Fort Worth, Texas," Randy – who worked on an assembly line for 14 years in Missouri followed by a lengthy stint as a phone operator for a principal financial company in Des Moines, Iowa – explains. "Bob offered me a job full time when I was a senior in high-school. He offered it in October. I left home, and it all fell apart. The bass singer they ended up hiring was Jeff Chapman (currently a member of the Kingdom Heirs). Every time I saw him, I'd say, 'You have my job,' but I was proud for him.
"I never gave up. I knew it was a dream. With local groups, I had already lived a dream. I wanted to do it full time for a living. I wanted to be in ministry full time singing. My heart was to sing and minister. I wasn't going to punch a time card somewhere."
He had been singing with an Iowa-based local group, Majesty, for more than five years when an e-mail from Mark Blackwood settled in his inbox. That message was too hard for Randy to believe.
"I thought it was a joke, so I didn't answer (initially)," Randy remembers. "I was just playing along (later on), so I answered it. It turned out that they (the Blackwood Gospel Quartet) were going to be in the area the next week. They had been there the week before and announced that bass singer Ken Turner would be retiring. Someone gave them my name. To this day, I don't know who did it. Two weeks later, I got the job.
"This was the dream since I was 12. At the time, I was 40. I turned 41 later that year." It was Randy's first professional job in Southern Gospel Music. The group later changed its name from the Blackwood Gospel Quartet to the Blackwood Brothers.
He was with the group from that time until 2012, when he relocated to Arizona during a tough period in his life. That stay out West lasted just six months before he moved back to Tennessee.
"I applied for 200 jobs and got two phone calls," Randy points out. "I got in my car to come back to Tennessee. I was in the car for 10 minutes, and my phone started ringing."
Short stints with the Anchormen, LeFevre Quartet and Songfellows followed. He also did some solo dates. That's when another Mark contacted Randy: Mark Trammell.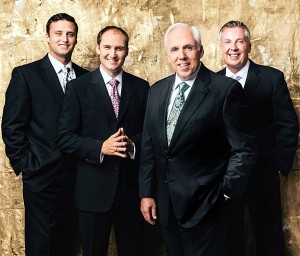 "I was just praying for God's guidance," Randy shares. "Mark called and asked if I would fill in (as the bass singer of the Mark Trammell Quartet). I said, 'Sure.' After the first week, he asked if he could consider me (as a permanent group member). I said, 'God's going to have to speak audibly.'
"I wanted it so bad. I had wanted it so bad with Mike (LeFevre). I didn't want to do that again. I didn't want to get ahead of God, but in my heart, I wanted it more than anything."
Randy and Mark were acquainted since his tenure with the Blackwood Brothers. "When Randy came to the Blackwood Brothers, we sang with them not long after that," Trammell says. "We hit it off with him.
"I started the process of listening to the other 35 (candidates for the bass-singing position), but I didn't find anybody with the same kindred spirit and the same love of our music he had. As nice as they (the other candidates) were, I feared they would sing at the people instead of to them."
Randy's passion for the position was due in part to his fondness for his childhood heroes.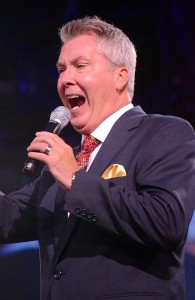 "My favorite group was the Cathedrals, and Mark stood next to my hero," Randy notes. "My fiancé (Tracy Kelley) and I sat down and wrote three very specific things, fleeces to God. They were highly unlikely and very detailed. I told Mark that I wasn't going to tell him what they were. He said, 'I respect that.' We prayed specifically about income and benefits packages that are not industry standards. In two weeks, all three of the fleeces took place.
"I shared that with Mark after he offered me the job. We both cried. When you are where God wants you, it's good."
The fit felt right from the outset. He officially joined the group in July.
"When he hired me, Mark said, 'From the very first week you were on the bus, it felt like I came home and put my favorite old shirt on,'" Randy points out.
Mark adds, "It just worked. From the beginning, it worked because of like-mindedness. We have a lot of history. I can start an old joke that has been told, and he can finish it."
Randy has been overwhelmed at the opportunity for many reasons, some of which pertain to past trials he has experienced. "When I left the LeFevres, I was so discouraged and distraught," Randy remembers. "I felt like God wasn't in tune with me anymore. Anything was a big deal to me. I understood him calling me to fill in, but to me, the likelihood of Mark Trammell offering me that job, it was more likely for the local high-school baseball pitcher to get a call from the New York Yankees."
However, Randy is enjoying every minute of his opportunity in the "big leagues." Read more »
Tags:
Christian Music
,
Craig Harris
,
gospel music
,
mark trammell
,
mark trammell quartet
,
Pat Barker
,
Randy Byrd
,
southern gospel
Posted in
artists
,
christian entertainment
,
Christian interest
,
sgn scoops magazine
,
special feature
,
Uncategorized
|
Comments Off

on Randy Byrd: Piece by Piece … It's All Coming Together
Written by Staff on February 6, 2015 – 10:47 am -
The Booth Brothers packed the house again while in concert at Shiloh Hills Baptist Church recently. The Brothers h
ave been coming to the area for several years and every time additional space has to be added. They attract all age groups to their concert. There were several children there as well as a lady that was 99 years old. She said after the concert if she made 100 she would be back to hear The Booth Brothers again!
After opening remarks, introductions  and announcements, Pastor Vic Bledsoe introduced the Shiloh Hills Choir under the direction of Matt Bledsoe.  A great music program from the choir concluded with "How Great Thou Art."
The Booth Brothers took the stage 
​
to a standing crowd, singing many of their new songs that featured their newest member Paul Lancaster.  Michael introduced a special guest in the audience: Stan Whitmire. He invited Stan to the piano and Michael, Ronnie and Paul gathered around the piano to sing. Stan accompanied the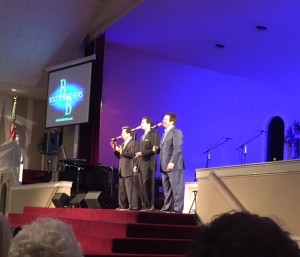 group throughout the second half of the concert on the piano also playing a couple of piano solos.  Michael closed the program with prayer and folks hung around for about an hour talking with the guys. I must say that Paul Lancaster is a great fit for the Booth Brothers.
The next concert at Shiloh Hills Baptist Church will featured the departed member of The Booth Brothers, Jim Brady and the Jim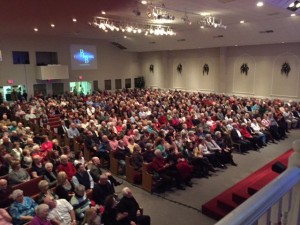 Brady Trio. This concert will be

March 13 at 7:00 pm

.  Former Mark Trammell Quartet bass singer, Pat Barker, will open for the Jim Brady Trio.
Tags:
booth brothers
,
Christian Music
,
Jim Brady
,
Jim Brady Trio
,
mark trammell
,
Michael booth
,
Pat Barker
,
Paul Lancaster
,
Ronnie Booth
,
southern gospel
,
Stan Whitmire
,
Tim Parton
Posted in
artists
,
concert reviews
|
Comments Off

on BOOTH BROTHERS AT SHILOH HILLS BAPTIST CHURCH
Written by Staff on December 22, 2014 – 2:46 pm -
By Lynn Mills
Though the holiday season is quickly passing, the spirit of Christmas resides in the hearts of those who believe the wondrous story and live to share its joy. Looking back on the weeks leading up to the Christmas season there are numerous concerts each year where your favorite carols are sung by your favorite artists. Though it's true that many groups reserve the majority of December for Christmas vacation; it is becoming more popular for a few groups to team up with their friends and hit the road at the beginning of the month for a special Christmas tour. For the winter of 2014, another pairing was added to the roster of SGM Christmas tours, hailing by the name of Home For Christmas; featuring the Mark Trammell Quartet and The Whisnants.
Home For Christmas was first introduced to fans in late October when the pre-sale for the Home For Christmas CD was put on the market. This project brought together The Whisnants and The Mark Trammell Quartet (MTQ) in a combination of 12 Christmas songs both old and new that showcased both groups on one recording. At the beginning of November, MTQ and the Whisnants hosted an online Launch Party over the course of 12 hours on Facebook where they shared Christmas memories, traditions and personal thoughts concerning the songs on the new Christmas project via videos, photos and posts from both group's members. Shortly after Thanksgiving, they hit the road and performed their very first official tour together!
The inaugural concert occurred on the Showboat Branson Belle as a part of the Carols On The Belle Series. It was a balmy 70 degrees out in Branson, Missouri! But more than that, the folks that came on board filled the Showboat to capacity; the first Home For Christmas concert was sold out! When the Mark Trammell Quartet and Whisnants took the stage everyone gathered around for their opening tunes, "The Faithful Medley," and "Unspeakable Joy." After a few words from Susan, Jeff and Mark, the Whisnants sang a few of their contributions to the CD: "Without Christ There's No Christmas," and a ballad, "I Call Him Lord." The Mark Trammell Quartet came up and gave the crowd a little variety in musical taste; they sang their hillbilly tune, "O Beautiful Star Of Bethlehem" and the more refined arrangement of "God Rest Ye Merry Gentlemen."
The Whisnants, who had been listening to MTQ sing from where they were seated on black stools, returned to the spotlight to sing their new upbeat tune, "Jesus Brought Joy To The World." Mark Trammell also explained to the audience why they sing.
It is worthy to note the diversity of the crowd on the Showboat – a bus from Michigan brought a good amount of Asian folk, many Indian couples were present and others who came for the classic Branson tour and sightseeing staples. The crowd, therefore, was not made of your typical Southern Gospel fans, so an explanation was due!
Mark also shared about being raised in a pastor's home and how one would expect his mother's favorite Christmas song to be a traditional carol…but it wasn't. It was the classic "Christmas Song". Mark went on to croon the first few lines from this well-known song. While he was doing his best impression of Perry Como, the others were doing their best to steal the spotlight. This came about in the form of Santa hats, which were distributed in a quiet fashion to all the group members seated behind Mark. Susan decided to share and plopped her hat, complete with tiara, on Mark's head. After a bit of waltzing and other comical antics from those who were obviously bored with Mark singing his solo, Trammell gave up and sang, "I'm gonna' kill them when this is over…!"
From those humorous moments, the singers moved to a sincere reading of the Christmas story in Luke. Mark turned the pages of his black leather Bible to the second chapter and told of how the Savior came to be born in this world. "Silent Night," followed this. Susan, the only lady on stage, sang this carol from the viewpoint of a mother. Afterwards, she asked the audience to sing "Away In A Manger," with her. A sweet sound echoed through the boat.
As the evening came to a close, Mark Trammell had the crowd on the edge of their seat by a powerful arrangement of "O Holy Night." An equally powerful message followed as Susan introduced her solo, "If You Could See What I See," and the thought behind the message.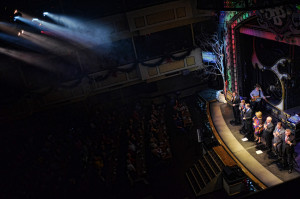 "People come up to me all the time," Susan began, "They say, 'I love Christmas, but it's a lonely time for me; I lost my husband, I lost my wife, I lost my kid, I lost my mom…it's lonely'." She went on to say that in 2013 on December the 23rd her father-in-law went home to heaven. "A lot of people felt sorry for us," she went on, "But we had a friend who wrote this song and sent it to us on Christmas Eve. If God gave us one glimpse into heaven, we would never wish them back." Susan sang that comforting message and prayed. As the Showboat came back into dock MTQ and the Whisnants left everyone with this tune: "Christmas Time's A Comin'!"

The next night, the Home For Christmas Tour went to Arkansas where they sang a full concert at Beryl Baptist Church. Though this wasn't the last stop on the tour, this is where my ability to follow ended. The difference between the Showboat and this concert was that they had more time at the church and material was added. One of those additions was a fun performance of "The 12 Days of Christmas." Susan and Mark beckoned 12 volunteers from the audience (the pastor, who is an accomplished bass vocalist, being one of them) and soon a line formed at the foot of the stage. Aaron Hise and Nick Trammell distributed cards with each part written on them and the fun began! It would be impossible to re-tell everything that made us laugh – but we had a great time! Another highlight of the evening was Austin Whisnant singing a song Susan originally recorded, called "Even Then," and Ethan's solo of "Strange Way To Save The World."
"Home For Christmas" is a must see for fans who love Christmas music. It is impossible to miss the sincerity of those ministering on stage. Nothing is scripted – it's all from the heart. Whether the moment is funny, reflective or serious, the heart behind it shines through. This is Christmas. This is the way we think of the holiday when we close our eyes and picture a homey, old-fashioned Christmas tree set in the midst of children at play and Christ where He ought to be: in the center of it all. Home For Christmas offers songs you want to hear, the new ones you'll be humming after you hear them the first time, the singers you love and the sincerity of the Christmas story, all creating memories you won't easily forget!
If you are interested in bringing the Home For Christmas Tour to your area in 2015, contact The Harper Agency for more info at: http://www.harperagency.com/ or call 615-851-4500.
For more artist features and concert reviews by Lynn Mills and others, view the latest SGN Scoops magazine at www.sgnscoops.com
Tags:
branson
,
Christian Music
,
christmas
,
christmas music
,
gospel music
,
Home For the Holidays
,
mark trammell
,
mark trammell quartet
,
susan whisnant
,
Whisnants
Posted in
artists
,
concert reviews
,
gospel events
,
sgn scoops magazine
|
Comments Off

on Home For The Holidays with the Mark Trammell Quartet and the Whisnants
Written by SGN Scoops Staff on January 21, 2014 – 10:00 am -

GADSDEN, AL (January 21, 2014) – Crimson Road Productions announces a unique online media event for fans of Southern Gospel Music, the first of its kind to take place in the SGM genre!  Starting Tuesday, January 21, fans will be able to participate in the Your Walk Talks Blog Tour which features the record label's maiden voyage release from The Mark Trammell Quartet.  This tour will end on January 28.
The Your Walk Talks Blog Tour will begin on The Mark Trammel Quartet's Blog found online at:  www.marktrammellquartet.com/blog.html , and continue on to four other premier blog sites within the genre, each featuring a "piece of the puzzle" so to speak.  In order to make this a unique experience for the fans, each of the blog posts will feature an interview with one of the MTQ members that will give exclusive insight into their thoughts of the new project.  In addition, each blogger was asked to tell us a personal story relating to The Mark Trammell Quartet.  At the end of each Your Walk Talks Blog post, the reader will find a link to "continue the tour" on to the next site featuring another group member.  Upon completion of the tour, readers will have the option to leave feedback.  Those choosing to do so will have a chance to win a free signed copy of the new release, Your Walk Talks.  Winner will be announced on January 29, 2014.
Crimson Road Productions is a record label committed to artists and building their awareness.  Founded by Jeff Haney and Mark Trammell, Crimson Road Productions is an independent label that has a genuine passion to meet the needs of the artists and produce quality music that will reach people for Christ.  There is no rigid timeline; the plan is to build the label naturally on the quality of the artists, building the label one artist at a time.
For information, promo requests or to set up an interview, please contact Lynn Mills at Lynn(at)marktrammellministries.com.  Visit The Mark Trammell Quartet online at www.marktrammellquartet.com.
Tags:
mark trammell
,
southern gospel
,
Southern Gospel News
,
The Mark Trammel Quartet
,
Your Walk Talks
Posted in
announcements
|
Comments Off

on Crimson Road Productions Invites Southern Gospel Music Fans to Take the Your Walk Talks Blog Tour
Written by SGN Scoops on November 6, 2013 – 2:57 pm -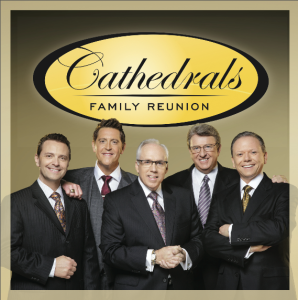 (Nashville, Tenn.) – They set the benchmark by which gospel groups are measured. They had a sound like no other. They were the most loved and popular gospel quartet of their generation. They were The Cathedrals!
Now, for the first time ever, five alumni members of the Cathedrals are reuniting to present a special Cathedrals Family Reunion CD featuring all-new recordings of some of the most loved and biggest hits of their career. In this once-in-a-lifetime collection, Scott Fowler, Ernie Haase, Mark Trammell, Danny Funderburk and Gerald Wolfe blend their voices together re-creating that classic Cathedral sound. The CD also features a few special recordings with members of the groups Ernie Haase & Signature Sound, Greater Vision, Legacy Five and The Mark Trammell Quartet. 
This historic recording is being presented through a special partnership with IMC Management and StowTown Records. Landon Beene (IMC Management) states: "I loved the Cathedrals, they're the group that made me love this great, gospel music! To hear these five men come together and sing these songs is absolutely thrilling. I cannot wait for everyone to hear this."
The brand new studio recording will be released on Tuesday, November 12, 2013 to all digital and retail outlets but fans attending the Cathedrals Family Reunion Event this weekend in Fort Worth, TX will be the first ones available to purchase the recording.
A very limited number of seats are still available for the weekend and may be purchased by calling 877-392-9710 or online at www.IMCConcerts.com. 
Track Listing:
1. Blood Washed Band
2. We Shall Be Caught Up
3. Wedding Music
4. We'll Work
5. O Come Along
6. I've Read The Back of the Book
7. Yesterday
8. Can He, Could He, Would He
9. Oh, What A Savior
10. He Made A Change
11. Somebody Touched Me
12. Search Me, O God
13. Champion of Love
For more information on the Cathedrals Family Reunion event this weekend, visit www.CathedralsFamilyReunion.com
Tags:
Cathedrals
,
Cathedrals Family Reunion
,
Danny Funderburk
,
Ernie Haase
,
Gerald Wolfe
,
IMC Management
,
Landon Beene
,
mark trammell
,
Southern Gospel News
,
Stow Town Records
Posted in
announcements
|
Comments Off

on CATHEDRALS FAMILY REUNION SET TO RELEASE NOVEMBER 12, 2013