Written by Staff on May 7, 2015 – 9:18 am -
Today is the US National Day of Prayer. We have several notes from our SGN Scoops friends that we want to share with you throughout the day. We trust that when you read them, your heart will be stirred to whisper a prayer to the Father.
Today's Prayer verse: "Rejoice evermore. Pray without ceasing. In every thing give thanks: for this is the will of God in Christ Jesus concerning you." (1 Thessalonians 5:16-18 KJV)
Parker Webb of the Rick Webb Family:
I would love to share about my prayer life. For many years I only prayed at the "appropriate" times such as before bedtime, when I woke up, after my devotions, before meals… Then I realized the simple fact: "God is with me every minute of every hour of every day". When I'm with friends or family all throughout the day, we converse, a lot. We don't just sit idle not talking. So I took the scripture "pray without ceasing" to heart.
I now talk to the Lord as I'm driving, sitting at my desk, walking to the post office, even while I'm actually eating lunch (at times when I'm eating alone). I have found that during these times when I turn my thoughts and focus on Him, it make me conscious of how I should interact with people in a more Christ like way. Or, how I handle issues in my life that need more prayerful consideration than that five minutes before bed time.
I also realized that I was actually committing myself to praying more for things I had said I would pray for. We often times have people ask us to pray for them but then we walk away and forget. Not because we don't mean it when we say we will, but because of life. I realized that if I begin praying for those folks immediately after our conversation it helps me to remember to pray for them later too and even follow up next time we are together.
Praying without ceasing is a blessing in my life, making my relationship with the Lord as personal as my relationship with a dear friend who is with me constantly. Because He IS with me constantly!
Wanda Osborne of Latter Glory Ministries:
I am so happy to say prayer means everything to me. I always talk to my Father when I wake in the mornings maybe between 3:00 am and 5:00am. I talk to my Father each morning.
This is what I can testify; I bought a home and as I prayed I asked God to let me get it paid off. Being a full time evangelist who doesn't set a specific charge means truly living in faith. One day I got a call. Someone wanted to pay my home off, praise God! They came and brought a certified check. I must say my Father heard me pray so I know God answered me.
You see prayer means everything to me, that's why I have a prayer room and love talking to my Father continuously.
Do you have thoughts on prayer or answers to prayer that you would like to share with SGN Scoops? Email us at lorraine@sgnscoops.com
Tags:
gospel music
,
Latter Rain
,
national day of prayer
,
Parker WEbb
,
Prayer Focus
,
sgn scoops
,
The Webb Family
,
wanda osborne
Posted in
artists
,
Christian interest
,
exclusive report
,
guest
,
sgn scoops magazine
,
special feature
|
Comments Off

on National Day of Prayer: SGN Scoops Prayer Focus for Thursday
Written by Staff on January 27, 2015 – 9:40 am -
By Candi Combs
In a quaint historic church in southern Virginia, the Rick Webb family recently raised their voices to the rafters. The family of four shares that special harmony reserved for those closely related. The group is lead by Rick Webb and his wife Phyllis. The couple has been singing together most of their adult lives. They are joined with son Parker and daughter Hannah who all hail from North Carolina.
In Rick's opening remarks, he introduced Hannah as a beauty queen who recently appeared with Jeff Foxworthy on American Bible Challenge. "Not only can this gal sing, she is also pretty smart!" quipped her father. Parker is responsible for managing the group's road schedule as well as contributing his smooth vocals. Phyllis introduced herself as a theologian offspring to self-describe her childhood as the daughter of a pastor.
Much of the music preformed comes from the Rick Webb Family's newest release from Committed to the Call. "Heaven's Bells are Ringing" is a song with a happy tempo that was the Webb's choice to open the evening concert. In a tribute to the many challenges of a local church, the Webb's performed, "Let the Church Roll On." Definitely a favorite of the crowd was the performance of "Unclouded Day" from the Cokesbury Hymnal. Rick followed by using his smooth voice to deliver, "I Have Found Him."   Parker then took center stage with his own arrangement of Squire Parsons' "Beulah Land."
The Webb couple shared great stories from their early pre-marital days traveling with Disney's Sounds of Liberty.   The travel schedule was brutal
during that time but they met each other and learned much about this great country called America. These experiences were an excellent introduction to a stirring rendition of "God Bless America."
A unique area of ministry for the Rick Webb Family is a production of Glory and Majesty they direct during the Christmas holiday season in Indiana. Phyllis told the
story of a cast member with special needs who for many years performed his role flawlessly. The Webb's have learned that the man came to a saving knowledge of Jesus though the production and had recently passed away. "Saved through the simplicity of salvation," Phyllis said as she introduced, "If Not for the Old Rugged Cross." "Please don't leave here tonight without being sure you know Him", she cautioned.
The simple call to salvation was highlighted with the song, "Every Knee Shall Bow," as the group opened a time of invitation.   With the room focused on the Cross, the group asked promoter and songwriter, Dawn Smoot Moss to join them on stage to close the night with "Behold He Comes."
The Rick Webb Family has a beautiful gift
of song that is obvious. Perhaps the most intriguing aspect of this group is their sweet spirit as they share what being a Christian really means. Each member of the group warmly welcomes each person they see. Their love for the Gospel does not stop when they step down from the stage. The genuineness of The Rick Webb Family ministry goes from the product table to the local Mexican restaurant where they enjoy baskets of chips.
As owners of Song Garden Music, Rick and Phyllis Webb are committed to developing young artists to carry on the gospel through music. In addition to the project featured at the concert, the Rick Webb Family has also recently released a project targeted at children. Rick stated, "We must be committed to telling the youngest of children about how much Jesus loves them." With great focus, this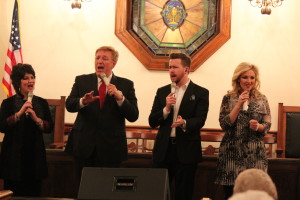 dual-generational family group is making a strong investment in future generations.
Watch for an exciting announcement forthcoming in regard to future plans for the Glory and Majesty production. The Rick Webb Family is seeing doors open to new goals with this ministry. These folks are clearly looking for opportunities from above!
Rick Webb Family music is available on line and at most Christian music outlets. http://rickwebbfamilymusic.com/
Tags:
Candi's Catch Ups
,
Christian Music
,
gospel music
,
Hannah Webb
,
Parker WEbb
,
Phyllis Webb
,
Rick Webb
,
Song Garden
,
southern gospel
,
The Rick Webb Family
Posted in
announcements
,
artists
,
christian entertainment
,
Christian interest
,
concert reviews
|
Comments Off

on Candi's Catch Ups: The Rick Webb Family