Written by Staff on March 31, 2020 – 10:33 am -
Youth in Gospel by Lyndsey Chandler featuring Fayth Lore 
I am excited to introduce to you this month's featured artist, Fayth Lore! 
Lyndsey Chandler: Where are you from? 
Fayth Lore: I am from Southern Ohio. I live in a town called Portsmouth. I like to imagine that my town could be painted like the unique small towns in all of the Hallmark movies. Everybody knows most everybody, and we have a lot of cool history. My house is in the rural part of the city. It's typical to hear 'watch for deer' when you get ready to drive home.
LC: How long have you and your family been traveling?
FL:  My family never really intended to be doing ministry like we are right now. But, that's the cool part about Christianity and letting Christ lead your life. Jesus makes life exciting. My dad was a pastor for most of my life, as well as a pharmacist. Mom took care of everything behind the scenes at home and was very active with the church my brother and I grew up at. Dad taught Samuel and I how to harmonize with him on a song that we surprised Mom with one Sunday night. I was 10 years old and Samuel was nine. The rest is history. We began singing a lot more in church, and then other churches invited us to come sing for them. In 2015, our family stepped into full time music ministry. We now call ourselves 'musicianaries'.
LC: Do you have any siblings?
FL: I have one sibling named Darren Samuel Lore, but he goes by Samuel. He recently married his lovely bride, Rebekah, in May of 2019. So, I do have a new sister by marriage now.
LC: Who's your biggest inspiration in Southern gospel music?
FL: I admire a lot of people in the gospel music world. One person I'll mention in particular, is Peg McKamey. To me, Peg represents faithfulness and authenticity. I'm a person who may try to fit a mold to make sure that someone likes me. When I look at her, though, I see a unique artist that has remained true to herself and her calling. I've never known another female singer to kick off a shoe during a song. When I hear Peg sing a song like, "God On The Mountain," I feel like I'm right there with her. Her confidence in the lyric persuades me to hold onto hope.
Another artist that I aspire to be like is Karen Peck Gooch. To me, she is the epitome of southern hospitality. What stands out to me, is that Karen makes you feel like she's singing every song on that stage just for you. When I've seen her in concert, or at places like NQC, I've always noticed that she pays attention to each and every person that approaches her product table. If she's talking to you, she's looking you in the eye, and truly listening to what you have to say. She cares for people. I love that about her and I've learned from it.
LC: What does a day off look like for you?
FL: I get this question all of the time. I'm sure most every artist sighs like I do when we hear this question. I don't think that you truly ever have a day off when you do something like touring in music. There's always bookings to be made, social media to update, marketing that needs done, laundry; the list goes on and on. So, I guess a day off would just be working with my dad on the behind the scenes work that goes into full time ministry. I live pretty close to my grandparents and family, so when we are home, I try to visit with them when I get the chance. Home is my favorite place to be.
LC: What's the funniest thing that's ever happened to you on stage?
FL: Well, I think I am gifted with the rare skill of embarrassing myself daily. My family has picked up the song, "Boundless Love," and we've been singing it acapella. My dad accidentally hit the wrong note on his keyboard, and we started singing it in the entirely wrong key. We knew something was off, but we tried to just flow with it for the first few lines. Finally, we had to stop and just start over on the right key. Of course, these are always the moments that the entire church has their phones out to record for Facebook."
LC: What is something that motivates you to keep singing?
FL: I'm going to be real. I've stopped and reflected on this question quite a bit. I mostly want to be involved in something that truly makes a difference. What motivates me to keep singing is the audiences we sing to every week. I don't want to just sing. How boring. I want to make music and sing music that people can feel. The best compliment I can get after a service or concert is when someone comes up and says that they felt something at church, inside of them for the first time in years. Some have come up to us and said that there is just something different about our group that feels real. That inspires me to keep going. And, I hope to inspire other artists to do more than just perform on stage. Jesus is real to me. The world deserves to know Him in the fullness that I am blessed to know Him.
LC: What is a message you would like to get out to young people?
FL: Purpose. So many young people feel like they need to be more like the girl they wish they were more like on Instagram. Or guys feel like they need to have accomplished the same things as the other guy on the football team. God made you for a reason and a purpose that only you can fulfill. There never has been, and there never will be, another you. So, stop trying to be someone else and just be you for Jesus. He made you like you are for a reason, to fulfill your God-given destiny.
LC: I want to give a special thank you to Fayth for doing this interview with me. I hope you all enjoyed it!
To find more information about the Lore Family, you can go to thelorefamilyministries.com.
To see more Youth in Gospel articles, visit facebook.com/sgn.scoops.7.
By Lyndsey Chandler
First published by SGNScoops Magazine in February 2020
Did you know that you can receive the printed, full-color version of SGNScoops Magazine by subscription? Find out more 
HERE
.
Tags:
Fayth Lore
,
gospel music
,
Lyndsey Chandler
,
Southern Gospel Music
,
The Chandlers
,
The Lore Family
,
Youth in Gospel
Posted in
announcements
,
artists
|
Comments Off

on Youth in Gospel: Fayth Lore
Written by Staff on March 29, 2020 – 5:27 pm -
Josh Townsend is the pianist for Legacy Five. At 23, he already has a large following and is one of the best pianists in gospel music. Many know that Josh had a difficult beginning as his mom suffered abuse while carrying him. This caused multiple health serious health issues, and although the hand of the Lord has moved mightily in his life, he still has some difficulties. Early last year, Josh suffered seizures, and in February of 2020, he celebrated a full year seizure-free.
Phil Pugh of Southern Ontario, Canada, reported this afternoon:
Please send up some prayers for a friend in the gospel music industry; Josh Townsend had a seizure today and could use them, thanks.
This is all we know at this time. Please keep Josh Townsend and his brothers in Legacy Five in your prayers.
Tags:
gospel music
,
Josh Townsend
,
legacy five
,
seizures
Posted in
announcements
,
artists
|
Comments Off

on Josh Townsend needs our prayers
Written by Staff on March 29, 2020 – 1:33 pm -
York, South Carolina (March 27, 2020) – Victory on the Hill invites you to a series of Southern Gospel concerts heading to York and Blacksburg, South Carolina this summer. The Singing in the South concert series will begin with award winning artists, Jeff and Sheri Easter on Sunday, July 12, 2020, at the iconic Sylvia Theatre located in York.
Victory on the Hill will be promoting concert every other month featuring the best in Southern gospel music.  This concert series will feature some of the biggest names in the industry such as: The Nelons, The Hoppers, Adam Crabb, The Mark Trammell Quartet, and many more.
Owner and founder of Victory on the Hill Promotions, Andrew Brunet, is thrilled about this opportunity to bring this series to York and Blacksburg.
"This is a dream that I never believed I could have or achieve," states Brunet. "I'm honored to be able to bring some of my favorite artists to the upstate of South Carolina. I am so excited to see what God's going to do. This is all about Him and seeing people's lives touched and changed."
For tickets and more information you may call Andrew Brunet at: 803-374-4069 or visit Singing in the South Concert Series' Facebook page or Victory On The Hill Promotions, LLC website HERE
Did you know that you can receive the printed, full-color version of SGNScoops Magazine by subscription? Find out more 
HERE
.
Tags:
Americana
,
gospel music
,
Jeff and Sheri
,
roots music
,
Singing in the South
,
Southern Gospel Music
,
Victory on the Hill Promotions
Posted in
announcements
,
artists
|
Comments Off

on Victory on the Hill Promotions introduces Gospel concert series to South Carolina
Written by Staff on March 28, 2020 – 12:33 pm -
I first off want to start this interview by thanking everyone for sharing, commenting, and giving us your feedback with these interviews. It truly means a lot to see all the positive feedback.
Our interview is with one of the sweetest girls: Jordy Hinson. 
Jordy sings and travels with her family, the Hinson Family. She was born and raised in Caddo Mills, Texas, but moved to Nashville, Tenn. in April of 2017. She lives in Tennessee and says she will always be a Texas girl at heart. She (turned) 23 in February 2020. 
Born into gospel music royalty, Jordy started singing at a very young age. She was always with her family when they traveled and sang, and started singing professionally at the age of 14.
Jordy has a few hobbies that keep her busy, including making jewelry, crocheting, and playing guitar. She loves nature and watching God's design. "I call myself an old lady most of the time. I am just an old soul I guess," Jordy says. 
This young songstress has a sister that is 18 months older than her, along with a stepbrother. Her sister just had a baby and Jordy says that she is excited about getting to be an aunt. 
Along with being able to play the guitar, Jordy can also chord on the piano and mandolin. She loves music and says that she is striving to get better all the time. If she was not singing, Jordy would be in school to become a sonogram technician, as she has always wanted to be in the medical field. Jordy loves makeup and is currently taking steps toward getting her Makeup Artist Certificate. 
Ireland and New Zealand are definitely two places on her bucket list that she would like to visit someday. Her favorite fast food restaurant is Chick-Fil-A and says that, "Any Christian that answers any differently needs prayer. All jokes aside, seriously, they need prayer!" 
A day off for Jordy is usually at home, on the couch with a fresh-popped bag of popcorn, and Netflix. When she is off the road, relaxation is a necessity. 
When asked what is the funniest thing that has happened to Jordy on stage, she said, "Oh man…there are so many stories, but probably the funniest thing to me was when a wasp flew into my hair while we were singing. I was trying so hard to keep my cool but.. it was a wasp. I ended up freaking out. Just picture that. " 
Many times there is a specific group or soloist that has inspired us all in one way or another. Jordy told us who her biggest inspiration in Southern gospel music and why. "I would have to say my biggest inspiration are the Isaacs. I am probably their biggest fan and they don't even know it. I love the group as a whole. Each member has their own unique ability and talent. Their vocal control and ability to dance around different harmony parts are what made me fall in love with them as a little girl! Now as I've grown up, I've learned to appreciate their sweet spirits and anointing. I have definitely learned to sing off of the Isaacs' music." 
The Hinson Family is an award-winning trio that is carrying on a true legacy. The Original Hinsons began in Freedom, CA on December 12, 1967, and blazed a trail in gospel music that still burns to this day. The current group books approximately 150 dates a year, sometimes more depending on the different events that arise throughout the year. Christy, Jordy's mom, has traveled most of her life. Weston Hinson, the son of Kenny Hinson, was introduced to the Southern gospel scene a little later in life, and started touring with Jordy's mom and grandparents when he was in his late 20s. Despite who Weston's parents are, he was kept from the Southern gospel scene as a kid, now he is fulfilling the call of God on his life and honoring the legacy left behind. 
Jordy shares,"My motivation not only comes from God but from the people. I am blessed to get to do what I do. I get to see so many lives changed and young people encouraged. It honestly is what keeps me going. Many people don't realize the sweat and tears that go into this ministry. It takes hard work and dedication; even when we want to give up, we think back on what God has done and what he has called us to do and it keeps us moving forward. I so strongly believe that this generation of young people is designed to be more than they could ever imagine for the kingdom of God. We are coming to a time when young people need to take a stand for Jesus. I just want to encourage you to keep going and don't let the enemy distract you from your purpose.'' 
"A life goal is honestly just to be everything I can be for God and know that I have done my best. I also would like one of the inventions I have thought up to not be invented already." 
For more information about The Hinson Family, you can go to www.TheHinsonFamily.com 
By Lyndsey Chandler
First published by SGNScoops Magazine in November 2019
Did you know that you can receive the printed, full-color version of SGNScoops Magazine by subscription? Find out more 
HERE
.
Tags:
gospel music
,
Jordy Hinson
,
Lyndsey Chandler
,
Southern Gospel Music
,
The Hinsons
,
Youth in Gospel
Posted in
announcements
,
artists
,
sgn scoops magazine
|
Comments Off

on Youth in Gospel: Jordy Hinson
Written by Staff on March 27, 2020 – 1:28 pm -
Beyond the Song by Jantina Baksteen
I came in touch with Michael Roberts last year at the Alabama Quartet Convention. Recently, he sent a brand new song put out to radio. Michael agreed to join us for this interview to share his ministry and how this song "Broken China" was created. 
Jantina Baksteen: Can you introduce yourself to the readers of SGNScoops?
Michael Roberts: I live in Waynesboro, Mississippi, with my wife, Heather and our two children, Jonah, 19, and Laiklynn, 16. We attend Pleasant Grove Baptist Church. 
JB: How did your ministry start?
MR: I've really been singing most all my life. I started out singing as a child with my siblings at our local church and I just never stopped. I have always had a deep love and an inclination towards music for as long as I can remember. As I grew older, I started to write songs and it all just came together sort of naturally,  and now I just follow the calling God had placed on my life to wherever He leads to the best of my ability. 
JB: When I hear you sing, I notice your inspiration comes from the Hinsons?
MR: Yeah, Kenny Hinson is a really huge influence. I think I owned every single album The Hinsons ever released. He just had that smooth-as-butter quality in his voice that drew you in and commanded your attention. Love, love, love Kenny Hinson. As far as other influences, I really listened to lots of groups growing up, but most of my attention was pretty well focused on The Hinsons as long as they were singing.
JB: You've released a new song to radio that you wrote; can you share how this song came together?
MR: The song, "Broken China," actually came to me a number of years ago. It was born out of Isaiah 64:8. It's really just my rendition of what that verse speaks to my heart. I realize it's a little different; maybe a tad unusual, but God just spoke to my heart of the message of His total redemptive work in our brokenness through this scripture. "Broken China," was the result. 
JB: What is the message in this song?
MR: The message of this song is simply a message of restoration. It's not about a patch-up. It's about the astounding restoration of an intended masterpiece, which has been destroyed and ultimately thrown away, finding itself in total shambles, and then being sought out and re-formed into its intended purpose and grandeur by the Master mender. Total restoration; that's the message of this song.
This song speaks to me on such a personal level. The message is really an intense reminder that God loves the broken ones. We are all born into a broken world, and our broken, sinful condition isthe direct result of man's broken relationship with God, our Creator. God gave me this song a while ago but, honestly, the true dimensions of it were just recently breathed into my spirit. It speaks to more than God just simply picking up a broken thing and glueing it back together, but rather, it speaks of the path of one's destruction from the point of the fall, to the sweeping away and decimation of the pieces of that life, to its place of total hopelessness and helplessness in a dank, dark gutter of absolute despair. And it is in this place of utter futility with not even a flicker of hope that Christ bends to embrace the remnants of this broken life and is willing to do the hard work required to put it back together. And He doesn't just patch us up and leave us with just what's left of our failed lives, but He searches the dust, the winds, and the waters to recover every microscopic particle, and then He totally and unimaginably redeems and restores us to the flawless masterpiece He had originally intended us to be. His specialty is the pursuit of those whom He loves, even to the ends of the Earth, where He loves them back together. This song says to me that He loves me beyond my imagination and He cares enough to find me wherever I might have fallen to, and longs to make this broken thing beautiful and useable again by His grace, and for His honor. 
As far as my testimony, this song pretty much sums it up. I've made a lot of mistakes. I've succumbed to a nature of sin. I've experienced God's staggering grace and salvation.  I've run from His call upon my life. I have been relentlessly pursued by His love as He sought to help me find my way. I am grossly flawed, but immeasurably loved and marvelously redeemed. I am that broken thing restored and made useable again. My testimony is His love and grace personified. The name of my upcoming CD is "Prodigal". I am that broken thing restored. I am that weary wanderer come home to the safety and refuge of my Father's arms. 
God is fully in control of everything, including this time of crisis that the world is now experiencing. He is faithful and He is present in this and every situation we face. His promises are not compromised and His sovereignty is not threatened. He is our rock and our refuge in every circumstance. 
JB: What's your favorite Bible verse?
MR:  Psalm 91:2  I will say of the Lord, " He is my refuge and my fortress, my God, my God in whom I trust."
JB: What's a saying you use a lot?
MR: "Remember to keep the main thing, the main thing." This is actually a saying I picked up years ago from a dear departed friend and an amazing bass singer, Kirk Hinton, who I had the privilege of ministering with.
JB: Where can we find you on the web?
MR: My website is presently under construction, but in the meantime, I can be found on Facebook @Michael Roberts @ Michael Roberts Music Ministries.
Thanks Michael for sharing your ministry with SGNScoops. May God use you to bring the folks you meet closer to Him who is the only way to salvation.
Did you know that you can receive the printed, full-color version of SGNScoops Magazine by subscription? Find out more 
HERE
.
Tags:
Beyond the Song
,
Broken China
,
christian country
,
gospel music
,
hinsons
,
Michael Roberts
,
Southern Gospel Music
Posted in
artists
,
Beyond the Song
|
Comments Off

on Beyond the Song: Michael Roberts sings "Broken China"
Written by Staff on March 26, 2020 – 4:37 pm -
French Lick, Indiana – Randall Hamm, a charting DJ from WFLQ in French Lick, Indiana, is in the hospital recovering after colon surgery on Tuesday morning.
In May of 2020, Randall Hamm will celebrate his 25th anniversary promoting Southern Gospel music! His work through WFLQ-100, French Lick, Indiana, as a radio Deejay has helped literally thousands of artists put their music on the charts. As a Singing News charting deejay, Randall has gotten to know the artists and considers them family. He has been nominated for numerous awards for favorite deejay and works tirelessly to make sure the artists who make great music are heard throughout Indiana.
Randall was uncertain even up until the last minute that he would be able to make the trip to National Quartet Convention 2019. He had not been well, but despite how poorly he felt, he loaded up and made the drive from Indiana to Tennessee, interviewing artists the entire time he was there. Few people knew how sick he was.
The day after he arrived back home, he was admitted to Bloomington Hospital with a perforated colon and chest pains. Testing revealed that he had suffered a heart attack and had four blockages, so doctors were unable to resolve his heart condition with stents. After five days in the hospital, Randall was sent home to rest and let antibiotics resolve the infection that could have taken his life. As soon as he has recovered and regained strength from this colon surgery, he will undergo surgery to repair his heart.

Randall isn't someone who calls in sick, so missing work is the most difficult part of this health crisis. Unfortunately, in order to recover from surgery, he will be hospitalized again for a couple of weeks, then sent home to recover for up to six more weeks before he is able to drive and resume somewhat normal activities.
Randall's family shared that he had a rough night last night and is on a nitro drip to keep his heart rate from becoming dangerously high. He was sick all night and isn't able to rest well. Please remember the family in your prayers, as no one is able to visit Randall due to the current social distancing restrictions. They know he's in God's hands, but it's difficult not to be able to visit him and see first-hand how he's doing. A GoFundMe account has been set up to help Randall through these challenging times. You can read updates on how Randall is doing and make a donation, if you wish to:  https://www.gofundme.com/f/randall-hamm-have-a-heart-fund. You can also let him know you're praying for him on his Facebook page:  https://www.facebook.com/randallthe.recordrestorer.
Did you know that you can receive the printed, full-color version of SGNScoops Magazine by subscription? Find out more 
HERE
.
Tags:
gospel music
,
radio
,
Randall Hamm
,
Southern Gospel Music
Posted in
announcements
,
artists
|
Comments Off

on WFLQ-100 DEEJAY RANDALL HAMM RECOVERING FROM SURGERY
Written by Staff on March 25, 2020 – 2:43 pm -
Chris Golden was born into country music royalty as the son of William Golden of the Oak Ridge Boys. Raised in music, Chris has naturally assumed such roles as an engineer, sound man, promoter, photographer, and many more throughout the industry. The gifted vocalist, songwriter, and instrumentalist played with the Oak Ridge Boys, Alabama, and Restless Heart, as well as with his brother, Rusty, as the Goldens.
In the current decade, Chris has released eight solo recordings, in both country and Christian country music. His songs and videos have been recognized by leading music magazines as well as the ICGMA and the ICM Awards. His latest recording, "Grateful," has generated the top single of the same name. 
Chris was recently interviewed by Jantina Baksteen.
JB: Can you share your testimony with us?
CG: I was raised in church and first gave my heart to the Lord at a revival in South Alabama when I was about 13 or 14 years old. Out of high school, I slipped away from my raising and started living the lifestyle that pleased me. You would have thought I had forgotten everything I had been taught. Sometimes a man has to take the long way around to come back to the things he holds dear. I rededicated my life in 1998, but didn't get baptized until I was in my mid 40's. It was after, what I believe to be an angel, told me to "play for the One who gave you the gift." I got baptized in the Jordan last year on a trip to Israel and a white dove landed 10 feet from me. I knew it was a God wink letting me know I am right where he wants me. 
JB: What's your favorite Bible verse and why?
CG: Luke 6:31 "Do unto others as you would have them do unto you," because it is the great commandment, the golden rule. 
JB: Your current radio song is "Grateful," from the same titled album. Can you tell us something about that song? 
CG: I did not write it, but in those cases I always try to pick songs I wish I had written, songs that resonate with my core. I was listening to songs pitched to my father by Dave Cobb (producer for Chris Stapleton, Jason Isbell, others) for the Oaks' latest project. I knew at first listen I would record it but I actually shot the video before I even recorded the song. We have a family farm in south Alabama, and the cotton was in full bloom. I only had a small window before it was picked, so on a whim I gathered some cameras and tripods, rented a drone, and shot the video with help from my cousin Ron and a friend from Nashville. We filmed around the Holiness Church where I gave my heart to Jesus and where I first sang, and the little graveyard where all my people are, so it became a special project for me. I was grateful for it to receive Video of the Year at both the ICM Awards at the Opry House, and the ICGMA. At the time we filmed it, I didn't even know who wrote the song because I thought it was named "The Road That Lies Ahead." Turns out it was named "Grateful," which has been my hashtag for the last several years. "Grateful" for each opportunity to sing. It was written by Bill DiLuigi, Troy Castellano, and Reed Waddle. 
JB: How is "Grateful" doing on the radio charts?
CG: SGNScoops had it as the No. 1 Christian Country song a while back. It is a special song which seems to keep giving and I am glad it got its due. I am very humbled and "Grateful" to radio and all who made it happen. 
JB: You have a quote on the web page that says: "Music is my life, my gift, my love." Can you explain that?
CG: Music is who I am. I know where the gift comes from and I thank the Lord for it. He promised to exalt me if I put him first, so I play for the One who gave me the gift. When I put my hands on a piano, guitar, drums, mandolin, or any instrument, or when I sing… I am giving God the praise. 
JB: Is there anything fans might not know about you?
CG: Music has allowed me to go places I never dreamed I would go, and to perform for every living President. Although I play several instruments and have been fortunate to have always made my living playing and singing, I flunked band in high school.
JB: What is on the horizon for you in the near future?
CG: I sang on the Huckabee show recently, and at least three more singles off the new album before it is said and done. I plan to shoot as many videos as well. I have been busy in the studio producing Elaine Roy's (The Roys) new solo album, a band from Indiana, Faith Country, and also producing award winning singer/songwriter Greg McDougal. On the weekends I got out and do live performances, and will also be doing several select Christmas shows this year. 
JB: What would be on top of your bucket list?
CG: That list is way too long for me. I need a bigger bucket. 

You can find Chris Golden on the web at chrisgolden.net and that will lead you to all his social media sites. 
By Jantina Baksteen
First published by the SGNScoops Magazine in October 2019
More news from SGNScoops Magazine:
Did you know that you can receive the printed, full-color version of SGNScoops Magazine by subscription? Find out more 
HERE
.
Tags:
Chris Golden
,
christian country
,
gospel music
,
oak ridge boys
,
sgnscoops
,
Southern Gospel Music
,
William Golden
Posted in
artists
,
Beyond the Song
|
Comments Off

on Chris Golden is Grateful
Written by Staff on March 25, 2020 – 7:48 am -
SEVIERVILLE, Tenn. (March 24, 2020) – NQC (the National Quartet Convention) has announced that NQC's Spring Break festival will now be held on April 23 & 24, 2020. The fourth annual event will once again be held at First Baptist Church in Sevierville, TN. Produced by NQC – Gospel Music's Largest annual event drawing nearly 40,000 from 40 states and half dozen foreign countries to its annual fall festival at the end of September – NQC Spring Break is designed to give gospel music fans a taste of the big fall convention and give gospel music fans an opportunity to enjoy the Smoky Mountains in the Spring as well as the fall.
Featured on the event this year will be last year's biggest winners at the annual Singing New Fan Awards, the Triumphant Quartet as well as Dollywood's host group, the Kingdom Heirs, both of whom reside in Sevier County. Also featured will be many artists often featured on the popular Gaither Homecoming series such as the Hoppers, Greater Vision, Mark Trammell Quartet, Jim & Melissa Brady along with the very popular Primitive Quartet and Singing News Fan Awards two-time Soloist of the Year, Joseph Habedank.
In addition to these popular Gospel Music artists, the event will also feature an appearance by the East Tennessee Mass Choir featuring the choir members of First Baptist Sevierville, and several other area choirs. Being lead by First Baptist Sevierville Worship Pastor, Scott Andrews, the choirs will be performing a special to open the second half as well as singing with several of the featured artists.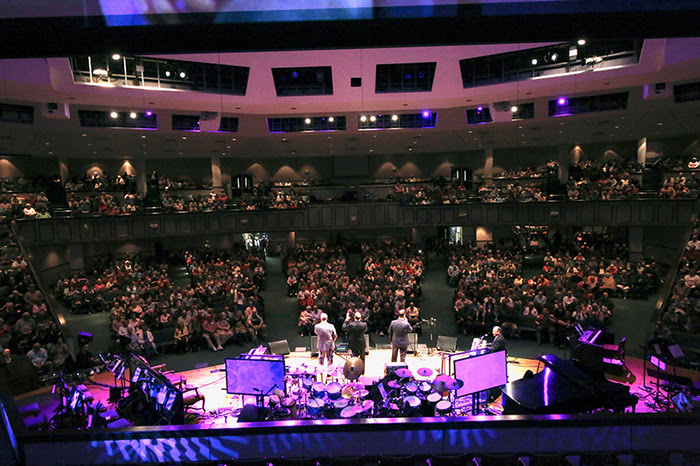 A packed house at 2019's NQC Spring Break in Sevierville, TN. Photo by Chip Woods
NQC organizers are set to make an exciting announcement about the future of the Spring event during both the Thursday night and Friday night performances.
The event takes place April 23 & 24, 2020 at First Baptist Sevierville.  Door open at 4:00 and the concerts start at 6:00 p.m. each night.  Additional information can be found at 
www.nqconline.com
Did you know that you can receive the printed, full-color version of SGNScoops Magazine by subscription? Find out more 
HERE
.
Tags:
Christian Music
,
gospel music
,
Greater Vision
,
hoppers
,
Jim & Melissa Brady
,
Joseph Habedank
,
Kingdom Heirs
,
mark trammell quartet
,
national Quartet Convention
,
nqc
,
Primitive Quartet
,
Sevierville
,
Southern Gospel Music
,
Spring Break
,
Tennessee
,
triumphant quartet
Posted in
announcements
,
artists
|
Comments Off

on UPDATED!! NQC Spring Break To Be Held April 23 & 24, 2020
Written by Staff on March 23, 2020 – 12:06 pm -
2020 March SGNScoops Magazine – Editor's Last Word by Lorraine Walker
March is here with warmer winds and brighter sunshine, and much-needed rain. It seems like every March is different, but most people just want spring to begin. We are looking forward to a new season here at SGNScoops. I think I speak for all of my northern friends when I say that we've had enough snow! But as these pictures indicate, March gives us an in-between month of flowers and snow, expectation and waiting.
We are thrilled to bring March in like a lion as the saying goes, with a cover story on our friends the Browders who are celebrating 30 years of ministry. Thanks so much to Justin Gilmore who worked with me on this cover project. We so appreciate the authenticity of this family. 
We hope you have thoroughly read through each of the features. Canaan Cauffman, Exodus, Tanya Rose, Kenny Smith, and so many others. It was a pleasure to highlight Paul Heil on his 40th anniversary in radio ministry. Thanks as well to Dixie Phillips for introducing us to Sammy Ward, and Bill Dykes for introducing us to one of his favorite pastors, Dr. Keen. 
Be sure to check the back of the magazine to find out more about each of our contributors this month. Writers may change from month to month, but we always strive to give you the highest quality, and the best delivery of the gospel of Jesus Christ. Thanks to Lyndsey Chandler, Rob Patz, Vonda Armstrong, Robert York, Jantina Baksteen, and Les Butler. Special thanks also goes to my proofreader and general right hand, Joan Walker. And we so appreciate the people who make everything beautiful: Stephanie Kelley, Staci Schwager, and Pete Schwager.
Since Easter doesn't fall in March this year, the whole month seems to be waiting in expectation for the event. For those who celebrate Lent, or for any who may decide to commemorate this time of year in any special way, each day is a reminder of how much Jesus did for us. The days leading up to the cross, the events taking place as recorded in the Gospels, all of this happened as Jesus must have been in some way preparing himself for what lay ahead. And yet, he was fully present with every event. He knew that the horrible death was just around the corner, signaling the end to his earthly walk. But we never see where he is walking away from ministry or letting the shadow of what was ahead hang heavy over his heart. He was in between the wedding at Cana and the glorious Resurrection, yet he never dwelt on either, according to scripture. He told his disciples what would happen, but he never told them to leave him alone so he could wallow in self-pity.
Many of us are in between two events. Maybe we are between something very happy and yet we know there is something on the horizon, such as the death of a loved one. Perhaps you were in a good state of health, and now you are suffering, though you know at some point in the future you will be whole again. How are you handling this in between portions of life? Are you hiding, wallowing, or lashing out in anger? Or are you using this time to touch other people?
My prayer for you and myself, is that we use each day as a gift from God, and use the gifts that he has given to us, to bless others around us. Let's not forget to pray for others. Let's make each day count for him no matter where we are on our path to victory.
Editor's note: This article was written prior to the onset of the Coronavirus in North America. Are you in isolation because of COVID-19? You too are in the "in-between," forced to take time to stop and be aware of what is around you. Don't waste the time: God wants to talk to you, to let you know that he is the source of all peace and hope, and to calm you with the truth of his love. Spend time with him and also pray for others during this time that they might know his peace.
By Lorraine Walker
First published by SGNScoops Magazine in March 2020
Tags:
Browders
,
Canaan Cauffman
,
Coronavirus
,
COVID-19
,
Editor's Last Word
,
Exodus
,
gospel music
,
Kenny Smith
,
Lorraine Walker
,
SGNScoops Magazine
,
Southern Gospel Music
,
Spring. Easter
,
Tanya Rose
Posted in
artists
,
sgn scoops magazine
|
Comments Off

on Lorraine Walker: the in-between month of March