Written by Staff on January 11, 2021 – 9:06 am -
Beyond the Song with Jantina Baksteen
I recently came into contact with Caleb King of the King Family. At the time, it seemed like it happened in error; but for God, there's no mistakes, and I believe he put all of this together. When you hear the song The King Family has recorded called, "A Trip To The Altar," you will understand why I know it was God who orchestrated our conversation. I hope you'll enjoy this interview.
Jantina Baksteen: You are no strangers to Gospel music fans. But for those who don't know you, will you please share your family's ministry with SGNScoops?
Caleb King: We have actually been doing family ministry for as long as I can remember. My dad, Earl King, Sr., was the pastor at Cold Springs Baptist church for about 23 years and we would sing as a family there.
JB: When did your journey of gospel music evangelism begin?
CK: Back in 2014, I took a step of faith and did my first solo album called, "Glory to His Name." I had wanted to get in the ministry for singing since I was a little boy. At a CD release party my church had for me, mom, Vicky King, and dad helped me sing some songs that night, and then they started traveling with me after that night.
Eventually, our schedule was getting pretty busy, so dad decided to step down as pastor and his assistant, Oliver Dills, stepped in. On March 1st, 2016, I finally surrendered (to) my call to preach a call. I had been running from (this) since I was a freshman in high school. Later on that year, Cold Springs Baptist Church ordained me as a traveling evangelist. Unfortunately, not long after, our beloved pastor Oliver came down with brain cancer, and Dad and I stepped in to the pastoral roll, while his dear friend for many years began a battle we've all been touched by. For about a year and a half, we were helping each other with the pastoral duties, as (dad) had been one for 23 years. It was a great growing opportunity for me to learn and have my father as my mentor. Unfortunately, his dear friend and our dear pastor wouldn't get the healing we were hoping for, but rather got the ultimate and complete healing as the Lord called him home. A few months after Ollie had passed away, a man named David Postell stepped behind the pulpit and rather then campaign for an opening position, he preached as a pastor should. A few months later, we elected him as our pastor and we were able to hit the road again, spreading the gospel of Jesus through preaching and song. Our home church is still Cold Springs Baptist; when we're not on the road, that's where you'll find us supporting our new friend and pastor, David.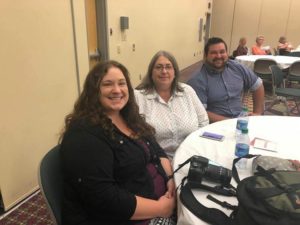 JB: You have a great song out entitled, "A Trip To The Altar." Is there a story to share about when and how you felt the calling on your heart to make that trip?
CK: "A Trip To The Altar," is a song we've got quite a bit of radio time with, even though we haven't officially released it with anyone yet. The Lord has just blessed us. It's an old Hinson song that Ronnie wrote. I loved the Hinsons! Our producer, Shane Roark, suggested I sing that song and I fell in love with it when I first heard it.
I never will forget the night I got saved! I was a five year old boy and I actually was at home, so I'm thankful we serve a God that you can make an altar wherever you're at and he'll find you! I was taking a bath and it just hit me does Jesus love me? My heart began to beat out of my chest and I screamed for my sister Hilary Bumgarner (now – it used to be King). I still say King sometimes when I introduce her. She wrapped me in a towel, took me into the living room on a Friday night. And as I sat in Dad's lap, I began to feel the love of Jesus move into my heart and I'm so thankful the answer was yes, Jesus did love me, and he loves everyone so much that he gave his life for us! That's why I want to live my life for him. That's when I made my trip to the altar and got saved.
JB: What is what you felt or experienced after you surrendered your life to Christ?
CK: Being saved at a young age, the older I got, I kind of didn't take my faith as seriously as I should have. There's a difference in being saved, and being sold out and fully surrendered to God's plan and will for your life. I went through a time when I was in high school when friends on the baseball team would come to church and I would literally fight back tears and worship because I didn't want them to make fun of me. But then something happened one night and God put me in a dry season. I would go to church and we would have good services but I couldn't feel his presence; I couldn't even get my eyes to water. It's a miserable place to be in when you're saved because I didn't know what to do. God sometimes uses valleys and mountains, and in my case, dry spells, to get our attention. That lasted for about a year and a half, and finally in a revival service one night, the spirit was moving and I went to the altar and just prayed and told the Lord I'm so tired of this dry spell I begged God to (feel) his presence like I did the night I got saved, and if he'd give me my tears back, I'd never hold one back again. So I cry a lot when I preach or sing but I'm so thankful that (I) can!
JB: Who is the writer of that song?
CK: Ronnie Hinson wrote "A Trip To The Altar," and it's such a true song. The Lord has blessed me and I've got to go to a lot of places and see a lot of things, do a lot of things, I've wanted to do. But nothing even comes close to the night I got saved or a night when his presence shows up at a singing. Nothing beats being in the presence of the almighty King.
JB: Have you actually experienced somebody go to the altar after singing that song?
CK: We have had several people go to the altar when we sing this song. A few have gotten saved and a few have rededicated their lives and some come to the altar just to praise Jesus. It's a song that's a great reminder of the night people got saved or at least (it is) for me. Anytime I'm down or sad, I just think about the night I got saved and realize there's no (reason) to be down, because we've got the victory through Jesus Christ, if you're one of his children.
JB: As the whole world is struggling with this pandemic, is there something you have learned during this time, as we all have to go back to the basics?
CK: The pandemic really hit us hard but not as hard as some other groups, thankfully. We still have other jobs that helped us out a whole lot. But this new year we are doing some changes. I just turned 30 and am really wanting to be able to do ministry full time, to where I don't have to worry about getting back to a job if a church decides it wants to keep us over for a revival, or something like that. Mom and dad are still going to travel some. My older brother, Earl King, Jr., who doesn't travel with us, lives about three hours away,(with) his wife (and) two kids. So, mom and dad want to spend a little more time with them. So, I'll be doing a lot more solo stuff, as I did when I first started back in 2014.
But the one thing I've learned, as I have time and time again, is we serve a faithful God! When it looks like it's over and the end is near, he makes a way every time.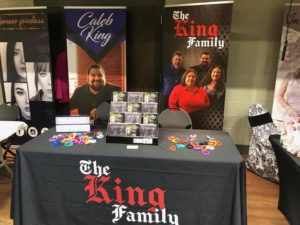 JB: Do you have a message of hope to share for those who have no hope?
CK: Jesus! He's the only hope you need. I could give such a long and precise answer to this question but it's so simple. If you truly have all your hope and trust in Jesus, you'll know how to (weather) your valleys and your storms because you'll know he's right there with you, through the good times and the bad.
JB: What is coming in the near future for The King Family?
CK: Just some more solo stuff on the horizon for me. And hopefully we'll be getting back in the studio real soon with Chapel Valley. They do such a great job on everyone's projects. We love them to death. And hopefully some new places to join with our singing friends. We love when we get to be with our friends at singings and sing together with them. I am hoping to start another singing around the Bryson City, North Carolina, area as well, so any supporters who would like to sponsor a group or something, (that) would be very helpful. It's still in the early planning stages though.
JB: How can we reach you to get your music and maybe book you for a church service?
CK: Anyone who would like to get a hold of us can to to our Facebook page, The King Family, you can send us a message on there. Or you can call me at 828-736-0862. Just leave a message if I don't answer. Hey, guess that's another new thing, hopefully, on the horizon is getting a booking agent and a website.
We hope you enjoy the Kings Family, singing "A Trip to The Altar."
Thank you, Caleb and The King Family, for sharing your ministry with SGNScoops. May the Lord shine down His blessing on your ministry.
Did you know that you can receive the printed, full-color version of SGNScoops Magazine by subscription? Find out more 
HERE
.
Find SGN Scoops Magazine On Facebook
HERE.
You can download the latest edition of SGN Scoops Magazine
HERE
.
Read the latest edition of SGN Scoops Magazine online
HERE
.
Tags:
A Trip To The Altar
,
Caleb King
,
Christian Music
,
gospel music
,
King Family
,
Southern Gospel Music
Posted in
artists
,
Beyond the Song
|
Comments Off

on Beyond the Song: The King Family sings A Trip To The Altar
Written by Staff on December 29, 2020 – 12:28 pm -
Beyond the Song by Jantina Baksteen
Some time ago, I caught up with Melissa Smith. She has a great song out on radio that is so relevant for this time and day. When the nations are shaken by the Corona crises that affects us all, the time is now for Christians to "Stand Together as One."
Melissa shares her ministry in this interview.
Jantina Baksteen: Please introduce yourself to the readers of SGNScoops?  
Melissa Smith: I'm Melissa Smith, born and raised around Greenville, South Carolina. Now live in Finley, Oklahoma, where my husband and I are associate pastors here at our church, Fresh Beginnings, and I lead praise and worship. 
JB: How did you get involved in Gospel music?  
MS: I've always loved gospel music even as a child. I started playing the piano by ear at age four. I would hear a song at church, and as soon as I got home, would climb up on the piano bench and start playing the song I had heard. I didn't start singing until the age of 12. I thank God for the musical gift he has given me.  
JB: I know you write most of your songs. What was the first song you sang, and the first one you wrote?
MS: The first song I ever wrote and recorded is entitled, "We Were Healed," based on 1 Peter 2:24. It was given to me by God after getting healed from a broken leg. It's still on paper somewhere in a file. 
JB: Where do you get your inspiration to write songs?  
MS: To be honest, I cannot write a song without the inspiration of the Holy Spirit. God has given me the words to every song I've written. So thankful to God for using me to pen the songs He's given me. 
JB: Who are your musical influences?
MS: There's so many I could name. Sandi Patti was my first one. I love listening to the Brooklyn Tabernacle Choir. I lead praise and worship at my church and get most of those kind of songs from them, unless I write one. If a song ministers to me, I feel it would minister to others, no matter who is singing it. I love so many artists and groups. 
JB: Is there a song you wished you had written?
MS: I've never really thought about that, but it would be a toss up between "Through the Fire," written by Gerald Crabb and "Standing on Holy Ground," written by Geron Davis. Both of those songs minister to me every time I hear them.  
JB: Please share us how your "Redeemed" album came together? 
MS: In 2013, I wrote the song "I Need Your Grace." We were in the process of moving to Oklahoma from South Carolina. I found a studio in Oklahoma where I did a demo of that song. Two to three months later, I wrote another song. By that time, I was introduced to Donnie and Lisa Williamson, and went to their studio to do a demo of the song. God started giving me songs periodically and I would go to the studio and record each one. This happened about every two to four months. When I had 10 songs recorded, we decided to make a cd project with those. Then (we) decided later to add an old hymn I love, called "Oh I Want to See Him."
JB: How special is that, to have one song on there where your dad does the bass vocals? Could you share how that affected you?
MS: My dad loves the old hymns and is a wonderful bass singer. He loves to sing and I thought it would be so wonderful to have him sing a bass part on "Oh I Want to See Him." When he and Mom came here to Oklahoma for my son's wedding, I decided to surprise my dad and took him to the studio, and when we arrived, I told him that I wanted him to sing a bass part on the chorus. This is extremely special to me because Dad was diagnosed with severe heart disease and congested heart failure. The doctors have given him two to three years to live because only a small percentage of his heart is working. He's already had a triple bypass. We do not go by the doctors' report, but we go by the report of the Lord, and stand on his promises concerning healing. He has already lived past two years. This song (was) released to radio by Wise Choice Promotions (Summer 2020). 
JB: Your current song that is out on radio is called, "Stand Together As One." What was your inspiration to write this song? Also, some may not know the artists that join you on this song.  Who are they?
MS: I got my inspiration to write this song after seeing the news, videos, and pictures, of how people were coming together and helping cities and victims affected by the devastation of Hurricane Harvey and Irma. That's when the thought hit me. We have got to stand together as one as a nation if we are going to help those in need. Now, with what's going on in our world, it's a crucial time that we stand together as one for our country and for God. When I went to record it, I thought it would be awesome to have different groups and artists singing on the recording also. I'm very honored to have Rodney Provence, The Williamsons – with Lisa, Donnie, Karl Rice, and Darin Ebert, along with Russell Wise, Tiffany Hamilton, and Jesse Fuson, who was part of the group called Surrendered, singing on there.  Lisa, Rodney and Karl each have a solo on the second verse.
JB: How does this song speak to you personally?
MS: I think it is imperative that we as Christians be in one mind and one accord. God has always wanted us to be that way. The 120 were that way in the upper room and something powerful happened that day. Great things happen and are accomplished when his people stand together in one mind and one accord, and be that light in a dark world to show love and compassion for others. 
JB: How relevant is the song for today? How can we practice this as Christians? 
MS: With all that's going on right now in our world, this song is very up to date. So many people are living in fear and uncertainty right now. We can practice this by showing them love and letting them know that God is our refuge in time of trouble. Also, it's time we as Christians pray like never before for our nation, that we as a country founded on the principles of God, humble ourselves and pray, and turn from our wicked ways, then will God hear from heaven. He will forgive our sins and heal our land according to 2 Chronicles 7:14.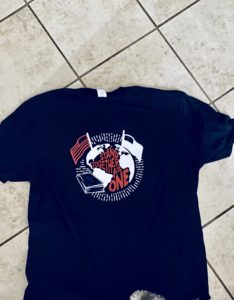 ppJB: Right now you have a tee shirt on sale with that very same title. How did that process go? How can they order your tee shirt?
MS: I thought what a better way to get the message of this song out,  by having it put on a tee shirt. When people wear this tee shirt, it lets others know how important it is for us to stand together as one. To order the tee shirt, you can either go to my website, which is www.Godexaltedministry.com or go straight to my PayPal at www.paypal.me/msmith1124
They can also send check or money order to:Melissa Smith,  P.O. BOX 116, FINLEY, OK 74543. The cost is $30 and that includes shipping and handling. I will also need what size shirt they're needing and their address.
JB: If you could sit around with any artist from the past or present, who would that be, and what would be the conversation?
MS: I would love to just sit and talk to all the great songwriters of the past and present individually, and find out how they write their songs and what inspires them to write one.
JB: Next to singing, you are very active at church work. Could you share about that?  
MS: Sure! My husband Tommy and I are associate pastors here at Fresh Beginnings Church. He preaches and I mostly sing. I also love leading our praise and worship, and directing the praise team.  
JB: What message of hope could you bring us, that would encourage those who have no hope?
MS: Know that God is for you, so who can be against you! He is touched by the feelings of our infirmities, and when we trust him with all our heart and not let our own feelings or understanding get in the way, our paths are directed by him, which leads to greater blessings than we can ever imagine.
JB: How can folks find you to book you for a church service?
MS: They can go to my website, email me at msmithministries@gmail.com or go to one of my ministry pages on Facebook which is Melissa Smith Ministries or God Exalted Ministries.
We hope you enjoy Melissa Smith, sing "Stand Together as One."
Thank you, Melissa, for sharing your ministry with SGNScoops. May the work you do for him bring people closer to him, or have a first experience of hearing the gospel in song.
Read the latest edition of SGN Scoops Magazine online
HERE
.
Tags:
gospel music
,
Melissa Smith
,
Southern Gospel Music
,
Stand Together as One
Posted in
artists
,
Beyond the Song
|
Comments Off

on Beyond the Song: Melissa Smith sings "Stand Together as One"
Written by Staff on December 28, 2020 – 9:45 am -
All of us at SGNScoops are saddened at the news of the passing of beloved gospel music icon Paul Heil who passed
away on Sunday, December 27, 2020.
Paul leaves behind his sweet wife of 38 years, Sheila, also known and loved by all who met her. Please pray for Sheila, their two sons, Jason and Andrew, their wives and children, and all the Heil family as they grieve the loss of their husband and father.
Paul Heil talked about his life and work of 40 years with Rob Patz in the March 2020 issue of SGNScoops.  He talked of interviewing music legends JD Sumner, Kenny Hinson, and George Younce, among others. Paul has been an inspiration and role model for many, as his love for Jesus and desire to share the gospel was a beautiful, shining light.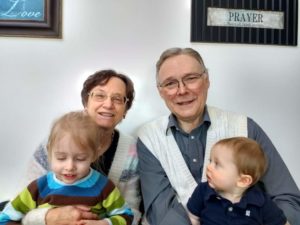 Sheila and Paul Heil and their grandchildren
Please pray for Sheila and for the family and friends of Paul Heil at this difficult time.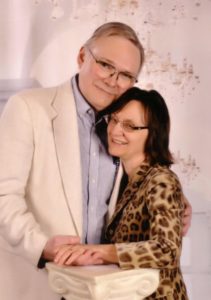 Tags:
gospel greats
,
gospel music
,
Paul Heil
,
Sheila Heil
,
Southern Gospel Music
Posted in
announcements
,
artists
|
Comments Off

on Gospel Greats host Paul Heil called home
Written by Staff on December 9, 2020 – 1:26 pm -
In this edition of Beyond the Song, I want to share Chris Golden's Christmas song called, "Santa's Prayer." I reached out to Chris to find out about this song and what Christmas is like at his place. What is it like, spending the most wonderful time of the year at the Golden's? Find out as Chris and I chat about "Santa's Prayer."
Jantina Baksteen: You have an amazing song on radio this Christmas season, called "Santa's Prayer." Will you share with SGNScoops how this song came to you?
Chris Golden: I played drums for Restless Heart for about five months and during their Christmas tour. It was my favorite song we did on the Christmas Tour. I later found out my friend Aaron Boswell had written it over 25 years ago. I am a fan of his writing and knew I wanted to record my own version. I think it is a classic in the making.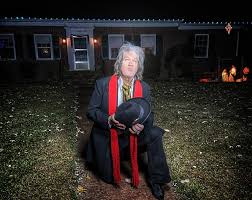 JB: What is the message of this song?
CG: Santa talks to Jesus (we are all Santa) and says "I am just a pawn…you were born a king…and the greatest gift they will ever receive is the love that brings Santa to his knees."
JB: How do you dress up for this season?
CG: About like I always do. But a little extra! Time to bring out the velvet, gold and red scarves, 3/4 coat, sparkles and boots. 
JB: What is your personal Santa's prayer, and what is your prayer for the world, especially in this time of sadness because of the crisis that holds the world in its grip?
CG: Have mercy on us Lord, bless our loved ones, keep them from danger, let you angels watch over us, guide us, guard us, forgive us; and when life is over, give us all a home in heaven without the loss of one.
JB: How can we receive the greatest gift ?
CG: It is given freely, all we have to do is humble ourselves and ask for it.
JB: What is your greatest memory of Christmas?
CG: Too many great memories. My childhood: Going home to south Alabama, visiting my cousins, sleeping on the floor, eating too much, trying Aunt Rowena's eggnog, playing and singing at every get together.
As a grown up: My three children running downstairs to see what was waiting. Laughter, music.
JB: What was it like to have your dad featured in the video of that song?
CG: Dad is a natural and I am blessed to still have my father. He is a natural and it was a real blessing to have him be a major part of the video.
JB: Do you have a personal wish for this 2020 Christmas?
CG: That all my family and friends have good health.
JB: As we look towards 2021, what will we see coming from you?
CG: More videos, maybe a series. I will do select road dates, and continue to produce other artists. I have also been working on a project with my family…my father, brothers, and children.. we have recorded 31 songs with Ben Isaacs and Michael Sykes producing, and already have six documentary-style videos in the can, of the making of the album with three generations of Goldens.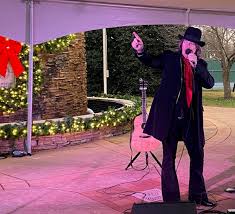 JB: What does a tender 'Tennessee Christmas' look like at your home? 
CG: Traditions, family! Traditions: Gumbo on Christmas Eve, read the Bible story in Luke 2, play music and sing with the kids, ride through the neighborhood Christmas Eve and ring my sleigh bells around midnight. You can hear them a half mile away. It brings me joy. It's a wonderful life!
We hope all of our readers have enjoyed this glimpse into a Golden Christmas, and that you will enjoy this song by Chris Golden, entitled "Santa's Prayer."
Thanks so much, Chris, for this wonderful song, and for sharing your family traditions with SGNScoops. We wish you and yours a wonderful Christmas, and God's blessings for 2021 and all the new plans you're working on.
By Jantina Baksteen
Phone Friendly SGN Scoops Magazine Here
Find SGN Scoops Magazine On Facebook Here
Download SGN Scoops Magazine PDF Here
Listen To Today's Southern Gospel Here
Tags:
Chris Golden
,
christian country
,
gospel music
,
Inspirational Country
,
Santa's Prayer
,
William Golden
Posted in
artists
,
Beyond the Song
|
Comments Off

on Beyond the Song: Christmas with Chris Golden
Written by Staff on December 2, 2020 – 12:02 pm -
SGNScoops is saddened to hear of the passing of Jerry Thompson. Jerry was a gospel singer/ songwriter and a long time member of the Rex Nelon Singers and the Nelon Family in the '80s and '90s. Jerry had been in a hospital ICU, suffering from symptoms of Covid.
Jerry Thompson's two beautiful daughters, Amber and Autumn, followed in his musical footsteps, and they currently sing with the Nelons. Please pray for them as they mourn their father.
Amber Nelon Kistler posted the following regarding her father: "At 12:35pm today my daddy entered the arms of Jesus. To say we are shocked would be an understatement. Although our hearts are completely broken, we know God has a plan and we know that even though this doesn't make sense we trust Him. My daddy is no longer sick and he is completely healed and reunited with his parents and sister. Thank you all for your prayers. We'll announce arrangements as soon as they are made. We truly love all of you! Please continue to pray as we try and heal from this huge hit."
Tags:
Amber Nelon Kistler
,
Autumn Nelon Clark
,
Covid
,
gospel music
,
Jerry Thompson
,
nelons
,
Rex Nelon Singers
Posted in
announcements
,
artists
|
Comments Off

on Pray for the family of Jerry Thompson
Written by Staff on November 20, 2020 – 1:04 pm -
Beyond the Song by Jantina Baksteen
For today's Beyond the Song, I got in touch with Joseph Habedank. I talked with him about his new song out to radio, "Goliath," from his latest album, "Deeper Ocean." This is a powerful song that will speak to the hearts of many.
Jantina Baksteen: Joseph, you have been in gospel music all of your life. At what age was your stage debut to sing to a crowd?
Joseph Habedank: I started singing with my brothers when I was five years old. My middle brother, Nathan, was four and my baby brother, Tim, was three. We sang "He's Still Working on Me," at the First Baptist Church in Forest, Ohio.

JB: At the age of 17, you joined the Perrys. How did that get started? 
JH: Kirk Talley actually heard me sing at my home church in Dayton, Ohio, and he gave the Perrys a CD of me at the Gatlinburg Gathering in 2003. They hired me one month later at the National Quartet Convention. 

JB: Who approached you to join that popular family group?
JH: Daywind Records actually approached me first to see if I would be interested, and then Kirk reached out to me as well, but ultimately Tracy was the one who called me to see if I would want to try out with them. 

JB: What wise lessons did you learn from your time with the Perrys?
JH: I think the biggest lesson I learned was to respect the people who come to see you. Tracy always told me that careers weren't made on stage, but at the product table talking with the people. He would always say, "If you'll be good them, they'll be good to you."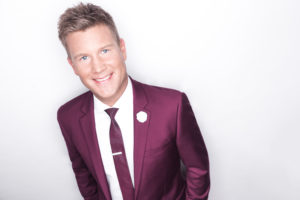 JB: You have an impressive testimony. I know for sure not all readers of SGNScoops are aware of that. Would you share with us your story again?
JH: After a few years with the Perrys, I developed an ulcer on the back of my throat that was so painful that I had to be given pain medication. In a few months time, I was addicted to prescription drugs and ultimately had to step down to get help in 2013. I went to a wonderful place called Cumberland Heights here in Nashville, Tennessee, and the Lord began to do a miracle in my life. Now I travel all over the country sharing my story and I will celebrate eight years of sobriety in May of 2021. 
JB: After all you went through, God is blessing you in numerous ways. Could you share some of this?
JH: Yes, the Lord has truly been good to me. I never really expected my solo ministry to take off like it has, but I am so grateful for the grace and mercy of Jesus. I'm amazed that he took my mess and made it into something beautiful.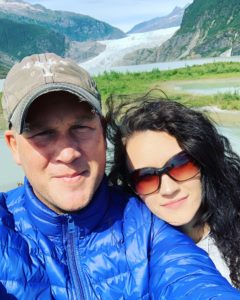 JB: What is it like to travel with your wife on your side?
JH: It has truly been one of the greatest joys of my life. Don't get me wrong, it isn't always easy, but we have a blast out on the road together. She actually grew up traveling and singing with her family, the Bentons, so this is not something new to her. I truly could not do what I do without her. 

JB: How do you receive the words from God to to write such powerful lyrics?
JH: Well, I have a lot of help. Obviously, the Lord is paramount to my inspiration, but a lot of people don't realize that I actually co-write all of my songs with other songwriters here in Nashville. They are the true craftsman and women. I am so grateful for the community of Christian songwriters. 
JB: Is there a song out there you wish you had written?
JH: The first one that comes to my mind is a song called, "That's What the Blood is For," by Jason Crabb. It was written by Ronnie Freeman and Tony Wood, who ironically writes a lot of my songs with me now. 
JB: Please tell us how your current song came to you, and how is the audience response?
JH: I had actually seen a preview for a television show called, "Goliath," and although I had never seen it, I thought it would make a great title to a song. So, I took it to Sue Smith and Daniel Doss, and the song was born. I love watching the crowd when I get to the last line of the chorus that says, "I know my Goliath is coming down!"

JB: What is it like to write with names like Lee Black, Tony Wood, Jason Cox and so many more?
JH: It's a great honor for me, but what's even greater is that I get to call these songwriters my friends. They are not only some of the most talented people you will ever meet, but they are just great all-around people. As I said earlier, I am so grateful for my songwriter friends.

JB: What is ahead for you in 2021?
JH: Well, I'm getting ready to go into the studio to record my fourth mainline album with Daywind Records, and I truly believe this is the greatest batch of 10 songs that I have ever recorded. I feel like the messages in these songs is so important for the church and the world today. There are definitely some topics we tackled that haven't been talked about much in music before. It should be out in the spring of 2021. 

JB: What advice do you have for young singers/songwriters who want to follow their calling to be used in the gospel music industry?
JH: Make great relationships and never turn down an opportunity to serve the church with your talent. I feel these two things are the most vital. Also, be sure to attend workshops like Write About Jesus for songwriting. If you want to be a Southern gospel artist, check out the Steve Hurst School of Music or Stamps Baxter School of Music. IMMERSE is also a great resource for people interested in becoming a worship leader or a Christian artist in general. 

JB: Is there an artist from the past you wished you had the chance to sit around the table with, and what would be the discussion?
JH: When it comes to gospel music, I think Kenny Hinson would be the one I'd most like to talk to about music and singing, but when it comes to songwriting, probably Rusty Goodman. As far as secular music is concerned, I've always been a bit enamored with the voice and career of Frank Sinatra. He was the greatest of all time, in my opinion. 

JB: Have you ever made a trip to Europe? What country in Europe would you like to visit and why?
JH: I went to Ireland when I was a baby while my grandparents were missionaries there, but I obviously don't remember it. I have always wanted to go to Italy for two simple reasons: 1. The suits/ties and 2. The food!
We hope you enjoy Joseph Habedank singing, "Goliath:"
Thank you, Joseph, for sharing your story and ministry with SGNScoops. May you be blessed through sharing your new recording in 2021 and through the mission of sharing the Gospel through song.
You can find Joseph Habedank on  the web www.josephhabedank.com 
Or on Facebook at Joseph Habedank Music.
For more news read the SGNScoops Magazine Here
Phone Friendly SGN Scoops Magazine Here
Find SGN Scoops Magazine On Facebook Here
Download SGN Scoops Magazine PDF Here
Listen To Today's Southern Gospel Here
Tags:
Deeper Ocean
,
Goliath
,
gospel music
,
Joseph Habedank
,
Southern Gospel Music
Posted in
artists
,
Beyond the Song
|
Comments Off

on Beyond the Song: Joseph Habedank sings "Goliath"
Written by Staff on November 15, 2020 – 1:12 pm -
Beyond the Song by Jantina Baksteen
For this edition of Beyond the Song, I reached out to Avenue Trio who have had some member changes. The Trio have sent an amazing new song to gospel music  radio.
I talked to Kasey Kemp about the changes with Avenue Trio.
Jantina Baksteen: Avenue Trio is a sparkling group! Where did you find Daniel Rivera and Kyle Smith?
Kasey Kemp: I have known Daniel since he was in Bible college. We have been friends many years and when I knew he was available, we talked about the ministry of Avenue, and both felt God opening this door. 
Kyle is new to gospel music and I met him at the Steve Hurst School of Music. He is from Mississippi and a great young man. 
JB: Kasey, how do you enjoy standing alongside those two young men on stage?
KK: It's awesome! They are both good Christian boys and I have a blast with them. 
JB: You have an awesome single out called, "They Could Not," that features Kyle. Please share how this song came to you, its message, and what it means to you personally? 
KK: It's an old Sandi Patty song that I had not heard in years. I actually had forgotten about it. Our record company mentioned this song and said they felt it should be redone, trio style. Josh Townsend of Legacy Five arranged and produced it. It's an amazing arrangement and very vividly tells the story of Christ's earthly journey up to the cross and his resurrection. I can't help but tear up every time we sing it. 
JB: Now you have these two young men on board, do they do all the hard work setting up stuff before the event starts?
KK: Are you kidding!? All joking aside, everyone has their jobs, and then helps the others after getting their part done. It's a great team effort.
JB: Who is the joker on the Avenue team?
KK: Uhm…everyone! Hah!
JB: Do you have a fun road story to share?
KK: Oh, wow, there are so many. I'll pick one. Lots of restaurants have special birthday songs if it's your birthday. Sometimes even desserts. We enjoy playing jokes on each other and telling the waitress it's one of our birthdays. Of course, we always tell them it's a joke, but they go through with it anyway. The best part is when we go to a Mexican restaurant and they smash whipped cream in your face. It's always fun to see which one will have a birthday that day!
JB: Has Kyle, Daniel or you have a testimony to share?
KK: We would all be quick to say that we are blood bought, born again children of God. God has saved us, blessed us with a measure of talent to service Him. 
JB: As well as Avenue, Kasey and Haley have another ministry. Could you share some about that?
KK: My wife, Haley, and I, have a church service and revival ministry. We have recorded our first cd called, "Living In Love," with songs she has written and a few other great songs. We enjoy going into a church to sing, play my trumpet and preaching the word. God is allowing us to see people saved and revived through this ministry. We are so blessed to do this together as a married couple. 
JB: Are Avi and Autry joining you every family date? Is Avi interested in stepping up and singing a song?
KK: They both love to sing and can match pitch. We are really excited about that. When they hear our songs come on the radio, they start bouncing around and moving their heads back and forth. Autry can sing a few words but Avi can sing them all! She even recorded a chorus of "King Of The World," on our recording. We are so proud of both of them. 
JB: Do you have any stories about being on stage with Haley? 
KK: Long story short, she got shocked by some grounding issues at a church through the sound system. God blessed by Haley not being harmed even though it was severe, and a young lady that was a Buddhist came to Christ through the experience. It was an amazing few days.
JB: You and Haley have also got a great song out, called "Blood Bought." Please  share some about that.
KK: "Blood Bought," is an old McGruders' song. I had been watching some of their stuff on YouTube and Haley heard "Blood Bought." She had been wanting to do a song about the blood of Jesus, and when she heard it, she said, "That's it!" We love singing it and people really seem to enjoy it. 
JB: What do Avenue Trio members do when you have time off? 
KK: Lots of things.I work on mine and Haley's schedule, the group schedule, and spend as much time with my family as possible. Daniel has an internet gospel music radio station called, Good News Southern Gospel. Aside from that, he enjoys time with his wife and children.
JB: Where and how can we contact Avenue Trio and your family ministry?
KK: Our website is the best place: www.AvenueMusic.net  Haley and I can be reached at www.KaseyAndHaleyKemp.com
We hope you enjoy Avenue Trio singing, "They Could Not:"
Thanks to Avenue Trio for sharing your ministries with SGNScoops. Many blessings and safety on ministry roads. We pray that the message in the songs and words you share on stage change the lives of your listeners across the world.
For more news read the SGNScoops Magazine Here
Phone Friendly SGN Scoops Magazine Here
Find SGN Scoops Magazine On Facebook Here
Download SGN Scoops Magazine PDF Here
Listen To Today's Southern Gospel Here
Tags:
Avenue Trio
,
Daniel Rivera
,
gospel music
,
Kasey and Haley Kemp
,
Kasey Kemp
,
Kyle Smith
,
Southern Gospel Music
Posted in
artists
,
Beyond the Song
|
Comments Off

on Beyond the Song: Avenue Trio sings "They Could Not"
Written by Staff on November 14, 2020 – 12:03 pm -
SGNScoops is sad to announce the passing of gospel music pianist/vocalist/songwriter, Henry Slaughter. Henry's longtime friend, Steve Weatherford, shared this post on Facebook yesterday:
"I just heard we lost yet another wonderful man of God, former member of my dads Quartet and a lifelong friend ,
Mr. Henry Slaughter had rejoined my dads quartet , thank you for the music you helped us make and the impact you made on so many , see you soon."
Henry Slaughter was born on January 9, 1927, in Roxboro, North Carolina. He appeared with the Stamps Ozark Quartet, Weatherfords, Imperials, and also with his wife, Hazel, as a gospel music duo. Henry and Hazel Slaughter often appeared on the Bill Gaither Homecoming videos.
No other details are available at this time.
SGNScoops staff extends prayers and condolences to Hazel and all the family and friends of Henry Slaughter.
We also are asking for prayers for Steve Weatherford as he recovers from Covid-19.
Tags:
bill gaither
,
gospel music
,
Hazel Slaughter
,
Henry Slaughter
,
Southern Gospel Music
,
The Imperials
,
The Weatherfords
Posted in
announcements
,
artists
|
Comments Off

on Gospel great Henry Slaughter passes away
Written by Staff on November 6, 2020 – 10:50 am -
Beyond the Song by Jantina Baksteen
I caught up with Dusty Wells who has been writing for SGNScoops for years and works for Daywind Records. We hope you enjoy reading his story.
Jantina Baksteen: You are no stranger to the Southern gospel industry and you wear many hats. Can you share what hats you wear? 
Dusty Wells: Well, first of all, I love love hats; both real hats, to help keep my bald head warm and I love being able to wear many different hats in my job and career. I have always loved being a part of this wonderful industry in all genres of music. Southern gospel is at the top of my list, and I also love and have worked in Contemporary Christian music as well.  My job responsibilities cover everything from working with our major accounts, with sales and marketing of the artist's projects, to picking out songs, producers, helping maneuver and navigate marketing plans with my great team, listening to new artists and making sure that I communicate strongly with all of our artists, to going out on the road with them and seeing what all they are doing in concerts and in their services. I am involved with many aspects of the distribution and record company which encompasses so much. I love the fact that I am able to start at the beginning of an artist project or career and help to healthily exploit them in most any way we can as a record company, that will help get their music and ministry out to the masses.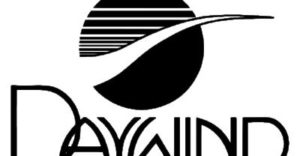 JB: You currently work with Daywind Records. What exactly is the work you do?
DW: I will refer back to my answer from question number one. My job title is Director of Artist and Label Relations,  and that is exactly what I do. I work alongside of all of our artists, labels, key retailers, marketing, radio, sales and all. I help lead and direct all of it. I have been with New Day Distributors,  which owns Daywind, for three years, and had been with Word/Curb Records for 23 years before that, so this transition has worked beautifully.
JB: How does this job fit your personality?
DW: Love that question! I absolutely am crazy about Christian music and great artistry and ministry. Christian music touched my life when I was a 14 year old, very troubled teen. To this day, helping get it out is one of my greatest passions in life. It helps me so much and it truly is the backbone of my life, along with Jesus Christ. I am a people person and I love to share heart about the music, so it is a tremendous fit for me. Anyone who knows me well, knows that I strive to be the real deal and I truly believe in living the songs out loud.
JB: What is your definition of Southern gospel music?
DW: Easy question. For me it is simply heart music…music that touches the heart. Music that reaches deep into our souls, and moves our heart.
JB: Who do you think are the best new, up and coming groups in SG?
DW: Oh, that's a tough one. There are so many groups that I am loving to watch and I love to cheer on…love what they are doing and singing. I love the Sound, High Road, and The Erwins. She's not new, but I love Lauren Talley and now that she is stepping out on her own, I think there will be some strong, wonderful opportunities for her. I love 11th Hour, the byall Brothers, Joseph Habedank, Riley Harrison Clark, the Taylors, and the Hayes family. Okay, I am going to get myself in trouble…I also love the Wilbany…I better shut up now!  I love so many of our artists and the legacy that we have and that will be carried on.
Tags:
Beyond the Song
,
Dusty Wells
,
gospel music
,
Southern Gospel Music
Posted in
artists
,
Beyond the Song
|
Comments Off

on Beyond the Song: Dusty Wells, Gospel Music Industry Insider
Written by Staff on October 29, 2020 – 4:47 pm -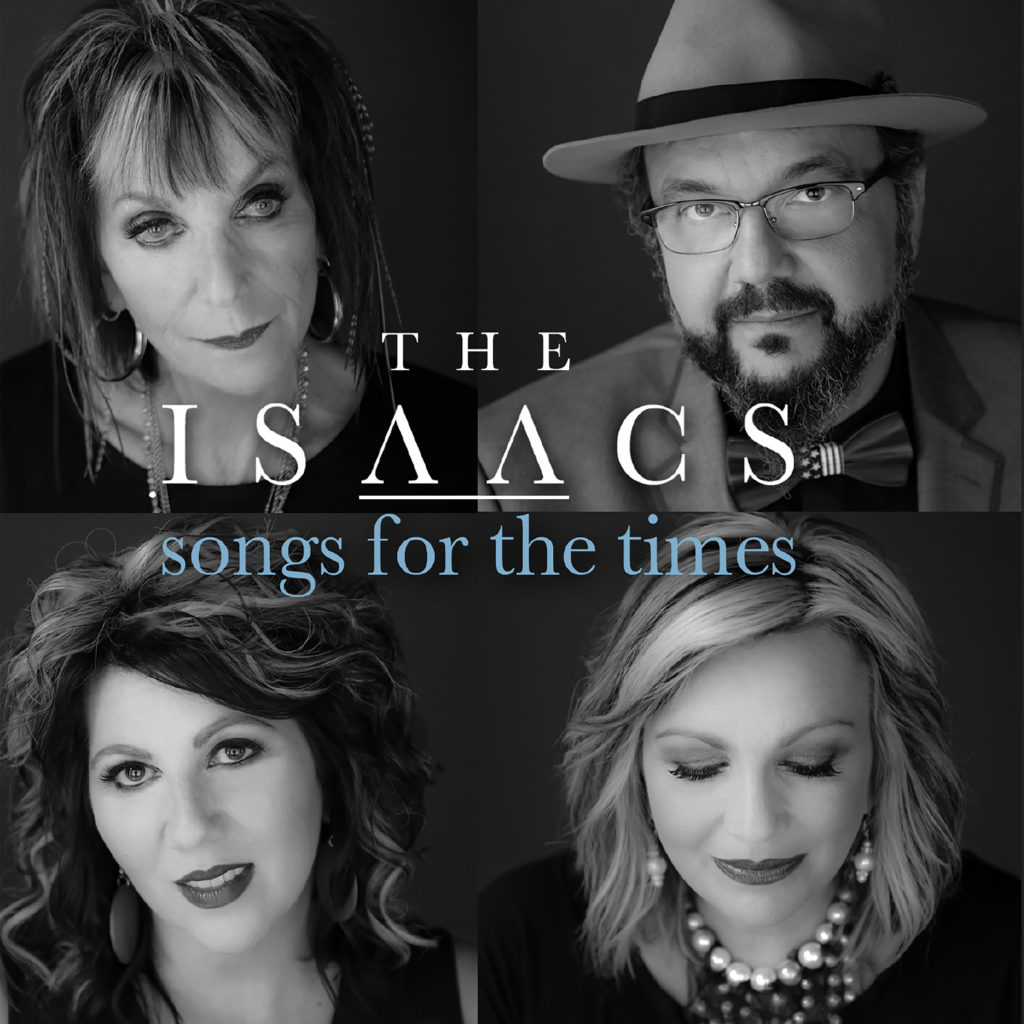 New Day Christian Distributors (NDC) and Artist Resource Services (ARS) are proud to announce the release of the highly anticipated album from the talented family group, the Isaacs.
If there was ever a time in which people were seeking the peace, comfort, and joy of Jesus Christ, that time would be now. The Isaacs deliver a hauntingly beautiful collection of songs that bring listeners solace and hope during the trying times our nation and world have endured in 2020.
Songs For The Times was recorded during the height of the COVID-19 pandemic with an audience following along via YouTube as this incredibly talented family group recorded all ten songs. The album features the hit single, "The Wilderness," the classic "Ain't No Grave," and matriarch, Lily Isaacs' time-bending performance of the Bob Dylan classic, "The Times They Are A-Changin'." The multiple GRAMMY® nominated and Dove award-winning group have shared the stage with icons such as Dolly Parton, Vince Gill, the Oak Ridge Boys, and many more. The Isaacs perform regularly at the Grand Ole Opry and are active members on the Gaither Homecoming Videos and concert series. They have an international fan base, as well, from their frequent travels to countries including South Africa, Norway, Holland, Scotland, Israel, Canada, and more.
"When I came into this position, one of the groups I wanted to work with was the Isaacs," says Dusty Wells, director of artist and label services.  "I've admired them for years and love their consistency. I'm so grateful they have signed a distribution deal with New Day which will place their new project far and wide. Their partnership with ARS will provide the needed marketing support for the project. The Isaacs new project, Songs For the Times, is so good and timely. Lily, Sonya, Becky, and Ben have crafted a perfect project, and I can't wait to see what God does with it."
New Day Christian Distributors is a female-owned, independent distribution company started in 1981 by Dottie Leonard Miller. New Day exclusively distributes to Christian retail Curb/Word, Lunjeal, Fair Trade, Integrity, Daywind, Reach, Gotee, TillyMann, GoDigiPath, Tyscot, Venture3 Media, Malaco, Tooth and Nail, Getty Music, Fuel, Nashville Label Group, New Day, and many other independent labels and artists. New Day is proud of its partnership with the Orchard (Sony) to support large scale digital distribution. In addition to music, New Day represents a wide array of gift, toy, book, bible, dvd, apparel, and church supply products from major companies in the United States and around the world.
Artist Resource Services provides marketing and merchandising support to artists and smaller labels. Its wide menu of services includes promotion through radio, television, social media, email, internet, and all other sources of consumer contact.  ARS also provides merchandising solutions for artists, offering a wide range of new and exciting products for table and website sales.
For more news read the SGNScoops Magazine Here
Phone Friendly SGN Scoops Magazine Here
Find SGN Scoops Magazine On Facebook Here
Download SGN Scoops Magazine PDF Here
Listen To Today's Southern Gospel Here
Tags:
Christian Music
,
gospel music
,
New Day Christian Distributors
,
the isaacs
Posted in
announcements
,
artists
|
Comments Off

on New Day Christian Distributors and Artist Resource Services Announce Highly Anticipated Album By The Isaacs