Written by Staff on October 9, 2020 – 10:31 am -
"Mourn With Those Who Mourn" – How Jim Brady Blessed My Father-in-Law
By Allison Lynn
My bleary eyes struggled to adjust to the darkness. Why was my husband, Gerald, standing over me with mugs of coffee in his hands? Had I overslept? Why was it so dark?
I struggled to make sense of his words, "Dad called. Mom is in organ failure. She's not going to make it."
Two hours later, we arrived at my mother-in-law's hospital bedside, just in time to witness the minister giving the last rites. "Ashes to ashes; dust to dust…" "Our Father, who art in heaven…" What followed was a surreal series of scenes: my weeping father-in-law, breaking the news to the neighbors, meeting with the funeral home director.
Sandy and Gerry Flemming had been married for over 50 years. Their journey had begun in a small town in New Brunswick, Canada. By the time I joined the family, Sandy and Gerry were close to retirement and living in a quiet suburban neighborhood, just north of Toronto, Ontario. They'd raised two amazing children – my husband, Gerald, and my beautiful sister-in-law, Kristi. Add in Kristi's husband, Walt, and their sweet son, Connor, and we were a small, close-knit family. 
Sandy had three loves in life: her family, cooking, and Southern Gospel music. She loved nothing better than to have everyone gathered around the dining room table, feasting on her mouthwatering lasagna and her legendary apple crumble pudding. We had a deep well of memories created by laughing and teasing and loving on Sandy.
And now, she was missing from the table.
I could hardly imagine what my father-in-law was facing. My in-laws were private people. There wouldn't be a parade of well-wishers at the funeral. What could I do to honor Sandy and show Gerry how much he's loved?
I remembered that third love: Southern Gospel.
When Gerald and I were first married, we sold everything we owned and moved to Nashville to pursue our music ministry dreams. One of my great blessings at that time was working as Ben Speer's assistant. Ben was an absolute legend. We couldn't go anywhere without people wanting to shake his hand and share how much his music meant to them. Yet, with all that fame, he also became our friend and mentor.  With my work at Ben Speer's Stamps-Baxter School of Music, I'd been able to meet many of the Southern Gospel artists loved by my in-laws. I started to write some of their favorites, sharing Sandy's loss, and asking if they might reach out to Gerry in his grief.
The most important letter I wrote was to Jim Brady. Sandy and Gerry loved the Booth Brothers and the Jim Brady Trio. And when I say "loved", I don't use that word lightly! My in-laws were homebodies, but they thought nothing of driving six hours in the Canadian snow to watch a Jim Brady concert. 
Jim and Melissa knew my in-laws by name. Gerry loved to tell "The Legend of the Sweet Tea". Michael Booth would (jokingly) complain that his only regret about singing in Canada was the lack of sweet tea. Well, on one of their concert trips south of the border, my in-laws filled their trunk with jugs of Cracker Barrel sweet tea. Michael, Ronnie, and Jim almost fell off the stage when Gerry and Sandy gave it to them at their next Canadian concert! 
And the relationship only grew stronger over the years. Sandy and Gerry discovered that Melissa had a special love for the iconic Tim Hortons Canadian Maple donut. So, they never showed up for a concert without an entire box of sweet treats for Melissa! 
It made sense, then, when Gerry asked Gerald and me to sing a Jim Brady song for Sandy's funeral. "On My Way Home" sings of the fleeting nature of this world and the glorious true home that awaits us in heaven. Gerald worked out a guitar arrangement and we created our own duo harmonies. I wrote to Jim to let him know that his song would be sung to honor Sandy. I hoped he'd reach out to send a small word of encouragement to Gerry.
The funeral came and went, but no word from Jim. I knew he was busy touring, but still, I was surprised by his silence. It didn't seem like him not to respond to something like this.
A few months before Sandy's passing, Gerry had purchased tickets for an upcoming Jim Brady Trio concert. As the date loomed, we all wondered what he would do. None of us were able to attend with him, and we hated the idea of him going alone. But attending Southern Gospel concerts was his and Sandy's favorite thing to do together, and all Gerry wanted to do was honor his bride. 
Now, just ten days after burying the love of his life, my father-in-law sat alone at the concert, empty chair by his side.
The music started, and the Trio entered the stage. Jim stopped, gestured to my father-in-law and said, "Gerry…" Then, they started to sing "On My Way Home," just like we had sung at the funeral! The Trio had chosen that song for Gerry, and for Sandy.
Gerry's heart swelled and his tears flowed as he felt the love and the music washing over him.
Just before the intermission, the Trio sang another song about heaven. As they got to the final chorus, they left the stage, stood around Gerry, and sang it directly to him. The track ended, and Jim said, "Let's sing that chorus again, acapella". They laid their hands on my father-in-law and sang to him about the hope beyond all hope.
Jim had received my email! He knew Gerry would be at the concert and planned those songs as his special gift of love.
This was ministry, pure and simple. There was no showiness, no exploiting of a widower's grief. Jim was simply following scripture: "Mourn with those who mourn." "Encourage each other and build one another up." "Love one another, as I have loved you." 
Gerry called us the next day. As he shared the story, tears flowed from all of us. Tears of grief for the loss of Sandy, and tears of joy for Jim's precious act of love. 
At that moment, Jim and the Jim Brady Trio reminded all of us of the true power of Gospel music: to lift up the brokenhearted, to love those who are hurting, and to share the promise of our one true home.
By Allison Lynn
Allison Lynn and her husband, Gerald Flemming, form the award-winning duo, Infinitely More. Infinitely More creates a fusion of folk, pop, hymns, and worship that soothes the heart and ignites the soul. Based out of beautiful St. Catharines, Ontario (near Niagara Falls!) this full-time nationally touring ministry annually drives to every province in Canada, singing in churches of all sizes and denominations. Their songwriting and recordings have been nominated for 15 national music awards. Their latest album – The Beauty Of The One – was honored with two Covenant Awards from The Gospel Music Association of Canada. In all things, Allison and Gerald strive to bring God's light and love to a world in need.
Phone Friendly SGN Scoops Magazine Here
Find SGN Scoops Magazine On Facebook Here
Download SGN Scoops Magazine PDF Here
Listen To Todays Southern Gospel Here
Tags:
Allison Lynn
,
booth brothers
,
gospel music
,
Infinitely More
,
Jim Brady
,
Southern Gospel Music
Posted in
artists
,
sgn scoops magazine
|
Comments Off

on Jim Brady blesses a mourning husband
Written by Staff on October 8, 2020 – 3:22 pm -
Beyond the Song by Jantina Baksteen
Today we go Beyond the Song with "Lord Send Me A Mountain" by the Porter Family. This was recently highlighted on the  Strictly Southern Show with Vonda Armstrong. I caught up with Shawn Porter of the Porter Family to learn about their ministry. Thank you Shawn for joining this interview. 
Jantina Baksteen: Can you introduce yourselves to the readers of SGNScoops?
Shawn Porter: We are The Porter Family from Waynesville, North Carolina. The group members are Shawn Porter (myself), along with my parents Will and Betty Porter. My daughter, Maddie, who is an amazing singer, is starting to take on more of an active role with the ministry with some appearances during our concerts when her busy schedule permits. We have been singing for over 20 years as we are now. We are with Chapel Valley on their Inspire Label.
Along with singing, I am the Full-time Associate Pastor of Dellwood Baptist Church in Maggie Valley, N.C., and my parents, Will and Betty, have been child care workers for the Baptist Children Homes of N.C. for over 30 years now, taking care of abused and neglected children. In October 2019, Will and Betty were invited to Little Rock, Arkansas, to receive the National Child Care Worker of the Year award, which is the highest award in their ministry of child care.
The Porter Family love working for the Lord and using their gifts to share the love of Christ to this lost and dying world. Our main goal, whether it's standing behind a pulpit preaching the Gospel, ministering to children, or standing on a stage singing, is to share the love of God, and give hope of a perfect eternal home someday!
Along with everything else this family is doing, Shawn also hosts trips to The Holy Land every year. There is nothing that will change your ministry any more than walking where our Savior walked.
The Porter Family's view of their busy lives in ministry is that we can never do enough to repay Christ for what He has done for us, so we are honored that He allows us to do what we do.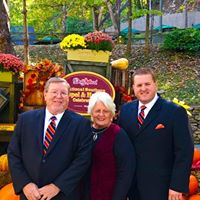 JB: I guess you basically grew up in Southern gospel music as your parents are Southern gospel artists as well?
SP: I grew up around SGM all my life. This family started singing back many many years ago as The Midkiff family, which is Betty's family name. The group originally consisted of my mother Betty, Aunt Charlotte, and my grandmother Doyle Midkiff. Betty and Will married and then Will joined the group. They traveled for several years with this lineup. Being natives of West Virginia, they often say, "We've sung all over the hills and hollers of the wild and wonderful West Virginia!"
JB: I heard your song, "Lord Send Me A Mountain," on the Strictly Southern Show with Vonda Armstrong. What a beautiful song! I believe that you, Shawn, are featured in this song. Can you share with us the message of this song?
SP: "Lord Send Me A Mountain," is a song that will change your prayer life when you get a hold of the message. A lot of times we want to sit back and do nothing and ask God to do everything, when the truth is, we need to have enough faith to say "God, you send me a mountain; I'm ready for the climb."  Those mountains in our life are hard at times, steep, and long, but if we will have enough faith to strap our boot laces up and keep putting one foot in front of the other, God will help us get to the mountain peak. When we do, our strength in and through the Lord will be amazing.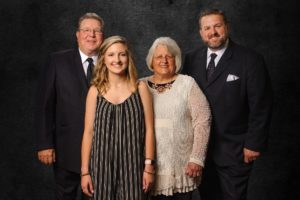 JB: What does this song mean to you personally?
SP: This song has revolutionized the way I pray. Of course, I don't like hardships, no one does, but this song has helped me to understand that I'm no longer afraid to face them. If we don't like where we are in life, or the circumstance we find ourselves in, then get up and do something about it!
JB: The writer is none other than Shane Roark. How did this song come to you?
SP: Shane Roark is an amazing songwriter, and he, along with his brother Travis, and their mother Jetta, are some of our greatest friends in the world. Shane is also our producer as well. This family, and the whole Chapel Valley staff, has the best work ethic of any record company I have ever worked with. They truly put their artists first in every aspect. With that being said, when we went in the studio for pre-production of this album, I told Shane that I would love to have a big, meaningful ballad, which is something we have never recorded, mainly because we have always been known for leaning to the country side of things. Well, we had all the songs picked for the project, and I was very excited about it, but we still didn't have that song, so as we finished up that day, Shane said, "I have a song that I wrote, and I'll play it for you if you're interested, but I'm telling you it's a big one. Not just anybody can sing it, but I think you can." So, of course, I wanted to hear it, so he began playing it on his keyboard and singing, and we had some church right there in the studio. The rest, as they say, is history.
JB: Where can we find the recorded version of this song?
SP: This song is on our new album entitled "Rise".
JB: How is this song received by your audience?
SP: This song is resounding with people everywhere. I've had people tell me how they have struggled with sickness and other circumstances in their personal lives and almost given up, but this song has given them a renewed strength to keep moving forward and to keep climbing that mountain.
JB: Is there something more you'd like the readers to know?
SP: I would just like to thank you and SGNScoops for this opportunity, and for all you do for Southern gospel music. It takes all of us staying in our lane, working together, to make a Kingdom impact!
JB: Where can we find you on the web?
SP: You can find The Porter Family here: www.porterfamilymusic.com 
Or contact us by phone at Office# (828)456-1009; Cell# (828)734-1528
You can also email us at porterfamilymusic@gmail.com
Enjoy the Porter Family as they sing, "Lord Send Me a Mountain."
Thank you Shawn Porter for sharing your ministry with SGNScoops. Blessings on your calling, reaching out to those who need to hear the gospel!
By Jantina Baksteen
Jantina Baksteen is a gospel music writer and regular contributor to SGNScoops magazine and website.
Jantina Baksteen – biography:
I live all the way overseas in the Netherlands. I'm married and I have three adult children.
I grew up in a Christian home and knew in my early years that I wanted to belong to Him. I surrendered my life to Christ was baptized one day before I turned 11 years old.
Somehow, the seed of loving gospel music was planted by the style of music my parents played at home. Around 2006/2007, I was listening to Gaither homecoming music that I found on the internet. The song, "Oh, What A Savior," by Ernie Haase hit me with the so-called Southern gospel bug. 
From there, I've been reading /studying all I can find. I found the digital SGNScoops Magazine.
As I was spending so much time reading and listening about this industry, I started praying for God to please give me a job in the Southern gospel industry. Sometimes, I commented to Lorraine Walker on her posts. How could she know the longing of my heart?
But last year she asked me if I wanted to do something for SGNScoops: the Wacky Wednesday posts online. Now I do the "Beyond the Song" article that really has my heart as I am reaching out to artists, asking about a current song and having a sneak peak behind the scenes. 
Phone Friendly SGN Scoops Magazine Here
Find SGN Scoops Magazine On Facebook Here
Download SGN Scoops Magazine PDF Here
Listen To Todays Southern Gospel Here
Tags:
Beyond the Song
,
Country Gospel Music
,
gospel music
,
Lord Send Me A Mountain
,
Southern Gospel Music
,
The Porter Family
Posted in
artists
,
Beyond the Song
|
Comments Off

on Beyond the Song with the Porter Family singing Lord Send Me A Mountain
Written by Staff on September 5, 2020 – 8:49 am -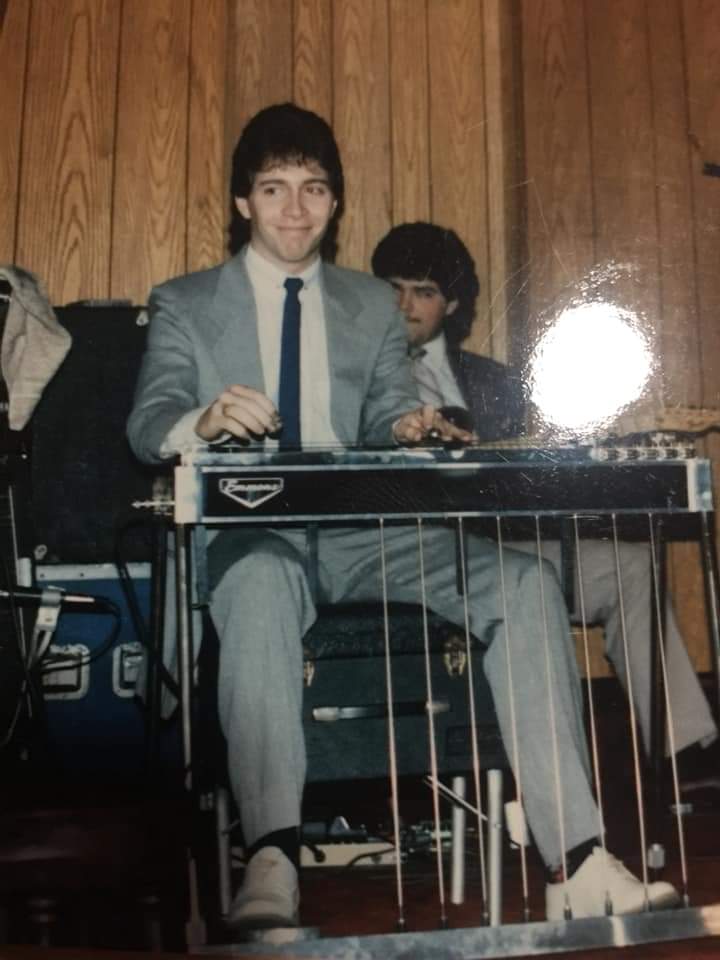 Cochran Family of Funeral Homes posted the following obituary:
Glenn Daryll LeCroy
August 9, 1958 – September 3, 2020
Cochran Funeral Home & Crematory of Blairsville announces the death of Mr. Glenn Daryll LeCroy, age 62 of Blairsville who passed away on Wednesday, September 2nd, 2020.
Mr. LeCroy was born on August 9th, 1958 in Marietta, GA to his parents, Glenn Nelson and Mildred (Hudson) LeCroy. Daryll was a lifelong resident of Union county, he attended the House of Prayer Church. He was a very talented musician and enjoyed playing golf. Over the years he has played with groups such as the Gold City Quartet, The Hinsons, and Wendy Bagwell among others. In addition, he also did recording sessions in Nashville and played for Free Chapel in Gainesville and for North Point Community Church. He is preceded in death by his father, Glenn Nelson LeCroy.
This is Daryll playing steel guitar with Gold City in 1993:
Per his request, there will be no services held.
Survivors include his mother, Mildred LeCroy; sister, Sydnie LeCroy; niece, Olivia Almedia; a host of friends and extended family also survive.
Arrangements are entrusted to the Cochran Funeral Home & Crematory of Blairsville.
To plant a beautiful memorial tree in memory of Glenn Daryll LeCroy, please visit our Tribute Store.
Events
There are no events scheduled. You can still show your support by planting a tree in memory of Glenn Daryll LeCroy.
Visit the Tribute Store
Our Locations
Cochran Funeral Home & Cremation Services of Murphy
Contact & Directions
Tags:
Daryl LeCroy
,
Daryll LeCroy
,
Gold City Quartet
,
gospel music
,
The Hinsons
,
Wendy Bagwell and the Sunliters
Posted in
announcements
,
artists
|
Comments Off

on Daryll LeCroy, former Hinsons member, passes away at 62
Written by Staff on September 4, 2020 – 3:03 pm -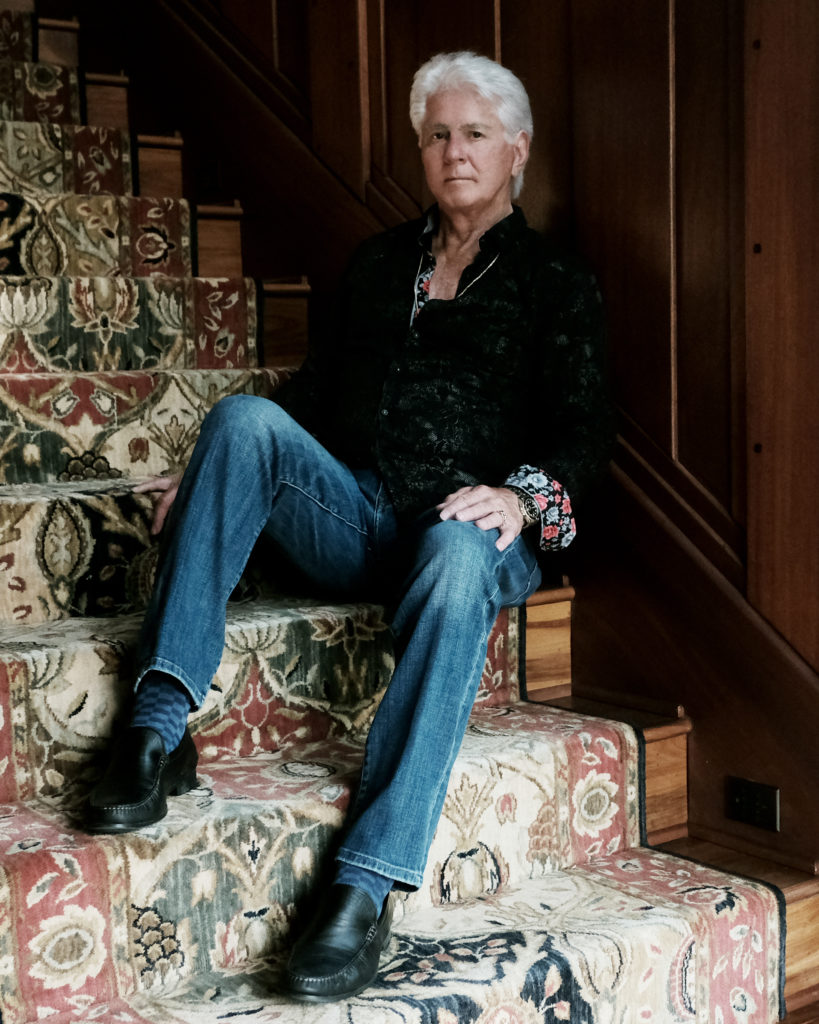 NASHVILLE, Tenn. – A revered bass vocalist, whose distinctive voice complimented Elvis Presley on stage and in the studio, Larry Strickland "continues to carry the torch for the music that he and Elvis, and so many others loved," (The Commercial Appeal) with his first solo project, Legacy, available everywhere today.
A valued band member during the last two-and-a-half years of The King's career as part of J.D. Sumner and The Stamps vocal group, Strickland always focused on being a harmony vocalist in a group or quartet, until now.
"These are songs I learned in church while my dad was a minister, and then when I started working for Elvis, these were songs he'd sing in private with us, often backstage, on the road or at his Graceland home. These Gospel staples bring back all of those precious memories from when I was a kid, as well as my years with Elvis," Strickland shared.
A few of those Elvis favorites Strickland recorded on  Legacy include "Just A Closer Walk," "Take My Hand, "Precious Lord," "In The Garden" and "Love Lifted Me" as well as Josh Turner's "Long Black Train" and Don Williams' "Lord I Hope This Day is Good."
Strickland's professional career as a bass singer began in the mid-'60s harmonizing in local groups. During one show, Strickland opened for J.D. Sumner and The Stamps, and during that performance, he caught Sumner's ear for talent. Years later after serving in the Army, Strickland received a call from Sumner to join The Stamps.
"When Richard Sterban left The Stamps and went with the Oak Ridge Boys, they asked me to come to Nashville and audition, and I got the job," Strickland said.
Strickland's first performance was with Elvis in Las Vegas, and he would remain employed and part of the TCB inner circle for national tours and studio sessions until The King's death in 1977. Strickland's bass harmonies can be heard on "Way Down," one of the last known songs Elvis recorded from The Jungle Room Sessions. Strickland would go on to perform 204 concerts with Elvis.
Legacy Track Listing:
1. Long Black Train
2. Just A Closer Walk
3. Take My Hand, Precious Lord
4. Lord I Hope This Day is Good
5. In The Garden
6. Love Lifted Me
For more information on Larry Strickland, visit larrystricklandmusic.com.
Tags:
Elvis Presley
,
gospel music
,
larry Strickland
,
legacy
Posted in
announcements
,
artists
|
Comments Off

on ELVIS PRESLEY'S BACKUP VOCALIST LARRY STRICKLAND RELEASES "LEGACY," SINGS GOSPEL STAPLES AND COUNTRY COVERS
Written by Staff on September 1, 2020 – 8:14 am -
Nashville, TN (August 31, 2020) Crossover artist Rachel Jeanette has achieved many special moments as an actress, model and singer but her appearance on the August cover of the SGN Scoops Magazine set a new milestone for her. The cover marked her first cover since launching out in to Christian music.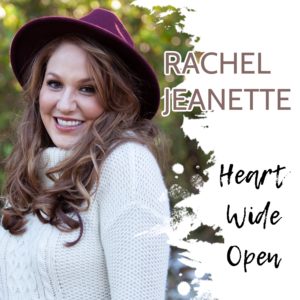 "I am overwhelmed at the response and warm welcome that the Gospel music family has given me. They have made me feel like one of their own," stated Rachel.
Her musical journey started in Christian music as a teenager, working with acclaimed songwriter Geron Davis and being a part of Dove nominated albums. Rachel Jeanette's career has included roles in major motion pictures such as The Hunger Games, Divergent, 90 Minutes in Heaven and she has shared the screen with actors such as Steve Martin, Robert DeNiro, Zac Effron, Jennifer Lawrence and many more.
In spring of 2020, Jeanette returned to Christian music with the release of Heart Wide Open. The album received national attention and connected with fans of all genres.
Building off the success of last release, Rachel Jeanette will be working with Grammy and Dove nominated producer Wayne Haun on a new project that will be released early 2021. Fans can find Heart Wide Open on all digital platforms.
Tags:
Christian Music
,
Geron Davis
,
gordon mote
,
gospel music
,
Hunger Games
,
Rachel Jeanette
,
sgnscoops
,
Wayne Haun
Posted in
announcements
,
artists
|
Comments Off

on Rachel Jeanette Appears On Cover of SGN Scoops
Written by Staff on August 24, 2020 – 12:04 pm -
Many gospel music fans know Mike Moran of the Torchmen from Ontario. He has been singing for 50 years, telling thousands about the love of Jesus and living his faith with everyone he meets. Now it's our turn to pray for this man of God who has given so much to so many.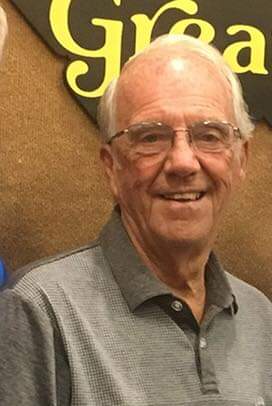 The Torchmen posted the following:
For over 50 yrs, Mike has been faithfully serving through gospel music, but this week we need to keep him in our prayers. He's scheduled for surgery on Wednesday to remove a mass from his kidney. He'll be off the road for a bit, but thankfully due to the pandemic, he won't miss too many engagements, but Mike doesn't like to miss any.
Please pray for Mike this week!
Be sure to follow the Torchmen for updates on Mike Moran.
Tags:
gospel music
,
Mike Moran
,
Quartet Music
,
Torchmen
Posted in
announcements
,
artists
|
Comments Off

on Please pray for Mike Moran of the Torchmen
Written by Staff on August 15, 2020 – 8:21 am -
Artists and songwriters who call Daywind Music Group (DMG) home were honored with twelve (12) nominations for the 51st Annual GMA Dove Awards. Daywind Records' very own  Joseph Habedank was among some of the industry's top artists and musicians to announce the nominees during the live announcement on Facebook Live and YouTube Live.
GRAMMY® nominated and multiple Dove award-winning group Karen Peck and New River  received three (3) nominations, including Southern Gospel Artist of the Year, Southern Gospel Recorded Song of the Year  for "The God I Serve" (written by Jimmy Yeary, Sonya Isaacs, Rebecca Bowman, and Daywind Music Publishing's exclusive songwriter Karen Peck Gooch), and Bluegrass/Country/Roots Recorded Song of the Year  for "Ain't No Grave" (written by Claude Ely, Molly Skaggs, Jonathan David Helser, and Melissa Helser).
Singer-songwriter Joseph Habedank garnered two nominations, one from his latest GRAMMY® nominated album Deeper Oceans  for  "Sometimes It's The Radio"  (written by Jimmy Yeary, Tony Wood,  and Daywind Music Publishing's exclusive songwriter Joseph Habedank) in the Bluegrass/Country/Roots Recorded Song of the Year  category, as well as earning a nomination for Southern Gospel Artist of the Year.
Legacy Five nabbed two nominations, as well, a nomination for its #1 hit song "What Kind of Man" (written by Daywind writer Sue C. Smith, Kenna Turner West, and Daywind Music Publishing's exclusive songwriter Jason Cox) in the Southern Gospel Recorded Song of the Year category, and another for Pure Love for  Southern Gospel Album of the Year.
The Sound received its first-ever Dove Award nomination for its #1 song "Can I Get A Witness"  (written by Brent Baxter, Kenna Turner West, and Daywind exclusive writer, Jason Cox) in the Southern Gospel Recorded Song of the Year category. The Crabb Family's first release in eight years, 20/20, earned a nomination for Southern Gospel Album of the Year, while Jason Crabb garnered a nomination for Southern Gospel Artist of the Year.
Daywind Music Publishing also earned nominations in the Musical of the Year category for Messiah Overcame, created by Mike Harland and John Darin Rowsey and arranged and orchestrated by Cliff Duren, Jim Hammerly, Christopher Phillips, and Phil Nitz; as well as for The Song of Bethlehem created by Lee Black and arranged and orchestrated by Cliff Duren, Phillip Keveren, and Phil Nitz.
Daywind would also like to recognize Producer of the Year  nominees, Ben Isaacs (High Road, Wilburn & Wilburn) and Wayne Haun (Joseph Habedank, Legacy Five, Karen Peck & New River, Tribute Quartet, the LeFevre Quartet), for their achievements.
"Our artists and songwriters continue to create wonderful music that inspires the world to follow Christ," said Ed Leonard, president of Daywind Music Group.  "We are so proud of their success and honored to play a part in their ministries."
Voting for the final winners will run from August 20th through August 27th. The celebration will air exclusively on TBN (Trinity Broadcasting Network) on Friday, October 30th. For further information, please visit www.doveawards.com.
Daywind Music Group is home to an award-winning roster of artists, including Adam Crabb, Amber Nelon Thompson, Blackwood Brothers, Crabb Family, Doyle Lawson and Quicksilver, Brian Free & Assurance, Greater Vision, Hoppers, Jim & Melissa Brady, Appalachian Road Show, Joseph Habedank, Karen Peck & New River, Joe Mullins and the Radio Ramblers, Legacy Five, Mark Lowry, Michael Booth, Michael English, Donna Ulisse, Carolina Blue, Nelons, Riley Harrison Clark, Tribute Quartet, Wilburn & Wilburn, Alan Bibey and Grasstowne, LeFevre Quartet, Tim Menzies, High Road, and The Sound. Daywind is distributed to retail through New Day Christian Distributors and the Orchard, covering all major physical and digital outlets.
Daywind Music Publishing is home to an award-winning roster of songwriters including Lee Black, Jason Cox, Gerald Crabb, Janice Crow, Marty Funderburk, Mike Harland, Devin McGlamery, Tim Lovelace, John Darin Rowsey, Belinda Smith, Sue Smith, Dianne Wilkinson, Nathan Woodard, and Hunter Leath.
Did you know that you can receive the printed, full-color version of SGNScoops Magazine by subscription? Find out more 
HERE
.
Tags:
Daywind Music Group
,
Dove Awards
,
gma
,
gospel music
,
Joseph Habedank
,
Karen Peck and New Peck
,
Southern Gospel Music
Posted in
announcements
,
artists
|
Comments Off

on Daywind Music Group Celebrates a Dozen GMA Dove Award Nominations
Written by Staff on August 14, 2020 – 12:05 pm -
Beyond the Song by Jantina Baksteen
It was great to talk to David Kiser from Heart2Heart. Enjoy reading all about their ministry in this Beyond the Song edition.
Jantina Baksteen: Heart2Heart is a singing trio. Can you introduce yourselves to SGNScoops?
David Kiser: Thank you SGNScoops! The group consists of myself, David Kiser, and Deana Kiser, a husband and wife team from Cherryville, North Carolina, and our longtime friend, Rhonda House, from Belmont, N. C.
JB: You have been 20 years on the road. What is it like to travel so long together?
DK: Very Interesting. Well, the group has been through several personnel changes over the past 22 years, but for the last 10 years or more, we have really enjoyed the road together as the current roster. We all love to have fun and there is never a dull moment.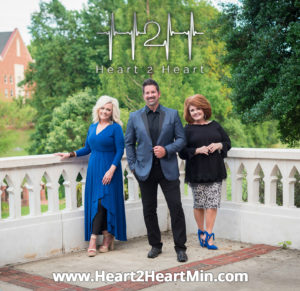 JB: What message of hope does Heart2Heart share, from your heart to other hearts, when you are on stage?
DK: It seems today there are more hurting people sitting on church pews. In 1998, we started out with a mission to always make Jesus the center of what is seen on the stage, and to encourage the body of Christ. Our focus still remains strong today: To let the church know that Jesus still saves, heals, delivers and sets free those that are bound and captive. We love people and we love loving on people. Showing the love of Christ and praying with people is just what we do. Keeping the real thing still the real thing.
JB: You have a great song out to radio called, "Happy Glad Day." If I'm not mistaken, there's a video made. Can you share the story about that song?
DK: Well, the song was pitched to us by our friend Tery Wayne Wilkins. It was co-written with Reba Faye Rambo. We had been after Tery for some time to let us record a song of his. Once we heard "Happy Glad Day," we were in love with the message and melody. We didn't plan on recording it originally with the old Southern gospel sound, but we are glad our producer, Les Butler, agreed this would sound great with an old fashioned sound. So, it is led with a old flat top piano sound. We were blessed to be able to shoot a video of "Happy  Glad Day," as a part of the Great American Gospel TV program, down in Savannah, Georgia, just a few months back. If our plans don't change before September, we hope to perform "Happy Glad Day" this year at NQC 2020. We hope gospel music fans enjoy listening to this song as much as we love singing it.
Here is the original video with Heart2Heart singing, "Happy Glad Day."
JB: What is the response from your audience?
DK: We feel very favored to have a very loyal and energetic fan base. Some of that, we feel, is from the energy we put off, and worship we engage in, from the stage. Normally, our concerts are very high energy, high emotional services. It is very common for us to see or have responses to the altar during our concerts or services. We always end our services with altar time and prayer, and it is a norm for us to have crowd response at that time, and us meet and pray with people in the altars.
JB: How do you get motivated when you are the road and your day doesn't go as you hoped it would?
DK: Well, as we all know, this can be quite a challenge, when the enemy seems to rage all out war on ministries when they are being effective. I must say our team does an excellent job putting aside our struggles, battles, and pains, when we step on the stage. We all have the same heart and mind when it comes to ministering to people. At that moment in time, there is no one else more important than the souls sitting in front of us, and we have a commitment to deliver the gospel in an excellent and timely fashion. I have seen my team struggling through life's problems, moments before we took the stage, and then watch God not only show up and do something beyond our thoughts in a service, but also calm the storm for us and work a miracle because of the sacrifice. That's what he does for his children.
JB: Who are your musical influences? 
DK: We love Karen Peck and New River, the Bowlings, Jeff and Sheri Easter, the Perrys, and the Talleys. They all have been a big blessing to us over the years. In the past few years, we've been able to work with a lot of great artists in venues all over. One of our favorites that we have come to really love are the guys of Triumphant Quartet. They are great encouragers. We are thankful for all of the Main Street artists that have encouraged our ministry and sowed into us over the past 22 years.
JB: If you could sit around the table with a legend from the past,  who would that be?
DK: Well, I know you said one, but these are a combo. I must say I would love to sit down with George Younce and Glen Payne. Oh, the stories and wisdom I would love to gather from those two iconic and first class gentlemen.
JB: Do you have a testimony you would like to share with the readers of SGNScoops?
DK: Probably the most dramatic blow that we ever faced as a ministry came a few years ago when Rhonda House lost her mother and husband on the same day. Our ministry was hit very hard with this news. God was so faithful to us through that time. Our families, local churches, and fans, held us up as we moved through that valley. Rhonda was faithful to continue to minister. We only missed one weekend due to the funerals, but Rhonda felt like both Jimmy and her Mom would have said, "Don't you stop singing because of us. Sing, sing, sing." So, we continued to press forward knowing we were operating in our calling. In the words of Rhonda, "When you don't know what to do…do what you know to do." We did. (We) leaned on God and watched him work. Rhonda continues to minister and share her story, so others can know that God is faithful, and he will see you through the times of life that feel unbearable. He has a plan because he is the author of the plan.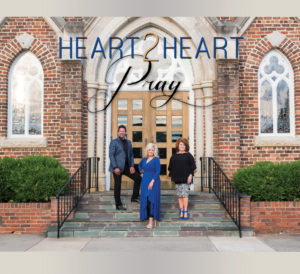 JB: What is the most funniest thing that ever happened in the past 20 years of Heart2Heart?
DK: Wow. Too many to list. We almost have a funny story every weekend. No kidding. Probably some of the funniest, is us forgetting our lyrics on stage. I (David) almost never forget a lyric, and when I do, I'm usually good at making something up. One of the first services when Rhonda was back with us in 2011, (I think), we jumped up on the first song all excited, and opened our mouths, and for the first line of the song…(silence, crickets) nothing but music, and David humming some kind of gargling mess that wasn't words. Nothing came out. We got such a huge laugh out of that. Luckily, it was a church we had sang at many times and they love us. We have several funny lyric hiccups like that which are just hilarious. Thank the Lord for grace.
JB: What is ahead for the Heart2Heart ministry in the near future?
DK:  We think that the time is now for our ministry. There are so many great things happening, it is really hard to put it into words. We say all the time, we feel like we are God's favorite children. He just keeps doing great stuff. Watch out for more great radio releases from this new project, "Pray." We are going to keep putting out great music and be sensitive to gospel music fans on what they want to hear. Look for us at NQC 2020, and Dollywood at the 2020 October Harvest Fest.
JB: Where can people reach you if a church or event is looking for some good gospel music?
DK: Call Heart2Heart at 704-802-4634 or email us davidk@heart2heartmin.com. You can find more info on us at our website: www.heart2heartmin.com or connect with us on Facebook.
Thank you so much for sharing your ministry with SGNScoops. Wishing you God's rich blessings as you get back on the road to share the greatest message that will give peace and comfort to those who are hurting. 
Did you know that you can receive the printed, full-color version of SGNScoops Magazine by subscription? Find out more 
HERE
.
Tags:
Beyond the Song
,
gospel music
,
Happy Glad Day
,
Heart2Heart
,
Jantina Baksteen
,
Les Butler
,
Southern Gospel Music
Posted in
artists
,
Beyond the Song
|
Comments Off

on Beyond the Song: Heart2Heart sing "Happy Glad Day"
Written by Staff on August 10, 2020 – 7:48 am -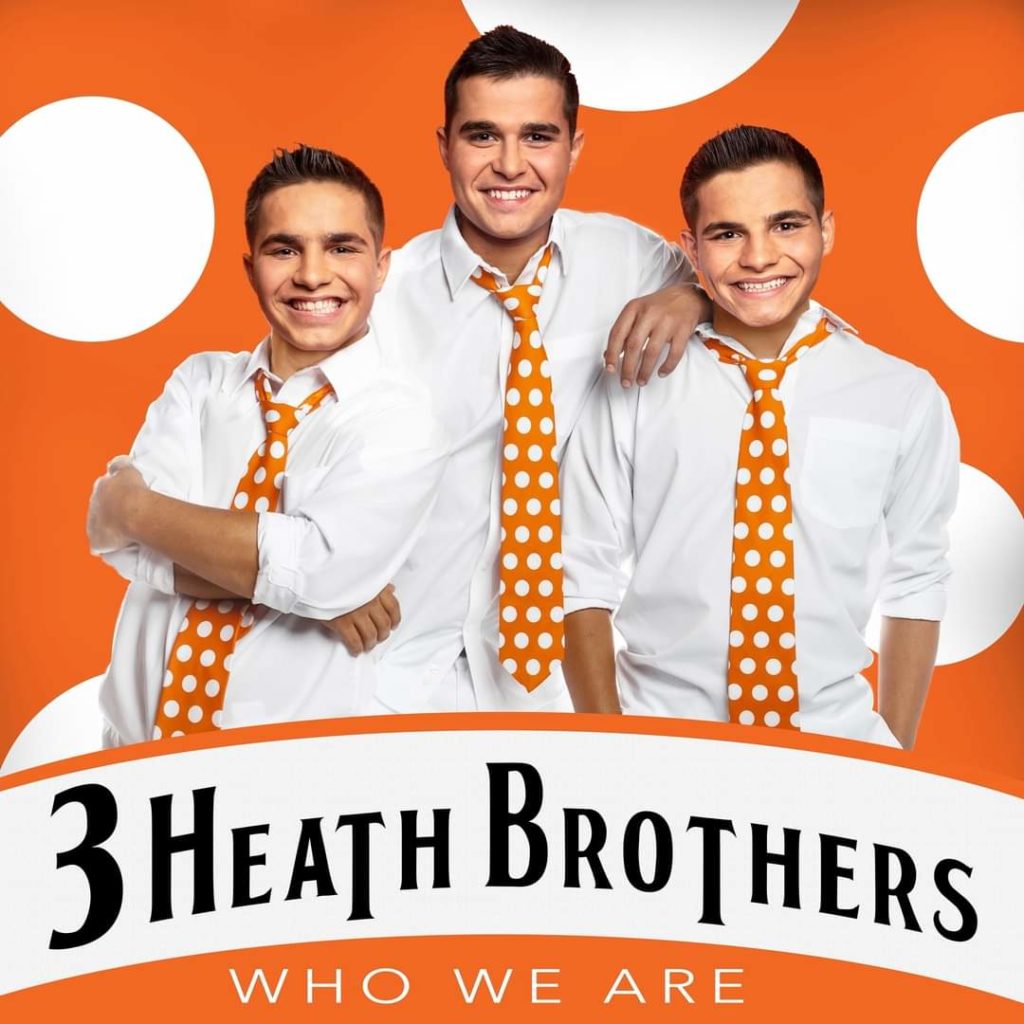 Arden, North Carolina (August 6, 2020) — As part of the next generation of gospel music artists, the 3 Heath Brothers (website HERE) have quickly captured attention with their powerful voices and unmistakable calling to spread God's word. The trio records music they believe in, with words they hope others carry through daily life, giving encouragement and hope.
With their latest single, the timely "Give It To Jesus," the 3 Heath Brothers continue this mission, reminding listeners that when life is tough, they can give all their burdens and chaos to Jesus.
Nicholas Heath, who wrote the song, says at the time, he didn't realize how relevant it would become. "It is a song that has almost become our theme song during this time when there are so many questions and not many answers," says Nicholas. "No matter what any of us are going through or dealing with and no matter how we've been hurt or our questions…the safest and best thing we can always do is give it to Jesus."
The moving song is the latest single from the trio's Horizon Records debut album Who We Are, which showcases the brothers' creative arrangements, song choice and production, making an impressive statement about their music, mission and beliefs.
Stream "Give It To Jesus" HERE.
About 3 Heath Brothers
The 3 Heath Brothers are teenagers, Nicholas, Clayton, & Christian Heath from Thomasville, NC. They have been singing together as long as they can remember. Their mom taught them to sing parts from a very early age and their dad is the Senior Pastor at Faith Community Chapel in Thomasville, NC.
When these young guys get up to sing, people are consistently shocked by their tight harmony, powerful vocals, and a cappella arrangements. In the summer of 2018, they won the Grand Champion Trophy at the NC State Annual Singing Convention. They recently performed at Dollywood, Billy Graham Training Center at the Cove, and are Main Stage artists at Singing in the Sun 2019 and the Gatlinburg Gathering 2019.
Audiences won't want to miss their young energy and passion for God. They love God and their goal is to promote Christ and demonstrate that you are never too young to give all you have to God.
About Crossroads:
Crossroads is a market leader in the Southern Gospel, Bluegrass, and Americana fields. Established in 1993, following the combination of Horizon Music Group and Sonlite Records, Crossroads now operates several divisions including Crossroads Label Group (Horizon Records, Sonlite Records, Mountain Home Music, Skyland Records, Pisgah Ridge Records, Crossroads Records, and Organic Records), Crossroads Distribution, Crossroads Radio Promotions, and Crossroads Recording Studios. Led by a strong executive team of Christian music and Bluegrass music veterans, Crossroads combines cutting-edge technology with creative innovation to connect fans with our artists' music.
Did you know that you can receive the printed, full-color version of SGNScoops Magazine by subscription? Find out more 
HERE
.
Tags:
3 Heath Brothers
,
crossroads
,
gospel music
,
Horizon Records
,
Southern Gospel Music
Posted in
announcements
,
artists
|
Comments Off

on The 3 Heath Brothers encourage giving burdens to Jesus with new single
Written by Staff on August 7, 2020 – 11:44 am -
Nashville, TN (August 7th, 2020) –Up-and-coming Gospel trio, Avenue, is proud to announce its newest members.
In a video release this morning, industry veteran Kasey Kemp welcomed two newcomers to the group. Mississippi native Kyle Smith will be stepping in as the trio's lead singer while accomplished vocalist Daniel Rivera takes the tenor position.
The new line up has already spent time in the studio together working on brand new music, including a new single that is expected to be at radio next month.
For more information about the new group members, as well as the future of Avenue, watch the video link below:
To find out more about Avenue, visit avenuemusic.net.
Did you know that you can receive the printed, full-color version of SGNScoops Magazine by subscription? Find out more 
HERE
.
Tags:
Avenue
,
Avenue Trio
,
gospel music
,
Kasey Kemp
,
Southern Gospel Music
Posted in
announcements
,
artists
|
Comments Off

on Avenue Welcomes New Members