Written by Staff on October 18, 2017 – 7:44 am -
Most individuals dream of living a life that will make this world a better place. They hope that they can leave a legacy behind that reflects a life of positive influence. This dream is one that Rex Nelon accomplished. It was his vision 30 years ago, which sparked the national ministry of the Nelons. It was also his influence that helped begin the careers of some of Gospel Music's most beloved artists, such as Karen Peck Gooch and Janet Paschal.  
For years, Rex Nelon's daughter, Kelly, sang alto alongside him. Now, Kelly sings with her two beautiful daughters, Amber and Autumn, and her husband, Jason Clark. It is the legacy of this Gospel Music Association Hall of Fame inductee that is still being lived out through his daughter and granddaughters. I had the privilege of interviewing Autumn Nelon Clark, Kelly's youngest daughter.  

Born on January 20, 1997, Autumn is now 20 years old. While she has always been behind the scenes of her family's career, she has recently taken on the role of singer/mandolin player for the group.
"For a while it was just the three of them – my mom, dad and sister," Amber says. "But a few years ago, my dad got sick, and I had to fill in for him. I've been up there ever since."
While Autumn has watched her family walk onto stages all of her life, it never made it easier when it was her turn to finally take the stage. The young lady confesses that it was more than a little intimidating for her to sing in front of people for the first time.  
Tags:
Amber Nelon Thompson
,
Americana music
,
Autumn Clark
,
Autumn Nelon Clark
,
gospel music
,
jason clark
,
Kelly Nelon Clark
,
Southern Gospel Music
,
the nelons
Posted in
artists
,
Christian interest
,
sgn scoops magazine
|
Comments Off

on Autumn Nelon Clark is a Southern Gospel Sweetheart
Written by Staff on January 4, 2017 – 9:12 am -
By Lorraine Walker
On December 31, 2016, SGNScoops was in the audience to participate in a New Year's Eve concert with the Nelons and Jeff Stice. It was a tremendous evening of music as each artist opened up and delivered the best of their skills and talents to an appreciative audience.
Afterward, we were able to talk to the artists and quiz them with an SGNScoops' Fast Five:
Lorraine: What is your main goal for 2017?
Jeff Stice: As I get older, I really truly do just want to finish well; whatever I can do, to do improve
myself as a person. I'm not into the whole performance thing. Jesus died on a cross for me and said, "It is finished!" I don't have to earn my way into anything anymore but why would I not want to try and live a better life. I want to keep working on my music and enjoying my family. I'm  just waiting to see what He has open for me next! He overwhelms me everyday.
Kelly Nelon Clark: My main goal is to spend time with my family and do things that are important to us as a family, not always the business. I wrote about this on Facebook the other day. I want to spend time thinking about our accomplishments, being thankful for what the Lord has allowed me to do; and to take more time with our family.
Amber Nelon Thompson: My main goal is to drink more water. I drink too many sodas.
Autumn Nelon Clark: I really want to get in shape. I say that every year but this year I really want to do it. When I go to the gym and I leave out of breath, I know that I'm not in shape.
Jason Clark: I want to rest in God's provision. I've asked God to take me to new places. We've been blessed with a wonderful platform that has sustained itself for 40 years. I've asked God to do new things in our ministry. He has already begun to start some works that are brand new, whether it's the film industry or the documentary industry, where we are doing some things, telling some stories. We are doing an Americana Tour. Forty-something cities have already booked us. It's basically a non-Christian crowd. So God is already answering that prayer: "Lord, I'm an open door right now, I want you to just use me. If it means in a nursing home on a Saturday afternoon, or if it means into a brand new audience that's never heard the Gospel story, I'm ready." So we're just open. It's exciting.
Lorraine: What is your favorite City?
Kelly: My favorite city is Honolulu!
Amber: My favorite city is Atlanta, where I'm from. My other favorite city would be New York. I love New York City, especially at Christmas time.
Autumn: New York. Love it so much!
Jason: New York City is amazing, but if I want to relax, I have to go to Hawaii. We just had two weeks in Oahu and I have to say that is the most relaxed I have ever been. It was like I was in another world.
Jeff: I love Toronto/Hamilton area, I love New York, I love Orlando; I don't know if I have a favorite. And then I like little towns like Shipshewana IN. My favorite vacation destination would probably be Florida. I've got kids, so they like Disney, Universal, the beach, etc.
Lorraine: What is your favorite way to exercise?
Amber: I love basketball. Very fast-paced, fast-moving. We won the State Championship in my senior year (of high school) and then I got offered a full scholarship to play for the State of Georgia but I turned it down because I wanted to sing more than I wanted to play basketball. Go Kentucky Wildcats!
Autumn: I run. Yes, I am one of those.
Jason: I'm a walker. Every day I walk. When I began to have those (chest pains), the doctor said, "You need to start walking." I was trying to run and it was hurting my knees. You know who else is a walker? Bill Gaither, who has really encouraged me. When we are out on the road (together), we walk. I can't hardly keep up with the guy! It's unbelievable the pace that he keeps. It has truly inspired me because I see the enthusiasm and energy he has at 81, so I want to have that. Diet and walking is a big part of that, so he tells me, and I want to have that.
Jeff: I run. I love running. I'm 56 and I'm trying my best to outrun Old Age but 'he's' so fast!
Kelly: Walking.
Lorraine: What is your favorite book, or what book are you reading now?
Autumn: A book called "Uninvited." (Christian non-fiction by Lysa TerKeurst).
Jason: I just started reading a book I read every January first. It's called "The Adventures of Spirit-filled Giving," by Bill Stafford. It's basically teaching us that if we are just merely tithing, we are only paying a debt. God wants us to give without expecting anything in return. When you begin to open up your heart and give in this way what the Lord has already given to us, he says it unleashes a lifetime of adventure and the flow of the Holy Spirit through us. When God can trust us with more resources than we need… Sometimes we know what we need and we hang on to it. God says the righteous will never be begging for bread. We are always going to have what we need if we hang on to God. God wants to give us more than we need, if He can trust that we will be a conduit and allow that to flow through us to others. That's basically the teaching of that book. It's a small book but I like to be reminded of that concept. I want to be generous in my time, generous in my spirit and in my compassion for others, especially for those who can't give anything in return. That book really challenges me so I'm reading it again.
Jeff: "Abba's Child," by Brennan Manning.
Kelly: "Grace Awakening."(Charles Swindoll).
Amber: Right now I'm reading a book called, "Hurting People Hurt People." (Joyce Meyers). I'm getting my Masters degree in Counseling, and that book is required. I've been reading it and it is SO good. I encourage everyone to read it.
Lorraine: What is your favorite Parable or Scripture verse?
Jason: I'm really intrigued by the Parable of the Sower. I was just reading that a couple of days ago. The seeds that we plant and the different ground that Jesus was teaching about. He said we are going to cast that seed, just throw it out there. But sometimes, it will be discouraging because we won't see the fruit, or anything tangible. That is just how we are wired. We want to see the blessing now; we want to see the provision now. To see whatever that is, right before us. Even with the Children of Israel. They wanted a King, and God said, "No, I'm your King!" But they said, "No we want to see someone on the throne!" He said, "Well, I will give him to you, but he is going to tax you and you are going to work in his barns, filling his coffers." They had to endure a lot of hardship because they couldn't trust the unseen hand of God. So the Parable of the Sower helps us to trust. Just cast your seed out there and let God do what He's going to do. There are going to be times when we aren't going to see the return. But then there are times that seed lands on fertile soil and it begins to take root, bloom and blossom, blessing others. That's a great way to live. We can't be discouraged when we don't see it. So many seeds were planted in that parable and only one type of soil was fertile.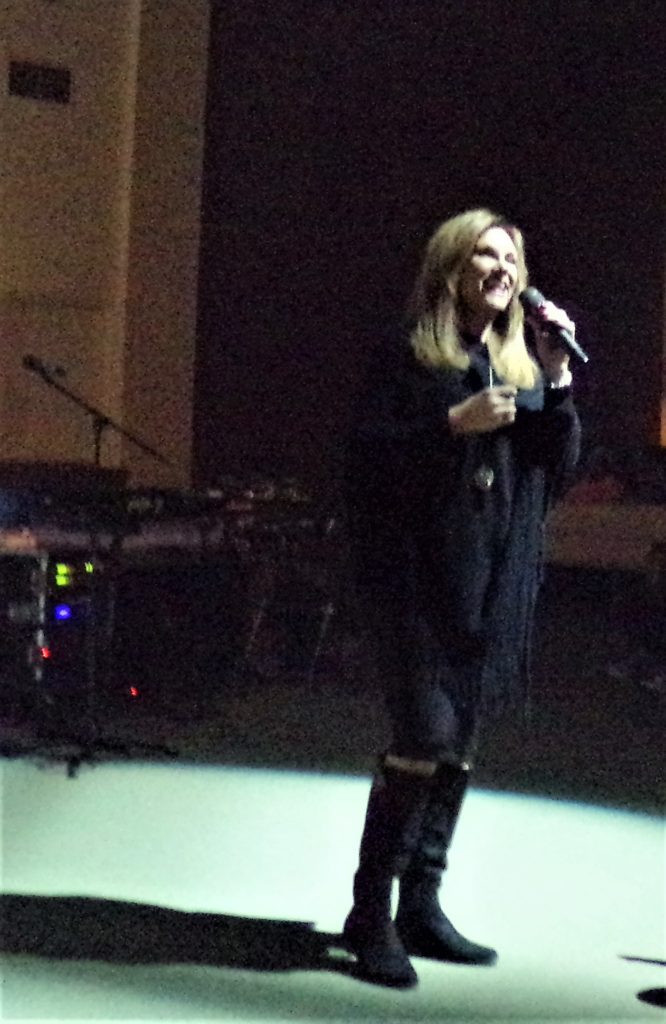 Jeff: My favorite Scripture is Psalm 130, verse 7. "Hope in the Lord, for in the Lord there is mercy and with Him there is abundant redemption." I hang my hat on that every day.
Kelly: I love the parable of the Prodigal Son. My favorite Scripture is Jeremiah 29:11. "For I know the plans I have for you," declares the Lord, "plans to prosper you and not to harm you, plans to give you hope and a future." We have hope!
Amber: I love the Good Samaritan because I think we need more of that in today's time; people who show kindness. We need more kindness right now.
Autumn: "He heals the brokenhearted and binds up their wounds." (Psalm 147:3) There are times in my life when I feel brokenhearted; you've been through a breakup or one of your family members dies. I can always open up my Bible and know that God is always there. He will heal my broken heart.
Thanks to all of The Nelons and to Jeff Stice for participating in a NYE Fast Five for SGNScoops! It was great to hear your hearts on the last day of 2016. 
For more on Jeff Stice, click here.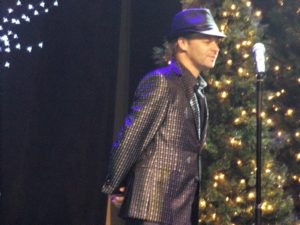 For more on The Nelons, click here.
For more Gospel music news, click here.
Amber Nelon Thompson is featured in the January issue of SGNScoops. Available soon on SGNScoops.
Tags:
Amber Nelon Thompson
,
Autumn Nelon Clark
,
gospel music
,
jason clark
,
Jeff Stice
,
Kelly Nelon
,
Kelly Nelon Clark
,
nelons
Posted in
artists
,
Fast Five
,
sgn scoops magazine
,
special feature
|
Comments Off

on The Nelons and Jeff Stice participate in a Final Fast Five for 2016 with SGNScoops
Written by Staff on January 3, 2017 – 4:10 pm -
By Lorraine Walker
New Year's Eve at Bethel Gospel Tabernacle in Hamilton, Ontario, has become known as a must-see evening of music. Every year a different artist is presented by the church and the audience responds, filling the auditorium with applause and appreciation. December 31, 2016, was no different. The Nelons and Jeff Stice took the stage amid the Christmas trees and spotlights, sharing their faith and talent with a crowd of 700.
Kelly Nelon Clark and her husband Jason, daughters Amber and Autumn, along with pianist Jeff Stice gave the audience a full evening of current songs, hymns and Christmas favorites. They began with tunes from their latest albums Stronger Together and Family Harmony. Songs featuring each
member were interspersed with specials by the award-winning Jeff Stice. The audience joined in on familiar Christmas and Gospel songs, encouraged by emcee Jason Clark. A special, nostalgic moment occurred when the auditorium grew dark and the spotlight shone down on Kelly performing "A Christmas In December."
Rex Nelon, Kelly's father, formed the Rex Nelon Singers in 1977, formerly the LeFevres. Kelly was singing alto for the group at that time, and now – forty years later – she is still standing strong as the matriarch of the Nelons. Kelly remains sweet, approachable and caring, even taking time from the group's repertoire to sing "Happy Birthday" to my father who was turning 91 years old. Thanks Kelly!
As a Nelons fan since the late '80's when the group included Karen Peck and Jerry Thompson and frequently visited southern Ontario and northern New York State, I was excited to hear this group on their own where they might showcase each individuals' skill. Kelly's voice remains as true and soft as it did decades ago, owing in part to her regular vocal exercises. Amber is one of, if not 'the', preeminent vocalists of her generation in Christian music. With a clear, expressive tone retaining the bluegrass background of her dad, Autumn charmed the crowd on one of her few solo songs. Jason Clark was disarming with his down-to-earth delivery belying his ability to sing several octaves. I can't wait to hear the music this family produces in the future as they continue to develop their own sound.
It was great to see Jeff Stice again, since he had last appeared at Bethel Gospel Tabernacle in December 2013 with Triumphant. Those fingers can certainly burn up the keyboard! Whether accompanying the Nelons or doing a solo feature, Jeff showed the crowd that he deserves every award and nomination he has earned.
The Nelons completed the evening with Amber singing "Auld Lang Syne," along with the audience, while Nelons' members captured the closing event on Facebook Live. The ballad turned into a barn-burner with "I'll Fly Away." The Nelon ladies certainly let it fly in this last song as Jason led the audience. You can find it on The Nelons page here. 
I'm sure all the attendees would join my family and I in saying that this was a
concert to remember. Happy 2017!
Tags:
Amber Nelon Thompson
,
Autumn Nelon Clark
,
gospel music
,
jason clark
,
Jeff Stice
,
Kelly Nelon Clark
,
the nelons
Posted in
artists
,
christian entertainment
,
sgn scoops magazine
|
Comments Off

on The Nelons and Jeff Stice appear in Hamilton, Ontario on New Year's Eve
Written by scoopsnews on January 31, 2016 – 10:37 am -
Three decades, The Nelons have been bridging the traditional sounds of Southern Gospel with contemporary influences that inspires listeners of all ages. The group, who has enjoyed much success as a part of the prestigious Gaither Homecoming Tour and Video Series, continues to cross generational gaps, presenting rich harmonies that have been embraced by audiences from all walks of life.
Here's a good word from Jason Clark:
More info on THE NELONS
Tags:
Amber Nelon Thompson
,
Autumn Nelon Clark
,
jason clark
,
Kelly Nelon Clark
,
the nelons
Posted in
announcements
,
artists
|
Comments Off

on A word from Jason Clark
Written by Staff on December 29, 2014 – 1:41 pm -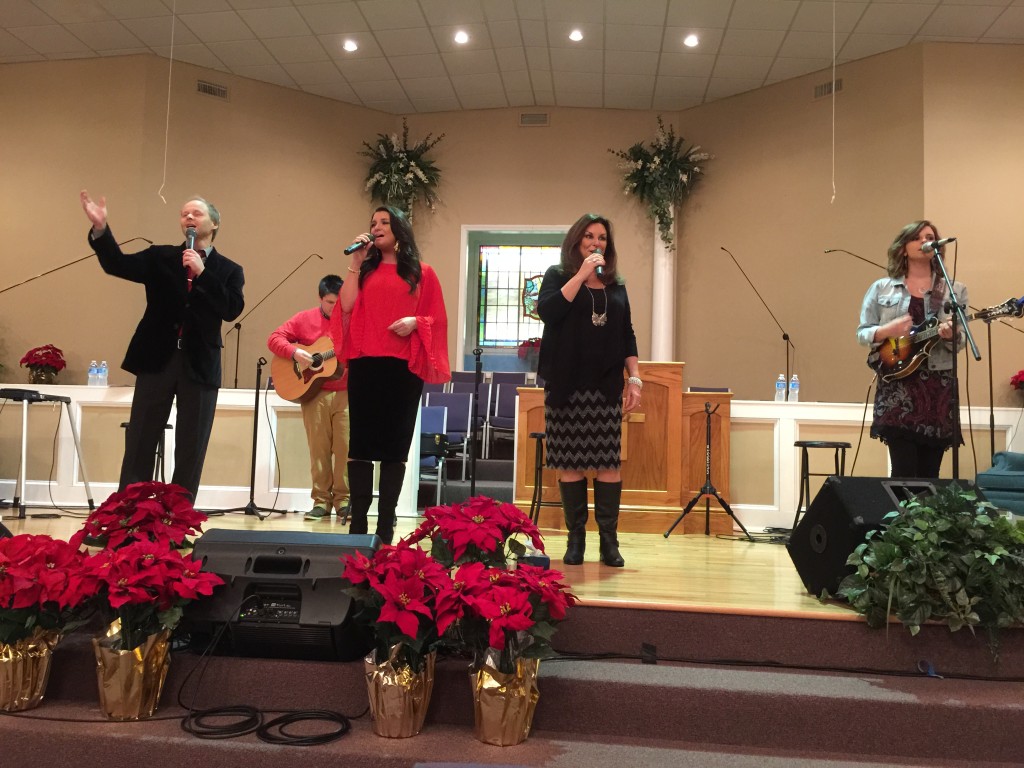 By Robert York
The Nelons are back on the road after their Christmas break. Their first concert was close to home at New Genesis Baptist Church in Douglasville, Georgia.  Then it was on to Alabama and Texas.  They also have several dates booked in 2015 with the Gaither Tour.  Shown are pictures from the Douglasville concert.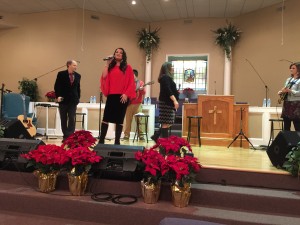 The Nelon name goes a long way back in gospel music. Rex Nelon became famous when he sang bass for The LeFevres, joining the popular family group in 1957.  Kelly also began her singing career with The LeFevres in the group's later years.  In 1977, Eva Mae LeFevre decided to retire and the group was sold to Rex Nelon.  Rex changed the name of the group to The Rex Nelon Singers.  At the time, the group consisted of Rex on bass; Kelly singing alto; Rodney Swain, lead and Janet Paschal, soprano.  Rex eventually changed the group name to simply 
The Nelons
.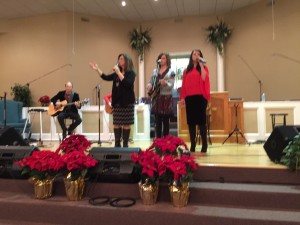 Several well-known gospel singers have been a part of the Nelons through the years including Karen Peck, Charlotte Penhollow, Amy Roth, David Hill, and Katy (Van Horn) Peach. They have also enjoyed the accompaniment of musicians such as Jeff Stice, Stan Whitmire and bass guitarists Todd Nelon and Jason Clark.
When Rex came off the road, bass singer Dan Clark joined The Nelons and sang with the group for four years. Dan Clark retired in 2002 and the group members were then Katy Peach, Kelly and Dan's son, Jason, who played guitar and sang tenor. Amber Nelon, who had been traveling with the group since she was about three weeks old, began singing soprano in 2003.  Recently the youngest Nelon, Autumn, has stepped to the front and is now singing with the group.  The Nelons are a true family group.
On April 18th,  the Nelons will be joining Kelly's brother Todd and his trio, for a Nelon Get-Together at Shiloh Hills Baptist Church, Kenneasw, GA.
You can keep up with The Nelons on their website www.thenelons.com, facebook and twitter.  I mentioned almost everything but can't  close without not mentioning the famous Sam, their dog who stars on Sam Cam which Kelly often posts on her facebook page.  Sam has a friend Buddy also and those two can get into trouble. Please follow The Nelons today on Facebook Here
Tags:
Amber Nelon Thompson
,
Autumn Nelon Clark
,
Christian Music
,
gospel music
,
Kelly Nelon
,
LeFevres
,
Rex Nelon
,
southern gospel
,
the nelons
,
Todd Nelon
Posted in
announcements
,
artists
|
Comments Off

on The Nelons are Back on The Road
Written by Staff on September 18, 2014 – 12:05 pm -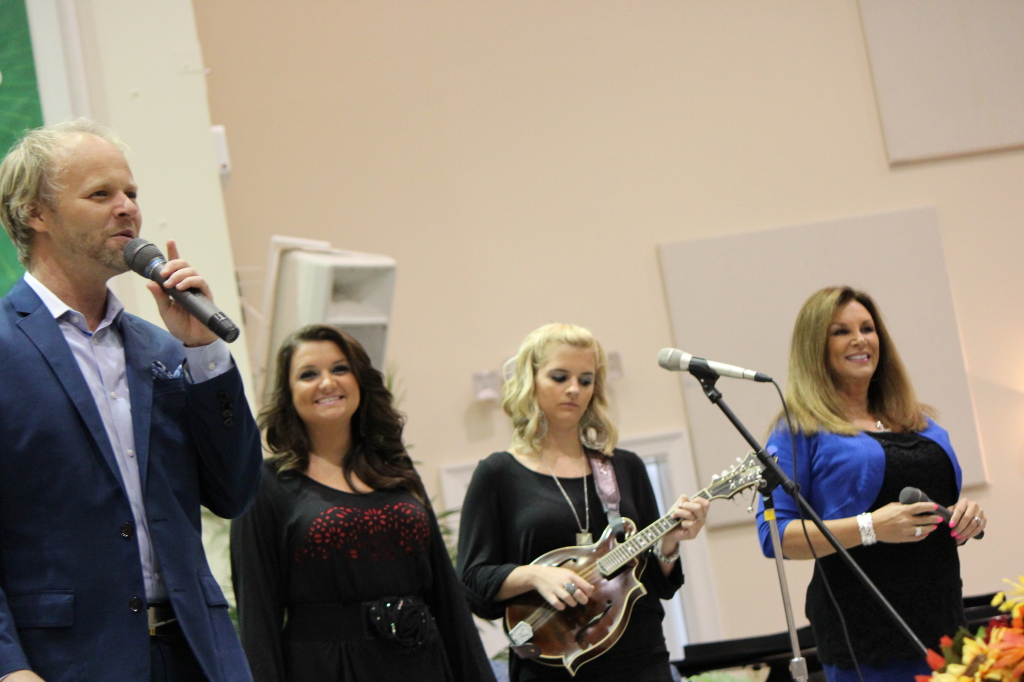 The Blue Ridge Mountains were recently filled with the melodious sounds of one of Southern Gospel's most talented families! The Nelons were guests of Crossroads Baptist Church in Fishersville, Virginia. After an introduction from Melody Vaughn of Joy FM's Morning Joy Ride, The Nelons took the stage with Jason, Kelly, Amber and Autumn.
Getting the crowd engaged right from the start, The Nelons opened with a Gaither classic, "I Don't Want to Get Adjusted" and then went right into "We Shall Wear A Crown". The classics continued with "And I Know, Yes I Know".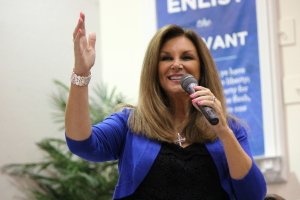 The Nelon's most requested song was performed next, bringing everyone into a spirit of worship. Kelly Nelon has sung, "O For a Thousand Tongues To Sing" for many years, yet it always moves the heart.
Kelly Nelon is the daughter of the quintessential Gospel icon, the late Rex Nelon. Rex brought Southern Gospel into the hearts of thousands. As Kelly shared her heart regarding the legacy that Rex brought, his granddaughter, Autumn, stepped to the microphone to sing a song dedicated to his memory, "Grandpa, Tell Me 'Bout the Good Ole Days." Autumn has become quite an accomplished mandolin player which she played while Jason Clark backed her on an acoustic guitar. The music world needs to take notice; this young lady is the real deal. Her vocal range is wide and strong. It is refreshing to watch her as she is standing on the threshold of breaking wide open.
Fresh out of the studio is the Nelons' latest project, "Hymns, The A Capella Sessions". The Nelons' tight family harmony was best demonstrated in Jason's arrangement of "The Hallelujah Chorus". With precise vocal artistry, they raised the roof to this precious song for the ages.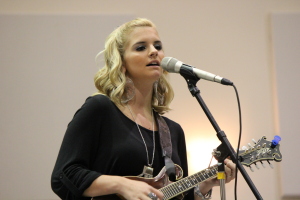 The award winning music video featuring Jason, "Excuse Me, Are you Jesus?" was performed while telling the story of a man hurrying through an airport when he disrupts an apple cart vendor operated by a visually impaired woman. The anxious passenger misses his gate call in order to restore the cart. There is great imagery in the video of how God restores our dismantled lives.
The next set began with "He's More Than Wonderful" which featured the Nelons' special four-part harmony. Joining the Nelons on stage was Crossroads' Pastor who joined in with, "We're Going Home To Jesus". The entire house was standing and clapping to this crowd favorite.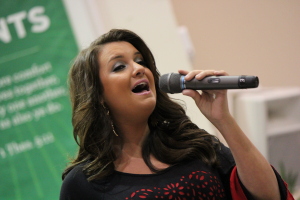 The group also sang, "Keep On the Firing Line," performed to Jason's arrangement using only vocals and including a chorus of "Onward Christian Soldier".   With a twist on vocals and the powerful voices of each Nelon, this song featured multiple key changes, which they performed with amazing accuracy.
Several years ago, Jason penned an arrangement especially for a very young Autumn. Even as a senior in high school, Autumn delivered "I Choose To Live" with complete confidence. This young Nelon is rising with a style unique to her own talents.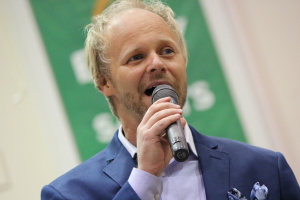 The program varied in a way that kept the audience entertained. Jason, Autumn and Amber began bringing the evening to a focus on salvation with "Blessed Assurance". Kelly took over with "Settled At the Cross". Amber, with perhaps the purest vocals in music today, then took center stage with "I Stand Amazed In the Presence". Jason contributed on the acoustic guitar as Amber joined in with her mandolin. The group concluded their concert with an emphasis on prayer.
After loading the bus following the concert, the Nelons shared a meal at a nearby restaurant. Somehow Jason got word that the woman taking payment for the meal was disappointed that she was unable to attend the concert due to her work schedule. Always ready to minister, the Nelons sang a song of encouragement for her benefit and to the thrill of the entire crowd gathered around.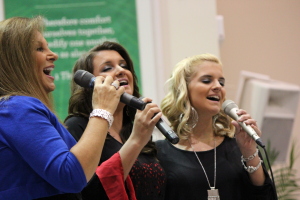 Always prepared to share their faith anytime, and anywhere, the Nelons touched many on this night in Virginia! Check out their itinerary and enjoy a live concert by visiting http://kellynelon.com/ .
Tags:
Amber Nelon Thompson
,
Autumn Nelon Clark
,
Candi Combs
,
Christian artists
,
gospel music
,
jason clark
,
Kelly Nelon Clark
,
southern gospel
,
the nelons
Posted in
artists
,
concert reviews
|
Comments Off

on Candi's Catch Up: The Nelons In Concert
Written by Staff on August 5, 2014 – 6:14 am -
By Erin Stevens
Last year, I sat down with Amber Nelon Thompson to talk about her life on the road. This time around, it's her sister Autumn's turn to take the spotlight. Enjoy the next few moments as you get to know The Nelons' youngest daughter, who as of late has been stepping up and joining her family on stage. Oh and if you're in need of mandolin lessons, or the best place to get crab legs, I have just the girl to put you in contact with! The floor's yours, Autumn…
Erin: As a little girl, did you imagine yourself singing with your family? 
Autumn: I guess it's just part of my DNA. I've never really had another pursuit, music is my life and I've always loved it.
Erin: What does a typical roadie day in the life of Autumn Nelon Clark look like? 
Autumn: After a restful sleep in my bunk, I practice my mandolin, usually eat lunch with our crew, study schoolwork that normally may not get finished and help load our gear into the venue for the concert that night. By that point, it's time to sing!
Erin: On social media it has become apparent that you've become quite the musician. Tell us what your fingers have taken to? 
Autumn: Well, I love Bluegrass music! So the mandolin is by far my favorite instrument. Once I got a little more comfortable with it, I got a banjolin, which is the same thing, just sounds like a banjo. That's what I'm up to when I'm not singing.
Erin: Would you consider yourself: A (the prankster) B (the comedian) or C (the one who NEVER gets in trouble)? 
Autumn: Hmm, I'll go with C (the one who NEVER gets in trouble). Oh no, I'm only joking! It's probably more accurate to choose B (the comedian). What can I say? I like to have fun!
Erin: Can you describe what your most memorable concert was and why it holds meaning for you personally? 
Autumn: When my sister tried out for American Idol, I had to fill in as soprano for her. I was only 12-years-old and I was scared to death, but thank the Lord, I made it through!
Erin: Other than your family, who has been your biggest musical influence and why? 
Autumn: Like I mentioned before, I love Bluegrass music and to me, there's none better than The Isaacs. Sonya is one of my all-time favorites and a huge influence on me, not only because of her voice, but her incredible mandolin playing, too.
Erin: Here's a must ask question! What's your favorite food? 
Autumn: Crab legs! They are by far my favorite food. I could eat them all the time…and I pretty much do!
Erin: What would you consider are the pros and cons of traveling with your sister? (Be honest!) 
Autumn: It's a good and bad thing when your sister wears the same size as you. My clothes vanish, and somehow my earrings always end up in her jewelry bag. It's a good thing I love her!
Erin: I know you have plenty of time to decide, but at this point, can you see yourself doing this the rest of your life, or is there another avenue you feel the Lord may be leading you to? 
Autumn: Singing is always going to be a part of my life, and I could never see myself being apart from music.
Erin: While growing up in the Gospel music industry all your life, what are some struggles you've had to face as a young lady? 
Autumn: Missing my junior prom was hard. I miss going to my church regularly and not seeing my friends as much as I'd like to; however, I am grateful that my parents chose to come off the road for six years so Amber and I could enjoy those years of our childhood at home. It makes me love this life even more.
Yet again, how blessed this industry is to have teenagers like Autumn who have made the ultimate sacrifice of praise, week-in and week-out alongside their families. This vibrant young lady has a bright future in store; and in her words, no matter what that future looks like, you can be certain she'll be somewhere singing and playing her mandolin wherever the highway may take her next.
And that's my take on it. 
For more on Autumn Nelon Clark and the rest of The Nelons, go to http://kellynelon.com/
Young Perspective on Autumn Nelon Clark was first published by SGN Scoops in June 2014.
For current SGN Scoops issues, visit https://www.sgnscoops.com/
Tags:
Amber Nelon Thompson
,
Autumn Nelon Clark
,
Christian Music
,
Erin Stevens
,
Gospel artist
,
Kelly Nelon Clark
,
sgn scoops
,
the nelons
Posted in
sgn scoops magazine
|
Comments Off

on A Younger Perspective: Autumn Nelon Clark