Written by Staff on April 15, 2020 – 8:20 am -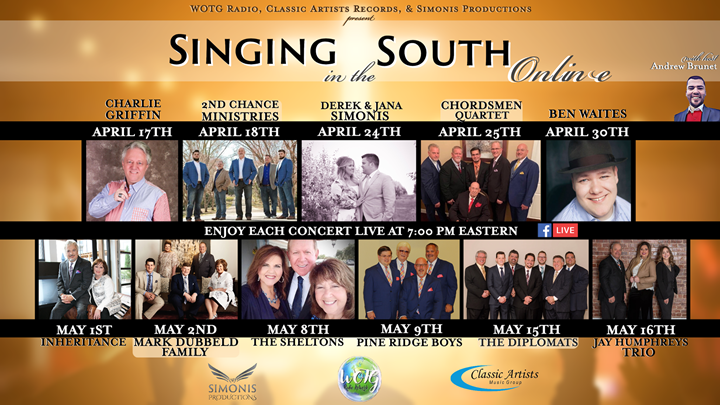 With the current state of gospel music given the COVID-19 virus and the "Stay At Home" social distance mandates, a partnership was formed to showcase select artists, their music and ministries with Singing In The South Concerts.
WOTG Radio Network, Simonis Productions, Classic Artists Music Group, along with Singing In The South Concert Series, invited some of today's southern gospel artists for a special Facebook LIVE concert series. The LIVE STREAMING concerts starts April 17 with Charlie Griffin and Second Chance Ministries as the first weekend guests. The concerts are slated to continue through May 2020. The concerts may be extended based on the "Stay At Home" mandates issued by local and state governments.
Most concerts will be on Friday and Saturday evenings at 7:00 pm EST hosted by Andrew Brunet of Singing In The South. Brunet's love of gospel music is unmatched. With his regular duties as host of multiple radio programs and podcasts, he promotes gospel concerts and artists in the Carolinas. Each artist concert promises to be filled with lots of music, laughs and energy.
Current artists confirmed for this special Singing In The South Internet concert series includes:
April 17 – Charlie Griffin
April 18 – 2nd Chance Ministries
April 24 – Derek & Jana Simonis
April 25 – Chordsmen Quartet
April 30 – Ben Waites
May 1 – Inheritance
May 2 – Mark Dubbeld Family
May 8 – The Sheltons
May 9 – Pine Ridge Boys
May 15 – Diplomats
May 16 – Jay Humphreys Trio
Each ONLINE LIVE STREAMING event will be one hour showcasing music, testimonies, a Q and A session with each artist and will have lots of artist fun. A special donation link will be set up to support the various music ministries with information links to their websites and social media options.
Derek Simonis of Simonis Productions will be engineering the production of this once in a lifetime concert series. His background in gospel music includes extensive work in web and graphic design, full time performance with Liberty and as a working partner with Classic Artists Music Group. Simonis shares, "We are excited to be part of this special LIVE STREAMING concert series. With the Corona life style changes, this allows us the opportunity to share some great talent, ministries and just to present Jesus to so many people."
Classic Artists Music Group's Charlie Griffin states, "With COVID-19 our social habits are changing. But the message of Christ and the Good News has not changed. So, we are working to use our tools to reach more people. From our music family we will be introducing some new music family members and just sharing the best gospel music possible. I am excited at this opportunity and look forward to reaching more people with Christs life changing message."
WOTG Radio Network will broadcast the Facebook LIVE STREAMING ONLINE events on their radio network of music channels. Up to nineteen channels will be airing this special concert series.
After the ONLINE concert performances, each special event will be archived on YouTube with each artist and/ or partnering vendors.
For more information on this concert series contact Singing In The South at 803-374-4069 or Classic Artists Music Group at 704-552-9060.
Participating partner links:
Did you know that you can receive the printed, full-color version of SGNScoops Magazine by subscription? Find out more 
HERE
.
Find SGNScoops Magazine On Facebook 
HERE.
You can download the latest edition of SGNScoops Magazine 
HERE.
Read the latest edition of SGNScoops Magazine online
HERE.
Tags:
2nd Chance Ministries
,
Ben Waites
,
Charlie Griffin
,
Chordsmen Quartet
,
Classic artists music group
,
Derek & Jana Simonis
,
Diplomats
,
Facebook online live concert
,
gospel music
,
Inheritance
,
Jay Humphreys Trio
,
Mark Dubbeld Family
,
Pine Ridge Boys
,
Simonis Productions
,
Singing In The South Concert Series
,
Southern Gospel Music
,
The Sheltons
,
WOTG Radio Network
Posted in
announcements
,
artists
|
Comments Off

on SINGING IN THE SOUTH SHOWCASES FACEBOOK LIVE ONLINE STREAMING CONCERT SERIES
Written by Staff on April 13, 2020 – 3:18 pm -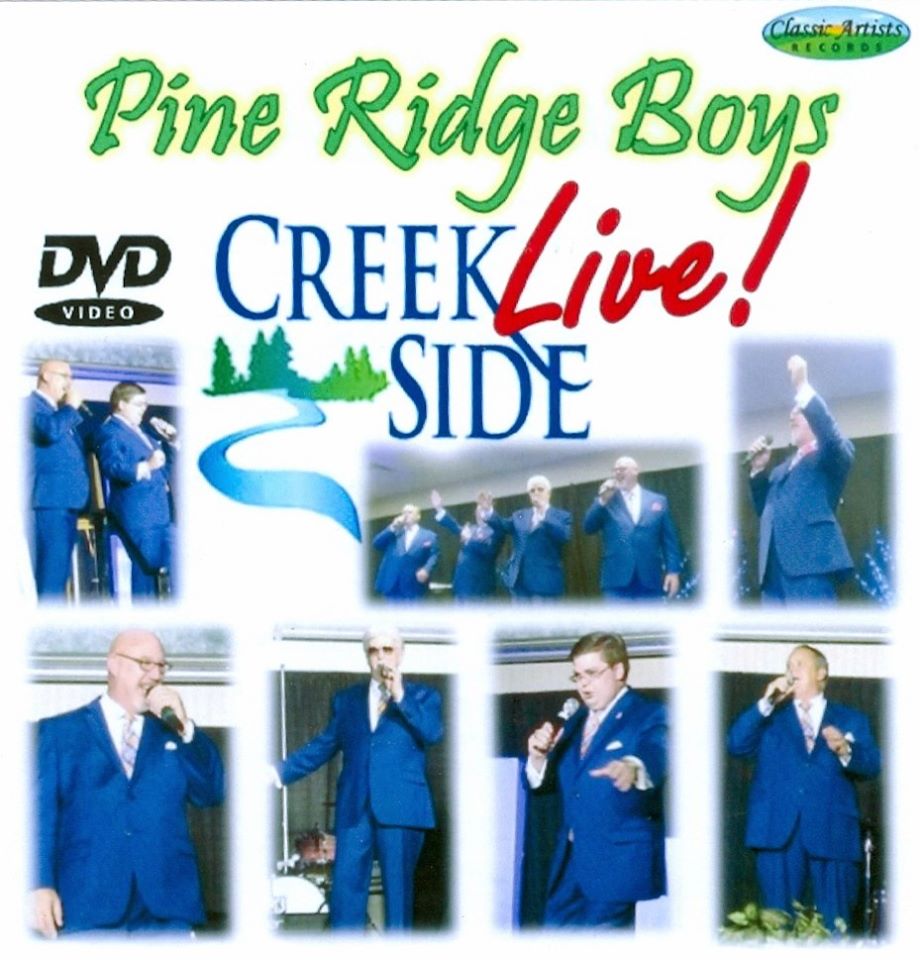 Charlotte, N.C. (April 13, 2020) –  Classic Artists Records releases a milestone DVD-CD recording from the Pine Ridge Boys this spring. This recording celebrates the group's 57 continuous years of singing quartet gospel music.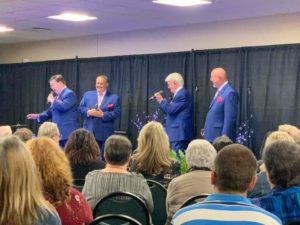 "Creekside Live!" was recorded in Pigeon Forge, Tennessee, during the kickoff concert for the annual Creekside Gospel Music Convention. The intimate concert welcomed Creekside VIP fans, Pine Ridge family and fans from the southeast, with gospel music D.J.'s and promoters in the mix. 
Classic Artists Music Group's Charlie Griffin states, "Creekside LIVE is incredible. The music, emotion and worship shared between the Pine Ridge Boys and the concertgoers is contagious. The response has been exciting from young and old alike. And you would expect nothing less from this heritage quartet."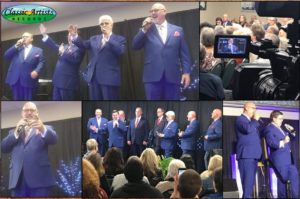 PRB manager Larry Stewart exclaims, "Over the years, my Dad (Jim Stewart) and Charles Burke recorded many studio projects, but the quartet had never recorded a project like this. This recording captures that special energy and spirit that only happens with friends when sharing the love of gospel music and its message. It was a great night and a concert to remember."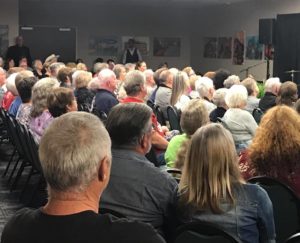 Creekside promoter Rob Patz shares, "Larry and the guys have stood with us since the first Creekside convention in 2012, and we were thrilled to be their venue for this historic event. From the very beginning I have looked forward to this recording. The Pine Ridge Boys are some of my favorite people. I cannot wait to re-live the evening."
The recording team from Gospel Music Today captured the Creekside LIVE concert.
Ken Grady says, "We are big fans of the traditional quartet sound and we love working with the Pine Ridge Boys. In Rhode Island, there is a blind fan that receives an audio cd of the GMT syndicated television program. After featuring the live version of the Pine Ridge Boys' "Wine Into Water," on the program, he called. The first thing he wanted to talk about was the Pine Ridge Boys. His excitement confirms;  the Pine Ridge Boys concert that night is exceptional."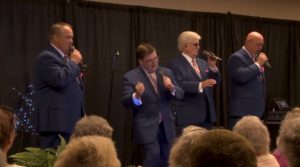 The audio-video recording features a live version of the group's current studio radio release "Wine Into Water."  A total of fifteen songs filled with worship, quartet convention singing and just pure fun with special Creekside friends makes this concert recording a treasure for years to come.
The DVD and CD are separate units and are available at any Pine Ridge Boys appearance, through Springside Marketing, or from PineRidgeBoys.com.  
For more information on the DVD – CD release contact at ClassicArtistsRecordsllc.net. For artist interactions with personal management by Larry Stewart, call 864-473-8849 or visit PIneRidgeBoys.com.  
Did you know that you can receive the printed, full-color version of SGNScoops Magazine by subscription? Find out more 
HERE
.
Find SGNScoops Magazine On Facebook 
HERE.
You can download the latest edition of SGNScoops Magazine 
HERE.
Read the latest edition of SGNScoops Magazine online
HERE.
Tags:
Charlie Griffin
,
Classic Artist Records
,
Creekside Live
,
gospel music
,
Gospel Music Today
,
Pine Ridge Boys
,
rob patz
,
Southern Gospel Music
Posted in
announcements
,
artists
|
Comments Off

on Classic Artists Records releases Pine Ridge Boys "Creekside Live!"
Written by Staff on March 5, 2020 – 4:18 pm -
By Charlie Griffin
North Carolina is considered by many to be a cradle of gospel music. But the state's rich music history covers most genres of music. Except for the effects of the Depression and World War II, Charlotte could've been the recording capital Nashville is today.
Why a music hub in North Carolina?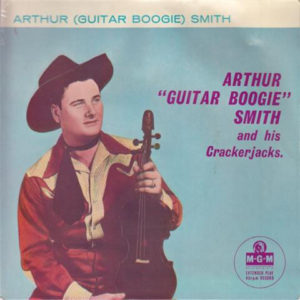 Over the 1900s, the state became noted for being steeped in traditional, old-time music. Al Hopkins and the North Carolina Ramblers hit the country scene in the 1920's. Doc Watson, Earl Scruggs and Del McCoury were rooted in North Carolina Bluegrass. Arthur Smith and his "Guitar Boogie" is perhaps the most iconic singer and musician to come from the old North state.
His "Dueling Banjos" remains the standard in bluegrass music. His Crossroads Quartet laid the ground work for many in the Christian music field. 
The Carolina names that are recognized in country music are numerous. Randy Travis, George Shuffler of the Stanley Brothers' Clinch Mountain Boys, Charlie Daniels, Kellie Pickler, Scotty McCreery, Luke Combs, Chase Rice are among those Carolina natives who made good in country music of yesteryear and today. 
Over the years, North Carolina has also been home to many famous Christian singers. In Black gospel music, Shirley Caesar and her husband pastor a church in Raleigh.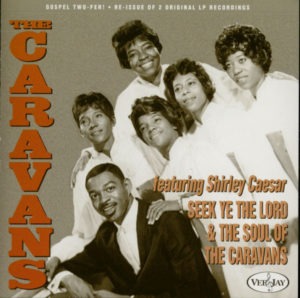 The Golden Gate Quartet and Heavenly Gospel Singers were successful recording artists from the Carolinas in the '40s.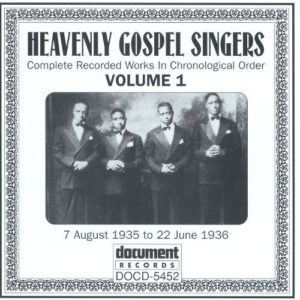 North Carolina is also famous for its abundance of quartets and family gospel groups which thrive all throughout the state. Current touring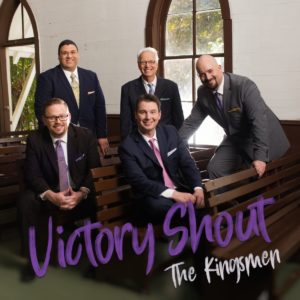 artists include the Inspirations, Kingsmen, Primitive Quartet, Hoppers, Whisnants, Mylon Hayes Family, Dixie Melody Boys call North Carolina home. 
Other major artists through the years that were located in North Carolina, include Heaven Bound, Singing Americans, Greenes, Hayes Family, Charles Johnson and the Revivers, Serenaders Quartet, Carolinians, Gethsemane Quartet and Crusaders Quartet. This does not count the hundreds of church, local and regional groups/ quartets or touring soloists who make up the rich musical Carolina music history.
The Carolina music hub was energized by radio and TV stations. Among the noted TV host musical groups, the Harvesters Quartet anchored WBTV (Charlotte), while Arthur Smith and the Crossroads Quartet (aka the Crackerjacks) were nationally syndicated via CBS Syndication. The Royal Quartet were staples on WSOC-TV (Charlotte).
The Pine Ridge Boys got their start when Wally Fowler held an all-night singing looking for a group to become a new quartet. That night Wally Fowler chose the new Oak Ridge Quartet, while Jim Stewart, Charlie Burke, Wayne Shuford, Darius Shuford and Miles Cooper formed the Pine Ridge Boys. The quartet was seen on WSPA-TV in Spartanburg and WJBF TV in Augusta, Georgia, back in their day. 
In the early years of Carolina music,  singers and musicians traveled a circuit of cities across the southeast. Stops included Atlanta, Georgia; Columbia, Greenville and Spartanburg, South Carolina; Charlotte, Greensboro, Raleigh and Durham, North Carolina; Richmond, Virginia; and many smaller towns in between. They would take up residence in a city for several months until the area had been played out, and then move on. 
Charlotte became a key stop on this circuit. Situated at a major crossroads of North Carolina, and being a growing southern city, Charlotte brought a large audience for musicians. Radio boosted this audience. CBS bought the Carolinas first station, boosting to the legal maximum of 50,000 watts. WBT radio could be heard all over the Southeast, making the station a cornerstone of the regional Dixie Network, feeding programs to sister stations throughout the South.
The next big thing in Charlotte was recording. From the early 1920s to the '40s, most musicians and singers were recorded in road sessions throughout the South. Executives carried portable equipment by car or by train to Southern radio stations. Recording locations were very simple, just hotel walls draped with heavy curtains. A microphone or two were placed center room with a piano off to one side. The equipment was set in an adjoining space.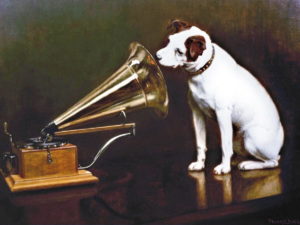 Ralph Peer with the Victor Talking Machine began recording in the south and Charlotte became his headquarters. The Carter family was discovered in one of the Victor traveling recording tours. These traveling studios would go to a location and record for hours.
In Charlotte, one day's recording totaled 46 artists. Most recordings were only one or two songs. The more polished artists would record up to four songs. 
The Great Depression reduced the recordings for a time. However, with the RCA and Victor merger, Peer visited Charlotte in 1931 for two, six-day recording sessions. One hundred sessions were recorded in this time.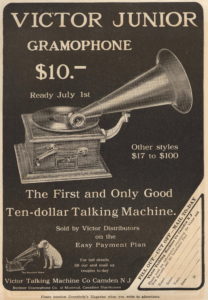 Two artists came to the city, Jimmie Davis and the Carter Family. These recordings were part of their rise to stardom. Bill Monroe, Tennessee Ramblers, Don White, Claude Casey, Delmore Brothers, and Uncle Dave Macon, are some of the noted recordings made in the '30s.
In the forties, things began to slow. Columbia Records set up in Charlotte in '41 to record the Rangers Quartet. In 1945, RCA made their last traveling recordings, while Capital Records recorded until 1949.
Charlotte continued to decline as a national recording hub because of the economy and shortages in recording materials used in the war effort.
However, one of the major factors of this decline was the growth of the Grand Ole Opry on WSM radio in Nashville, Tennessee. After the war, larger recording companies set up permanent recording studios in Nashville, following the growing influence of the Grand Ole Opry and WSM. The musical tide had changed for good.
The recording legacy still lives on in Charlotte's new recording studios, record labels, musicians and artists that have the music dream in their heart, soul and mind. 
Just think. It could've been Charlotte.
By Charlie Griffin
Charlie Griffin is a regular contributor to SGNScoops Magazine. Find out more about Charlie Griffin HERE.
Special to SGNScoops Magazine
For more Gospel Music News, read the latest issue of the SGNScoops Magazine HERE.
Download SGNScoops Magazine PDF 
Here
Listen To Today's Gospel Music 
Here
Tags:
Charlie Griffin
,
Charlotte
,
gospel music
,
music
,
North Carolina
Posted in
Christian interest
,
sgn scoops magazine
|
Comments Off

on The Music Hub: It Could've Been Charlotte, North Carolina
Written by Staff on December 28, 2019 – 8:31 am -
As the story goes, a pastor transformed himself into a homeless person and went to the large church that he was soon to be introduced as the lead pastor. He walked around his soon-to-be church for 30 minutes while it was filling with people for service. Only three people said hello to him. He asked for change for food and no one gave him change. Others avoided him. A church leader asked him to leave, saying the church was not a place to loiter.
Later, the homeless person went into the sanctuary to sit down in the front of the church. He was asked by the ushers if he would please sit in the back. People greeted him with stares, dirty looks, and people looked down on him.
As he sat in the back of the church, he listened to the church announcements and such. When all that was done, the elders went up and were excited to introduce the new pastor of the church to the congregation.
"We would like to introduce to you our new Pastor." The congregation looked around clapping with joy and anticipation.
The homeless man sitting in the back stood up and started walking down the aisle. The clapping stopped with all eyes on him. He walked up the altar and took the microphone from the elders (who were in on this) and paused for a moment then he recited,
"Then the King will say to those on his right, 'Come, you who are blessed by my Father; take your inheritance, the kingdom prepared for you since the creation of the world.
""For I was hungry and you gave me something to eat, I was thirsty and you gave me something to drink, I was a stranger and you invited me in, I needed clothes and you clothed me, I was sick and you looked after me, I was in prison and you came to visit me.'
"'Then the righteous will answer him, 'Lord, when did we see you hungry and feed you, or thirsty and give you something to drink? When did we see you a stranger and invite you in, or needing clothes and clothe you? When did we see you sick or in prison and go to visit you?' 'The King will reply, 'Truly I tell you, whatever you did for one of the least of these brothers and sisters of mine, you did for me.'"
After he recited this, he looked towards the congregation and told them all what he had experienced that morning. Many began to cry, and many heads were bowed in shame.
He then said, "Today I see a gathering of people, not a church of Jesus Christ. The world has enough people, but not enough disciples. When will YOU decide to become disciples?" He then dismissed service until next week.
Following in the footsteps of Jesus Christ should be more than just talk. There is a walk to match.
The question to the church, to you and me, is this: Are you living a Christian life that follows Christ's master plan to reach humanity? When you do…it will change your home, church, community and the world. But you need to live it every day.
How?
Whether we are playing a game, driving a car, or baking a cake, there are certain rules that must be followed for our safety as well as our success.
Life's rules are simple as well. Grow in grace, and in the knowledge of our Lord and Savior Jesus Christ. To him be glory both now and forever. Amen. (2 Peter 3:18.)
The Bible teaches that our Christian life is one of constant growth. When you were born again, you were born into God's family. It is God's purpose that you will grow into full stature and become mature in Christ.
It would be against the law of God and nature if you were to remain a baby and thus become a spiritual dwarf. In 2 Peter 3:18, the Bible says that we are to grow. It implies steady development, constant enlargement, increasing wisdom.
For one to grow properly, certain rules must be observed for good spiritual health:
·       Read your Bible daily. Do not be content to skim through a chapter merely to satisfy your conscience. Hide the Word of God in your heart (memorize.) It comforts, guides, corrects, encourages – all we need is there.
·       Learn the secret of prayer. Prayer is communicating. Every prayer that you pray will be answered. Sometimes that answer may be "Yes" and sometimes "No," and sometimes it is "Wait," but nevertheless it will be answered.
·       Rely constantly on the Holy Spirit. We know that the Holy Spirit prays for us (Romans 8), and what a comfort that should be to the weakest of us. Stand aside and let Him take over all the choices and decisions of your life. Learn when to do and when to wait on God.
·       Attend church regularly. The visible church is Christ's organization upon earth. Christians need one another, we need to gather together to worship God and nothing can take the place of church attendance. Birds of a feather flock together!
·       Be a witnessing Christian. We witness in two ways: by life action- you are living it every day and by word – and the two, where possible, should go hand in hand. Always remember, your words and actions must complement each other.
·       Be an obedient Christian. Let Christ have first place in all the choices of your life. Living a Christian life is priority not a when you can do it process.
·       Learn how to meet and deal with temptation. Temptation is not sin. It is yielding that is sin. Let Christ through the Holy Spirit do the fighting for you. I am reminded of how Christ was tempted by Satan on the Mount. Christ did not give in, thus we say Jesus is the only sinless person ever. There have been some mighty good people, but only Christ is considered the sinless one.
·       Be a wholesome Christian. Our lives and appearance should commend the Gospel and make it attractive to others. If we look like the world, act like the world, talk like world, how can others see Jesus in us? Hard to know you are where you are if you can't tell the world's people from God's people.
·       Live above your circumstances. Don't let your circumstances get you down. Learn to live graciously within them, realizing the Lord Himself is with you. When you know you are not alone, somehow the circumstances are never as bad as you feel. When you leave the problem to Christ, how many times have you overcome and just did not see how it happened? With Christ all things are possible. He is still the God on the Mountain or in the Valley…in every situation. Yes he supplies your needs. "Beloved, I wish above all things that thou mayest prosper and be in health, even as thy soul prospers." (3 John 1:2)
·       Let love be the ruling principle of your life. Jesus said to those who followed Him, "By this shall all men know that ye are my disciples, if ye have love one to another." (John 13:35). The greatest demonstration of the fact that we are Christians is that we love one another.
When you are applying these principles you will find you are more than an overcomer, but you are living example of the teaching of your Savior. You are someone who impacts lives for the greater good. You are the one who people look to with wanting and questioning eyes.They want to come in out of the cold to warm by the revival flames burning.
Your challenge is simple: Be more than you can be. More than you were yesterday. Be that living example of a walking talking Christian in 2020!
By Charlie Griffin
Charlie Griffin is a regular contributor to SGNScoops and is a recording artist with Classic Artists Music Group.
For more Gospel Music news read the latest SGNScoops Magazine HERE.
You Can Download SGNScoops Magazine
Here
Listen To Todays Gospel Music
Here
Tags:
Charlie Griffin
,
gospel music
,
new year
,
Southern Gospel Music
Posted in
artists
,
Devotionals
|
Comments Off

on Charlie Griffin: The Challenge – Living a Christian Life in 2020
Written by Staff on November 28, 2019 – 7:19 am -
2019 Thanksgiving Thoughts from the Classic Artists Music Group family.
THE PINE RIDGE BOYS:
The Pine Ridge Boys are thankful for the many blessings that God has given us. We saw tragedy turn into a newer bus. We have seen lives changed through a song. We are blessed over and over again, too much to mention.
Notice that in Psalms 118 it starts with this verse and ends with the same thing:
Psalms 118: 1 O give thanks unto the Lord; for he is good: because his mercy endures forever.
Psalms 118: 24 This is the day which the Lord hath made; we rejoice and be glad in it.
Psalms 118: 28 Thou art my God, and I will praise thee: thou art my God, I will exalt thee.
Psalms 118: 29 O give thanks unto the Lord; for he is good: for his mercy endures forever.
We don't say this lightly, but we are grateful for what God has done in our own lives.
THE SHELTONS:
This year has been a joyous and blessed year for the Sheltons. We are blessed with family and friends that have been with us every step of the way. We have met so many wonderful people in our travels and concerts. This year we count every mile a blessing as we have seen God touch people through our songs. Since 1959 that has been our mission; to be a blessing with our songs. But today through our songs you bless us with your prayers, support, encouragement and friendship. Thank you!
CHARLIE GRIFFIN:
This year I am more aware of how fluid life can be. Our family and traditions are different with the passing of Mom and others in our family. Today, I hold family and friends a bit closer and relish the moments we share. We laugh and play harder; we truly make memories to cherish. In my music and shared word events, I appreciate those who take time to come visit with me. I appreciate their love, friendship, support and encouragement. In my daily journey, I find more blessings than I deserve from God's saving grace, forgiveness and mercies to having my needs and even desires met in real time. Jeremiah 29:11 holds true on this journey. "For I know the plans I have for you, declares the Lord, plans for welfare and not for evil, to give you a future and a hope."
THE CHORDSMEN QUARTET:
We are so thankful for the grace, love and mercy that God has bestowed upon The Chordsmen Quartet in 2019. We have seen folks saved and blessed through our ministry. He has touched us all in our families,  our health and given us the opportunity each day to proclaim the good news of Jesus in song. Our prayer is: "God, hide us behind the cross, so that you can be seen in everything we do."
Read more Gospel Music News in the latest SGNScoops Magazine Online HERE.
Download The SGNScoops Magazine PDF
Here
Listen To Gospel Music
Here
Tags:
Charlie Griffin
,
Chordsmen Quartet
,
Classic artists music group
,
gospel music
,
Pine Ridge Boys
,
Southern Gospel Music
,
thanksgiving
,
The Sheltons
Posted in
announcements
,
artists
|
Comments Off

on Happy Thanksgiving from Classic Artists Music Group
Written by Staff on April 4, 2019 – 9:18 am -
The 2019 Creekside Gospel Music Convention is now in its eighth year at Pigeon Forge, Tenn., held Oct. 27 – 31.  On Sunday, Oct. 27, 2019, the Pine Ridge Boys and Chordsmen Quartet will be kicking it off in style, as the Pine Ridge Boys will be recording their first live CD and DVD during the Sunday night concert.
"Recording a live project is something my Dad wanted to do, but never did," said Larry Stewart of the Pine Ridge Boys, which were founded in 1963. "The group never recorded a concert (to be released) to the public all these many years. So, when Classic Artists Records began discussing the possibility of a live recording, everything just seemed right. The project will honor Jim Stewart (my Dad), Wayne Shuford, Miles Cooper, Charles Burke, Darius Shuford and all Pine Ridge Boys members over the years."
Classic Artists Records' Charlie Griffin stated, "The interaction between concert goers and the Pine Ridge Boys is personal. Their concerts are filled with positive songs and energy, touched with laughter and words of encouragement. That relationship can only be captured on a live recording. We feel the Pine Ridge Boys are able to share that excitement every time they take the stage, whether church or a concert venue."
"I'm so excited that the Pine Ridge Boys have chosen to shoot a live video at our Creekside Kick-off concert," says Rob Patz, owner of Creekside Gospel Music Convention. "It's their very first live DVD and an event not to be missed. Larry and the guys have stood with us since the first Creekside convention in 2012, and we are thrilled to be their venue for this historic event."
Classic Artists Records and the Pine Ridge Boys are collaborating with Gospel Music Today for the recording. "We are looking forward to working with one of our favorite quartets at one of our favorite gospel music events: Creekside Gospel Music Convention," Gospel Music Today's Ken Grady stated. "Opening night always draws a great and enthusiastic crowd and we are looking forward to this night and project." Wise Choice Promotions, led by president Lori Wise, will be handling all audio interactions with conventional radio, satellite, internet, podcasts and pay on demand medium.
Creekside Live! will be recorded at the Mill Creek Conference Center, located at 3785 Parkway, Pigeon Forge, TN 37863-3813. The Creekside Gospel Music Convention offers Bluegrass, Country and Southern gospel afternoon music showcases, evening concerts, and the Diamond Award presentations. For more information on the Creekside Gospel Music Convention and the 2019 Diamond Awards ceremony, as well as accommodations and VIP tickets, contact Rob Patz at 360-933-0741.
Reference links:
Creekside Gospel Music Convention- www.CreeksideGospelMusicConvention.com
Pine Ridge Boys- www.PineRidgeBoys.com
Classic Artists Records- www.ClassicArtistsRecordsllc.net
Wise Choice Promotions- www.WiseChoicePromotions.com
Gospel Music Today- www.GospelMusicToday.com
Tags:
2019 Creekside Gospel Music Convention
,
Charlie Griffin
,
Classic Artist Records
,
Creekside Live
,
Gospel Music Today
,
Ken and Jean Grady
,
Pine Ridge Boys
,
rob patz
,
The Chordsmen Quartet
Posted in
announcements
,
artists
|
Comments Off

on Pine Ridge Boys Will Recording First Live DVD At Creekside 2019
Written by Staff on December 21, 2018 – 2:31 pm -
Several artists have explained what they are thankful for as the year comes to an end:
Charlie Griffin:
This holiday season will be different this year… the first Thanksgiving and Christmas without Mom. Kinda feel lost without those phone calls during this time of year. Yet I have so much to be thankful for on this journey. Thankful for the blessings of life, the opportunities to work daily and share the Good News in word and song. Thankful I have a loving family and friends who make my life richer. Even when things don't go as planned, God has me in the palm of his hand. Thankful for the simple things. Clothes, shoes, food, vehicles to drive and so much more. Definitely BLESSED! I am THANKFUL indeed.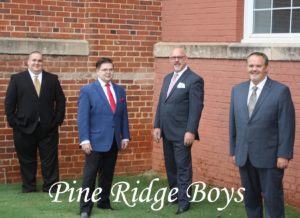 Pine Ridge Boys:
Thankful that God has allowed us to keep singing and following those that paved the way for us. For sending the right men at the right time to continue the ministry that others laid out for us. We have been truly blessed and very thankful.
Chip McCaa-Baritone:
I'm thankful for our many friends and for my wonderful family, and the opportunity we have in this great country to openly serve our Lord and Savior, Jesus Christ. We have been so privileged over this past year to witness His awesome greatness and I'm so thankful He has allowed us to do so!
Steven Craps- lead:
I'm thankful for my faith, my family, and my freedom!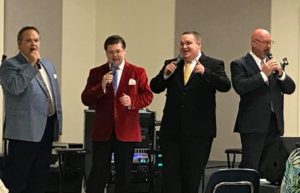 Mike Maggard-Tenor:
I am thankful for Jesus dying on the cross for my sins and for my personal relationship with him. I am thankful for my family and what they mean to me to allow me to travel and sing every weekend. I am thankful for living in the greatest country on earth. I am also thankful for the Pine Ridge Boys for allowing me the opportunity to minister with them every week.
Larry Stewart-Bass:
I am thankful for the many blessings that God has given me. Thankful for a wonderful wife and children and grandchildren. Thankful that God had mercy on me and gave me a second chance to do what I love most, to sing gospel music and minister to those in need. Thankful that He died on the cross and paid the price so that I didn't have too.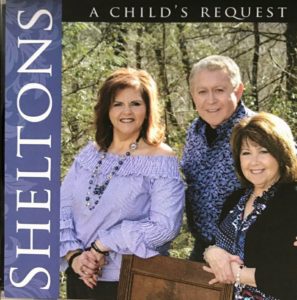 The Sheltons:
We are all so thankful for his outpouring of favor on our ministry. Singing since 1960 we have always tried to honor the heritage and path shown to us by our parents and family. It is our joy to share the good news every chance we get.
Sandra Shelton Martin:
Thankful for God's blessing and His forgiveness. When I need him most, he is always with me. My every need he supplies.
Frankie Shelton:
Thankful for Gods continued outpouring of his unconditional Love. Blessed beyond measure that God loves me and allows me to sing with my family the songs that give hope, joy, and peace.
George Shelton, Jr:
Thankful his mercy and his healing touch every time I need him. Through all my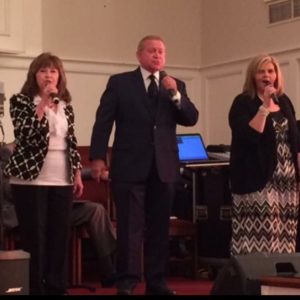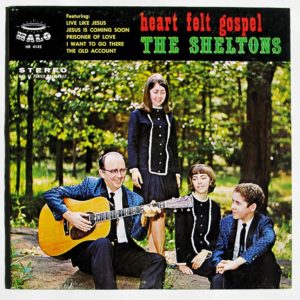 circumstances, God has shown favor. He has blessed me to sing with the best of the best. And to continue singing with my family, words can't describe the blessings I experience.
Compiled by Charlie Griffin
Charlie Griffin is a regular contributor to the SGNScoops Magazine.
Read the latest issue of the SGNScoops Magazine HERE.
Download SGNScoops Magazine PDF 
Here
Listen To Today's Gospel Music 
Here
Tags:
Charlie Griffin
,
Christian Music
,
gospel music
,
the Pine Ridge Boys
,
The Sheltons
Posted in
artists
,
sgn scoops magazine
|
Comments Off

on Christmas: A time of family, love, giving thanks
Written by Staff on August 31, 2018 – 2:50 pm -
Classic Artists Records, LLC and the Sheltons announce an exclusive partnership that covers recording, promotion and artist development. This partnership is an extension of friendships that have spanned over 30 years.
Charlie Griffin says, "I am really excited at the opportunities we have together. The Sheltons are truly a rare gem in southern gospel music. Pure class on stage and off, they are the real deal. They are just good people! The Sheltons have repackaged their new cd under the Classic Artists label.  "A Childs Request" is a cd collection of heritage songs that truly reflect a strong message of faith and hope but more importantly features that Shelton family harmony. There new radio single I KNOW YOU is charting nationwide and entered the Singing News Chart at 78 after a one month release."
With Classic Artists Records, The Sheltons will be more focused on building lasting relationships with gospel music fans, promoters, pastors and being available for media. There will be an increased emphasis on conventional, internet and pay on demand radio and TV. The Sheltons have an interactive website and look to be engaged with gospel music fans with various internet promotions and projects. The future is indeed bright for the Sheltons and Classic Artists Records.
THE SHELTONS started singing in 1960 as the George Shelton Family from Pickens, S.C. They sung at local church revivals and homecomings in Pickens, Greenville, Anderson, Spartanburg and Oconee Counties. It wasn't long until they found themselves also singing throughout Western NC and North Georgia releasing five recordings along the way from 1960 to 1964. The group at that time consisted of brothers and sister: George Shelton, Jr and Sandra Shelton, Gail Shelton, Devon Shelton; Elwyn Shelton and father, George Shelton, Sr who played rhythm guitar.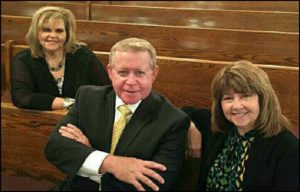 By the mid 60's they had won an Arthur Smith talent contest gaining them an appearance on his television show.  They also appeared on the nationally syndicated Bob Poole TV show and the Harvesters Quartet TV show. They began touring full-time across the U.S. appearing in churches, city auditoriums, high schools and county fairs and were soon invited to become part of The Blue Ridge Quartet's nationally syndicated television show and toured the U.S. and Canada with them from 1970-72.
They also appeared on the WWVA Jamboree in Wheeling, WV and on the Grand Ole Gospel Opry at the Ryman Auditorium and Opryland in Nashville, TN. With the Blue Ridge Quartet, the Sheltons recorded one album (Together) that cemented a life-long friendships with Kenny Gates, Bill Crowe, Laverne Tripp, Donnie Seabolt, Fred Daniel and Burl Strevel. The family is quick to acknowledge "To them we owe a debt of gratitude and respect."

As their albums had started receiving increased radio airplay in 1967 they were offered a recording contract on the HALO label with MARK V recording studio in Greenville, SC.
Today Sandra, Frankie and George Jr carry on the family's rich tradition of sharing their message of faith and hope through Southern Gospel music. He continues, "58 years is a long time but we still love singing as a family. It gets better all the time!"
In May 2016 THE SHELTONS were inducted into the South Carolina Southern Gospel Music Hall of Fame. The first time since the SC Hall Of Fame inception that an entire group was inducted at once.
George shares "The first Halo album we recorded was titled "Heartfelt Gospel" and has the first known recording of the song "Jesus Is Coming Soon." They introduced the song to their lineup in 1966. 50 years ago this year! Today this song still gets such a positive response. It is truly a southern gospel classic!"  That song goes along way with their induction in the SC Hall Of Fame. It is a Shelton's trademark song. The Sheltons are also credited for introducing another classic song, JESUS IS MINE.
Classic Artists Records is a recording network of artists who are friends and share a common bond in music, attitude, entertainment and faith. Friendships that have lasted over 30 years or more mold this network of co-operation. Life is a journey and yes, "We are in this thing together!"
Today Classic Artists Records shares one mission- a quality recording with real message music. Our artists seek to provide a real life affirming, positive messages in churches, auditoriums, concert halls, festivals, fairs and any number of concert venues. On a recording or in person, the mission is constant.
It is gospel music! There will be lots of singing, laughs, sharing and even some teaching in the personal appearances of the Classic Artists Records talents. Gospel music is message music that is encouraging and fun anytime. On the radio? It is pure listening enjoyment!
It is entertainment! Yes, we want you to enjoy the music and stories. We want you to allow the blessings of life to provide "joy for the journey." We want you to take a song and sing it long after the concert ends.
Whether you schedule one or more artists for your next time of worship, singspiration or night of gospel music, you will enjoy the professionalism and quality of music that is shared with your friends at Classic Artists Records!
As the Sheltons are experiencing a renewed energy in gospel music, you can enjoy them in your church, concert venue or special event. Contact The Sheltons, George Shelton, Jr at 352-238-3833. You can email sheltongjr@aol.com. You can visit their website www.theSheltonsound.com for more information on the music and news.
Classic Artists Records music downloads are available now from MusicRadioGroup.com. Access each artist by name for the current releases for conventional, internet and pay-on-demand radio programming for current Classic Artists Records talent, The Sheltons, Pine Ridge Boys and Charlie Griffin.
For more information concerning Classic Artists Records, LLC call 704-552-9060 or ClassicArtistsllc@gmail.com. Follow on Facebook as well, https://www.facebook.com/ClassicArtistsRecords or www.ClassicArtistsRecordsllc.net .
Read the full SGNScoops August  Magazine Here.
Download the PDF of SGNScoops Magazine HERE
Find SGNScoops On Facebook HERE
Listen To Today's Gospel Music Online HERE
Tags:
Charlie Griffin
,
Christian Music
,
Classic Artist Records
,
gospel music
,
Sheltons
Posted in
announcements
,
artists
|
Comments Off

on CLASSIC ARTISTS RECORDS and THE SHELTONS ANNOUCE PARTNERSHIP
Written by Staff on May 4, 2018 – 10:07 am -
Charlie Griffin of SGNScoops' Magazine tells the
story of one of the fastest growing gospel concert series
Carroll Cooke is a man on a mission, with a passion that is manifested by his actions and his love of gospel music. But when you get to know him, you will find out he just loves his family and everyone. He has never met a stranger. Gospel music is just one of his many interests.
His music is rooted in his faith. Cooke says, "I was saved when I was 10 years old. I don't remember the church or the message. I do remember going to my dad and mom, telling them I had to go to the altar. The preacher led me in the sinner's prayer and I accepted Jesus into my heart and he saved me forever. The preacher asked
me to say something and all I could get out was, 'I just want to thank him,' 'I just want to thank him,' and to this day, I still just want to thank him."
Over the years Cooke has been a singer, active church member, choir member, deacon, business owner, husband, father, and community leader. Each phase of his life has been fulfilled in so many ways. Yet in the last five years, his life has come into a richness that is being showcased in the small community of Lowesville, N.C.
His love of gospel music started at a young age. Cooke shares, "My dad (Roy A Cooke), mom (Lois Cooke), sister (now Hazel Sain), and I began singing as a quartet when I was six years old. We did this every weekend for about 15 years, then the next 40 years, I served as minister of music at different churches in and around the surrounding counties.
I have only been trying to promote our music since late 2012.
"My dad was the most influential person in my life," confesses Cooke. "He lived and breathed music. He was the choir director at our local church, and he wanted so badly for everyone who had a desire to sing, to be able to sing, and sing well. He would have V. O. Fossett of the Stamps Baxter Music School from Dallas, Texas, come for two weeks and teach the old shaped notes, along with voice, piano, and harmony. He then would go beg other churches in the area to have Fossett come teach at their church, and he was successful in doing just that. This way, we would attend singing schools about all summer."
Sometimes it was more than just the singing. Cooke loved the buses too. "The first concert I ever remember attending was promoted by Charlie Burke at a ballpark in Newton, N.C. I don't even remember who sang, I just remembered the busses, and thinking what a life that would be. I was probably 10 or 12 at the time. At 75, I have no desire to crawl in one of them, I just love to see them
pull in and pull out."
During those years, his family grew. He became a leader in the community and in the church while developing a successful business. Cooke operated the Lowesville Automotive Warehouse in the Lowesville community near Stanley, N.C. Upon his retirement in 2012, he sold the property to Living Word Ministries.
In that former parts warehouse and store, Living Word Ministries shares the gospel with regular worship services each week since August 2012. Pastor Derrick Dellinger leads a growing church that is on fire for God. Their Outreach ministries are impacting the surrounding communities by helping the needy, feeding the homeless, and loving people. They present the gospel in a way that the new Christian can understand and
the mature disciple can continue to grow and be inspired, in a shame-free environment. No attitudes or judgment found at LWM, just a church family that is excited about what God is doing in the community.
As the church grew, Cooke found a desire to reach the community in a new outreach: Saturday night Southern gospel concerts. With the encouragement of Pastor Dellinger, Cooke started in January 2013 with concerts on the second and fourth Saturday nights of each month. That is 24 concert promotions each year.
Tags:
Carolina Quartet
,
Carroll Cooke
,
Charlie Griffin
,
Cockman Family
,
gospel music
,
Guardians
,
Heart 2 Heart
,
hyssongs
,
Jaidyns Call
,
Jeanne Johnson
,
Jordan's Bridge
,
lefevre quartet
,
Lowesville Gospel Concerts
,
nelons
,
Pine Ridge Boys
,
sgnscoops
,
Sheltons
,
Shireys
,
Troy Burns Family
,
Wisecarvers
Posted in
artists
,
sgn scoops magazine
|
Comments Off

on Carroll Cooke's Lowesville Gospel Concerts Making an Impact
Written by Staff on March 26, 2018 – 4:41 pm -
We Love Our Southern Gospel Music History, (WLOSGMH) is one of Facebook's most unique groups. The page features a host of exclusive videos, audio clips, photos, stories and memorabilia being shared on a daily basis. Those exclusive tid-bits are what really allows the group to share the history of southern gospel music came to be one of the most faithful and popular Christian music forms.
In the many years since the Franks Stamps Quartet, there have been some true iconic performing artists. The Blackwood Brothers, Statesmen, Sunshine Boys, Stamps Quartet, Weatherfords, Cathedrals, LeFevres, Sego Brothers and Naomi, Goss Brothers and the list could go on and on.
Yet one family group really stood out for many years as a true leader in the field, The Speer Family. The family had several resurgent periods of popularity that marked gospel music. When the group disbanded in 1998, seventy six years of history were logged in the annals of gospel music.
With the recent deaths of Ben Speer and Rosa Nell Speer Powell, the last original performing family members, there has been a void in gospel music. Yet their impact lives in the lives of those adopted family members who are still singing and ministering.
This year, the WLOSGMH Convention runs March 26 and 27, 2018 to the Murfreesboro, TN Clarion Hotel Ballrooms.
On Tuesday evening the WLOSGMH Convention will feature a special SPEER FAMILY TRIBUTE.  This special tribute to the legendary Speer Family is planned to highlight some history of the legendary family. Some vintage footage of the Speer Family through the years will be shown. Former Speer Family members will grace the stage including Joyce West Black, Ann Downing, Jeanne Johnson, Sue Dodge, Linda Robinson Sholar, Karen Apple Young, and Daryl Williams, They will be singing some of your favorite songs. Doug Young and Gene McDonald will join this all-star lineup of talent to create that unique Speer Family sound. Tom Powell, Rosa Nell Speer Powell's son, will be conducting a choir featuring many of the great songs written by Dad Speer. Several Speer Family members are expected to be in attendance. You don't want to miss this once-in-a-lifetime treat!
Convention notes for the two day event. Monday 5:30/Dinner – 6:45/Concert
Tuesday Morning activities, followed by lunch, afternoon activities, you are on your own for supper. Tuesday Evening Concert at 6:00 PM. Daytime activities include funny stories, show and tell, gospel music movies, etc. Times subject to change.
TALENT for the one of a king music history convention includes the who's who in southern gospel music. Chuck Wagon Gang (Monday night only), Mercy's Well (Monday night only), Sherman Andrus, Ann Downing, The Sheltons (Monday night only), Jeanne Johnson, Sue Dodge, Charlie Griffin, Michael Stanton, Jordan's Bridge, Eddie Crook, John Wyrick, Joyce Black West (of the Speer Family), Jonathan Wilburn, Ellen Marsh, Ed Hill, Brad Smith, Donnie Williamson, Songfellows Quartet (Monday night only), Administrators Quartet, The Collectors Quartet, John Crenshaw, Hannah Kennedy, Harold Timmons, Rita Spillers, Bill Kelley, Doug Young, Karen Apple Young and Gene McDonald. (Talent subject to change.)
For more information contact Harold Timmons via Facebook with a private Facebook message or email h.t@comcast.net, or call 615-885-8000 and leave a message.
Download The PDF Version Of SGNScoops Magazine HERE
Find SGNScoops Magazine On Facebook HERE
Listen Online To The Best In Todays Gospel Music HERE
Tags:
Ann Downing
,
Bill Kelley
,
Brad Smith
,
Charlie Griffin
,
Donnie Williamson
,
Doug Young
,
Ed Hill
,
Eddie Crook
,
Ellen Marsh
,
Hannah Kennedy
,
Harold Timmons
,
Jeanne Johnson
,
John Wyrick
,
Jonathan Wilburn
,
Jordan's Bridge
,
Joyce Black West
,
Karen Apple Young
,
Michael Stanton
,
ohn Crenshaw
,
Rita Spillers
,
Sherman Andrus
,
Songfellows Quartet
,
Speers
,
sue dodge
,
The Sheltons
Posted in
announcements
,
artists
|
Comments Off

on WLOSGMH CONVENTION SPEER TRIBUTE IS TUESDAY NIGHT