Written by Staff on February 12, 2020 – 5:26 am -
In this edition of Sweetheart Stories, Marcie Gray, of Gray Dove Ministries,  tells us about how she met – and remet –  and married the love of her life, Donovan Curtis.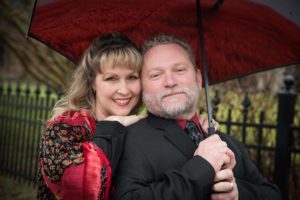 The Most Unlikely Couple By Marcie Gray
If there had been a class vote, Donovan and I would have been voted "most unlikely couple!" We both attended Los Angeles Baptist High School in California and have known each other since middle school.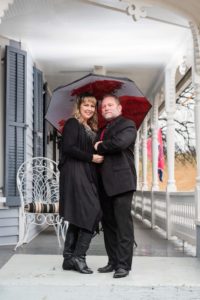 We were acquaintances and had many mutual friends, but never dated in school and had lost touch after we graduated. Both of us married and had families, moved out of California and experienced both joy and heartache along life's journey.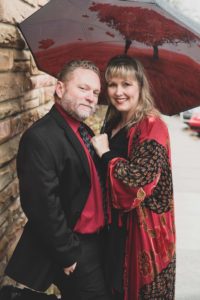 Thanks to social media, we reconnected about 10 years ago. We watched each other's children grow, prayed for one another and even met for coffee with our families a couple of times over the years.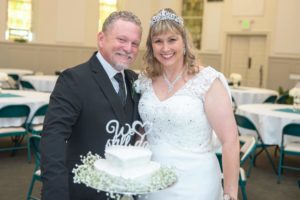 It wasn't until I was diagnosed with cancer that Donovan realized that his feelings of devastation were based on more than just concern for my health. There was a spark there that took him by surprise.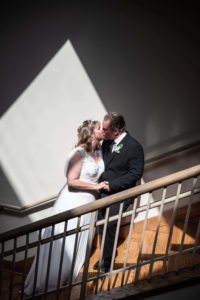 When he shared his feelings with me, I was in the midst of raising my teenaged daughters alone while battling cancer, so I friend zoned him. An entire year later, after things settled down a little, I wondered if he had moved back out west, so I reached out to him. I reluctantly agreed to meet him for a "get together," thinking of how awkward it would be if there was no chemistry and he still had feelings for me.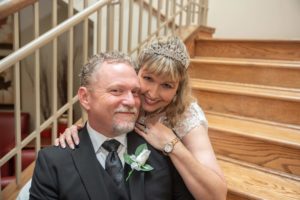 Donovan went all out! We met on a beautiful spring day, and he surprised me with a picnic in the park under a giant shade tree – complete with a bouquet of flowers. After just a few minutes of visiting, I noticed his adorable Irish grin and sparkling blue eyes and wondered how I had never seen him in that way before. Such a gentleman, yet so hilarious and full of mischief. We knew instantly that God was up to something special.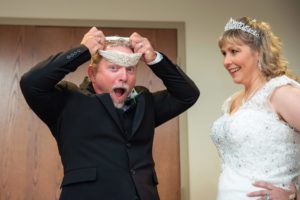 Both of us had our hearts broken in the past, so there was much to discuss, but after praying about God's will for our lives, it was evident immediately that He had prepared both of us for such a time as this. What a beautiful thing God did, growing the hearts of childhood friends into a bond that made us best friends instantly.
We made two road trips out to California and back, taking turns driving so we could drive straight through. That amounted to almost 7,000 miles of conversation and prayer time together, as Donovan helped me move my parents from California to Tennessee. The question quickly changed from "if," to "when" we would tie the knot.
One of our favorite memories was meeting a couple of mutual friends from high school for coffee. They had no idea we dating, so we came up with a plan to surprise them with the news. The problem was, they were deep in conversation about something and when I was supposed to say something outrageously flirtatious toward Donovan, we couldn't even get their attention. He ended up just planting a big, wet kiss on me, which stopped them in their tracks and they both started yelling and hollering right in the courtyard at Starbucks. Their reaction was hysterical! Sharing with friends from high school has been a lot of fun, and our classmates have all been supportive and happy for us.
Donovan travels with me when I sing and speak at events and is an amazing audio engineer, so I'm spoiled rotten with a husband that supports my ministry in so many practical ways. I did it for many years alone, so I will never take this partnership for granted!
Life takes us on some interesting journeys. Some roads we travel are exciting and fun, others heartbreaking and exhausting. We are so very thankful that God has connected these two California kids as soul mates, and we look forward to many years of serving the Lord together, encouraging people wherever the Lord takes us that God has a terrific sense of humor and when you trust Him with your life, He may very well surprise you in ways you can't imagine! Happy Valentine's Day, everyone! 
Photo credit: Wendy Ivens Photography
Marcie Gray is a singer-songwriter, speaker, writer, and occasionally appears in SGNScoops magazine. Marcie is also the producer of Smoky Mountain Gospel Jubilee.
Do you have a sweetheart story you would like to tell us about? Please write to me at Lorraine@sgnscoops.com
Tags:
gospel music
,
grey Dove ministries
,
Marcie Gray
,
Smoky Mountain Gospel Jubilee
,
Southern Gospel Music
,
sweetheart stories
,
Valentine's Day
Posted in
artists
,
Christian interest
|
Comments Off

on Sweetheart Stories: Marcie Gray and Donovan Curtis
Written by scoopsnews on December 24, 2019 – 8:02 am -
Christmas has always been a time for celebrating our Savior with the ones we love. I grew up in California, so our family tradition was to spend Thanksgiving in the south with the LeFevre side of the family and Christmas in Southern California with the Marks side of the family. It took me six years to get my parents moved here from California after we moved, and their first Christmas here, I was recovering from my fourth surgery after battling cancer.
My favorite memories are of dinner around the table, laughing, sharing memories, and talking about what the birth of our Savior means to us. As members our family graduate to heaven each year, I cherish precious times with my parents even more. Instead of buying gifts, we go on family dates together. Taking my parents to the Titanic was so wonderful, because Mom is losing her vision, so I got to hold her hand and read every sign to her as we walked through, explaining each exhibit. Memories like these will never fade. My parents won't always be here to celebrate with, so at this stage of life, these are cherished a little more. I hope you cherish precious family this Christmas. The day will come when you'll be glad you did! Merry Christmas, friends!
Marcie Gray
Tags:
Favorite Christmas Memory
,
Marcie Gray
Posted in
announcements
|
Comments Off

on Favorite Christmas Memory- Marcie Gray
Written by Staff on November 14, 2017 – 2:28 pm -
When the Roark brothers established Church House Studios in 1996 in Middlesboro, Kentucky, they envisioned more than just a recording studio. In 2005, the studio relocated to Sharps Chapel, Tennessee and was renamed Chapel Valley.  Travis and Shane Roark have more than 30 years of experience in the music industry, and they not only realize the importance of an excellent quality recording project, they also understand the need for support beyond the studio experience.
In 2009, Chapel Valley's client list began to grow rapidly, making it known as the fastest growing record company in gospel music. As the Chapel Valley family of artists has grown, its staff has grown, also. "Identifying the needs of both new and established artists is something we make an investment in. The support doesn't end when the recording is finished. In fact, that's where it all begins," states Shane Roark, CEO for Chapel Valley.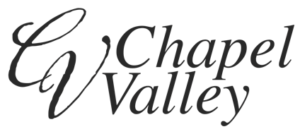 As the Chapel Valley family continues to grow, the leadership team continues to develop and provide support such as recording services, marketing, radio promotions, video production, artist management and in-house duplication. "Handling these services for our family of artists allows them to concentrate on the most important aspect of their ministry – spreading the Gospel," Travis said.

Marcie Gray Management and Design, owned and operated by Marcie Gray from Dandridge, Tennessee, provides public relations, marketing and artist development services in the Christian music industry. Marcie's love for Southern Gospel music runs in her blood, being a member of the LeFevre family. Her desire to support her own family's ministry grew as she became involved behind the scenes of The
LeFevre Quartet's ministry 8 years ago. "Each ministry has its own personality, style and mission. Having a team of people to support your ministry behind the scenes is crucial. We will help identify your goals and communicate your mission to your audience," shared Marcie. Chapel Valley is honored to share the successes of their family of artists and makes it a priority to help refine and grow their ministries. "I am so excited to be a part of what they are doing," Marcie stated.
This partnership will strengthen the support that Chapel Valley already provides to their artists. "What an honor it is to share news about ministry events with the fans who want to know what's going on. Public relations and media communication is critical to every business. I am so honored to join the Chapel Valley family as their Publicist," Marcie shared. Visit Chapel Valley's website at www.chapelvalleymusic.com to learn more about how you can be a part of the family!
Media contact:  Marcie Gray
publicity@chapelvalleystudio.com
For the latest issue of SGNScoops Magazine click here.
For the latest Gospel music news click here.
For online Gospel music radio click here.
Tags:
chapel valley
,
Marcie Gray
,
Shane Roark
,
Travis Roark
Posted in
announcements
,
artists
|
Comments Off

on CHAPEL VALLEY SIGNS EXCLUSIVE PUBLICITY AGREEMENT WITH MARCIE GRAY
Written by scoopsnews on March 31, 2016 – 11:37 am -
Praise Report from Marcie:
Friends… We are on our way HOME! Thanks to the many mighty prayer warriors and the Great Physician, I am already on the road to recovery! Pain is under control and the surgeon believes he got clear margins, so I'm just going to praise the Lord in advance for a miraculous healing and recovery. My precious girls have taken such good care of me… And Kevin & Vicki Harrel have made sure the girls were cared for! My church family visiting and providing meals had made us feel so loved! Encouragement from so many, especially Marla Metcalf, who is ahead of me on this journey and is a survivor, as well… All of these things have me totally overwhelmed right now! Praising Him and giving God the glory!!! One more storm has nearly passed… And I'm dancing in the rain now! Love you all!
Keep Praying!
Tags:
Marcie Gray
Posted in
announcements
|
Comments Off

on Praise Report!
Written by scoopsnews on March 30, 2016 – 7:14 am -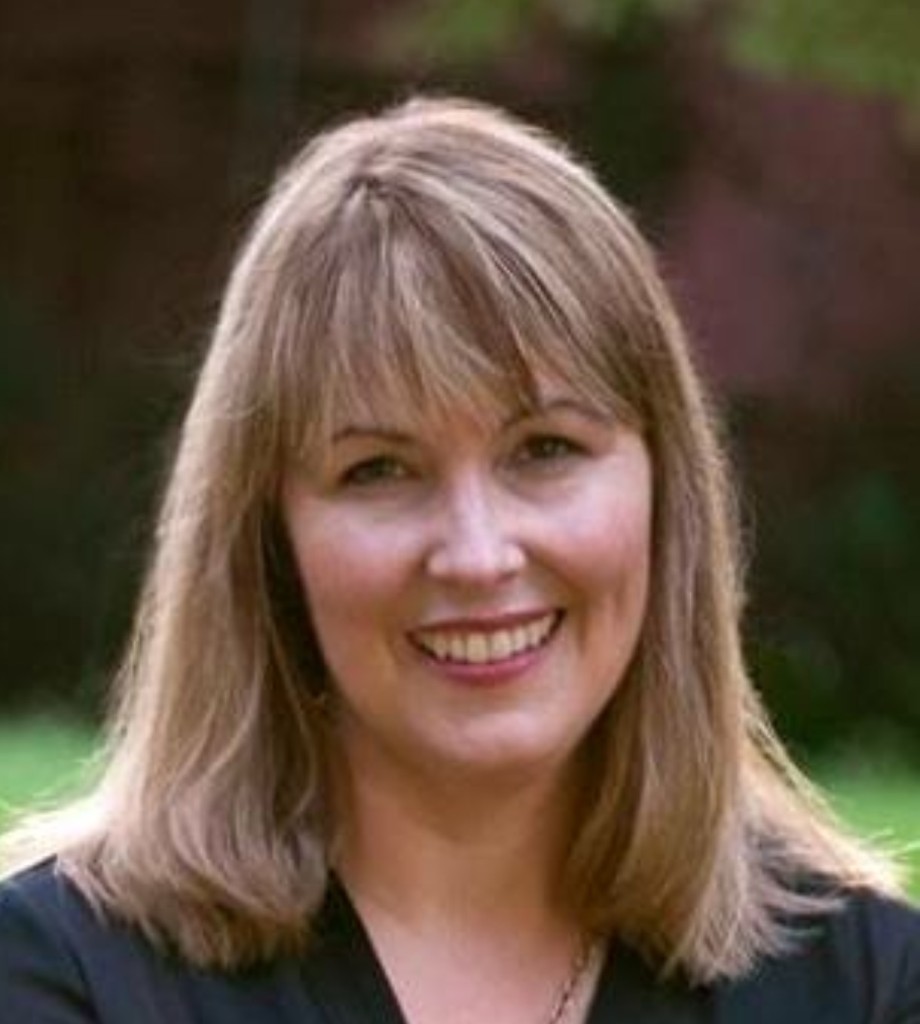 Please join with us at SGN Scoops in prayer for our friend Marcie Gray….
Here's a post from Mike Lefevre
Hi friends, please pray for my cousin and office manager Marcie Gray this morning. Today she has surgery to romove Cancer from her body. She is not only a precious family member but a very important part of the LeFevre Quartet ministry team..
We love you Marcie and we are praying!
Tags:
Marcie Gray
Posted in
announcements
|
Comments Off

on Please pray for Marcie!
Written by Staff on July 28, 2015 – 10:55 am -
By Marcie Gray
"While time marches on for a world in need of Jesus, you can find 11th hour using each moment for His glory." What a great introduction on the 11th Hour website for this Southern Gospel trio from Monroe, Louisiana! In 2007, at the tender age of 16, Amber Eppinette answered the call when she and a friend formed 11th Hour. Amber was at a revival when the Lord revealed to her that she was to take her music ministry on the road. Raised in a family full of preachers and singers, it was only natural that Amber felt comfortable when called to ministry.
Two years ago, Grant Gibson, from Jasper, Alabama departed Debra Perry and Jayden's Call to join 11th Hour as second tenor. Jaquita Lindsey completed 11th Hour by filling the alto position. Hailing from Camden, Arkansas, Jaquita was introduced to Amber by Nicole Watts Jenkins who was singing soprano for The Perrys at the time. Each member of 11th Hour brings significant vocal experience to the group, and the harmonies flow freely. Equipped with a unified mission, smooth harmony and cherished friendship, 11th Hour is blessed with a powerful ministry that spans the gap between generations.
11th Hour is gifted with a unique style, giving them a versatile approach to ministry. They are just as comfortable singing classic Southern Gospel music with friends like Greater Vision as they are leading worship for a youth camp, where they incorporate contemporary worship music into their repertoire.
Amber, Grant and Jaquita all agree that they are a very close-knit group of friends who enjoy spending time together, even when they're on the road between dates. When asked to share a memorable moment on tour, Grant said, "We were singing at a church one night and during our introductions, a gentleman walked up onto the stage and interrupted the concert, insisting that we sing, "Have A Little Talk With Jesus." We all just looked at each other, unsure of what was coming next, and before we knew it, the man ended up leading the entire congregation in the song.
"He was a veteran and had plenty of scars to show for it. He was pleased to share each scar with us at the product table, and if that wasn't disturbing enough, he proceeded to pop his fake eye out right there at the table, in front of everyone standing there! When you tour 230 dates per year, you're bound to run into some very interesting people, but that particular memory was one we will never forget!"
The group has been nominated in the Top 10 in the Singing News Fan Awards for "Favorite New Trio" for the past two years, and was awarded a Diamond Award in 2014 for "Favorite New Trio." "It's wonderful to be recognized by fans and friends who love your music, but it's not the glory and fame that keeps us going when we get discouraged," said Amber. "I'm always reminded by the Holy Spirit that this is a calling, not a job. Recently, God has shown me that when He places a call on a person's life, He doesn't take it away. We have a purpose to fulfill what God has set believers here to do, and even when we feel discouraged, we have to remember that our purpose and calling hasn't changed. When we stay focused on the calling even through challenging times is when we will start seeing souls saved and hearts turned toward Him, which is confirmation that we are doing what we are called to do!"
Jaquita shared, "I've been asked before why I won't sing secular music. My answer is simple. I would never use my talents for anything other than God's glory. I was raised by a family of ministers. My parents and grandparents are both in the ministry and I've been singing in church since I was eight years old. I can't imagine singing for any other reason but to use the talents God has given me to serve Him."
"Well, the girls got all spiritual," said Grant, "but I have something to add. This is fun! It's a calling, most definitely. That's where it starts and ends, but there's a lot of fun in the process and there is nothing else I could see myself doing. We all have a purpose in life. God gives each of us abilities and talents and I believe it's very foolish if you don't use them for the Lord, but we just have a blast together singing and meeting new people. It's different every time we get up on the stage."
Greg Bentley from Crossroads Entertainment shared, "Crossroads has had the privilege of working with 11th Hour since 2012. We always do our homework before we agree to talk with anyone about a label deal, and when we started digging into the background of this talented group of young people, we knew we wanted to take the next step. Working with them – from picking songs, doing the recording sessions, radio promotions and even publishing – we have found them to be steadfast and faithful in their goal of ministering through music. Now that we are starting on our third recording with them, (Steppin' Out released in 2012, Picture This released in 2014) we are even more convinced that Amber, Grant and Jaquita are more focused than ever on presenting 11th Hour in the best possible way.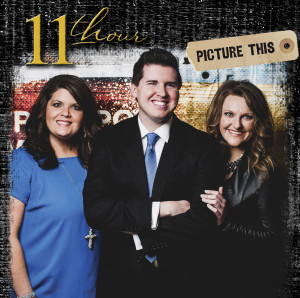 "Obviously, many fans and industry people are seeing what we see in them, as well. Their popularity continues to grow from album-to-album. We've already picked some great new songs for their new Sonlite Records release that they will be tracking in August, and expect this new 2016 release to take them even farther into the hearts and homes of Gospel music followers."
Every artist has someone they look up to and seek ministry advice from. 11th Hour is no exception. Amber said, "Karen Peck is one person who has always been there for me with open ears. She has been a huge source of encouragement and has literally watched me grow up through the years." Grant shared that Claude Hopper has been one of the biggest influences in his ministry life. "Claude has been around the block a few times and he has a whole lot of wisdom." For Jaquita, Kelly Bowling and Libby Perry have both had a big personal influence on her life in ministry. These strong influences come from common ground. Each one of these influences answered God's calling on their lives and have been faithful to serve Him in ministry for many years. That same legacy is what Amber, Grant and Jaquita hope to pass on to future generations of Christian artists.
There is one song that never fails to move the hearts of those who hear it, and that is "Adam's Fall," recorded in 2010 by 11th Hour on their Gather Round project. The most important message 11th Hour can carry to their audience is summed up in this song and the words simply speak for themselves:
"(Verse 1)
As I journeyed through His precious word,
I find where Adam fell and lost our souls,
As I turned another page, I find His blood shed,
For human race, and then I saw my own sin,
My condemnation, without Him,
Then I stood at Calvary's place, and that's where I found,
Amazing Grace
(Chorus)
I saw You nailed, to the tree,
Gave Your life freely, for unworthy me
Heaven's angels You did not call, rescued my soul,
From Adam's fall." – Written by Amber Eppinette (2007)
The territory is expanding for 11th Hour. Grant commented, "Within the next year, we hope to plan a trip out west and potentially overseas, as well. We are considering options and always setting new goals." The trio is excited about traveling to new places and singing where the Lord opens a door for them to go. "Concerts are a great way to network and make friends… whether it's a fan or another artist. We're just regular people and always trying to make new friends," said Grant.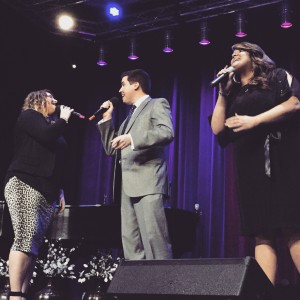 The Lord's call has been answered by three talented, young artists. They share the love of Christ with everyone they come into contact with, knowing that the return of Christ is imminent. Even their name seems to ask the question, "What are you waiting for?"
Find out more about 11th Hour by visiting their website: www.11thhourgospel.com. Look them up and help us express our appreciation to Amber, Grant and Jaquita, for taking the time to share the ministry of 11th Hour with the readers of SGN Scoops Magazine!
By Marcie Gray
First published by SGN Scoops magazine in June 2015. For current issues of SGN Scoops and more great artist features, visit the SGN Scoops mainpage.
Tags:
11th Hour
,
Amber Eppinette
,
gospel music
,
Grant Gibson
,
Jaquita Lindsey
,
Marcie Gray
,
sgn scoops
,
southern gospel
Posted in
announcements
,
artists
,
christian entertainment
,
Christian interest
,
sgn scoops magazine
|
Comments Off

on 11th Hour: What Are You Waiting For?
Written by Staff on March 6, 2015 – 12:05 pm -
The Voices of Lee are based out of Lee University in Cleveland, TN. Their a cappella choir sings "Happy" as made popular by Pharrell Williams, for our SGN Scoops TV reporter, Marcie Gray.
Marcie caught up with the Voices of Lee on the Singing at Sea cruise in February. She shares this personal performance with the SGN Scoops TV audience, as well as an interview with the singers.
We know you will enjoy this edition of SGN Scoops TV!
For SGN Scoops in written form, see the current issue of SGN Scoops here.
For information on Lee University click here.
For information on the Voices of Lee, click here.
Tags:
Christian Music
,
Happy
,
Lee University
,
Marcie Gray
,
Pharrell Williams
,
sgn scoops
,
SGN Scoops TV
,
Voices of Lee
Posted in
announcements
,
artists
,
christian entertainment
,
Christian interest
,
new music
,
sgn scoops magazine
,
special feature
,
Uncategorized
|
Comments Off

on Pharrell's "Happy" as performed by Voices of Lee on SGN Scoops TV
Written by Staff on March 5, 2015 – 1:06 pm -
Marcie Gray from SGN Scoops recently caught part of the Tribute Quartet's performance of their hit song, "Good News From Jerusalem." She shares it with us here on SGN Scoops TV.
For written interviews and current features, see the latest edition of SGN Scoops digital magazine HERE.
For more on Tribute Quartet visit them on the web HERE.
Tags:
Christian Music
,
Good News from Jerusalem
,
gospel music
,
Marcie Gray
,
sgn scoops
,
SGN Scoops TV
,
Singing at Sea
,
southern gospel
,
Tribute Quartet
Posted in
announcements
,
artists
,
scoops
,
sgn scoops magazine
|
Comments Off

on Tribute Quartet Appears on SGN Scoops TV
Written by Staff on March 4, 2015 – 11:52 am -
Marcie Gray caught up with the busy Mark Trammell Quartet on the Singing at Sea Cruise in February. Enjoy this quick catch-up with one of Southern Gospel's favorite male quartets. Click on the picture below to watch this video.
For more information on the Mark Trammell Quartet click HERE.
For new features by Marcie Gray and other writers, read the latest SGN Scoops digital magazine here.
Tags:
gospel music
,
Marcie Gray
,
mark trammell quartet
,
sgn scoops
,
SGN Scoops TV
,
Singing at Sea
,
southern gospel
Posted in
artists
,
christian entertainment
,
Christian interest
,
scoops
,
sgn scoops magazine
,
special feature
,
Uncategorized
,
video
|
Comments Off

on Mark Trammell Quartet on SGN Scoops TV
Written by Staff on March 3, 2015 – 9:49 am -
SGN Scoops' reporter Marcie Gray is in conversation with the LeFevre Quartet from the Singing at Sea cruise. Find out about their Cruise diet! For more information on the LeFevre Quartet online click HERE.  For a live performance of the LeFevre Quartet singing "Jesus Save" click HERE. For written features by Marcie Gray and other SGN Scoops writers, read the latest edition of SGN Scoops digital magazine here.
Tags:
Christian artist
,
gospel music
,
lefevre quartet
,
Marcie Gray
,
sgn scoops
,
SGN Scoops TV
,
Singing at Sea
,
Southern Gospel Music
Posted in
announcements
,
christian entertainment
,
Christian interest
,
scoops
,
sgn scoops magazine
,
special feature
|
Comments Off

on LeFevre Quartet on SGN Scoops TV!