Written by Staff on May 26, 2015 – 1:20 pm -
By Jaquita Lindsey
The Stephens Family have been established for seven years now and come to us from Northport, Alabama. This trio consists of Melody Stephens and husband Thom, and Melody's sister Bethany Dunnam. Each member of the Stephens has been singing all of their lives and this experience has led to the full, beautiful sound of the mixed family trio.
In 2013, the Stephens recorded their first CD, The Stephens, LIVE. The radio release from this project, "Unclouded Day," put the trio in the Singing News Top 80 Charts for the first time. They went on to participate in the Regional Artist Showcase during National Quartet Convention that year and won the first place title. Since then, they have continued to rise in the industry.
Thom Stephens started singing with his dad and sister at the age of four. Melody and Bethany grew up singing together with their family group, The Givens. Melody got her start in full-time music when she joined The Nelons. She has a dynamic soprano voice that has earned her Dove award nominations, as well as appearances on some of Bill Gaithers' Homecoming recordings.
The distinctive sound of the Nelons and Karen Peck can be heard in the vocal stylings of Melody Stephens. She says, "Karen Peck has always been my biggest musical influence. I grew up listening to The Nelons and Gold City. Karen has, in my opinion, the best voice ever and such a sweet personality." Thom cites a variety of artists as his musical influences, from Ronnie Milsap to the Kingsmen.
The trio's work doesn't stop at singing. While at home, they each have full-time jobs. Melody takes care of the salon and boutique that she owns. She has recorded commercial jingles, and also does background vocals when given the opportunity. Thom is the owner of a real estate appraisal company. Together they have three children, Barton, Kelsey and Zachary, who keep them on their toes.
Family is obviously a priority for this couple. "My biggest spiritual influence is my parents living the bible in front of me," says Thom. Melody echoes his statement and adds, "We [Bethany and I] grew up in a loving, Christian home. They taught us the bible and always had us in church. There was never a doubt that they both love the Lord."
Another strong Christian couple, Bethany and her husband, Kyle, run a Christian school and daycare. Kyle also travels with the group, serving as the sound engineer. They have five children that add to their already busy schedules: Amber, Emaleigh, Haley, Luke, and Trey.
With so much happening in their lives, some might wonder why this trio continues to spend so much time ministering to others. Bethany answers that question with a story that happened not too long ago.
"A pastor friend of ours in Louisiana called to share a recent event.  He was driving down I-59 listening to "Robe and Crown" from our live CD. Suddenly he noticed blue lights in his rear view mirror. The state trooper walked up and asked if he had any idea how fast he was going. He replied, 'No Officer, I don't.' He told the officer he was listening to our song and wasn't paying attention. The officer replied, 'The song you were listening to was being sung at 87mph!' Our pastor friend then interrupted the officer and made him listen to the song. Then he made him listen to Melody's song, "My God Will Always Be Enough". The officer stated at that point that he wanted to know about that peace that was being sung about. The state trooper met Jesus right there on the side of I-59. Our pastor friend did not get a speeding ticket that day but the state trooper got his ticket to Heaven. Well Glory! And that is why we sing!"
The Stephens Family have the desire to encourage the believer and to see lost souls saved. They are praying to eventually go into full time ministry. They are currently mixing their latest project, Just Pray, produced by Jay Parrack and Darrin Morton. They have written two songs off the new project entitled, "Push Through the Crowd" and "If You Pray, Don't Worry".
The Stephens are recording artists for Delta Sky Records of The Morris Music Group. Projected street date for this project is May 1st, with the first single released to radio through United Independent Artists. Keep looking and listening for more new music from this family trio.
If you are interested in booking The Stephens, contact: Academy Promotions 205-907-9219. You can find them online at www.thestephensmusic.com.
Written by Jaquita Lindsey
First published by SGN Scoops in April 2015. For current editions of SGN Scoops, view the SGN Scoops mainpage.
Tags:
Bethany Dunnam
,
Jaquita Lindsey
,
Melody Stephens
,
sgn scoops
,
The Stephens
,
Thom Stephens
Posted in
artists
,
christian entertainment
,
Christian interest
,
guest
,
sgn scoops magazine
,
special feature
,
Uncategorized
|
Comments Off

on The Stephens: Why We Sing
Written by Staff on September 11, 2013 – 1:04 pm -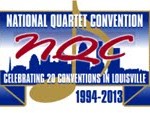 As the National Quartet Convention prepares to move from Louisville, Kentucky to Pigeon Forge, Tennessee, several SGN Scoops magazine staff writers share their memories of NQC past.
Lou Wills Hildreth shares: My family –the Wills Family of Ft. Worth, Texas–sang at the first NQC in Memphis, and many years thereafter. I have only missed one NQC in all 56 years of the event. Howard and I will be greeting friends this year at the Scoops Booth. Praying God's blessing on every song and testimony!!!!
Dixie Phillips shares: When I was 16, my Mom and Dad started attending church. The new pastor was an avid southern gospel fan. He and his wife invited my parents and me to attend NQC in Memphis. I was so excited when my parents agreed to go. I will never forget when Ben Speer sang "The Brush." My life was changed forever. I was hooked. Southern Gospel Music is music with a message and I am so honored to be a part of it.
Lorraine Walker shares: I began to attend the NQC when it was still in Nashville. I remember a few highlights as well as the long cement slope to the basement  exhibit hall . I remember hearing one of the last times that JD Sumner and the Stamps sang together, the announcement of Kim Hopper Greene joining the Hoppers, Tony Greene's proposal to Taranda Kiser, as well as what would be the last NQC of Jake Hess, Vestal and Howard Goodman, George Younce and Roger Bennett. I remember watching a new family group called The Crabb Family come on stage with their whole church in one section of the auditorium cheering them on. I am sorry to be missing this last year in Louisville but I know great things are in store for future NQC's!
Craig Harris shares: Moments and memories are what life in general is all about. They are what make anything that is important to you special. This is my 14th year of attending the National Quartet Convention and it's hard to believe that it's been that long. A one-song spot on the main stage on Tuesday evening surprisingly took me back to some of my earliest of days at NQC here in Louisville, which is the only NQC venue that this Southern Gospel follower has ever experienced.
As the Stephens Family stepped out on the stage, I had no idea that the soprano singer – Melody Stephens – was going to lead me on a brief stroll down Memory Lane. Stephens was the soprano for the Nelons when I first started following Southern Gospel music. I didn't grow up around the genre as so many did. I simply discovered it – with the assistance of a few friends and borrowed CDs – around 1998. But the Nelons were one of those groups that came to the main stage in those early days and just brought it.
I was still learning and understanding the dynamics of Southern Gospel music when I attended my first NQC in 2000. I only stayed for two nights that year. NQC has been a week-long event ever since. That configuration of the Nelons – with Melody, Paul Lancaster (one of my favorite singers) and Dan Clark (who had a pleasant-sounding bass tone that simply fit the group well) – was probably my favorite. Songs like "Where Sin Had Been Pardoned," "He Called Me Out," and the vastly-underrated "You Ain't Seen the Last of Jesus" suckered me in to this genre of music hook, line and sinker. In fact, "He Called Me Out" was on the NQC Live 1999 DVD and CD (along with the Perrys unbelievable version of "When He Spoke"), prompting me to want to make the journey from the Nashville area to Louisville to see what this Quartet Convention was really all about.
The Nelons followed that era up with more great singers like Katy Van Horn Peach and more great songs, such as "He Rolled Back the Stone." They are still producing great music today and undoubtedly making memories for some person out there who is just figuring out what NQC is all about. The Stephens family brought some memories back to life for me on Tuesday night. I hope that you all are not only having fond remembrances this week but are also making new memories. Don't waste an opportunity to truly live and experience all that there is to offer. Have a great week and simply enjoy.
Tags:
Ben Speer
,
Craig Harris
,
Dixie Phillips
,
George Younce
,
Howard Goodman
,
Jake Hess
,
JD Sumner
,
Katy Van Horn Peach
,
Kim Hopper Greene
,
Lorraine Walker
,
Lou Wills Hildreth
,
Melody Stephens
,
national Quartet Convention
,
nqc
,
NQC 2013
,
Roger Bennett
,
The Crabb Family
,
The Greenes
,
The Hoppers
,
the nelons
,
the perrys
,
The Stephens Family
,
Vestal Goodman
Posted in
artists
,
christian entertainment
,
Christian interest
,
exclusive report
,
gospel events
,
guest
,
industry news
,
scoops
,
sgn scoops magazine
,
special feature
,
Uncategorized
|
Comments Off

on Leaving Louisville: SGN Scoops Staff Share NQC Memories
Written by SGN Scoops on July 12, 2011 – 10:01 am -
The Stephens are a dynamic southern gospel trio from Alabama and are very excited about releasing a brand new, long awaited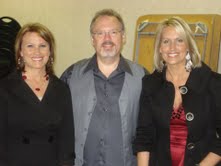 recording. The new cd entitled "Greater Is The Grace" was arranged and produced by Jason Clark of The Nelons. Jason wrote the title cut for the project as well. Most of the songs are hymns that everyone will recognize and can sing along with. There is also a bluegrass gospel song in the mix as well.
Many will remember Melody Stephens as a former soprano with the Nelons and from the ever popular Bill Gaither Homecoming video series. Melody is also a two time Dove Award nominee. Melody has always wanted to share the gospel through song since she was a young girl. Melody states, "I remember swinging on our porch swing as a child with earphones in and singing to the top of my lungs. It's all I've ever wanted to do. Now the Lord has blessed me to be able to sing with my husband, Thom, and my sister Bethany Brewer." Melody's sister sings the alto while her husband sings the male part of the trio. The Stephens are assisted on stage during live performances by Larry Johnson on keyboard.
The cd can be ordered by visiting The Stephens' website at www.thestephensmusic.com.
All will enjoy the tight, family harmony along with quality production and arranging on this new project from The Stephens. There is something on this project for everyone to enjoy.
Tags:
Bethany Brewer
,
Bill Gaither Homecoming video series
,
Dove Awards
,
jason clark
,
Larry Johnson
,
Melody Stephens
,
the nelons
,
The Stephens
Posted in
announcements
|
Comments Off

on The Stephens Release New CD