Written by Staff on October 17, 2017 – 2:21 pm -
Pigeon Forge, Tenn. (October 16, 2017) – Creekside 2017 is proud to present the Smoky Mountain Gospel Showcase, October 30, at Pigeon Forge, Tenn. For the sixth consecutive year, the Creekside Gospel Music Convention will run Oct. 30 to Nov. 2 at the Smoky Mountain Convention Center in beautiful Pigeon Forge. Over 40 Southern, Country and Bluegrass Gospel music artists will participate in the week-long convention. Most tickets for this event are free.
On Mon. Oct. 30, Creekside will host a daytime Gospel music showcase from 12:30 to 2:30 p.m. at the Smoky Mountain Convention Center. Artists include Tennessee's own Eternal Vision, Leonard and Joyce Repass, the GloryBound Singers, Bishop Curtis Manning and Angela Marie.
"As an artist that lives here in East Tennessee, I am so excited about Creekside 2017," states Gospel singer Angela Marie. "Creekside is an amazing Gospel music event that has artists coming from across the nation to uplift the name of Jesus. We are super excited to participate in the Smoky Mountain Gospel Showcase on 
Monday, October 30th, 2017.
 Come and join us."
Every evening, concerts will begin at 5:00 p.m. Special guests include David Ring, Brian Free and Assurance, Dr. Jerry and Jan Goff, the Nelons, the Hyssongs, Eric Bennett, the Browders, Soul'd Out, and many more. Creekside also includes the presentation of the 2017 Diamond Awards on Tuesday, Oct. 31. Atlanta station 

WATC

 – TV 57 will be taping this event for future programming.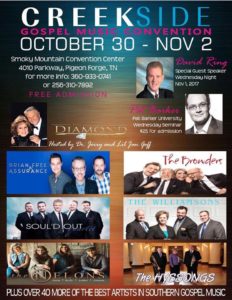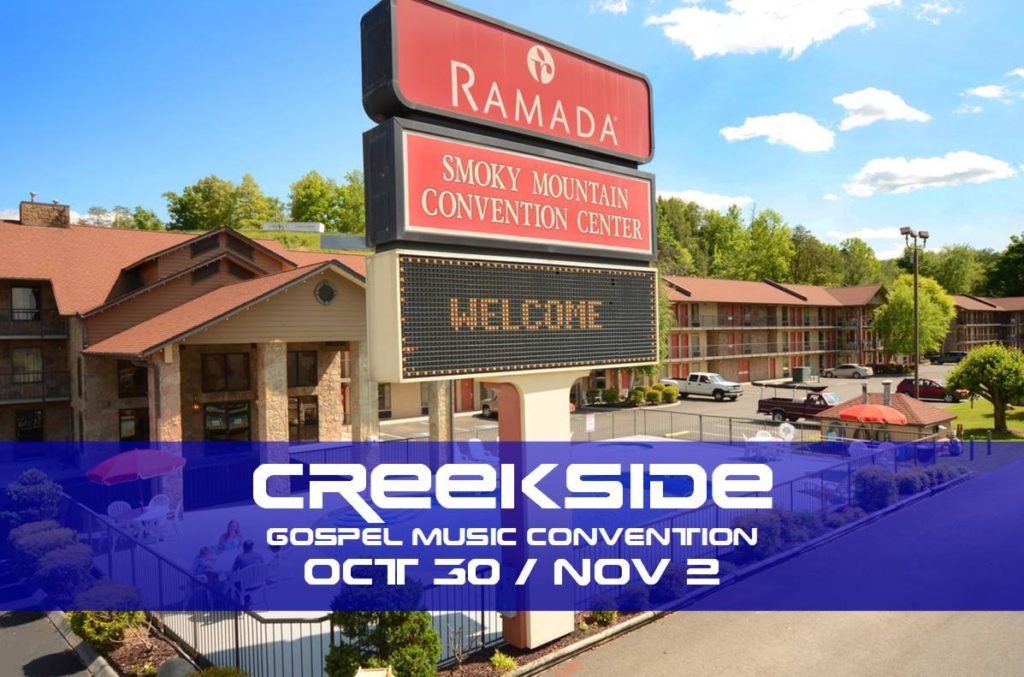 Creekside will also present a Tuesday and Thursday daytime showcase and midnight prayer every night. Most events are free. For more information visit the website or Facebook  page, or call event convener Rob Patz at 360-933-0741.
Tags:
Angela Marie
,
Bishop Curtis Manning
,
brian free and assurance
,
Creekside 2017
,
Creekside Gospel Music Convention
,
David Ring
,
Dr. Jerry and Jan Goff
,
East Tennessee
,
Eric Bennett
,
eternal vision
,
Leonard and Joyce Repass
,
Smoky Mountain Gospel Showcase
,
Soul'd Out
,
The Browders
,
the GloryBound Singers
,
The Hyssongs
,
the nelons
Posted in
announcements
,
artists
|
Comments Off

on Smoky Mountain Gospel Showcase at Creekside 2017
Written by scoopsnews on August 11, 2017 – 4:19 am -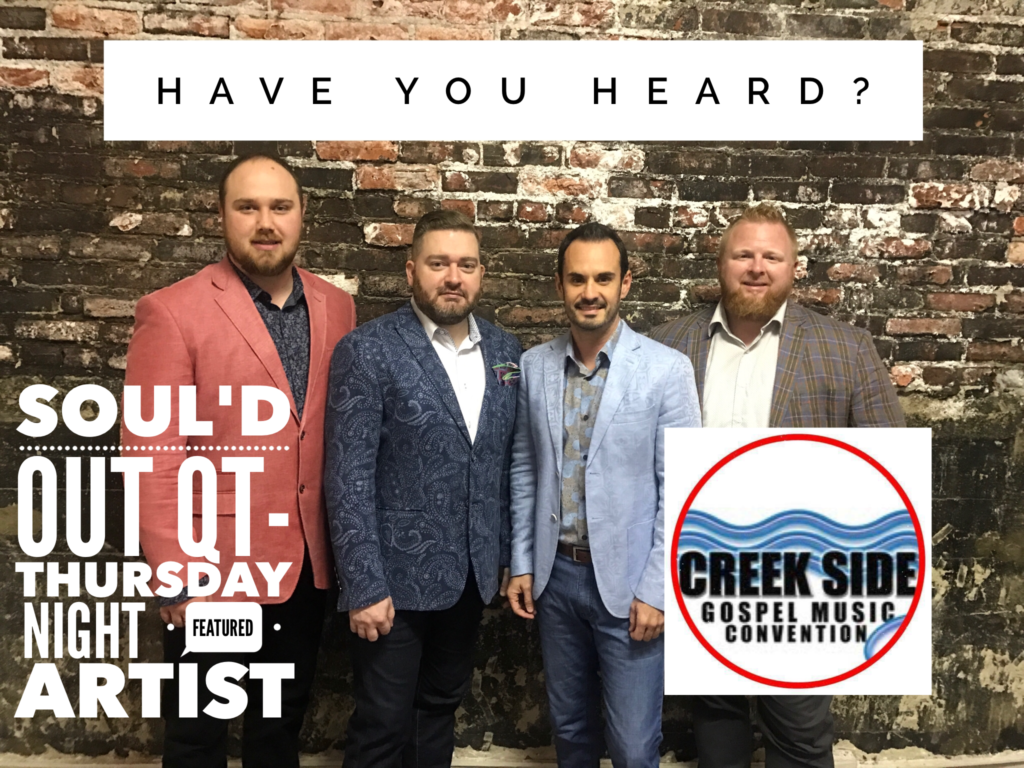 Pigeon Forge, TN – Creekside Gospel Music Convention  is pleased to welcome popular quartet "Soul'd Out" as the Thursday night Featured Artist. The event is scheduled for October 30th through November 2nd in Pigeon Forge, TN.
Soul'd Out Quartet travels the country with a mission of evangelism and discipleship to not only win souls for Christ by telling the world "what the world doesn't know", but also to further strengthen and encourage God's people to be the salt and light to the world and ambassadors for Christ, that we are each called to be and to exhort God's people to be servants with hearts on fire!
Rob Patz of Coastal Media, and owner of Creekside says, "I am thrilled that Soul'd Out is going to join us in Pigeon Forge. Their heart for ministry and winning souls has made an exciting line-up even better!"
For ticket and lodging information, contact Rob Patz at rob@sgnscoops.com or 360-933- 0741. For more information visit http://www.creeksidegospelmusicconvention.com/
Tags:
2017 Creekside Gospel music Convention
,
Soul'd Out
Posted in
announcements
|
Comments Off

on Creekside Gospel Music Convention Welcomes Soul'd Out Quartet
Written by SGN Scoops Staff on January 7, 2017 – 2:04 pm -
We had someone work on the bus all day yesterday but unfortunately had to cancel our concert last night. Yesterday about 7:00pm we left Teays Valley, WV and headed south to try and make our Sunday dates.
We made it about an hour south when the air system in our bus started doing the exact thing that held us up before.
To add to it, we drove right into the winter storm that hit Virginia and North Carolina.
Right now, we are sitting in Virginia at a Walmart trying to figure out a plan to either make it to our dates or try and get home.
Obviously, not only are we racking up hefty repair bills, but also having to cancel dates creates quite a burden financially.
We're just asking all of our prayer warrior friends to pray. Pray that the right connections would take place that we could not only get the bus fixed, but make our remaining dates. If not, the means to get the guys home to their families.
If anyone in the Galax, Va are would have a 15 passenger van that we could borrow, that would be such a blessing.
Find More News HERE
Tags:
Soul'd Out
Posted in
artists
|
Comments Off

on Soul'd Out is asking for prayer.
Written by Staff on August 12, 2016 – 6:31 pm -
Bros. 4 Announce Annual Mississippi Homecoming Weekend
Featuring Soul'd Out Quartet and Blackwood Bros.Quartet
Coming in September 2016, Bros. 4 (pronounced Brothers 4) will have the unique opportunity to host two great quartet groups that display great harmony and a great heart for the Lord. It will be a three-day event called "A Mississippi Homecoming Weekend", that will feature Soul'd Out Quartet and The Blackwood Brothers Quartet.
This special event will bring together three Jackson, Mississippi family members again: Butch Owens (from Blackwood Brothers Quartet) who is the father of Ian Owens (Soul'd Out Quartet) and the uncle of Adam Dungey (from Bros. 4). This is the second year this event has been offered.
Each group would be glad to see you at the following locations:
September 23, 2016- Petal- Harvey Baptist Church- Petal, MS
September 24, 2016- Bel Air Baptist Church- Gulfport, MS
September 25, 2016- Lakeshore Church- Byram, MS.
For more information about this great event or the group, you can visit their website at http://www.bros4.net or if you are interested in having the group at your church, give Adam Dungey a call at 601-259-6553
For more Gospel music news click here.
Tags:
Blackwood Brothers
,
Bros.4
,
gospel music
,
Soul'd Out
Posted in
announcements
,
artists
|
Comments Off

on Soul'd Out, Blackwood Brothers, Bros. 4 to appear at Homecoming Weekend
Written by Staff on July 23, 2015 – 9:40 am -
From Bryan Hutson …
This month's article may be the most difficult yet most transparent one for me.
It is difficult because it's a subject that I have failed at MISERABLY.
I have said before that Yvonne and I don't have marriage counseling degrees framed on our wall. We don't ever want to be perceived as "having it all together" because we don't. We have both attended the "Marriage School of Hardknocks." We even feel like we're being hypocritical at times. Many times we find ourselves failing at THE VERY ISSUES that we are preaching for or preaching against.
I admit that when I came into our relationship, that I brought a lot of emotional baggage. Years of hurt, rejection, bitterness and pain. Yes, a lot that I openly admit, that I brought on myself.
The issue that I battle is making my wife and children PAY for things from my "previous life". "Our previous life" is what Yvonne and I call the years BEFORE WE met and married.
I grew to adulthood and made mistakes and in a "previous life", I was TOLD that I was a "mooch" (one who doesn't pull their weight in finances or in the household) and a "Monster" because of my anger issues. I battle those "labels" that were put on me. See, if you're told something long enough, it's hard NOT to believe it.
A few weeks ago, Yvonne and I were riding in the car after seeing our Granddaughter being born and she inadvertently said something innocent that I took offense to. My mind raced back to my "previous life" where I felt like my feelings didn't matter and I wasn't allowed to voice my opinion about certain issues. After Yvonne innocently made her remark, I emotionally shut down and as she asked "What's wrong?" I kept repeating "Nothing, I'm fine."
At that moment, I allowed the enemy a foothold. I allowed the devil to whisper to me "Here we go again, YOUR opinions didn't matter and YOU don't matter."
See, I KNOW Yvonne's heart and I should've realized that she never meant to hurt me. I was allowing the baggage of my previous life to weigh me down IN THIS LIFE. I CHOSE to be offended and instead of letting it go, I held onto that pain for 2-3 days.
I also allowed the enemy to keep re-stating those lies to me. "YOUR opinions don't matter, because YOU don't matter. If you tell her how you feel, you'll be perceived as a Monster."
I was distant and quiet that week. It was like there was the "Elephant In The Room" but I didn't want to talk about it.
Which in turn caused Yvonne to feel like she wasn't worth it and our marriage wasn't worth fighting for.
I was making Yvonne pay for something that happened to me YEARS ago. However, in order for she and I to have a future…we must deal with our past.
Click the link to read Yvonne's response….
Tags:
Bryan Hutson
,
Christian life
,
marriage
,
SGMRadio
,
Soul'd Out
,
Yvonne Hutson
Posted in
artists
,
Christian interest
,
guest
,
SGM Radio
,
special feature
|
Comments Off

on Bryan and Yvonne Hutson: Baggage Claim
Written by Staff on September 22, 2014 – 2:06 pm -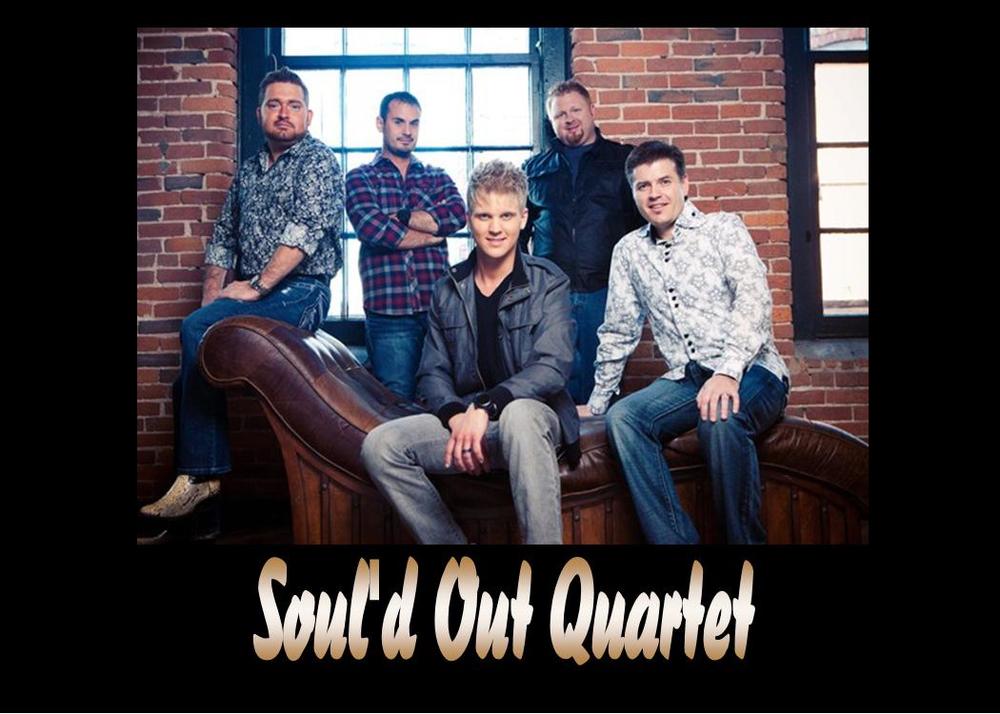 Continuing with our SGN Scoops' Fast Five series, we put artist Bryan Hutson of Soul'd Out on the hotseat. Bryan has been in Southern Gospel for quite awhile, having sung for many years with the Kingsmen Quartet. He is now singing lead in the popular Soul'd Out, along with Dusty Barrett on tenor, Matt Rankin on baritone, Ian Owens singing bass and Michael Howard playing the piano.
SGN Scoops Fast Five Question: What are your favorite five songs of any genre?
Bryan Hutson's responses:
1) Michael Buble' "My Song For You" … I sang this to Yvonne at our wedding.
2) Hillsong "He Has Made Me Glad"
3) The Sound "Mender of Broken Wings"
4) "Should I Fall Behind"
5) "Can't Help Falling In Love"
Thanks Bryan for answering our Fast Five. For more information on Bryan and the rest of Soul'd Out, visit http://www.souldoutquartet.com/about-soqt
Tags:
Bryan Hutson
,
Christian artists
,
gospel music
,
sgn scoops
,
Soul'd Out
,
southern gospel
,
Yvonne Hutson
Posted in
announcements
,
artists
,
sgn scoops magazine
|
Comments Off

on SGN Scoop's Fast Five: Bryan Hutson of Soul'd Out