Written by Staff on December 10, 2015 – 5:08 pm -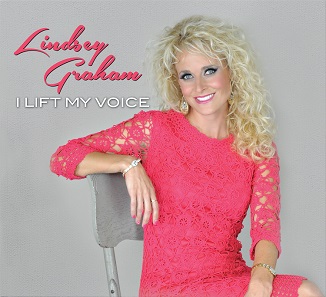 Estero, Florida (December 10, 2015) Gifted musician and singer Lindsey Graham has released her new CD I Lift My Voice. Produced by Jason Webb and recorded in Nashville, Tenn, this new project is going to turn heads in the Gospel music world.
I Lift My Voice features eleven exciting songs including "Most Holy Lamb," "A Little More Love," and a Lindsey Graham original, "God Declared You Holy."
Describing the song penned by herself Lindsey explains, "This song was inspired by Beth Moore's Bible Study on Daniel. If we are born again then God has declared us holy and expects us to live in such a way as to reflect His holiness. In our Babylonian-like culture God's children are called to be in the world but not of it, living victorious and abundant Christian lives in the power of Christ Jesus. Where Satan cannot have your soul he seeks to make you ineffective for the cause of Christ. However, to this we may say, 'Greater is He that is in me than he that is in the world!' It is from this perspective I wrote, 'God Declared You Holy.'"
Continuing about her new album Lindsey commented, "I am so excited about this album. So many exceptionally talented individuals participated in the making of this project and I believe it is reflected in the final product. Psalm 98:4 says, "Make a joyful noise to the LORD!" This album is an invitation for ALL to sing along, making a joyful noise of praise to the living God. I Lift My Voice for He is worthy."
Song List:
Most Holy Lamb
A Little More Love
Jesus Christ Is In This Place
God Declared You Holy
No Greater Song
Speak Your Name
Glorious Savior
More Than Conquerors
He Who Is Mighty
Heaven Bound
Remember My Name
Get your copy NOW at www.lindseygrahamministries.com for $15 plus S/H.
If you would like to interview Lindsey Graham contact AG Publicity at info@agpublicity.com .
Learn more about Lindsey Graham by going to her website at http://www.lindseygrahamministries.com .
Follow Lindsey on FaceBook at  https://www.facebook.com/LindseyGrahamMinistries  or Twitter at https://twitter.com/LindseySings .
To book Lindsey for your church, concert or event contact Dominion Agency 828-454-5900.
####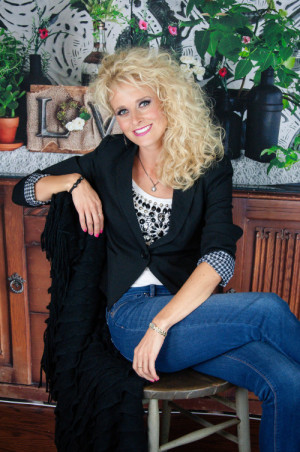 About Lindsey Graham
Lindsey has shared the stage with many Gospel greats including The Crabb Family, The Booth Brothers, Triumphant Quartet, Ernie Haase & Signature Sound, The Isaacs, The Dixie Echoes, The Stamps, The Blackwoods, Kevin Spencer, Dennis Gwizdala, and Larry Ford. She participated in the 2007 Gaither Homecoming video Amazing Grace. Lindsey recently traveled full time with a southern gospel group, The Taylors. They made many appearances in North America, including NQC Main Stage 2012, as well as Sweden and Northern Ireland.
Through her continued classical vocal studies, Lindsey performs for the Naples Opera Society of Naples, Florida. In 2011, she traveled to Europe as a guest soloist of the Bach Ensemble of Naples, Florida. For three consecutive seasons Lindsey sang the National Anthem and the Canadian Anthem for the Boston Red Sox spring training games in Ft. Myers, FL. Lindsey is a studied pianist and flutist, incorporating both into her ministry. A 2005 graduate of Belmont University in Nashville, TN, she received a Bachelors of Music and was also inducted as a member of the Pi Kappa Lambda National Music Honor Society based upon GPA and staff member recommendation. Lindsey completed a Masters of Arts in Religion with an emphasis in Worship Studies from Liberty University in 2012.
Singing Christian music is extremely vital to Lindsey as she is eager to uplift and excited to share the love of Jesus with others. Her ambition is "to reach the lost and encourage believers in the Lord."
For more news visit SGN Scoops Facebook page.
Tags:
Christian artist
,
I Lift My Voice
,
Lindsey Graham
Posted in
announcements
,
artists
|
Comments Off

on Lindsey Graham Releases New Album I Lift My Voice
Written by Staff on September 3, 2015 – 7:25 am -
Nashville, Tenn (Sept. 3, 2015) – While change is never easy, when GOD is in it, it is always good. With that, owner and tenor singer of Beyond The Ashes has announced a new season for his 10 year ministry.
Beyond The Ashes was started by Anthony Facello a decade ago with a passion and vision to touch lives for Christ. The group has been nominated for Dove Awards as well as receiving the Breakthrough Artist of the Year Award at the Absolutely Gospel Music Awards because of their progressive style and extraordinary talent.
Facello felt a tug in his heart to move in a different direction with his life and shared that with the other members of the group. He helped each member move forward into other ministries and now that the transitions have been finalized he issued the following statement:
"We all know there are changes of season. I love when Summer turns to Fall. The crisp air brings a feeling of new and fresh. With that being said there is a new season that has arrived in my life. Eight months ago God started dealing with me about a change and now the time has come for the last page of this chapter to turn. I have been blessed the last 10 years to lead the ministry of Beyond The Ashes. God has allowed me to play a part in the journey of many fine and talented gentlemen and now they are in great places. I have learned so much and my faith has become much stronger through these years. Thank you to all of the wonderful friends, churches and promoters who believed in Beyond The Ashes and in me. I will continue to nurture those wonderful relationships God has blessed me with. I love you all and ask for your continued prayers as I walk in this new season."
Though the full-time ministry of Beyond The Ashes is coming to a close, Facello anticipates continued opportunities to serve God in various capacities. He looks forward to some solo dates and, also, to periodically travel and share in music ministry with friends singing and speaking about the infinite LOVE of God. Additionally, there will be limited appearances in a new format of BTA which will be called Beyond The Ashes and Friends.
For information about Anthony Facello and to keep up with exciting ministry ahead visit ww.beyondtheashesonline.com orwww.facebook.com/beyondtheashes .
For booking call 615-823-1557 or email scheduling@beyondtheashesonline.com .
About Anthony Facello
Anthony Facello, the group's founder and tenor singer, is no stranger to Christian music. The Dove nominated male vocalist has been traveling for 18 years. He has sung and toured with some of Gospel music's most recognized names and even enjoyed being a part of the well-known Gaither tour on several occasions. He is a singer's singer. His incredible tenor voice is revered as one of the best in the industry. This is an opinion, not just shared by fans, but also, by industry peers. Anthony's heart, though, is what really sets him apart. He is deeply committed to his calling. He would rather see someone sincerely touched by the music than be recognized for his gifts. In his free time, which is pretty infrequent, Anthony loves to get in a good work out at the gym, or just sit down and have coffee with friends.
Anthony shares, "I started out as a child singing in church and then with my family. Every week I would record Paul Heil's program, The Gospel Greats, and I would listen to those tapes over and over. I always knew that I was supposed to be in full time ministry and God saw fit to open that door in 1993." In addition to being an incredible vocal artist, Anthony also enjoys writing music. He was born in Baltimore, MD and now makes his home in Pleasant View, TN.
Tags:
Anthony Facello
,
Beyond the Ashes
,
Christian artist
,
gospel music
Posted in
announcements
,
artists
,
breaking news
|
Comments Off

on Anthony Facello Announces A New Season
Written by Staff on July 3, 2015 – 6:05 pm -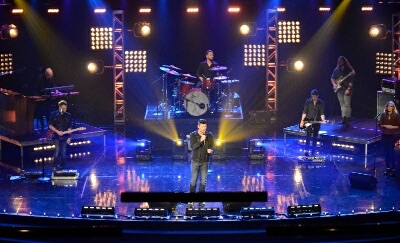 On Wednesday, June 1, 2015, artist Jason Crabb recorded an album live at Trinity Broadcast Network on Hendersonville, Tennessee. SGN Scoops' roving reporter and photographer Craig Harris was present and captured several images for those of us who were unable to attend. Read more »
Tags:
Christian artist
,
Craig Harris
,
Jason Crabb
,
sgn scoops
,
tbn
Posted in
exclusive report
,
gospel events
,
sgn scoops magazine
|
Comments Off

on SGN Scoops at Jason Crabb live recording
Written by Staff on June 22, 2015 – 5:24 pm -
SGN Scoops Fast Five welcomes contestant Darlene Chapman to the Monday quiz time. Darlene is a singer, speaker and television host and greatly involved in Women's Ministries.
We cornered Darlene and asked her to share her life with SGN Scoops. Here are her responses:
SGN: What new things are happening in your career right now?
Darlene: I am Currently working on my new project…..
SGN: What is your dream venue where you would like to perform?
Darlene: I would LOVE to sing at The Grand Ole Opry.
SGN: What is one thing about you that people would be surprised to know?
Darlene: I am a very funny person, quick witted and love to make people laugh…I would love to be a Comedian!
Tags:
Christian artist
,
Darlene Chapman
,
Fast Five
,
gospel singer
,
Grand Ole Opry
,
sgn scoops
,
Steve Ladd
Posted in
announcements
,
artists
,
christian entertainment
,
Christian interest
,
exclusive report
,
gospel events
,
special feature
|
Comments Off

on SGN Scoops Fast Five with Darlene Chapman
Written by Staff on June 18, 2015 – 7:34 am -
Marty Raybon is a true artist whose music has stood the test of time. Whether listeners have heard the Grammy-award winning tenor as a solo artist or as lead singer of the popular Country group Shenandoah, they have quickly learned that Raybon's heart and soul are poured out through his songs. Marty has enjoyed a long-lasting career in Country, Bluegrass, and Gospel music. Through all of his accomplishments, however, Marty will be the first to tell you where every good thing in his life comes from—and it's from the God who loves him.
Marty was born in Sanford, Florida, but he grew up in Jacksonville, Florida. He recalls growing up with his brothers and sister there. "It was a wonderful childhood. Music always filled our house. My brothers, Rick and Tim, and I sang together a lot, especially songs about being brothers. So we loved 'brother' acts, like The Osborne Brothers, Jim and Jesse. Our father, Kenneth, was a fiddle player and he taught us harmony parts. He was my biggest influence in music, not just because he knew how to make it work, but because he knew how to love it. He taught me how to love it."
Marty also recalls some of the biggest spiritual influences in his early years. "Billy Graham was the most soul-stirring spiritually. Also, my older sister, Kathy, has always walked very close to the Lord. She was such a wonderful example of how to be Christ-like."
Tags:
Christian artist
,
christian country
,
Christian Country Expo
,
Full Circle
,
gospel music
,
marty raybon
,
military heroes
,
Paige Givens
,
sgn scoops
,
Shenandoah
Posted in
artists
,
christian entertainment
,
Christian interest
,
sgn scoops magazine
|
Comments Off

on Marty Raybon: Every Good Thing
Written by Staff on May 14, 2015 – 8:58 am -
By Paige Givens
Twenty-five years ago, in the hills of Hiltons, Virginia, a unique and beautiful sound was born. It was a sound full of harmonies so close and sweet that they could only be connected by the blood of family. The sound produced words and songs that are full of hope and new life, words that point others to Jesus Christ. This sound became the music and ministry of The Browders, a family group that is rapidly gaining recognition and admiration in gospel music.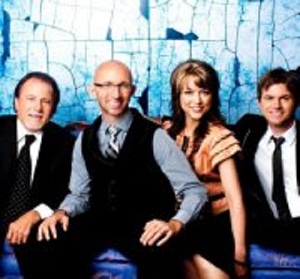 Tommy Browder, patriarch and founder of The Browders, grew up singing and writing gospel songs from a very early age. As an adult, he felt God leading him to start a ministry. "He felt the call to minister with his family. He prayed about it and God showed him what to do. We began singing in 1990," says son Matt. "Actually, it all started in a 1990 Dodge Omni!"
Matt and David Browder were young when they began traveling and ministering with their dad in 1990. Matt recalls, "At the age of 10 or 11, I began singing with Dad. Then, at the age of 13 or 14 I began to learn to sing three part harmony with the group. The Hinsons, Happy Goodmans, The Rambos, The Paynes, and The Crabb Family were huge influences throughout my life." David notes several influences of his early years, too. "The people that influenced me the most musically were The Original Hinsons, The Happy Goodman Family, Teddy Huffam and The Gems, The Spencers, The Crabb Family, The Paynes, Charles Johnson and The Revivers, Singing Cookes, Elvis, Johnny Cash and Carman." Just to name a few! David recorded his first song at the young age of eight.
In 2005, Sonya, Matt's wife, joined the group. Sonya says, "I started piano lessons at age four due to my interest in a piano we were storing at our house for our pastor's wife. I began singing and playing in church shortly thereafter. I started singing full time with a group based out of my home state of Maine at age 15. We were booked for a concert with the Browders in Tennessee around the year 2000, and our families became friends.   Matt and I married five years later." Read more »
Tags:
Christian artist
,
David Browder
,
gospel music
,
Matthew Browder
,
Paige Givens
,
sgn scoops
,
sonya browder
,
southern gospel
,
The Browders
,
Tommy Browder
Posted in
artists
,
christian entertainment
,
Christian interest
,
guest
,
scoops
,
sgn scoops magazine
,
special feature
|
Comments Off

on The Browders: How Sweet The Sound
Written by Staff on May 6, 2015 – 7:17 am -
After making a splash with his hit single "Dinner With Jesus," Shellem Cline has marched just a little further with his first top five hit of his career. Cline's new single "That Saving Song" has soared up the chart and currently sits at number three on the SGN Scoops national chart.
One DJ from Kentucky said,"This song is gonna go places; my listeners love it and I get calls everyday for it, it's a song that can really get a hold of a Christian's heart."
Cline stated that the song has become a fan favorite and he is getting requests for it at nearly every venue he performs.
To hear "That Saving Song" or to learn more about the ministry of Shellem Cline, visit his website at
www.shellemcline.com.
Tags:
Christian artist
,
gospel music
,
sgn scoops
,
SGN Scoops Top 100
,
SHELLEM CLINE
,
That Saving Song
Posted in
announcements
,
artists
|
Comments Off

on Shellem Cline Scores First Top Five Hit
Written by Staff on April 7, 2015 – 1:55 pm -
Popular soloist, Tim Livingston has realized much success in his music ministry. Nominations, such as "Favorite New Soloist" in the Singing News Awards for 2015, in SGN Scoops Top 100 Songs for 2014, his "I Just Miss You" reached the #8 position. The song also landed in the Singing News Top 80 in 2014. "More than Enough" is another that is sure to please Tim's friends and Gospel music fans from across the country and afar. Radio promoter, Pauline Patterson, notes, "I just don't know of anyone who doesn't love Tim's music. He is such a blessing and he continues to spread that joy everywhere he travels! It's an honor and a privilege to have him on our #18 radio compilation!" For more information:www.pattersonpromotions.com, www.timlivingstonmusic.com
Tags:
Christian artist
,
gospel music
,
Patterson promotions
,
southern gospel
,
tim livingston
Posted in
announcements
,
artists
|
Comments Off

on Tim Livingston Releases "More than Enough" Through Patterson Promotions
Written by Staff on March 12, 2015 – 1:19 pm -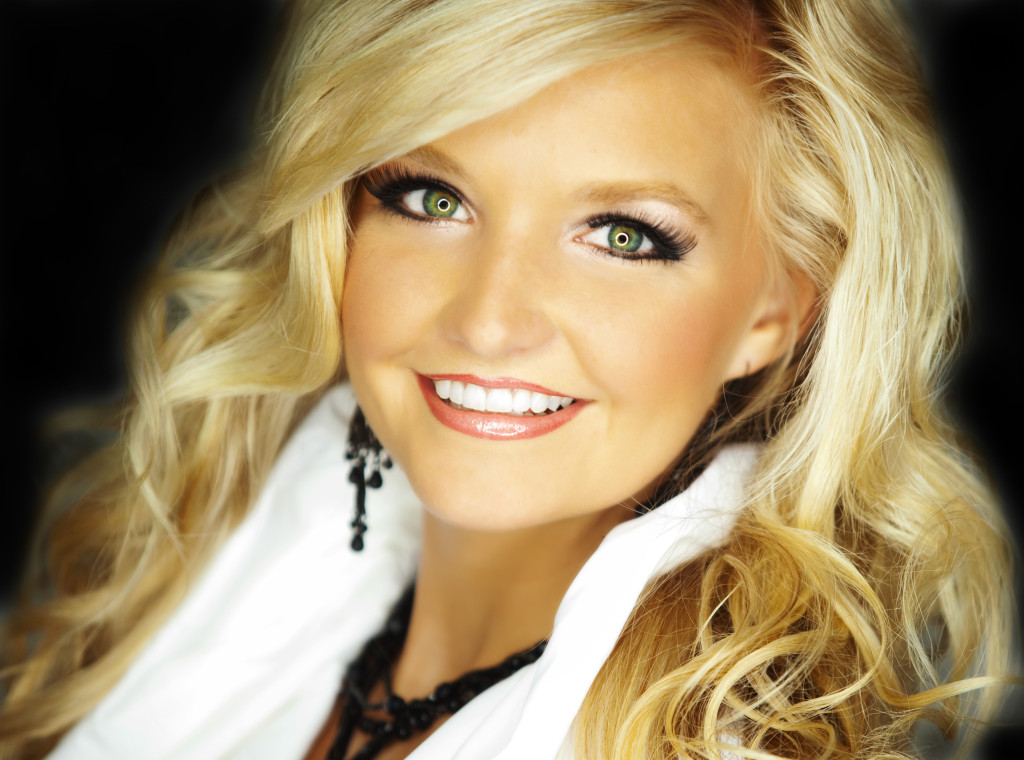 By Erin Stevens
Welcome back to a brand new year of Younger Perspective! We're starting 2015 on a bright, beautiful note with the multi-talented, Miss Michaela Brown! Get to know this gem of a young lady in the next few moments as we take a little trip to the Browns' farm in Iowa. Maybe we'll even stop at Blue Bunny Ice Cream on the way! Michaela, it's all yours…
Erin: When did you feel the call into music ministry? 
Michaela: Music was always a part of our family! The day before my 13th birthday, they showed the Jesus film at our church and I rededicated my life to Christ. That night, I told Him I would be a willing life, ready to embark on an adventure with God. This music ministry has been just that! Over the past 15 years, I can see that guiding hand I prayed for so many years ago!
Erin: What does a typical day in the life of Michaela Brown look like at home on the farm?
Michaela: Mornings must include French Press coffee and quiet time. My sister-in-law and I work out together and my office is in town. Le Mars is the home of Wells Blue Bunny Ice Cream and the CEO and his wife are dear friends. They started a ministry center and coffee shop across the street from the Ice Cream Parlor! Our offices are in that building and about a 10-second walk from the best ice cream in the world. That's why I work out, so I can eat ice cream! The rest of my morning is spent working behind the scenes for The Browns, Stage to the Stove (my cooking and music company), and some design work I do. Violin practice is also a part of my days. During harvest season on the farm, you would just scratch all the above and find me in the field, out and about on the farm from sun-up until after sun-down!
Erin: At what age did you discover your love for the violin? Share the story behind the musician.
Michaela: My sister and I took piano lessons. There were some kids in our church who played violin and we wanted to play just like they did. So we started violin lessons too. My grandma gave us the idea to work up one song with a violin part in the middle; I stood there with my feet planted and played my little song. Adam joined me and eventually Andrew as well. We love the energy they bring to our concerts. We don't just stand there with our feet planted the whole song anymore!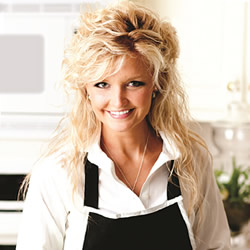 Erin: What was the inspiration behind compiling your cookbook?
Michaela: Mom and the fans thought I should write a cookbook! Ever since I was little, I was always doing something with cooking. Gloria Gaither asked me to do two cooking shows at her Fall Festival a couple years back; that was the perfect event to debut a cookbook. The second one is in the works!
Erin: It's apparent from social media that you take your role of being an aunt very seriously!What is your favorite part about being Auntie to adorable little Tessa and now Baby Charlie?
Michaela: It's one of the greatest gifts in the world! My favorite thing is watching them grow into little persons! I just spent some time with them; we made cookies, played, laughed, hugged and kissed. Everyone needs five days with a two year old and two month old!
Erin: As a chef, I'm sure this answer will be no easy task: what is your go to, can't live without, all-time favorite dish to whip up?
Michaela: I love making desserts and pastries. I still can't make a pie like my Grandma did, but I keep practicing!
Erin: Craziest thing a fan has ever said to you? Go!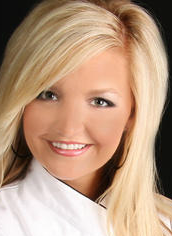 Michaela: Well, I just got a marriage proposal through Facebook, does that count?!
Erin: What was your favorite part of filming the group's latest music video? Give the readers a behind the scenes glimpse.
Michaela: COLD! It was in the 30's with 20-mph winds. We threw our coats off, recorded a take, then bundled up and did it all over again. We shot it in front of a neighbor's barn, and had to chase the cows out of the shot! Day two, we went to another neighbor's farm that has all kinds of animals, so we had fun interacting with them while catching it all on camera. "A Place in the Choir," music video will be released in January, so stay tuned!
Erin: As a young woman in ministry, how do you personally keep Christ the focus of your hectic lifestyle?
Michaela: Well, I'm not perfect and will be the first to admit some days I spend more time with Him than others… But I have come to truly cherish my quiet time with Him. I have some wonderful women in my life who inspire me to keep Him first in all things. It's a daily journey and I love waking up to see what each new day with the King will bring my way!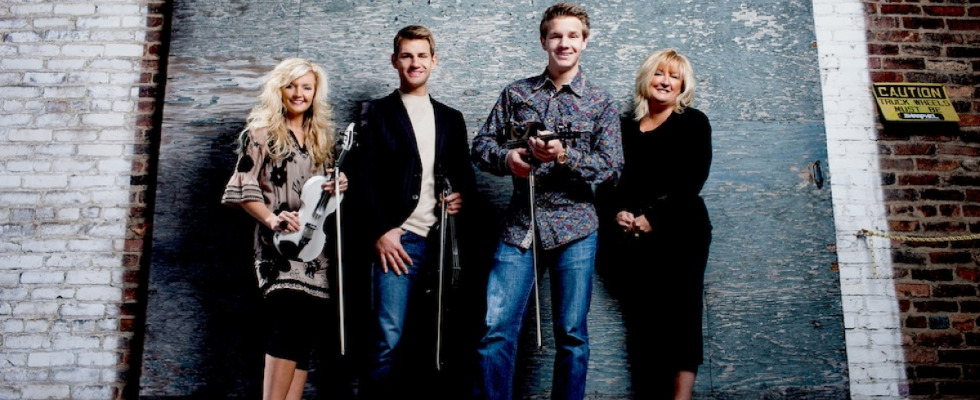 Even on those days when it seems we can't find the opportunity to have our quiet time, I pray that we won't be so quick to let it go by the wayside. We'll never be perfect and our Heavenly Father doesn't expect us to be, but that's why we need that daily one-on-one time with the Lord. As we embark on this New Year, let's try to keep Christ at the center of those hectic 'every days.' Thanks to Michaela for joining us today, and sharing straight from her heart. Until next month, Scoops fans…
And that's my take on it.
For more information on Michaela's singing family, The Browns, click HERE.
By Erin Stevens
First published by SGN Scoops in the January 2015 issue. For current issues, go to the SGN Scoops website HERE.
Tags:
Christian artist
,
Erin Stevens
,
gospel music
,
Michaela Brown
,
sgn scoops
,
southern gospel
,
The Browns
Posted in
announcements
,
artists
,
christian entertainment
,
Christian interest
,
exclusive report
,
guest
,
sgn scoops magazine
,
special feature
,
Uncategorized
|
Comments Off

on Younger Perspective: Michaela Brown
Written by Staff on March 3, 2015 – 9:49 am -
SGN Scoops' reporter Marcie Gray is in conversation with the LeFevre Quartet from the Singing at Sea cruise. Find out about their Cruise diet! For more information on the LeFevre Quartet online click HERE.  For a live performance of the LeFevre Quartet singing "Jesus Save" click HERE. For written features by Marcie Gray and other SGN Scoops writers, read the latest edition of SGN Scoops digital magazine here.
Tags:
Christian artist
,
gospel music
,
lefevre quartet
,
Marcie Gray
,
sgn scoops
,
SGN Scoops TV
,
Singing at Sea
,
Southern Gospel Music
Posted in
announcements
,
christian entertainment
,
Christian interest
,
scoops
,
sgn scoops magazine
,
special feature
|
Comments Off

on LeFevre Quartet on SGN Scoops TV!