Written by Staff on May 5, 2015 – 1:06 pm -
Thank you for joining us as we focus on prayer this week. Thursday is the National Day of Prayer and we would like to thank all of you that are participating in this focus by sharing your thoughts on prayer. If you would like to contribute, please email lorraine@sgnscoops.com
Our verse for today is: "Be careful [anxious] for nothing; but in every thing by prayer and supplication with thanksgiving let your requests be made known unto God. And the peace of God, which passeth all understanding, shall keep your hearts and minds through Christ Jesus." (Philippians 2:6-7. KJV)
Dixie Phillips, singer/songwriter and alumni of SGN Scoops, says we need to keep 'Tugging on the Prayer Chain:'
For more than three decades I have belonged to a ladies' prayer group. We meet every Friday morning and bombard heaven for the prayer needs that come in. We have seen first-hand the power in prayer.
I first learned to pray on my grandmother's knee. She prayed about everything. Recently I saw one of her prayers answered. Grandma prayed often for lost family members to come to Christ. She prayed for each one by name. Grandma went to be with Jesus in 2000. Then a couple years ago my eyes were filled with tears as I watched two family members that Grandma had faithfully prayed for, come to Christ. I just marveled at God's faithfulness. My ears had heard my precious grandma intercede for the souls of her loved ones decades ago but now, even though Grandma was gone, my eyes were seeing her prayers answered.
Prayer works! Keep tugging on that prayer chain.
Jason Oxenrider of family group, The Riders, says that God is good and still answers prayer:
Prayer is our time to talk to our Lord and Savior, to communicate our thoughts, our concerns, our needs, but most importantly, our love for Him. I am so thankful that I can talk to Jesus through prayer. My prayer time is in the evening, once my family has all gone to sleep, I rock in my recliner and pour my heart out in prayer. God is faithful and good!! He has answered many prayers that I know only could have come from above. My oldest son was born with a defective heart valve and had seven different times in the hospital before he was four years old. Brady is a growing, healthy boy now! My sister Pamela, our soprano singer, was told 20 years ago that her voice was going to leave her and she would never sing again. Well, here we are all those years later and he still sings like an angel! My God is good and He hears the cries of His children!
What are your thoughts concerning prayer? Who has been your greatest prayer warrior in your life? Have you had any answers to prayer that could only have been God? Email us! lorraine@sgnscoops.com
Tags:
Christian life
,
Dixie Phillips
,
gospel music
,
Jason Oxenrider
,
national day of prayer
,
Prayer
,
Prayer Focus
,
The Riders
Posted in
Christian interest
,
guest
,
sgn scoops magazine
,
special feature
,
Uncategorized
|
Comments Off

on Tuesday's Prayer Focus: Are you Tugging on the Prayer Chain?
Written by Staff on March 17, 2015 – 2:07 pm -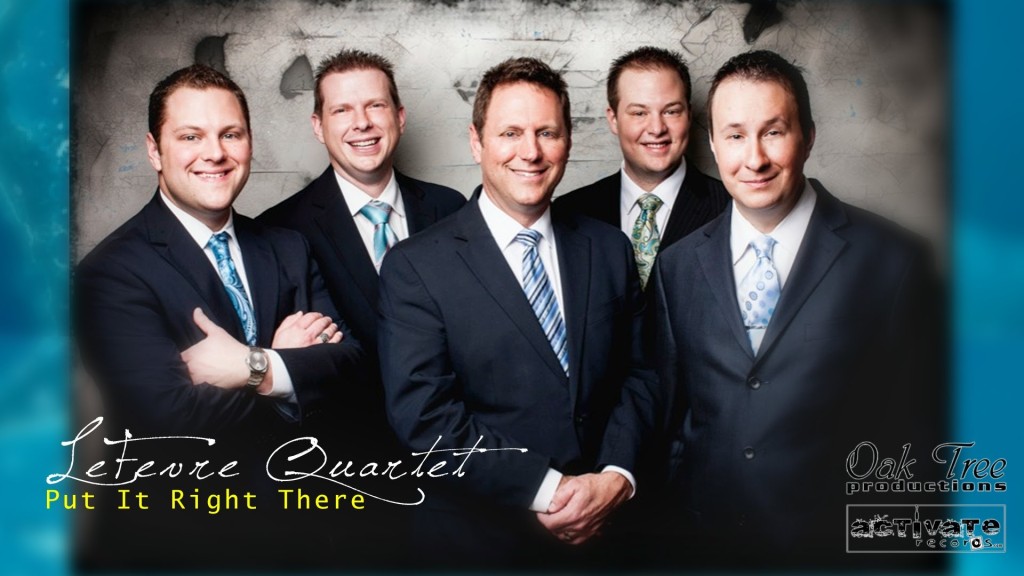 By Dixie Phillips
Singing the Good News of Jesus Christ is a family tradition for Mike LeFevre. His roots in Gospel music run deep. "My father's brothers, Urias and Alphus, started The LeFevre Trio in 1921." Nearly a century later the LeFevre legacy lives on in Mike's ministry with The LeFevre Quartet. "From the time I was a child, I had a dream to sing. Gospel Music was my passion all my life. In the beginning I sang for myself, but when I surrendered my life to Christ in 1988, it became my calling and I sang for the glory of the Lord."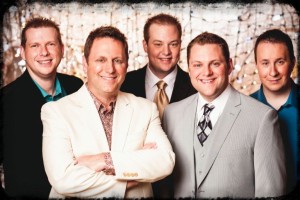 Mike's resume is very impressive. He began his musical career singing with his uncles after the legendary LeFevre Trio retired. Then he went on to sing with The Singing Americans, Brian Free and Assurance, and Gold City. Fans were quick to recognize his talent and ministry heart. He won "Favorite Baritone Singer" in The Singing News Fan Awards three years in a row.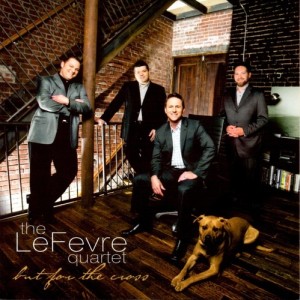 The LeFevre name has long been regarded as one of the finest in the Gospel music industry. It doesn't look like this will change anytime soon. The journey continues in Mike's son, Jordan, a third generation LeFevre to answer the Call and sing for the Lord in an organized group. Mike is proud of his multi-talented son. "Jordan has been part of The LeFevre Quartet from the beginning. At first, he played the drums, but now he plays the bass guitar and sings lead." Fans took notice of Jordan immediately. He earned the group a "Favorite Band" nomination in the Singing News Fan Awards, as well as the "Horizon Individual Award."
Every quartet needs a gifted pianist. God blessed The LeFevre Quartet with one of the best in Michael Lott. At the tender age of five, Michael started playing the piano. At 17, he became a full-time pianist for The Bradys and later The Diplomats. Michael added, "As a born-again Christian, I am answering the Call of God on my life. I am thankful He has called me to The LeFevre Quartet."
Thomas Nalley, tenor singer for the group, grew up singing in the church; but when his wife, Sarah, introduced him to southern Gospel music, Thomas became a fan for life. He, too, answered the Call to serve the Lord through song. His fans and colleagues appreciate his anointed singing and his compassionate heart.
Brandon Barry, bass singer for the group, fell in love with Gospel music when he attended his first Gospel music concert with his parents as a young boy. "When I heard George Younce and The Cathedral Quartet, I knew I wanted to sing Gospel music. When I was 15, I sang with my first group. I started singing full-time right after high school. Now, after 15 years of ministry, my commitment and priorities are to serve God with excellence. I want my heart to be true and pure as I carry out what God has called me to do for His kingdom."
Mike feels fortunate that their group has been able to keep the element of live music incorporated into their ministry with Michael on piano and Jordan on bass guitar. "Down through the years there have been some musical variances, mainly because of advances in technology, but the message has been and will continue to be the driving force behind our ministry and music."
Not only does the group have talented musicians and singers, but God has blessed them with some gifted songwriters. Brandon, Thomas, and Mike enjoy songwriting. Mike recently contributed a few ideas to Dianne Wilkinson for some great songs. Brandon writes for Phil Cross Music and does quite a bit of co-writing with Phil.
The group has been thrilled with their audience's response to their radio single "Put It Right There." Mike gave this testimony, "Numerous people have shared with us how the message of this song, combined with the power of Christ to change lives, has helped them conquer addictions. The song has touched lives all over the world."
Marcie Gray, office manager for the group, said, "An interesting thing happened when 'Put It Right There,' written by Gerald Crabb, was released as a video on YouTube. Within a short amount of time it received around 130,000 hits and then the counter just stopped. We were so excited that it was reaching so many people, yet puzzled that it seemed to freeze all of the sudden, after the hits were climbing so rapidly each day. Then we found out what the problem was. YouTube had flagged it for copyright content and pulled the video. The link became invalid. The group's record label, Activate Records, and their studio at Oak Tree Productions looked into it and proved to YouTube that we owned all of the licenses for the music and used the video material with appropriate permission, so YouTube put it back up. Unfortunately, the view history was lost, but even after all of that and without any promotional effort, the video has reached over 10,000 hits again. God is using that song, despite Satan's attempt to get rid of it. The group has received numerous email testimonials from people who shared the video with a loved one or friend and used it as a tool to help them understand they needed healing only Jesus can provide. He is just waiting for them to, 'Put it right there, in the palm of His hand.'"
Another song the Holy Spirit is using powerfully in the group's concert is "Jesus Saves." Mike is thrilled to see the audience's response to the David Moffitt and Travis Cottrell's original song. "It is an account of the life of Christ with a powerhouse lyric, speaking to the young and old, and breaking down barriers. It's the message the world needs to hear right now—Jesus saves!"
Over the years The LeFevre Quartet has seen many souls altered at the altar. "Our group is inspired when we see someone surrender their lives to Christ in a concert. We get excited when someone walks down the aisle to the altar and gives God all their trials, fears, worries, and burdens. They leave the concert forever changed!"
The common thread resonating throughout the group is their determination to fulfill in the Call of God upon their lives individually and also corporately as a group. They are passionate about sharing the Gospel. Mike said, "We will continue in the capacity of God's calling on our lives. Our daily prayer is that God would expand our territory. And as He does, we will answer His calling on our lives to the best of our abilities to tell the world, 'Jesus saves!'"
The group and the family they leave behind realize there are sacrifices for their music ministry. Mike is quick to point out their ministry isn't glamourous. There is a price for doing God's will. "It's always difficult when we head out to a concert and have to leave our families behind. We thank God for our wives and children who understand the Call on our lives because it's their Call too. We pray when we stand before the Lord one day, we will hear Him say, 'Well done, thou good and faithful servant.'"
God continues to pour out His favor and blessings upon The LeFevre Quartet. Many ministry doors are opening for them. They have appeared on the Jim Bakker Show, Trinity Broadcast Network, Dollywood, and Missouri's Branson Belle.
The group has released two new CDs this year. The first was Something Familiar, for the fans who have requested songs like "Oh, What a Savior," "I Know a Man Who Can," "He Sent Me Running," and "I Found Mercy," written by Jerry Goff, who joined The LeFevre Quartet in the studio to sing it with them.
The second release in 2014 was Christmas Time is Here; their newest CD released just this month. It made its debut at National Quartet Convention and the first shipment completely sold out. The single from that album, "Children Go Where I Send Thee," will be released to radio in the near future.
If you'd like to learn more about The LeFevre Quartet, go to www.thelefevrequartet.com. Check out their tour schedule at www.thelefevrequartet.com/schedule to see when they will be appearing near you.
Highlights from the 2014 National Quartet Convention feature The LeFevre Quartet and their hit song "Jesus Saves." You can watch it at http://www.youtube.com/watch?v=gm15sBdv8yM.
Written by Dixie Phillips
First published in SGN Scoops digital magazine November 2014.
For current SGN Scoops issues click HERE
For You Tube of writer Phil Cross talking about the LeFevre Quartet's song, "He Left No Stone Unturned," click HERE. 
Tags:
Brandon Barry
,
Dixie Phillips
,
gospel music
,
Jordan LeFevre
,
lefevre quartet
,
Michael Lott
,
Mike LeFevre
,
sgn scoops
,
southern gospel
,
Thomas Nalley
Posted in
artists
,
christian entertainment
,
sgn scoops magazine
|
Comments Off

on The LeFevre Quartet: Fulfilling Their Calling
Written by Staff on February 24, 2015 – 11:35 am -
By Dixie Phillips
Little Willie Wynn is commonly known in gospel music as the man with a million friends. After interviewing him on the telephone I can see why. His gentle warmth and down home personality makes you feel like you've known him your whole life.
Recording artist, Woody Wright, traveled and sang with Willie for several years. He had these kind words to say, "Willie is my mentor. My dad passed away in 1979. Willie broke the news to me while we were on the road. I consider him my 'stand-in' father. He is my absolute best friend. There is not a more influential figure in my life. I owe my career to him. I often tell him, if he had not given me my first road job in the music field, I would have probably gone to college and become a doctor or a lawyer."
Southern gospel historians consider Willie a legend in gospel music. His story of humble beginnings and then achieving the pinnacle of success so few artists ever experience is the stuff movies are made of. It's sheer inspiration and should encourage every child who has a dream of singing for the Lord.
Willie was born the seventh child of Cyrus Wynn and Allie Belle Lunsford Wynn in Moultrie, Georgia. He was raised by a single mother on 173-acre farm with his six brothers and one sister. Willie said, "When my father left, my dear mother poured her life into us kids. She loved us and we loved her. All of us helped with chores around the farm."
Willie learned a tremendous work ethic in the cotton fields of south Georgia with his close-knit family, but he also learned he loved music. "My brothers and I would work in the fields and we always had a dinner break. While we ate I listened to the beautiful music of the Statesmen, Blackwood Brothers, and the LeFevres. Nobody ever taught me parts, but I could hear them all. They came easy to me. It was a gift from God."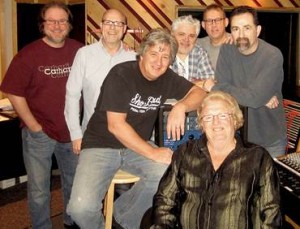 God had His hand on Willie and when he was 14 at Hopewell Baptist Church, he gave his heart to the Lord and was baptized. The young man also knew he was supposed to sing gospel music. "From as far back as I can remember, I felt a call from God to sing for Him. I can't really explain it. I just knew I was to sing tenor in a gospel male quartet."
Willie joined a quartet when he was still a teenager and sang with the Happy Four regularly on a local radio station. The group was well received and their fan base kept growing around Georgia. When he got in high school, he sang with the FFA quartet. "I just knew I had to continue pursuing my dream. In my heart I believed I would one day sing with the Statesmen."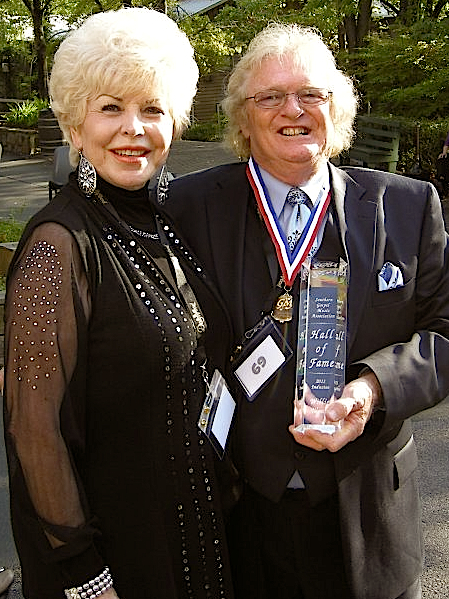 While Willie was honing his musical talent, a man moved to Moultrie from Atlanta. He shared Willie's dream and wanted to start a gospel quartet of his own. "We tried to round up a few singers, but then the guy moved back to Atlanta. I wasn't sure how I was going to achieve my goal, but then the same fellow kept calling me and inviting me to move to Atlanta. When the time was right, I moved there and got a job in a bookbindery. After working for about a year Denver Crumpler, the Statesmen's tenor singer, passed away. They were looking for someone to fill his position. I went to the Briarcliff Hotel in Atlanta to audition. I knew all their songs and had a great time singing for them. There was one more fellow after me to try out—Rosie Rozell. Even though they hired him, I still felt in my heart I would one day sing with the Statesmen."
Even though Willie didn't get the tenor position, Jake Hess recognized the young man's talent. When some of the members of Wally Fowler's backup quartet for his All Night Singing asked if anyone knew of a good tenor singer, Jake Hess suggested they contact Willie. The group didn't waste a minute. They drove to Willie's house around 11:00 p.m. and convinced him to come down to Atlanta's Municipal Auditorium. "Even though I wasn't feeling the best, I threw on my coat and went with them. I sang all the songs and was hired on the spot. Eventually the group was named The Oak Ridge Quartet."
Warner Brothers was the Quartet's record label. They suggested the group change their name to the Oak Ridge Boys. The guys all agreed. At this time the group consisted of Willie Wynn, tenor singer; Smitty Gatlin, lead singer; Ron Page, baritone singer; Herman Harper, bass singer; and Tommy Fairchild, pianist. They were noted for being on the cutting edge of gospel music with a progressive country sound.
It was during this time the fans fell in love with the skinny Georgia boy with his smooth tenor voice. At every concert the Oaks introduced him, "Make welcome Little Willie Wynn!" The crowd went wild and the nickname stuck. All 116 pounds of "Little Willie Wynn" sang his way into the hearts of his fans with songs like: "Jesus is Coming Soon," "Mama's Last Amen," "King Jesus," "After All," "My God Is Real," "Mama's Teaching Angels How to Sing," "The Grass Is Greener on the Other Side," "After Calvary," and "Little Is Much."
The Oaks' popularity skyrocketed. Invitations came for them to sing on the Porter Wagoner Show, the Johnny Carson Show, the Merv Griffin Show, and they regularly appeared on the Johnny Cash Show. They were invited to make a guest appearance in the movie 'Sing a Song for Heaven's Sake'. The Oaks received international invitations and performed two tours in Sweden. During this time they gained even broader audience appeal and recognition. They received several Dove Awards and even a Grammy Award. They were in more demand for television appearances than ever before. Willie and the Oaks were rated as one of the top gospel groups in the business.
Willie sang with the Oaks for 15 years and came off the road in 1973, to pursue a business venture and be closer to home. "I was offered a deal too good to refuse—an airplane business. What I didn't see on the horizon was the severe fuel crunch. It didn't go as I had hoped."
The next year, Hovie Lister called and invited him to sing with the Statesmen. "I knew God had put that dream in my heart. I saw the prayers of that little boy from the cotton fields of Georgia come true that day."
After recording a few albums and singing with the Statesmen, Willie formed another group—Willie Wynn and the Tennesseans. Group members included Elmer Cole, Dave Maddox, Woody Wright, and Michael Sykes. Willie said, "Even though we had great talent and recorded several records, we were never quite able to get the group off the ground."
The Georgia farm boy wasn't afraid of hard work. He decided to start another group—Sweetwater. Once again the roster was jam-packed with some talented singers: Darrell Holt, J.T. Hicks, Gary Clark, and later with Woody Wright and Michael Sykes. "Once again, we were blessed with great songs, arrangements, and talent, but we just couldn't make it to the level we hoped to."
Willie married the love of his life on Valentine's Day 1991. He said, "My wife, Sandi, is a beautiful person and singer. She is the highlight of my life."
Sandi and Willie received a phone call from Bill Gaither, inviting them to come to Alexandria, Indiana, and be part of a videotaping. Willie stated, "I cannot say enough good about Bill and Gloria. They have done more for the gospel music field than anyone I know. They have resurrected careers that have been dead longer than Hitler."
Another important phone call came to the Wynn house in 2013. "Woody Wright called and insisted I record a new project—Willie Wynn & Friends. He actually wrote a song "The Oak Ridge Boys and Me," especially for this project. If that wasn't enough of a blessing, then the Oaks came to the studio and sang backup on that song with me."
Not only did the Oaks come out to support Willie, but Bill Gaither and Ben Speer also sang backup. It's plain to see Willie loves people and they love him back. His new project is proof of just how much folks treasure "the big heart of little Willie Wynn."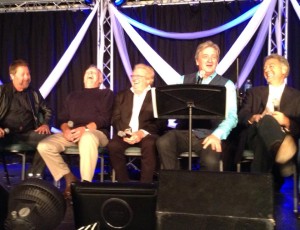 Willie Wynn & Friends also includes 11 new recordings of popular songs from Willie's days with the Oak Ridge Boys and new versions of great hymns and classics. Ponder Sykes & Wright (who first sang together as members of Willie's group, The Tennesseans) are featured on several songs, along with other former Tennesseans Elmer Cole and Dave Maddox. Bill Gaither, Ben Speer and Gene McDonald provide support vocals, as well as Willie's great friends Darrell Holt, J.T. Hicks, and Gary Clark from the group Sweetwater. The musician crew is a 'who's who' of some of Nashville finest players.
Woody Wright is quick to honor the man who helped him get his start in gospel music. "The November 3rd 2014, "Willie Wynn and Friends Bash" will be our fourth annual event. The first was the evening that Willie was inducted as an individual to the Southern Gospel Music Association Hall of Fame. So every year since, we have assembled the former members of Willie's groups (The Tennesseans and Sweetwater) to keep honoring Willie, who made it possible for dozens of wannabe Gospel singers get started.  Among those names are myself, Michael Sykes, David Ponder, Elmer Cole, and many other players and singers."
Fans will love hearing Willie's signature voice again. His huge heart shines through every song and his music guarantees to inspire his million friends and fans.
Willie also participated in a DVD/CD made in 2012 and 2013 with Scott Kramer and Woody Wright, Good News Music Radio. Willie said, "We are getting incredible number of inquiries about these projects. We are all very excited about them. Fans can purchase them at www.williewynn.com."
Fans can connect on FaceBook with Willie and Sandi at www.facebook.com/WillieNSandiWynn or write them at LittleWillieWynn@aol.com.
Editor's note: The November 3rd  2014 "Willie Wynn and Friends Bash" was part of the annual Creekside Gospel Music Convention in Pigeon Forge, Tennessee. For more information, visit http://www.creeksidegospelmusicconvention.com/
Written by Dixie Phillips
Published by SGN Scoops digital magazine in October 2014
For current issues of SGN Scoops digital magazine visit https://www.sgnscoops.com/
Tags:
christian country
,
Christian Music
,
Creekside Gospel Music Convention
,
Dixie Phillips
,
oak ridge boys
,
sgn scoops
,
Willie Wynn
Posted in
announcements
|
Comments Off

on The Big Heart of Little Willie Wynn
Written by Staff on February 19, 2015 – 2:51 pm -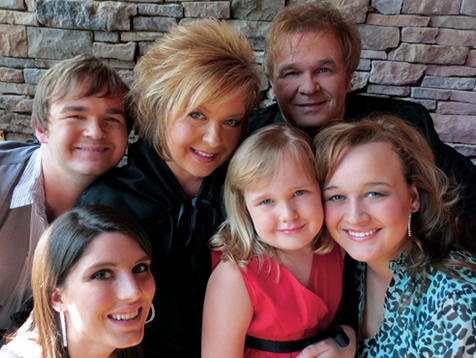 The bluegrass merger that changed gospel music forever happened in 1985 – the day Sheri Williamson from The Lewis Family married Jeff Easter from The Easter Brothers. The two met at the 1984 Albert E. Brumley Sundown to Sunup Gospel Singing in Springdale, Arkansas. They married 10 months later. After that, Jeff and Sheri traveled and performed as part of The Lewis Family, until they decided to pursue a career alone in 1988.
Sheri realized as a teenager that gospel music was a vehicle God used to usher people into His presence, and when He showed up, broken hearts would beat again. One night, when she was barely 15, she sensed something changing in the atmosphere of the auditorium while she was on stage singing. "I was deeply moved when I looked out into the audience and saw people's eyes filling with tears. There is nothing like singing a message of hope to people and seeing their lives changed."
There is a reason why the talented singer can minister to those whose hearts have been shattered. Sheri is no stranger to heartache. When she was 20, her father died of a sudden and unexpected heart attack. Not only did the songs she sang minister to her audience, but also the Lord used them to strengthen her. "As I ministered encouragement to others, I was receiving encouragement myself."
From the very beginning of their relationship Jeff and Sheri realized God was orchestrating something very special and calling them to something bigger than themselves. Sheri explained, "The combining of our voices made a unique blend that still excites us today, 30 years later, and because of everything we've been through, the messages are deeper and even more meaningful to us."
Their present group consists of Jeff, Sheri, their three children—Madison, Morgan, and Maura; their daughter-in-law Shannon, and their drummer, Landan Smith. This family sings from their heart and aims for the hearts of their listeners. And they hit the mark every time. When a pastor from Iowa, who was facing end stage renal failure, hosted The Easters in his church, he had this to say: "Jeff and Sheri are authentic! It's evident they have been in the trenches of trials and have found the Lord faithful. God has given them an enormous gift of encouragement through songs of hope. I know they sure ministered to me!"
A few years ago the Easters faced the storm of their lives. Sheri was diagnosed with breast cancer. God knew their family needed someone to minister to them during that difficult time. He chose some precious folks in Jackson, Tennessee. One week after the devastating diagnosis, they walked on stage to sing and the audience erupted in applause. The family was deeply moved, especially Sheri. "It was incredible! They continued to applaud for several minutes and I've never before or since seen that kind of a public outpouring of love. I was so grateful that we were the recipients!"
Sheri has been an inspiration to others struggling with cancer. She celebrated her sixth year cancer-free "cancer-versary" this past July. "My songs are more important than ever before. I've always taken life very seriously, because of Daddy's sudden death, but it's easy to forget just how hard a trial's been when it's been awhile since you faced one. Walking through breast cancer reminded me of God's faithfulness and His intimacy."
Since her cancer diagnosis, Sheri has become even more sensitive to what other women are facing in their lives. She has a passion for women's ministries and enjoys connecting with ladies of all ages and making new friends. "Women share their stories with me all the time, because of my willingness to openly speak about my battle with breast cancer. Some of them have even scheduled doctor's appointments and discovered breast cancer early. This inspires me to keep sharing my story."
Family is a top priority for the Easters. After Jeff's mother passed away in August of 2011, he wanted to do a project with his dad; featuring many of the songs he had heard him sing. Jeff sat down and made a list of songs.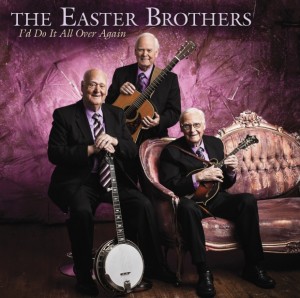 Sheri suggested they title the project Like Father, Like Son and mentioned he needed a song written especially for them with that same title. After a few days, she started writing the song, basing it on the relationship she'd been blessed to watch for 30 years. Sheri said, "The Easter Brothers are storytellers. They love to laugh and live their lives with a desire to share God's love. I wanted the song to encompass the uniqueness of this relationship, yet be able to relate to all fathers and sons.
"Men aren't as open with their emotions as women and I think sometimes it's much harder for fathers and sons to communicate than it is for mothers and daughters. Jeff visited his hometown of Mt. Airy, shortly after the song was recorded and wanted to capture a video in the little church his daddy helped to build. I don't think he even knew at the time what he would do with it. He just knew it was something he had to do.
"Our son, Madison, had experience behind the camera. From the ages of 14 through 20, he had been a camera operator for the Gaither Homecoming Tours. So we knew Madison was the perfect videographer to capture on video the special moments with Jeff and his dad as they sang Like Father, Like Son."
The Easters do their best to balance family life and ministry. Sheri is deliberate in making sure they keep family a top priority. "We're very blessed to travel as a family, but anyone will tell you that it's work and not leisure. We try to eat together at least once a week while we're at home. Madison and Shannon live next door. They visit us or we visit them. Although Morgan still lives at home, whenever we are not on the road she spends most of her evenings as a caregiver to my mama, who is bedridden and in her 13th year of battling Parkinson's and Lewy Body Dementia."
Sheri's loyal and loving heart shines through when she speaks of her mother, "Early on in the disease, it was a simple forgetfulness that we all learned to help her with. Later, she was unable to speak, but she could still sing songs with us because speaking and singing come from different parts of the brain. The songs were a huge part of our communication with her during those years.
"The disease has now progressed to the point where she is unable to communicate, except for a very short phrase every now and then, like 'I love you, too.' She smiles often and that helps us get through the day. I'm grateful that we've had such a close relationship. We were close before Daddy's death and grew even closer afterwards. For eight years, Jeff and I ate almost every meal with her because she didn't want to be alone. These days, we hold her hand, hug and kiss her, make sure she's comfortable for the night and thank God for every moment."
Jeff cherishes the last recorded DVD of Sheri's mama before she became too sick to travel and sing. "Sheri and I had just recorded the CD, We Are Family, which featured both of our families. Soon after we scheduled a live concert DVD in my hometown of Mt. Airy, North Carolina, with all three families doing those songs together. It was an incredible evening captured on film that we always treasure."
The Easters are real people facing real problems. Their faith is their anchor and keeps them steady through the storms of life. Their ministry hearts are evident in every song they sing and every testimony they give. "When we perform, we want people to leave a little different than when they came in," Sheri explains. "We want them to have a great time smiling, laughing, crying, and healing. We want them to know God loves them and that He is in control."
Not only are the Easters great singers, but also they are gifted songwriters. Sheri is a seasoned writer, cherishing quiet time and a chance to put her heart down on paper. She is quick to give Jeff credit for a number of great song ideas. "Jeff is creative with a hook and has given me several throughout the years, so we share the writing credits. He has given other writers some great ideas and hooks, too. They have come up with some amazing songs!"
Jeff and Sheri recognized their son's above average writing talent when he was still in school. Sheri shares this story, "When Madison was 14, he gave me a line on one of our Christmas songs and I credited him with that and more recently, I had written 'I Know How It Feels to Survive,' but I wasn't happy with my melody. Being a guitarist, Madison came to my rescue and within 10 minutes, we had completed the song." Madison and his wife, Shannon, have written several songs together, separately and also with co-writers.
Morgan is following in her mother's footsteps and honing her songwriting skills. She has grown and developed into a talented songwriter. Two of her original songs will be on her upcoming project.
Although Sheri has written most of their songs for the past 26 years, the family has a number of favorite songwriters they look to before heading back into the studio. Sheri shared, "Early on we recorded several songs by Marcia Henry, Joel Lindsey, The Easter Brothers, Jerry Salley, Aaron Wilburn, Paul Overstreet, and to this day we seek out their songs. More recently, we've loved Kenna Turner West, Wayne Haun, Wil Nance, The Isaacs, Jimmy Yeary, Rebecca Peck, Hillary Lindsay, Belinda Smith, Joseph Habedank and Sue Smith's songs."
Jeff's all-time favorite Easter songs are "A Heart that Will Never Break Again," "I Get To," "Thank You, Lord, for Your Blessings on Me," and "Like Father, Like Son." Sheri's favorite songs she penned are "I Need You," "Hear My Heart," and "I Know How It Feels to Survive." She also has a special attachment to Marcia Henry's timeless classic—"Roses Will Bloom Again."
Years ago Jeff discovered just how powerful a song can be when he had sung at a concert with Sheri and her family. "A young man came up to me crying, explaining how he had lost his mother, his father, and his wife. The tragedies had all happened within a year. The song we sang that night was "A Heart That Will Never Break Again." He shared how that song really encouraged him. I will never forget the gratitude I felt hearing his story."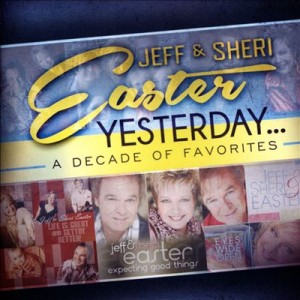 The Easters have just released a greatest hits project called Yesterday, A Decade of Favorites, featuring their number one songs, singles, and award winners over the past 10 years. In honor of their 30th anniversary, they have a very special project coming out that they're already writing and selecting songs for.
Fans will be happy to know The Easters, winners of seven Dove Awards, recipients of multiple Grammy nominations, numerous accolades, and prestigious awards are going to keep singing for as long as they can. Sheri said, "I tell folks all the time, 'I don't know how long God will let me travel with my children, but like a mother hen, I'll keep my bitties under my wings as long as God allows.' I'm a wise enough woman to know that God may reach more people by sending us on different mission fields, but I can guarantee that if my genes are anything like my mama's and my grandfather's, I'll probably be doing this until I can't any longer."
If you'd like to learn more about The Easters go to, Jeffandsherieaster.com, Jeff and Sheri Easter band page/FaceBook, and JSEaster/Twitter .
Written by Dixie Phillips
First published by SGN Scoops digital magazine in September 2014.
For current issues of SGN Scoops, visit https://www.sgnscoops.com/
Tags:
christian country
,
Christian Music
,
Dixie Phillips
,
gospel music
,
jeff and sheri easter
,
Morgan Easter
,
sgn scoops
,
Shannon and Madison Easter
,
southern gospel
Posted in
artists
,
christian entertainment
,
Christian interest
,
sgn scoops magazine
,
special feature
|
Comments Off

on Jeff and Sheri Easter: Songs of Hope
Written by Staff on January 8, 2015 – 11:15 am -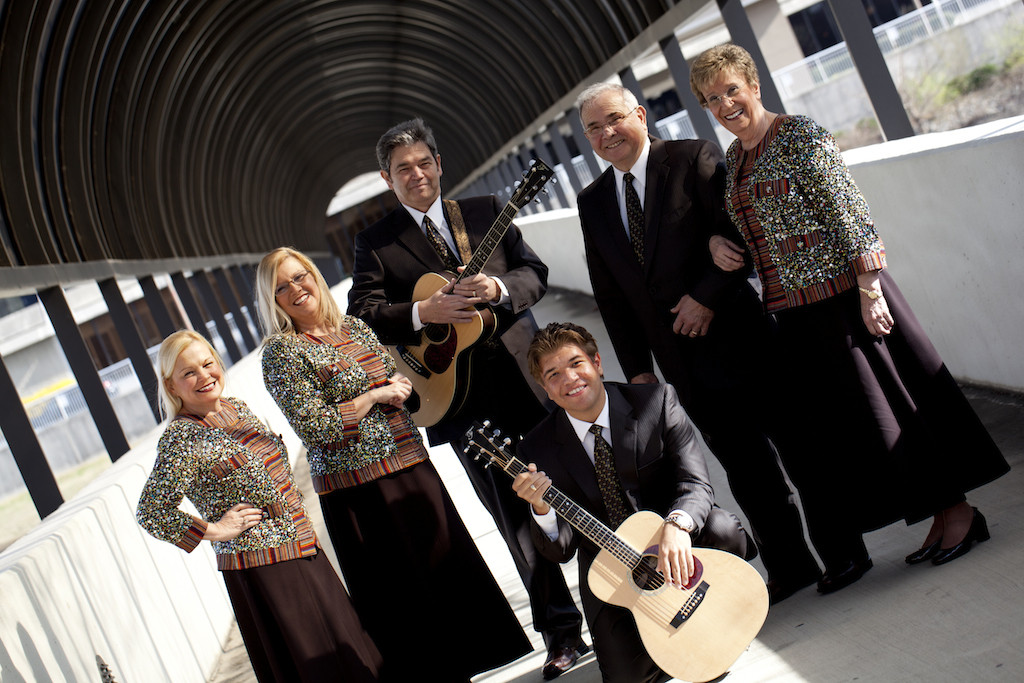 By Dixie Phillips
Big NEWS!
The McKameys will be performing at Southern Gospel Weekend- Texas. The event will take place April 14-16 , 2016 at Faith Church of Sherman Texas. The McKameys will sing on Friday night during the event. Don't  miss this event!
Check out this story on the McKameys written by Dixie Phillips………
Years ago my maternal grandmother introduced me to The McKameys. Grandma suffered from insomnia. To help pass the time she turned on her radio and listened to gospel music on a station out of Little Rock, Arkansas. The first time she heard The McKameys singing, "God On The Mountain" she grabbed the nearest pen and attempted to scribble down the lyrics. For the next several nights she had her radio on and her pen in hand, hoping to hear the song again and jot a few more lines down. (This was before Internet and Google.) This was repeated until she finally had written down all the lyrics. She appeared at my front door waving that piece of paper and saying, "You have got to hear this new song!"
Gospel music charts are proof Grandma's heart wasn't the only one touched by this legendary group's music. Multitudes of people have been blessed, strengthened, and encouraged by them. SGN Scoops decided to take a peek behind the hearts of this dynamic ministry to see if we could discover The McKameys' key to longevity and success.
Peg McKamey Bean is the first to admit she had a blessed childhood. "I was raised with a loving dad, stay-at-home mom, and 11 siblings. Mom and Dad loved the Lord and gospel music. Mom played the banjo and Dad was an ordained minister. He planted and pastored many churches, and preached at a lot of revivals."
As her parents led by example, Peg's small soul was shaped for Jesus. She still remembers the words her father told her mother when their family faced a financial crisis. "Don't worry, in some way or another, the Lord will provide."
In 1957, Peg was singing at Moran Baptist Church in Clinton, Tennessee, with her sisters, Dora and Carol, when she noticed a handsome young man. "Ruben and I met that night. We invited him to play the guitar for our group. We courted for a couple of years and married on June 29, 1959. We sang part-time until 1980. That's when Ruben and I went full time with our daughters, Connie and Sheryl."
Not only are The McKameys talented singers, but there is also a gifted songwriter in their group. Ruben and Peg's youngest daughter, Sheryl, wrote her first gospel song for the group when she was barely 12. Sheryl shared, "The words and music just started coming." And years later. . . the songs continue to come. Sheryl attributes her songwriting success to keeping her relationship with the Lord fresh and vibrant. "God continues to speak to me as my walk with Him continues to grow. He has walked me through some really tough times and I have always found Him faithful."
Although Sheryl has been writing songs for The McKameys for most of her life, she took a temporary hiatus from singing with the group for a few years and rejoined the group in 2009. Down through the years she has received numerous letters and emails from fans, telling how a particular song ministered to them. The family is always blessed by the testimonies that come in. Fan favorites of Sheryl's original songs have been "A Borrowed Tomb," "Prayer Changes Me," "I Will Trust the Lord," "I Keep Praying," and "When He Speaks." Sheryl said, "The Lord has used "I've Won" to strengthen the hearts of many cancer patients. It is very rewarding to write or sing songs that minister hope to people. God continues to stir my heart to encourage others and remind them of the hope we have in Christ."
The group ministers in concerts about 150 days a year, traveling all over North America. They have had 29 number-one singles and have been honored for having the most number-one hits in Southern Gospel Music. Peg has been voted the Favorite Female Vocalist and Sheryl has been nominated the Singing News Songwriter Award numerous times. The group has been awarded several Singing News Fan Awards throughout the years and the accolades continue to roll in.
Currently the group consists of Peg McKamey Bean, her husband, Ruben; their daughter, Connie Fortner; Connie's husband, Roger; Connie and Roger's son, Elijah; and Peg and Ruben's daughter, Sheryl Farris.
"The McKameys are authentic!" A pastor's wife from northern Iowa said after she had a personal encounter with the group in 2008. "My husband was diagnosed with end stage renal failure. The doctors said he would die without a kidney transplant. The day of surgery arrived and I was battling a lot of fear and 'what if's'. One of my friends contacted The McKameys and asked them to pray for our family. Not only did they pray, but Connie sent an email, sharing her personal story about her son's kidney transplant. As I read her email, the Lord's presence filled my heart with hope. Faith devoured fear and I knew my husband was going to be all right."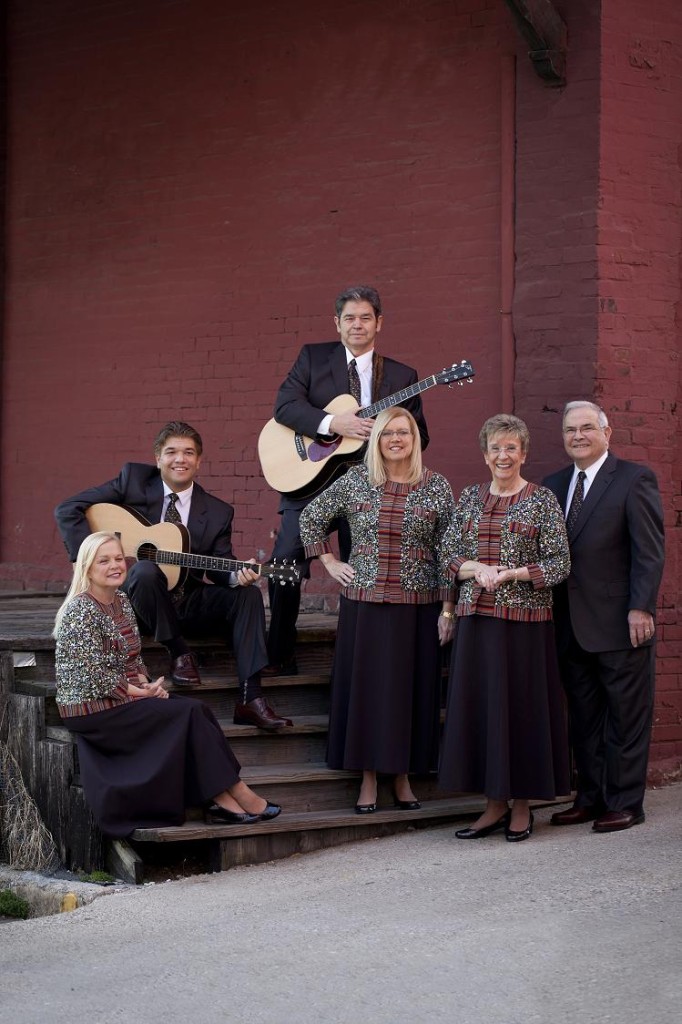 With ministry hearts like The McKameys, is it any wonder why God has blessed them? It's evident the reason for their longevity and success is because they always put Jesus first. This year they celebrate two ministry milestones—their 50th recording and Peg's 60th anniversary singing gospel music.
Peg stated, "We would ask the support of everyone to pray for our family. Keep your head up high. You belong to God. You are special to Him. We love you."
The group refuses to let the tight schedule and difficulties that come with life on the road detour them from the call God has placed on their lives. "We plan to be faithful to the end." Peg continued, "We want to encourage and help Christians in these last days. We plan to keep finding good songs and cheer up the people who come to hear us sing."
If you would like to know more about The McKameys or find out where they are performing next, go to: www.mckameysonline.com.
By Dixie Phillips
First published by SGN Scoops magazine, October 2014.
For current features and the latest issue of SGN Scoops digital magazine, visit https://www.sgnscoops.com/
Tags:
Christian Music
,
Connie Fortner
,
Dixie Phillips
,
Elijah Fortner
,
gospel music
,
January 2015
,
McKameys
,
Peg Mckamey bean
,
Roger Fortner
,
Ruben Bean
,
sgn scoops
,
Sheryl Farris
,
southern gospel
Posted in
announcements
,
artists
,
sgn scoops magazine
,
special feature
,
Uncategorized
|
Comments Off

on The McKameys: Our Secret To Longevity in Gospel Music
Written by SGN Scoops Staff on November 15, 2014 – 7:14 am -
It's November and we are thrilled to present the latest edition of SGNScoops for you to read and enjoy. Creekside Gospel Music Convention was a blast and we have lots of pictorial coverage in these pages, as well as on the fabulous front cover. Inside we have an update on the event with a list of the Diamond Award winners and so much more. We say an extra thank you to all of those who went above and beyond to help make Creekside the best ever. If we were to make a list, we might leave someone out, so to each and every one of you: we are so grateful to have you as part of our team.
Thanks to our artists for brightening our pages this month! Featured guests for November are: Soul'd Out, Tim Parton, Melanie Walker, the LeFevre Quartet, Triumphant, Hannah Webb, Canaan's Crossing, Sherry Anne, the Jordan Family, Quinton Mills and DJ Ron Foster.
Thanksgiving is quickly approaching and you will find several articles with different views on this holiday. We appreciate all of our artists for contributing what they are thankful for and also their favorite holiday food!
Our monthly devotional writers are back with more insights, as well as a new column entitled "Pastor's Corner". This month we welcome Music Pastor, Terry Snyder.
Since this is the month of giving thanks, we would like to thank all of our current authors that spend so much of their time and talents on SGN Scoops. Special thanks to Candi Combs, Chris Clay, Craig Harris, Dan Duncan, Dean Adkins, Dixie Phillips, Erin Stevens, Hannah Webb, Jennifer Campbell, Laura Kennedy, Lynn Mills, Marcie Gray, Paige Givens, Scott Rhoades, Tina Wakefield, Robert York, Sandi Duncan Clark and Vonda Easley. There are others who contribute in other ways and we are thankful to you as well: Vivian Belknap, Michelle Drummond and Bev Byrd.
We so appreciate all of our columnists, including Lou Wills Hildreth, David Staton, Laurette Willis, Jeff Steele, Kelly Nelon Clark and Sherry Anne.
SGN Scoops would look really dull without the artistic team of Stephanie Kelley and Staci and Pete Schwager. Joan Walker makes sure all of our i's are dotted and our t's are crossed. Lorraine Walker as acting editor pulls it all together. And of course, SGN Scoops' Publisher Rob Patz keeps us all focused and enthusiastic about the future of the magazine. And SGN Scoops would not exist without our founder, Dr. Allen Smith.
Above all we give thanks to our Lord Jesus Christ, for Whom we give our gifts and to Whom we give all praise and thanksgiving.
Happy Thanksgiving!
Tags:
Candi Combs
,
Chris Clay
,
Craig Harris
,
Creekside Gospel Music Convention
,
Dan Duncan
,
Dean Adkins
,
diamond awards
,
Dixie Phillips
,
Erin Stevens
,
Hannah Webb
,
Jennifer Campbell
,
Laura Kennedy
,
Lynn Mills
,
Marcie Gray
,
Paige Givens
,
Robert York
,
Sandi Duncan Clar
,
Scott Rhoades
,
SGNScoops Magazine
,
Tina Wakefield
,
Vonda Easley
Posted in
announcements
,
sgn scoops magazine
|
Comments Off

on November 2014 SGNScoops Magazine
Written by SGN Scoops Staff on June 14, 2014 – 2:28 pm -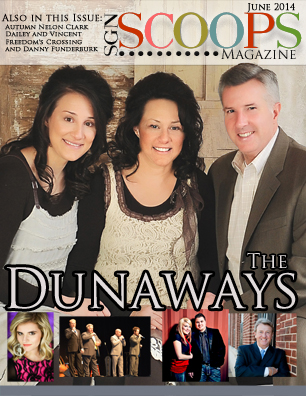 June is bursting with great features and indepth devotionals in SGN Scoops digital magazine! We feature the family music of The Dunaways on our cover, as well as the latest Scoops on Danny Funderburk, Freedom's Crossing, Debbie Bennett and Autumn Nelon Clark.
Check out our writers' reviews of terrific concert events, including the Gaither Family Fest, Dailey & Vincent, Singing In The Sun 2014, the Jackie Wilburn Memorial and the Sneed Family Homecoming. Read all about the inaugural Ozark Gospel Music Festival written by guest Scoops writer Joshua Heston. It was a hit!
Don't miss Lou Wills Hildreth's monthly feature on Love, Life and Legends. We also have special features by Dr. Jeff Steele, Sherry Anne, David Staton, Laurette Willis and Scott Rhoades.
All this plus the SGN Scoops Top 100, New Music Review, the Creekside Gospel Music Convention Update and the Great Doughnut Caper as well as Rob Patz's Publisher's Point. There is so much more that we can't fit it all in this report! You HAVE to read it for yourself.
So pick up that Iced Tea or Frozen Lemonade, sit back and enjoy the June 2014 issue of SGN Scoops digital magazine!
Tags:
Craig Harris
,
Creekside Gospel Music Convention
,
Danny Funderburk
,
David Staton
,
Debbie Bennett
,
Dixie Phillips
,
eff Steele
,
Erin Stevenson
,
Freedoms Crossing
,
Gaither Family Fest
,
Jackie Wilburn Memorial
,
Laurette Willis
,
Lorraine Walker
,
Lou Wills Hildreth
,
rob patz
,
Sandi Duncan Clark
,
Scott Rhoades
,
Sherry Anne
,
Sneed Family
,
The Dunaways
Posted in
announcements
,
sgn scoops magazine
|
Comments Off

on June 2014 SGNScoops Magazine
Written by SGN Scoops Staff on January 12, 2014 – 10:17 pm -
Happy New Year! We're kicking off 2014 right with the one and only David Phelps on the cover! Also in this issue, enjoy articles on Donna King, the Old Paths Quartet, Chris Allman, Page Trio, Carolina Quartet, Suzanne Hise and Mike Manuel. Don't miss who topped the SGNScoops radio chart for January and don't miss the latest update on our Creekside Gospel Music Convention. We are thrilled to welcome David Staton to our writing staff! David unveils his new column, "Can You Handle The Truth?" Catch the latest devotions from Sherry Anne and Jeff Steele as well as tips from Laurette Willis on Christian Fitness. Legendary Lou Wills Hildreth's articles are always great. You don't want to miss "Life, Love and Legends." It's a special treat to share an article on Edna Wright, the newly elected Southern Gospel Music Promoters President! Check out January's music reviews as well as Publisher, Rob Patz and editor, Rhonda's Frye's expectations for the New Year. Remember, SGNScoops is absolutely free. Read. Enjoy. Share!
Tags:
Angela Griffin
,
Carolina Quartet
,
Chris Allman
,
Craig Harris
,
Creekside Gospel Music Convention
,
david phelps
,
Dixie Phillips
,
Donna King
,
Edna Wright
,
Lorraine Walker
,
Mike Manuel
,
Old Paths Quartet
,
Page Trio
,
Rhonda Frye
,
rob patz
,
SGNScoops radio chart
,
southern gospel
,
Southern Gospel News
,
Suzanne Hise
Posted in
sgn scoops magazine
|
Comments Off

on Southern Gospel News January 2014 Magazine
Written by SGN Scoops Staff on November 13, 2013 – 9:38 pm -
We are excited to present the November issue of SGNScoops Magazine! A picture is worth a thousand words, right? The cover this month captures the Spirit of this year's 2013 Creekside Gospel Music Convention! The spirit is certainly the spirit of Joy! The smiles almost tell it all, but catch the details of this year's event along with a listing of Diamond Award winners in this issue. Also, this month's issue is not the typical predominately Southern Gospel Music Magazine. We're just a bit on the COUNTRY side! This month, we're shining the spotlight on Christian Country like never before. Don't miss Rick Kiser's story, "Christian Country Gives Thanks," as well as features on Sharron Kay King, Steve Brown, Greg McDougal. This month also features Providence Quartet and Canaan's Crossing. Lorraine Walker and Rob Patz put together a fabulous Thanksgiving article allowing the Southern Gospel Community voice their gratitude. We all need our spirits boosted, so don't miss encouragement from Sherry Anne and Dr. Jeff Steele, and don't miss reading Lou Hildreth's special memories. A story on "Mary Anne Oglesby and The Veranda" is sure to warm hearts of families dealing with Alzheimer's and we hope will inspire other churches to care for the aged in their congregations. Award winning Songwriter, Belinda Smith shares her ministry and Ethan Whisnant shares his "Younger Perspective." Read about latest music, Christian Fitness, and more in this this well-crafted, beautifully designed online magazine. Remember, SGNScoops is digital and free! Please share with friends!
Tags:
Alzheimer
,
Belinda Smith
,
Canaan's Crossing
,
christian country
,
Christian Country Gives Thanks
,
Christian Fitness
,
Creekside Goispel Music Convention
,
Diamond Award winners
,
Dixie Phillips
,
Dr. Jeff Steele
,
Ethan Whisnant
,
facebook
,
gaither
,
Greg McDougal
,
Lorraine Walker
,
Lou Hildreth
,
Rhonda Frye
,
Rick Kiser
,
rob patz
,
SGNScoops Magazine
,
sharron kay king
,
Sherry Anne
,
southern gospel
,
Southern Gospel Music Magazine
,
Southern Gospel News
,
Steve Brown
,
Tina Wakefield
Posted in
announcements
,
diamond awards
,
sgn scoops magazine
|
Comments Off

on November 2013 SGNScoops Magazine
Written by SGN Scoops Staff on October 14, 2013 – 9:56 am -
The staff at SGNScoops proudly presents the October Edition of SGNScoops Magazine. Gracing our cover this month is Ed O'Neal and the Dixie Melody Boys. We will be honoring Ed later this month at the Creekside Gospel Music Convention in Pigeon Forge, Tennessee. You can find out how to be a part of that in the latest Creekside update in this issue. Other ministries highlighted are, The Lesters, 11th Hour, Ivan Parker and the Dove Brothers. Catch the Younger Perspective with Amber Nelon, and Christian Country News featuring Mikayla Lynn. This month we congratulate our publisher, Rob Patz for twenty years in the Gospel Music Industry. Don't miss this story- especially the side-bar containing notes of congratulations from industry professionals, friends and peers. This issue wraps up an era of Quartet Conventions in Louisville and also re-caps a recent Women of Faith conference. Believe it or not….There is more! Don't miss encouragement from Dr. Jeff Steele, Reflections With Sherry Anne, Life, Love and Legends by Lou Wills Hildreth and with get the latest music reviews by Sandi Duncan Clark. The latest in Southern Gospel Music is tastefully presented and laid out professionally, by Pete and Staci Schwager and is tucked behind a beautiful cover designed by Stephanie Kelley. SGNScoops Magazine is free! Please share with friends, family and fans.
Tags:
11th Hour
,
Amber Nelon
,
christian country
,
Creekside Gospel Music Convention
,
Dixie Melody Boys
,
Dixie Phillips
,
dove brothers
,
Ed O'Neal
,
ivan parker
,
Jeff Steele
,
Lou Wills Hildreth
,
louisville
,
Mikayla Lynn
,
National Quartet Convetion
,
Rhonda Frye
,
rob patz
,
Sandi Duncan Clark
,
southern gospel
,
Southern Gospel News
,
THE LESTERS
,
Women of Faith conference
Posted in
announcements
,
scoops
,
sgn scoops magazine
|
Comments Off

on October 2013 SGNScoops Magazine