Written by Staff on February 13, 2017 – 3:47 pm -
By Erin Stevens [From the December 2016 issue of SGNScoops magazine]
A word from the writer…
Tis the season for yuletide cheer, fa la la la's and Grandma's famous cookies. But it's also time to give a little more and be a little sweeter. There's a young fellow I thought of when I was preparing for this Christmas edition. Not a kinder, sweeter, more down-to-earth guy came to mind than Logan Smith. You may already be a fan of his pipes, but perhaps there are some things you don't know about him…quite yet. With that said, let's jump right in!

Erin: For those that might not know your backstory, when did your love for music begin?
Logan: My parents and grandparents raised me on classic Southern Gospel groups such as The Happy Goodmans, The Hinsons, The Rambos and The Speers. I admired them all, but the Goodmans brought an excitement to the stage like I'd never seen before. They inspired me to start singing this incredible music that lifts and encourages. I've been hooked ever since!

Erin: It appears you have successfully bridged the gap from being "the boy who sings like Vestal" to the talented young man you are now who has come into his own. How have you accomplished this and was it a smooth transition?
Logan: It's been very smooth. It's an honor to carry on the legacy of such a dynamic vocalist. I'm enjoying mixing in new songs from such talented writers of our time today, and still throwing it back and singing Goodman classics every night! The music never gets old. The singers fade, but the message in these songs is timeless.
Tags:
Erin Stevens
,
gospel music
,
Hinson Family
,
Logan Smith
,
The Stevens Family
,
Vestal Goodman
Posted in
artists
,
sgn scoops magazine
|
Comments Off

on Younger Perspective on Logan Smith
Written by Staff on August 21, 2016 – 12:38 pm -
Promoter James Lawson says, "I just thought it would be fun to duplicate Vestal's family recipe and serve something that would not only be good but that would bring back fond memories of one of gospel music's great legends…something that you just would'nt get anywhere else."
Barberton, Ohio August 19, 2016- The Happy Goodman's could sing an old convention song like no other group, each of them singing a different melody line and then all of them landing on the final chord together.
They were also known for their voracious appetite for life, gospel music, and country cookin.' There was always something good to eat on the Goodman's bus. Now if you are not aware of it, Vestal's coconut cake was legendary.
We gave Vestal's most requested and celebrated cake recipe to
Dolores Reeve's of Reeves Cake Shop, celebrating forty years serving some of the finest baked goods in Akron, and commissioned them to bake as close to possible Vestal's famous coconut cake. Following the "Summer Night Hometown Sing," this past August at the CHM
Event Center, Barberton, Ohio those with a VIP ticket indulged in a piece of Vestal's famous cake, garnished with a scoop of Vanilla Bean ice cream and had a chance to mingle up close with all of the artists on the program. In concert that evening were the Dixie Melody Boys, the Guardians and Lorne Matthews.
When it comes to Southern Gospel Music, you will find none finer than the coming roster of talent scheduled to appear at Christian Healthcare's new Event Center located at 800 Wooster Rd, Barberton, Ohio.
The fall line up is simply spectactular, starting with:
September 10-Greater Vision & the Mylon Hayes Family
October 22-Cana's Voice & David Pendleton
November 19-the Blackwood Brothers & the Browns
December 16-the Hoppers & the Hall Sisters
Plan now attend one or more of the above events; for more info visit our web at gmlconcerts.org. Tickets for all events on sale now through itickets.com or by calling 800-965-9324; group rates available.
Christian Healthcare Ministries/Gospel Music Live
Christian Healthcare Ministries (CHM) is an affordable, faith-based solution for Christians to the problems of rising healthcare costs and expensive health insurance policies. Visit chministries.org or gmlconcerts.org
For more Gospel music news click here.
Tags:
Dixie Melody Boys
,
Guardians
,
Lorne Matthews
,
Vestal Goodman
Posted in
announcements
,
artists
|
Comments Off

on CHM Event Center serves Vestal Goodman's famous coconut cake at VIP reception following concert with the Dixie Melody Boys, the Guardians & Lorne Matthews
Written by scoopsnews on April 1, 2016 – 10:03 am -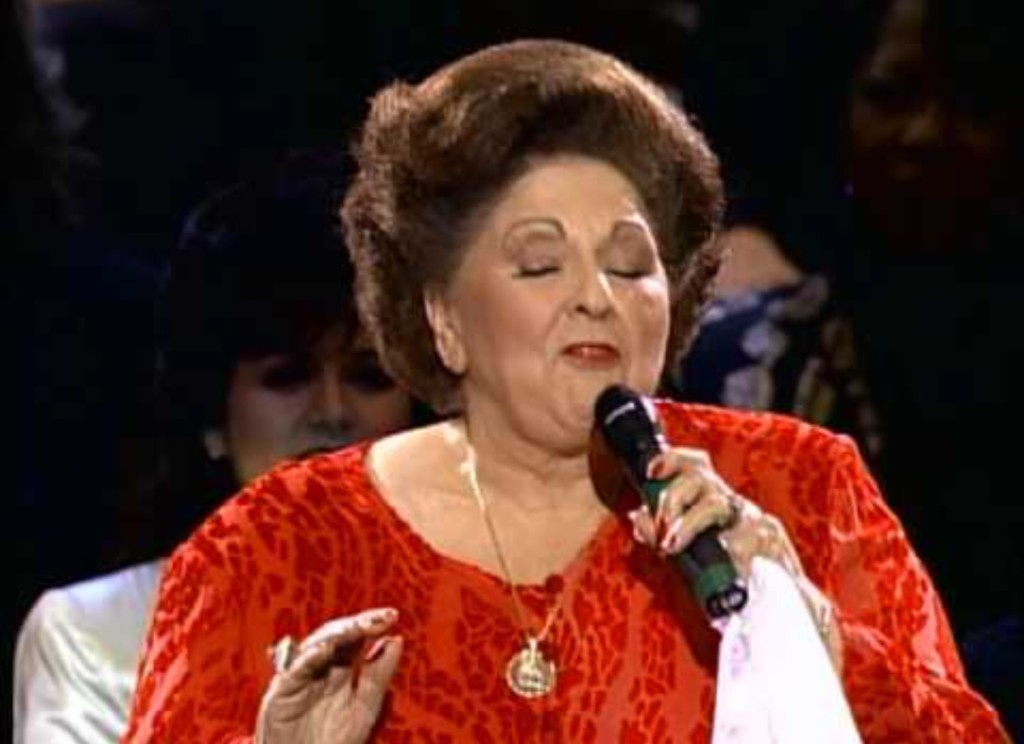 Flasback Friday to 1998. Ms. Vestal Goodman is singing Looking for a City……
Listen:
Tags:
Vestal Goodman
Posted in
announcements
|
Comments Off

on Flashback Friday….. 1998 Vestal Goodman
Written by Staff on December 27, 2015 – 1:46 pm -
Vestal Goodman is a legend and an icon in Gospel music. Although she passed away on this date in 2003, she lives on in Ggaither videos and in the minds and hearts of Gospel music fans. The lady with a big voice, big hair and colorful flowing outfits, Vestal had a distinctive vocal styling that many tried to copy and few succeeded.
More than that, Mrs. Goodman had a heart that accepted everyone and a soul that loved to talk to her Heavenly Father. Anyone who had the honor of hearing her pray felt the power of the Holy Spirit and the brush of angel wings in the room.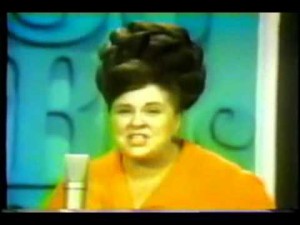 Born on December 13, 1929, Vestal Freeman married Howard Goodman on November 7, 1949, joining the Happy Goodman Family and taking their sound to new heights. She won the Female Vocalist of The Year Dove Award in 1969, after which the Happy Goodman family went on to win many Grammy and Dove Awards.
Showcasing the vocals of the Queen of Gospel Music, is this video of Vestal Goodman singing, "In The Presence Of The King."
For more news visit SGN Scoops on Facebook.
Tags:
Howard Goodman
,
Southern Gospel Music
,
Vestal Goodman
Posted in
announcements
,
artists
|
Comments Off

on Vestal Goodman Remembered
Written by Staff on March 10, 2015 – 1:48 pm -
By Paige Givens
Sweetwater Revival is forging a path into new territory as one of the only all-female quartets in the nation. They have been affectionately called "The Female Quartet of Southern Gospel Music" by their peers in the industry, and they definitely deliver spirit-filled ballads, toe tapping numbers, hymns of old, and new melodies with the tight harmonies they are known for. The group hails from Minneapolis, Minnesota, and proves to us that Southern Gospel music has roots all over the nation, and even the world! Take a few minutes and get to know these talented ladies who are serving with their music and heart in the ministry known as Sweetwater Revival.
Katie Paull, founding member of Sweetwater Revival, was raised in a musical Christian home, with a pianist mother and worship leader father, Charles, who also sang in a men's quartet with Roy Tremble of the original Cathedrals. Katie shares, "Music was like breathing for me. I remember being in college, walking the aisle to get my diploma, thinking, 'This is it? It's time to grow up and get a job and forget music?' Not long after that I made an announcement to my folks that Nashville was my destination. I waited tables by day and made music contacts by night. I did everything from sending out press packets, going to writer's nights, songwriting, meeting with producers, A&R reps at record labels, and singing in places like the Bluebird Cafe. God helped me learn a great deal about the music business during this time. A memory I will always cherish was one weekend when my father flew down to visit. We were eating at a restaurant. I suddenly spotted Vestal Goodman, the Queen of Gospel Music. My dad about choked on his tortilla he was so excited! I went to speak with her and tell her about my music. Standing next to me, without any hesitation she grabbed my hand and prayed for me and my future in music. That moment will always stick out in my mind. God has placed people like her all along my journey and He can do the same for each of us as we seek His will for our lives." Katie would go on to sing with The New Speers. After this group eventually disbanded, the journey of Sweetwater Revival began. "Little did I know that moving back to Minnesota and working with my mom would be the realization of my greatest musical dreams!" Katie has been married for seven years to David Paull and they have two children, Elizabeth and Ethan.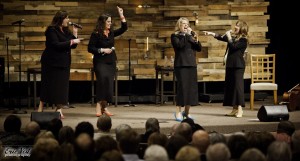 Korissa Olson grew up a pastor's daughter in the mountains of Missoula, Montana with a family of six singers! She began singing at the tender age of two, traveling in the "Wally Wagon" and trailer, ministering at churches and camps all throughout the United States and overseas in Hong Kong, Japan, and in China. By the time she came to minister with Sweetwater Revival she had already professionally recorded three gospel albums with her family, The Erbele Family Singers; sung professional opera in Germany and New York, worked alongside producer Alan Moore (Sandi Patty, Amy Grant), and been honored at Estes Park Music in the Rockies. She is a sought-after vocalist in a variety of areas. Korissa does professional voiceovers on the radio and she is also a concert cellist. She and her husband Darren have two beautiful boys, Emerson and Everett. Everett was born with Galactosemia, a rare disorder discovered early by the newborn screen. Korissa has gone on to become a successful speaker and advocate for newborn screening, serving on the board for the Save Babies Through Screening Foundation
(www.savebabies.org). She is also able to spend time traveling with her husband, who is a full time professional European nature and landscape photographer (www.darrenolson.com), sharing God's beauty from behind the lens. Korissa states, "No other genre of music has touched my soul like Southern Gospel music. I am so blessed to be back in my roots and part of Sweetwater Revival. I love my Sweetwater sisters! My prayer is that in every note of our music, the truth of the gospel, and the beauty of His Grace will shine through."
Amanda Ellison has long been admired for her rich and soulful voice. She grew up a pastor's daughter in Iowa and was saturated with music from a very early age. Amanda states, "As a little girl, music and love were poured into me. Some of my earliest memories involved my parents taking me to Singspirations, where people gathered to sing worship to God. As the melodies and harmonies filled the room, they filled the core of my being. I am so thankful to God for the gift of song. Music reflects my heart and my soul, it conveys every emotion when words will not do." Growing up in a musical family she reminisces about memories such as washing the dishes with her sister, all the while singing and harmonizing. She states, "My brother used to say, 'My life is a musical!'" Amanda is a well-known women's speaker and worship leader with an amazing testimony. She considers her family her greatest achievement, calling her five children, "the most beautiful notes God has written in the song of my life." Most of Sweetwater Revival's audiences are intrigued to learn that four of those five children are two sets of twins! "God has certainly taught me to expect the unexpected!" she says. Amanda is often noticed for her sense of humor and remarkable ability to make people laugh. "If I had a motto, it would be words my mother has so often declared to me: Choose Joy. Those simple words filled with Biblical truth have affected my life at every turn." Having sung at countless events, her deepest desire is to see others come to know Jesus Christ as their personal Lord and Savior.
Kayla Krizek, was raised in a Christian home and is a Minnesota native. She remembers first being introduced to Southern Gospel music in her grandma Erickson's kitchen. It was always playing on Sunday mornings. Kayla states, "At first I just listened, then later started singing along, and eventually we were singing and dancing together in her kitchen. Grandma would share her favorite songs with me, we'd watch the latest Gaither special together on TV, and we often pointed out to each other basses or tenors we especially loved. Grandma, you left me a legacy, an heirloom of music." Like many professional vocalists, Kayla began soloing at a very young age in church. She attended the well-known Minnesota Christian college, Northwestern, where she pursued a Music Education Major. She also participated in almost every music and drama ensemble imaginable, winning numerous awards and scholarships. There she developed an even greater passion for performing and soon began appearing in many musical theatre productions throughout the metropolis of Minneapolis and St. Paul. She has played everything from Beth in Little Women, Liesl in The Sound of Music, Belle in Beauty and the Beast, to The Narrator in Joseph and the Amazing Technicolor Dreamcoat. Kayla states, "The Lord's timing in bringing together this particular group of ladies 'for such a time as this' is so exciting, and an overwhelming blessing! I leave every rehearsal refreshed, encouraged, and wrapped in love. We can't wait to share God's love and power with you through song!" Kayla recently landed her most starring role, that of being a mother, as she and her husband Elliott welcomed a beautiful baby girl, Cora (Cordelia Grace) last July.
Cathie Paxson is the Manager for Sweetwater Revival and also a gospel songwriter of close to 500 songs. Cathie states, "I am humbled by the thought that the Lord could use me in this way. It is a love and a passion for the Lord that drives me to my piano daily. I think back over the years and see how God has led my life. At the young age of five, my dear, beloved grandfather bought me a new piano! He was a milkman and one of the dearest people in the world to me. Looking back, I know it took much sacrifice on the part of my grandparents to buy me such an expensive gift. What a cherished heirloom I was given! I could have never known, all these years later, that the Lord would allow me to write songs for His glory on this very piano." About 95% of Sweetwater Revival's music are songs that Cathie has written. Cathie states, "I feel overwhelmingly blessed that God gave Katie and me the vision for Sweetwater Revival and that we are able to share in this journey together. It is a joy to hear the songs I have written, sung by these girls that I am also thankful to call my friends."
For more on Sweetwater Revival, visit their website today at www.sweetwaterrevival.com. Follow them on facebook at https://www.facebook.com/SWRMinistries.
Photos by http://EricVestPhotography.com/ and Josh Stokes of http://stokesfoto.com
For a full-length feature on Sweetwater Revival, read the story by Paige Givens in the March 2015 edition of SGN Scoops digital magazine.
Tags:
gospel music
,
Paige Givens
,
sgn scoops
,
southern gospel
,
Sweetwater Revival
,
Vestal Goodman
Posted in
artists
,
christian entertainment
,
Christian interest
,
sgn scoops magazine
,
special feature
|
Comments Off

on Getting to know the ladies of Sweetwater Revival
Written by Staff on May 29, 2014 – 9:27 am -
I am asking God to use me this year, any way He wants to use me. I am a yielded vessel and am listening to His voice to give me new songs, new sermons and new places to minister.  I am excited and looking for great things in 2014." (1)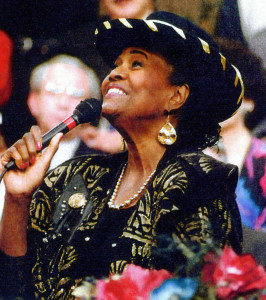 In our ongoing effort to pay tribute to long time Gospel singers, allow me to introduce Ms. Lillie Knauls. This beautiful, never married, woman of God has been singing and preaching Jesus for over 35 years.  Miss Lillie (as she likes to be addressed) is a regular on the Gaither videos. If you are a viewer of the Gaither videos, Ms. Lillie is not hard to spot.  Her beautiful smile seems to illuminate those around her.  Ms. Lillie is also known for the many hats she wears. She is respectfully known as the hat lady.  The reason for these hats is not just for style as Ms. Lillie explains, "I grew up in the church and as a little girl I played the piano and tambourine and sang in the choir. The first Sunday of the month was Communion Day. All the women wore hats to the services."
Being respectfully recognized as the hat lady has opened many doors for Ms. Lillie.  She has had countless opportunities to speak and sing at ladies breakfast and luncheon meetings. There is much more to Ms. Lillie Knauls than her hat ministry, which can be traced back to the '60's, where she was a soloist for her home church in San Jose, California.
In 1969, she became part of the Edwin Hawkins Singers and traveled the world. The Edwin Hawkins Singers are perhaps best known for their arrangement of "Oh Happy Day." "That was a great time in my life, being able to sing with that fabulous choir.  It opened so many doors for me, but since I had a full time job working at a telephone company, I did not have the time to work all the bookings that came my way, so in August of 1978, I resigned and a whole new world opened up to me!"
One of the first assignments from God to Ms. Lillie was to travel to Hawaii to work with a beach ministry that conducted a Sunday church service for the tourists.  Ms. Lillie says, "We ministered at the most beautiful church in the world!"  Hawaii has become Ms. Lillie's most favorite place.
I had the good fortune to speak with Ms. Lillie on the phone, from her California home. During our conversation, I learned that Ms. Lillie has been a part of the Gaither videos for over 20 years! I asked her if she had any favorite moments from the videos and she replied, "Quite honestly, every moment I'm there is a favorite moment.  Just being with all those legends and singing the songs I grew up with that still move me.  I am so grateful for Bill and Gloria Gaither for blessing the world, with these videos." Read more »
Tags:
Bill and Gloria Gaither
,
Dove Award
,
Edwin Hawkins Singers
,
Gaither Homecoming
,
gospel music
,
Grand Old Opry
,
Hat Lady
,
Lillie Knauls
,
Mahalia Jackson
,
Philip Foster
,
Rosetta Tharpe
,
sgm radio
,
Vestal Goodman
Posted in
SGM Radio
|
Comments Off

on Homecoming Sweetheart Lillie Knauls
Written by Staff on September 11, 2013 – 1:04 pm -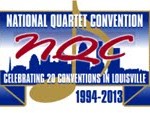 As the National Quartet Convention prepares to move from Louisville, Kentucky to Pigeon Forge, Tennessee, several SGN Scoops magazine staff writers share their memories of NQC past.
Lou Wills Hildreth shares: My family –the Wills Family of Ft. Worth, Texas–sang at the first NQC in Memphis, and many years thereafter. I have only missed one NQC in all 56 years of the event. Howard and I will be greeting friends this year at the Scoops Booth. Praying God's blessing on every song and testimony!!!!
Dixie Phillips shares: When I was 16, my Mom and Dad started attending church. The new pastor was an avid southern gospel fan. He and his wife invited my parents and me to attend NQC in Memphis. I was so excited when my parents agreed to go. I will never forget when Ben Speer sang "The Brush." My life was changed forever. I was hooked. Southern Gospel Music is music with a message and I am so honored to be a part of it.
Lorraine Walker shares: I began to attend the NQC when it was still in Nashville. I remember a few highlights as well as the long cement slope to the basement  exhibit hall . I remember hearing one of the last times that JD Sumner and the Stamps sang together, the announcement of Kim Hopper Greene joining the Hoppers, Tony Greene's proposal to Taranda Kiser, as well as what would be the last NQC of Jake Hess, Vestal and Howard Goodman, George Younce and Roger Bennett. I remember watching a new family group called The Crabb Family come on stage with their whole church in one section of the auditorium cheering them on. I am sorry to be missing this last year in Louisville but I know great things are in store for future NQC's!
Craig Harris shares: Moments and memories are what life in general is all about. They are what make anything that is important to you special. This is my 14th year of attending the National Quartet Convention and it's hard to believe that it's been that long. A one-song spot on the main stage on Tuesday evening surprisingly took me back to some of my earliest of days at NQC here in Louisville, which is the only NQC venue that this Southern Gospel follower has ever experienced.
As the Stephens Family stepped out on the stage, I had no idea that the soprano singer – Melody Stephens – was going to lead me on a brief stroll down Memory Lane. Stephens was the soprano for the Nelons when I first started following Southern Gospel music. I didn't grow up around the genre as so many did. I simply discovered it – with the assistance of a few friends and borrowed CDs – around 1998. But the Nelons were one of those groups that came to the main stage in those early days and just brought it.
I was still learning and understanding the dynamics of Southern Gospel music when I attended my first NQC in 2000. I only stayed for two nights that year. NQC has been a week-long event ever since. That configuration of the Nelons – with Melody, Paul Lancaster (one of my favorite singers) and Dan Clark (who had a pleasant-sounding bass tone that simply fit the group well) – was probably my favorite. Songs like "Where Sin Had Been Pardoned," "He Called Me Out," and the vastly-underrated "You Ain't Seen the Last of Jesus" suckered me in to this genre of music hook, line and sinker. In fact, "He Called Me Out" was on the NQC Live 1999 DVD and CD (along with the Perrys unbelievable version of "When He Spoke"), prompting me to want to make the journey from the Nashville area to Louisville to see what this Quartet Convention was really all about.
The Nelons followed that era up with more great singers like Katy Van Horn Peach and more great songs, such as "He Rolled Back the Stone." They are still producing great music today and undoubtedly making memories for some person out there who is just figuring out what NQC is all about. The Stephens family brought some memories back to life for me on Tuesday night. I hope that you all are not only having fond remembrances this week but are also making new memories. Don't waste an opportunity to truly live and experience all that there is to offer. Have a great week and simply enjoy.
Tags:
Ben Speer
,
Craig Harris
,
Dixie Phillips
,
George Younce
,
Howard Goodman
,
Jake Hess
,
JD Sumner
,
Katy Van Horn Peach
,
Kim Hopper Greene
,
Lorraine Walker
,
Lou Wills Hildreth
,
Melody Stephens
,
national Quartet Convention
,
nqc
,
NQC 2013
,
Roger Bennett
,
The Crabb Family
,
The Greenes
,
The Hoppers
,
the nelons
,
the perrys
,
The Stephens Family
,
Vestal Goodman
Posted in
artists
,
christian entertainment
,
Christian interest
,
exclusive report
,
gospel events
,
guest
,
industry news
,
scoops
,
sgn scoops magazine
,
special feature
,
Uncategorized
|
Comments Off

on Leaving Louisville: SGN Scoops Staff Share NQC Memories