Written by SGN Scoops Staff on July 7, 2020 – 1:04 pm -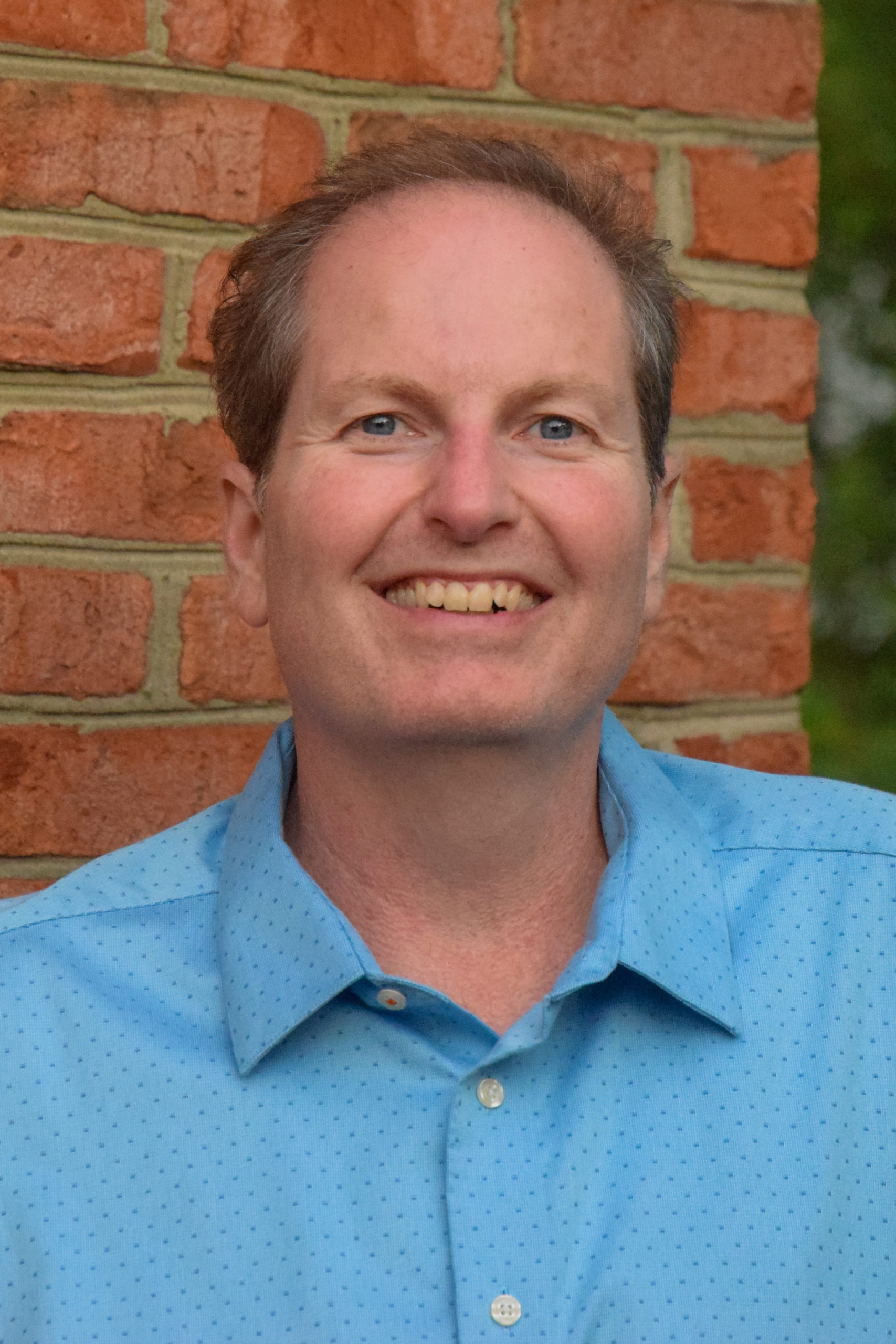 Kinston, NC
– Long-time Dixie Melody Boys owner and SGMA Hall of Fame member Ed O'Neal is pleased to introduce Buddy Bates  as the new tenor vocalist for The Dixie Melody Boys.  A lifelong resident of Cincinnati, Buddy brings decades of music experience to The Dixie Melody Boys.
A talented musician and vocalist, Buddy's roots are deeply tied to Southern Gospel Music. He first began singing and playing for New Creations, a group founded by his father, Merle. Over the years he has traveled with such talented groups as The Ball Family, The Mercy River Boys, Stone Ridge Quartet, New Voice Quartet, The Crownsmen and most recently The Blackwood Brothers. Over the past couple years Buddy served as Music Director at First Millville Baptist Church in Millville, OH. "While serving at the church, I was given the opportunity to fill in for The Blackwood Brothers while their tenor recovered from a heart attack," Buddy shares. "While I love working in the church, singing with a quartet again reignited my lifelong dream of singing Southern Gospel Music full-time, and I am so grateful to be able to be with Ed, Willie and all the Dixie Melody Boys."
Buddy and his wife, Lisa, have five children and one grandchild, with two more expected to arrive this fall. While Buddy will miss the extra time with his family, he is thrilled to join Ed O'Neal, as well as baritone Willie Sawrey, lead vocalist Cayden Howell and bass singer Earl Roberts, who joined the quartet at the beginning of the year.
Like everyone in Gospel Music, as well as around the world, The Dixie Melody Boys have experienced their share of challenges in recent months as a result of the Coronavirus Pandemic; however, ever the optimist, Ed O'Neal is excited about the future of The Dixie Melody Boys. "When we kicked the new year off, we were so excited about the group and what we expected for 2020. Then the Pandemic hit. Little did we know how it would change things for us, but we know God is in control and He has great things in store.  We are happy to have Buddy with us, and as I have said many times, the faces and the names may change, but The Dixie Melody Boys still have a message to share. Even after all these years I still believe God has great things in store."
Additional information regarding The Dixie Melody Boys is available online at
www.dixiemelodyboys.com
. Anyone interested in scheduling The Dixie Melody Boys may contact the Beckie Simmons Agency at 615-595-7500 or via email at
beckie@bsaworld.com
.
Tags:
Dixie Melody Boys
,
Southern Gospel News
Posted in
announcements
|
Comments Off

on DIXIE MELODY BOYS NAME NEW TENOR
Written by scoopsnews on July 5, 2020 – 2:17 pm -
You've heard that SGN Scoops now has a printed magazine. You can get  a subscription for the low price of $25.00 per year. Through July 10th, We are including a SGN Scoops Cd with over 15 amazing artists in this deal for our new subscribers.
Filled with artist pictures, features and our Top 100 Southern Gospel , Top 40 Christian Country, and Top 20 Bluegrass, this  version of our monthly magazine is a great way for you to have a material copy of one of the leading magazines in Southern Gospel and Christian Country. Please click on this link for more information. And remember, for more Southern Gospel and Christian Country news, follow SGN Scoops on Facebook HERE 
You Can Also Call And Subscribe At 360 933 0741
Subscribe To SGN Scoops Here
Tags:
Southern Gospel News
,
Subscribe
Posted in
announcements
|
Comments Off

on Subscribe to SGN Scoops today and get a FREE cd!
Written by Staff on June 28, 2020 – 10:33 am -
Coastal Media and SGNScoops present the Top Ten nominees for the 2020 Diamond Awards, for all fans, artists and industry personnel to vote to move to the next round. To vote for your favorites, click HERE.
"We are thrilled to present the list of nominees for this year's Diamond Awards," says Patz. "There are well-deserving artists in each category and I encourage every fan and industry member to vote for their favorites. It's going to be a great year for the awards!"
To see the list of nominees and vote for your favorites, click HERE.
Fans will now vote in each category and a list of the Top Five nominees will be announced at the end of summer. Voters will then choose their favorites, with the final winners to be announced in a gala presentation at the 2020 Diamond Awards, held in Pigeon Forge, Tennessee, on October 27, 2020. Vote today.
The 2020 Diamond Awards ceremony will be held during the Creekside Gospel Music Convention, October 25 – 29, 2020, at the Smoky Mountains Convention Center, Pigeon Forge, Tennessee. The Convention features daily showcases, evening concerts, midnight prayer, and several special events during the week. General admission is free.
The voting site for the top ten Diamond Award nominees can be found on the SGNScoops website here. Vote today.
For more information on the Creekside Gospel Music Convention and the 2020 Diamond Awards ceremony, as well as accommodations and VIP tickets, contact Rob Patz at 360-933-0741. More information can also be found on the Creekside Gospel Music Convention Facebook page.
Create your own user feedback survey
Tags:
Diamond Awards 2020
,
southern gospel
,
Southern Gospel News
Posted in
announcements
|
Comments Off

on 2020 Diamond Awards Top Ten Nominees Announced
Written by SGN Scoops Staff on June 22, 2020 – 2:46 pm -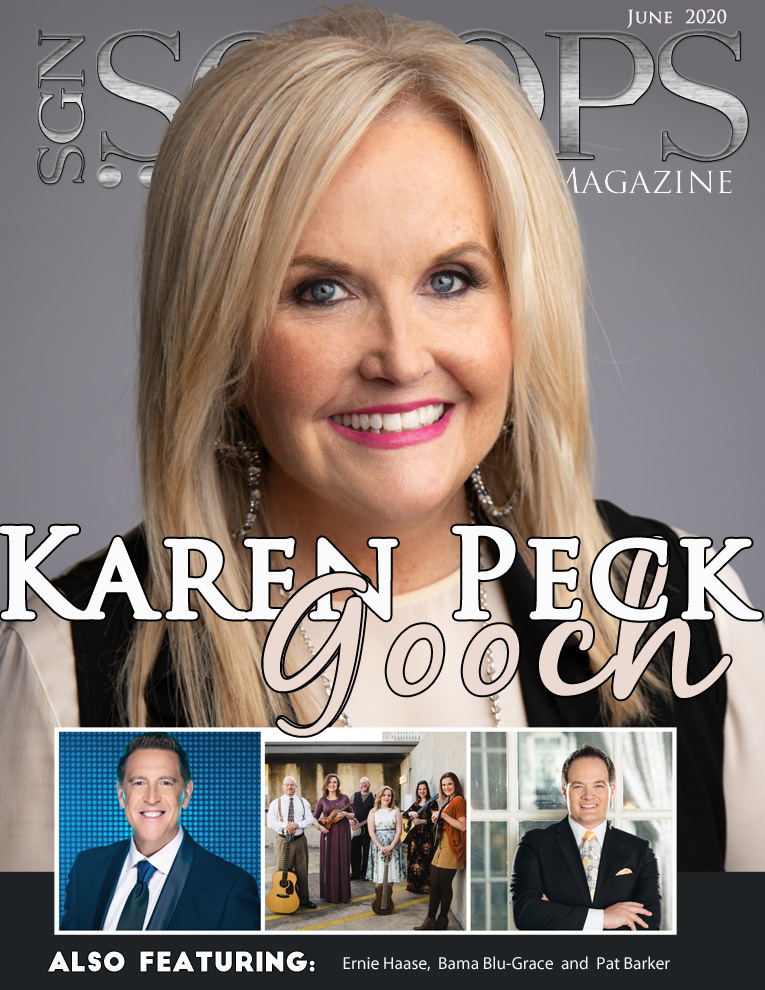 Come celebrate Summer with us at SGN Scoops Magazine! The June issue is now online and we invite you to enjoy every single page.
Our leading lady this month is none other than Karen Peck Gooch and I know you'll learn something about her in this article that you never knew before. Jennifer Campbell had a good talk with Karen and you will enjoy what Karen had to say.
Our spectacular lineup continues with Ernie Haase, Pat Barker, Levi Mills, and Jay Parrack. Meet songwriter Bernadette Negus and our Pastor of the Month, Rev. Rick Ramsey.
All this plus top song charts, new CD reviews, the DJ Spotlight, and more.
Thank you for reading the June issue and we hope you have been uplifted, entertained, encouraged, and brought closer to the God we serve. Jesus is our reason, regardless of the season!
Tags:
Outhern Gospel Music
,
sgn scoops magazine
,
Southern Gospel News
Posted in
sgn scoops magazine
|
Comments Off

on June 2020 SGN Scoops Magazine
Written by SGN Scoops Staff on June 2, 2020 – 11:35 am -
The Promise, in partnership with Godsey Media Management, announces the addition of new members, a ministry rebrand, and a renewed vigor to share the Gospel through life changing music. Formerly Promise Trio, The Promise is celebrating their 10th year in ministry with a bang. They've added the powerful voice of Jeremy Cato, Crimson Award winning Male Vocalist of the Year, and the youthful presence of Alyssa Scudder, daughter of group member Teresa Scudder. Both of these artists will certainly have a dynamic impact on the sound and direction of the group.
Jeremy states, "I am thrilled to team up with The Promise. It's an honor and a privilege to join a group with such a rich history of service to our Lord. 2020 hasn't started out as any of us could have ever imagined. However, we are believing for an invigorated church ready to be the light to the world that is now searching more than ever."
Teresa Scudder welcomes the new direction, saying, "I'm starting my fifth year with The Promise, and what an honor it has been to be part of such an amazing ministry. God has truly blessed us and I am looking forward to what He has in store for us!" Her daughter, Alyssa, also adds, "I am very happy about joining The Promise and excited to see where the Lord leads us."
Group founding member, Debra Carter Peele, applauds the growth. "We are beyond excited to add Jeremy Cato to The Promise. And Alyssa Scudder, who has the voice of an angel, will be a wonderful fit. It is with a fresh anointing and the greatest praise in our hearts that we are hitting the road to share the message of the Greatest Promise…Jesus Christ. He is the Hope of this world. "
The Promise is working with Godsey Media Management as they rebrand, record new material, and create new content for social media and digital platforms. Scott Godsey says, "When I found out that Jeremy was joining The Promise, I got even more excited about them and their music than I already was. And, Alyssa will help them connect with an entirely new group of younger fans. The sky is the limit for The Promise and we are honored to be a part of their ministry."
For more info on The Promise and their concert schedule, visit them on Facebook, Instagram, and www.promisetrio.com.
To BOOK The Promise, contact Carol Clark at Carter Clark Promotions, LLC: (704) 506-1620
Tags:
Southern Gospel News
,
The Promise
Posted in
announcements
|
Comments Off

on The Promise Adds Two New Members
Written by SGN Scoops Staff on May 19, 2020 – 11:50 am -
It's May and we are happy to present the online issue of SGN
Scoops Magazine. We hope this month provides entertainment, encouragement, and maybe even some introspection.
11th Hour has become one of Southern Gospel's favorite trios, and Dixie Phillips provides an exceptional article on these vocalists. Find out everything you wanted to know about Amber, Logan, and Jaquita.
Gospel Music lost a pioneer in April and John Herndon pays a special tribute to the late Gary McSpadden. Also featured are Zane and Donna King, HighRoad, Randy Miller, and the Old Time Preachers Quartet.
All of this plus monthly radio charts, music reviews, updates, and a special article discussing the artists' response to COVID19 by Charlie Griffin.
We trust you are doing well and keeping safe as areas move out of isolation and slowly back to our new normal. Take care and remember that God is everywhere and provides healing and comfort. Have a little talk with Him today!
Tags:
sgn scoops magazine
,
Southern Gospel News
Posted in
announcements
|
Comments Off

on May 2020 SGN Scoops Magazine
Written by SGN Scoops Staff on March 19, 2020 – 2:01 pm -
March is here and so is our latest edition of SGN Scoops Magazine. We hope that you will read it cover-to-cover and enjoy every feature. Read SGN Scoops Magazine HERE
Our cover story this month is the Browders. This family has been heating up the gospel music charts in the last few months with songs from their latest album, Authentic. Justin Gilmore introduces us to each member and shares their stories.
Other stories we are sharing this month include Exodus, Canaan Coffman, Tonja Rose, Kenny Smith, and Sammy Ward. Special thanks to our publisher, Rob Patz, for talking to the renowned Paul Heil.
Bill Dykes talks to Dr. Charles Keen, Vonda Armstrong talks to DJ Brian Rothwell, and the Coastal Events Update showcases Southern Gospel Weekend, in Oxford, Alabama.
All this, plus radio charts, the Publisher's Point, and the Editor's Last Word. We do hope you enjoy everything that we have gathered from the world of gospel music to share with you this month.
We also hope that you have read about Jesus Christ, how to experience faith in him, and how real people live their faith in this world.
Tags:
sgn scoops magazine
,
Southern Gospel News
Posted in
announcements
|
Comments Off

on March 2020 SGN Scoops Magazine
Written by SGN Scoops Staff on March 9, 2020 – 9:16 am -
(Glasgow, KY) March 9, 2020 – The Sneed Family is excited to announce that the 2020 Gospel Festival at Loretta Lynn's Ranch is bigger and better! This year's Gospel Fest to be held in Hurricane Mills, Tenn., will begin on Wednesday and go through an expanded schedule on Sunday.  The announcement was made today from The Sneed Family offices in Glasgow, Ky.  The annual event attracts visitors from across the nation.
"The support of the fans is what keeps us growing! Those who attend have begun to look forward to returning year after year," said Jeff Sneed, spokesman for The Sneed Family.  The Sneed Family serves as hosts of the Gospel Music Festival.
The Gospel Music Festival at Loretta Lynn's Ranch will feature family entertainment from beginning to end. Gospel music is scheduled as well as the Classic Car Festival, a Talent Search, a special "Camp Meeting" and an Arts and Crafts Fair.
"We are thrilled to see so much excitement for this year's Gospel Music Festival.  In planning an event of this size, we want to keep growing," proclaimed Jeff Sneed.
The traditional Sing-along will be held on Wednesday as a free event.  Everyone is invited to play an instrument along with the house band.  On Thursday, the Gospel Fest Arts and Crafts show will be open with music from the stage from 2:00 – 9:00 p.m.  Thursday's ticketed music performance will feature vintage Gospel Music including The Inspirations, The New Speer Family, Goodman Revival, Aaron Wilburn and many more.
With the 2020 Gospel Fest in full swing, comedian Mickey Bell will emcee on Friday from 10:00 -6:30 p.m.  Guests with tickets will enjoy Ernie Haase & Signature Sound, Karen Peck & New River, Chuck Wagon Gang, Troy Burns Family and The Freemans.
Beginning at 7:30 p.m., Evangelist C.T. Townsend will lead a full Camp Meetin' on the Ranch with no admission charge.  Music will feature The Sneed Family & Tony Gore.
Visitors on Saturday will enjoy the Coal Miner's Car Show.   The music from the stage will go from 10:00 a.m. until 10:00 p.m.  The admission ticket for the day will bring Jeff & Sheri Easter, The Perrys, The Steeles, The Sound, Wilmington Celebration Choir, Johnny Minick & the Steward Brothers, Wade Spencer, Master Peace Quartet.  Tony Gore joins The Sneed Family, as part of the "Like Never Before" Tour.  The Sneed Family, as hosts for the weekend, will perform at all programs.
As part of the expanded schedule, Sunday will be a full day of worship and activities.  The morning begins with a Chapel Service lead by Brother Billy Moran.  The 6th Annual Gospel Fest Talent Search kicks off at noon.  Everyone is invited to watch artist compete for a Daywind Records recording package.
"This year's lineup will be bigger and better with the best of Gospel music.  There will be a great mix of Bluegrass Country, traditional Southern Gospel, solid quartet singing and great comedy.  The Loretta Lynn Ranch is the perfect location to bring music fans," Sneed added.
The Gospel Music Festival at the Loretta Lynn Ranch will be held in the pavilion at the ranch campgrounds.  "We are honored that the Loretta Lynn Ranch again welcomes the return of Gospel Music," said Sneed.
For ticket information: www.ticketstorm.com or by calling 866-966-1777.
Craft vendors wanting to participate should call Jeff Sneed at 270-646-0354.
Loretta Lynn's Ranch is located off I-40 at Exit 143 in Hurricane Mills, TN.  Camping is available by reservation.  There are also area hotels nearby.
The Sneed Family is a favorite to their fans.  They provide an honest worship experience while providing encouragement.
Watch for them on stage as well as on television with their production of "Sneed Family Music".  The program is seen in over one million homes each week.  The Sneed Family brings music, and interviews from the best in Southern Gospel Music.  The show is now available online.
For more information on The Sneed Family, visit sneedfamily.com
Tags:
Gospel Music Festival at Loretta Lynn's Ranch
,
Southern Gospel News
Posted in
announcements
|
Comments Off

on Gospel Music Festival at Loretta Lynn's Ranch Expands for 2020 Labor Day Weekend September 2 – September 6, 2020
Written by SGN Scoops Staff on March 5, 2020 – 1:16 pm -
Gastonia, NC – Popular North Carolina-based Southern Gospel trio, Heart2Heart has announced the release of "Sons of Uncle Sam", a poignant message video that follows the life of one dedicated veteran, from his own service in WWII, to the loss of his grandson in Viet Nam.
Written by Chaz Bosarge and Derwin Ward, the moving concept video was shot in Salisbury Military Cemetery in Salisbury, NC.  It was produced and directed by Chandler Baucom of CRB Pictures. His grandfather, Fred Jobe, plays the lead character in the video, so this loving work is truly a family affair.  Chandler Baucom is the son of Life FM's Rodney Baucom.
As the story unfolds you will find yourself moved to tears at the heart wrenching portrayal of the life of a dedicated veteran. Heart2Heart's signature harmony and smooth delivery enhance an already touching story line, paying beautiful homage to our Veterans. The story concludes with a tribute by the graveside of group member Rhonda House's late husband, Jimmy House, who was an 8 year veteran of the US Marine Corp.
As the lyrics so eloquently state "freedom comes with a cost, every time a soldier falls they pay the price for liberty."  The words go on to urge the listener to "always send a prayer up when you can, for the sons of Uncle Sam." Heart2Heart beautifully drives this important message home with their flawless delivery.
Of the project David Kiser stated, "We've never been drawn to recording a patriotic song, but after hearing Sons Of Uncle Sam we knew it was special and we just had to record it. It is such a lyric and story masterpiece that portrays the true reality of the life of the soldier. To all of our veterans, service men and women, we honor and salute you! Freedom comes with a price. Thank you' will never be enough."
The full video can be viewed here.
Tags:
Heart2Heart
,
Southern Gospel News
Posted in
announcements
|
Comments Off

on Heart2Heart Release Patriotic Video of "Sons of Uncle Sam"
Written by SGN Scoops Staff on February 27, 2020 – 10:12 am -
Coastal Events is thrilled to announce the addition of Doug Anderson to the roster of artists
for Gospel Music Weekend Michigan taking place at the Wyndham Garden Convention
Center in Ann Arbor, Michigan, June 4-6, 2020.
Doug Anderson spent several years with Ernie Haase and Signature Sound, retiring from
service with them in 2015. He has since pursued a solo career, earning him multiple Dove
Awards for Country Album of the Year and Country Song of the Year.
In addition to his solo dates, Anderson has also teamed up with TaRanda Greene and Jody
McBrayer forming the powerhouse group, Cana's Voice, which makes limited tour
appearances throughout the country and is rapidly gaining popularity overseas. This career
move has allowed Anderson to be able to focus on what is most important to him– second
only to his relationship with God – his family.
If you've never heard Doug Anderson as a solo artist, you will not want to miss this
opportunity. "I've had the pleasure of being in several concerts and events with Doug
Anderson. The effect is the same in every setting – he draws the crowd in. They laugh, they
cry, they worship. It's a moving experience," states Kristen Stanton, a Gospel Music
Weekend solo artist from Ohio. "Doug Anderson is a great addition," says event host and
owner of Coastal Events, Rob Patz. "His contemporary country flair will appeal to a wide
variety of concert goers. We are excited to have him."
Also appearing are Diamond Award winning Justified Quartet from Michigan, Diamond Award
winning Gloryway Quartet from Ohio, Diamond Award nominee Cami Shrock from Indiana
and many others. Over thirty artists are slated to appear in daytime showcases on Friday
and Saturday and evening concerts running Thursday, Friday, and Saturday nights.
Make your plans to join us for this special event. VIP tickets for Gospel Music Weekend
Michigan are available for just $25.00 for the weekend. General admission is free. For more
information, please contact Rob Patz at (360)933-0741 or send an email to
events@sgnscoops.com.
Buy Before VIP Tickets Below
Tags:
GMW - Michigan
,
Gospel Music Weekend -- Michigan
,
Southern Gospel News
Posted in
announcements
|
Comments Off

on GMW – Michigan Welcomes Doug Anderson