Written by scoopsnews on July 6, 2019 – 5:17 pm -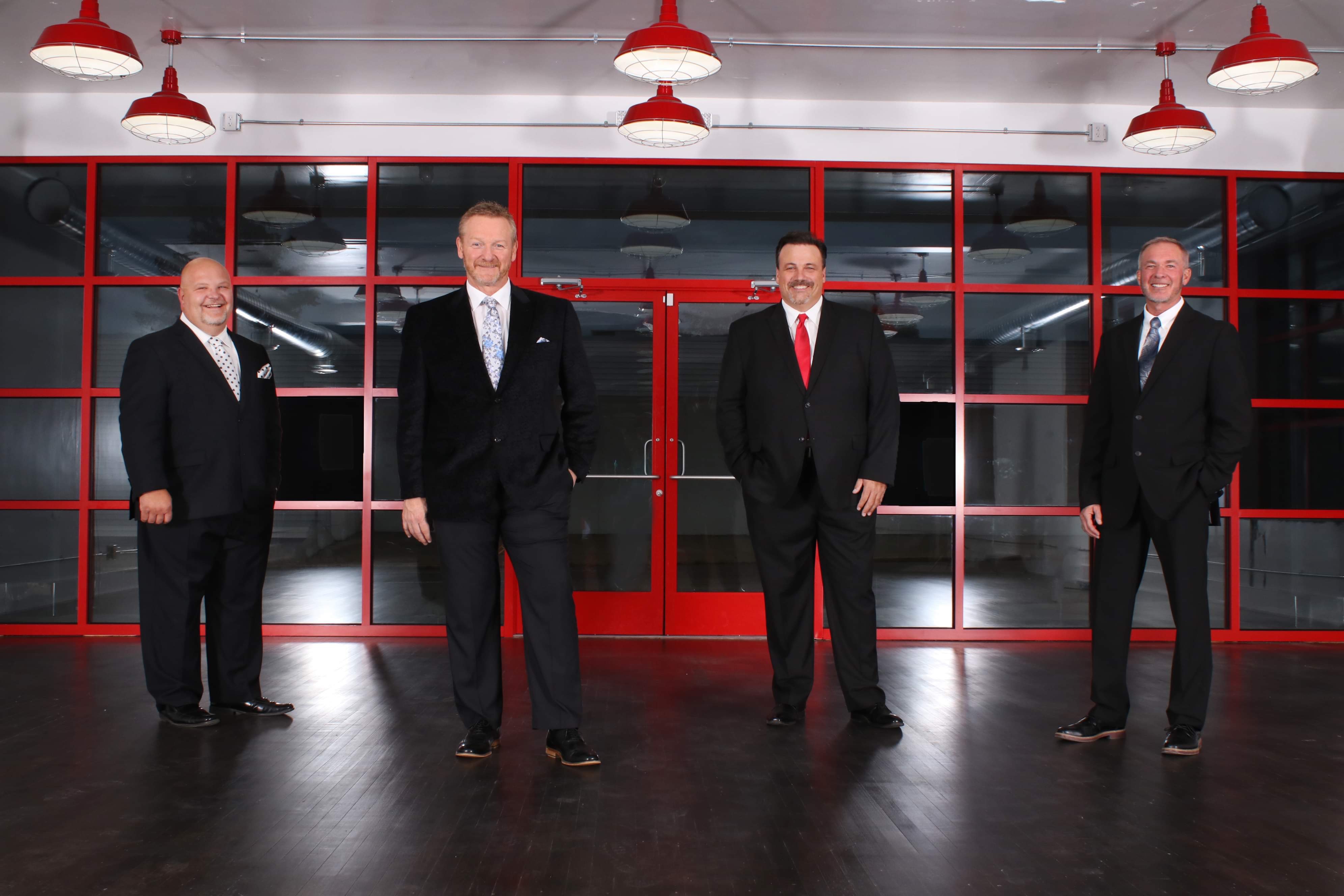 Hi Folks,
Let's get to know Flint, Michigan's own Justified Quartet. I asked these guys some questions and I think you will be interested to hear their answers.
1. Tell us how and when Justified Quartet's ministry began.

Justified was formed in 2011. Originally we started as a trio. Tim Caldwell, sings bass now, was singing the baritone part and after about six months as a trio, Mark Jacoby joined us to take over the baritone spot.

2. Do you have a single out to radio? Tell us about the writers and why you chose the song.

"Take a Stand," written by Scotty Inman and Daryl Williams.

In these times in which we live, the world is a broken place with plenty of people

hurting. The Church needs to move to meet the needs of people. However, if

we simply go along with the world (in our actions, our dress, our language, etc.,) we

are not distinguishing ourselves from what the world has to offer. We

will never stand out as something new, fresh, different, real and true. The Church has to "Take a Stand" and hold the line to create the rock and foundation people can count on in this world of sinking sand. The people who are the Church need to be encouraged and challenged to act outside of the Church walls. This song does that.

3. (For Each Member) Who is your favorite singer and why?

Mark Jacoby (Baritone): Glen Payne without a doubt, is my favorite!

His ability to sell a song with passion and excitement and clarity, can not be duplicated. His

 love for the Lord and people was so evident in every word and note that was sung. I am sure his example is responsible for many not only coming to the Lord, but singing gospel music yet today.

Carl Ledford (Lead): Michael English. I feel he sings with passion and soul and have listened to him since the early 80's.

David Potts (Tenor):  Sonya Isaacs. She has a way of delivering lyrics that move a person. Her voice is also crystal clear.

Tim Caldwell (Bass): Bob Caldwell. His ability to blend, sing a solo and hit the low stuff was a great asset to any group he sang with. Not to mention, he's my older brother and produces and arranges all of our music.

4.  When you are out, what is the groups favorite eating place?

CRACKER BARREL!

5. (For Each Member) Please share your testimony with us.

Carl Ledford (Lead): I grew up in church, started singing when I was six, and got saved when I was 12.

Later in life, I allowed things to pull me away from God and it took a major event to steer me back to where I needed to be. Now, God has blessed me with a wonderful wife, five great adult children and four grandchildren. Also, one of our daughters is a gospel singer with a great ministry. I have loved singing southern gospel all my life because it is all about the cross, the blood, His sacrifice and His great love for us.

Dave Potts ( Tenor): Brought up in a Christian home, always at church had big influence on the way I saw the world

and myself. I was convicted early on as a child that even I had to make the decision to follow Jesus

and accept His sacrificial payment for my sins.  As a teenager I followed the spirit leading me to surrender to Christ and follow what He would have me do with my life.

I do not know how people who turn from God's love and mercy even face this life, in essence, without hope. But, knowing Christ and God's mercy and grace in my own life, gives me the drive to share that hope with others.

Mark Jacoby (Baritone): I was raised in a Christian home, and we were no strangers to church devotions and all that goes with that. Though

 all of that was instrumental in my introduction to Christ, it was difficult for me to work through the challenges of life.

I was exposed to multiple generations of verbal and physical abuse, which caused a lot of confusion as to what Christianity really was.

At the age of 13, at an altar in a old tabernacle at Junior High Christian music camp not far from my home in Michigan, I finally surrendered myself to the one true Lord.

As tears steamed from my face the night, the Holy Spirit nudged me to experience real grace and opened my eyes and heart to a relationship with my Heavenly Father and unconditional love. From that moment, He made my purpose very clear, to tell all I know about Christ and his love.

Tim Caldwell (Bass): I was brought up in a Christian home and church has been a huge part of my life.

I accepted Christ as my personal Savior at the age of eight. I have faced many challenges along the way and God's love has never failed me. My love for music started at a very young age. When I was 15, God blessed me with the opportunity to play drums In my first Southern gospel group. From that point, I continued to grow through God's grace, as a member of other Southern gospel groups. While God uses me to minister to and strengthen others through music, it is I who is  ministered to the most and strengthened through Him. I find it a tremendous honor to share the stage with Dave, Carl and Mark.

Thank you, Justified Quartet, for sharing with us.

These guys shared their cd with me and I was blown away. You should check them out at

www.justifiedqt.net

and don't miss them at Creekside 2019.
Tags:
Justified Quartet
,
SGN Scoops Fast Five
Posted in
announcements
,
artists
|
Comments Off

on Fast Five With Justified Quartet by Vonda Armstrong
Written by scoopsnews on January 29, 2019 – 12:43 pm -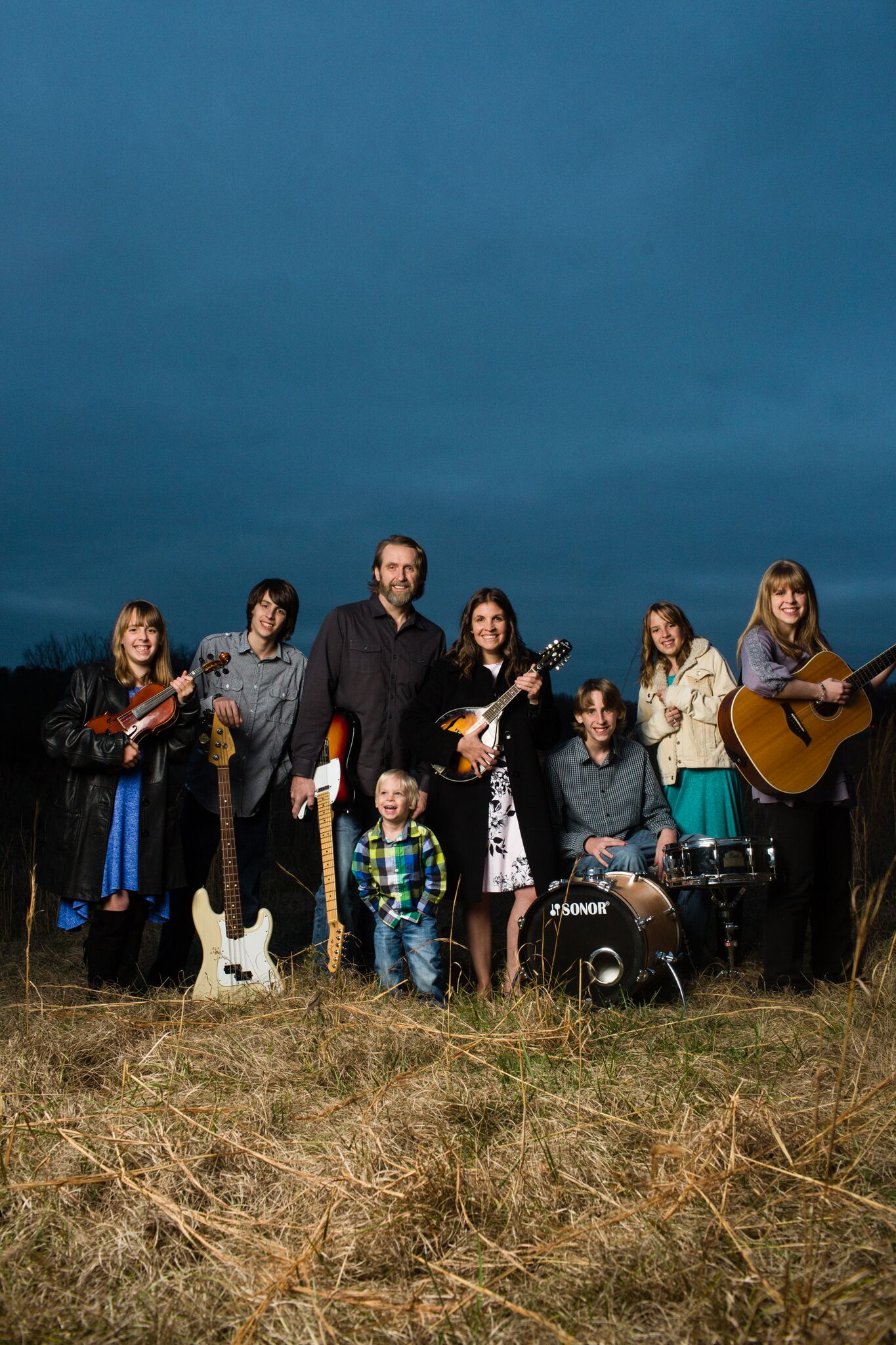 Bryan Carter, former lead guitarist for Jeff and Sheri Easter, and his wife & children, have formed a Southern Gospel band with a touch of bluegrass. We asked this wonderful family a few questions and here's what they had to say.
1. Bryan, many people know you from your time with Jeff and Sheri Easter, give us an update of what you've been doing since your time on the "Gaither videos?"
Working with Jeff and Sheri was such a great opportunity for me. They taught me so much during those five years. Also, if it wasn't for Jeff giving me a call, I never would have met my lovely wife, Kristi. That was a good day for me. 🙂 Since then, raising seven kids has kept us incredibly busy, to say the least. But, it has been a rewarding journey that I wouldn't take anything for. Musically, I've been working as a studio musician. For years, I owned and operated my own recording studio, but now I am excited to be able to focus more on our own music-writing songs with Kristi and several friends of ours, practicing music together as a family, and also teaching my kids how to play their individual instruments. Traveling around, singing at different churches, and meeting new people with my family has been an awesome experience!
2. Bryan, tell us a little bit about your family including the roles of each in the group.
Okay, here we go! 🙂 Grace, 17, is our oldest. She plays acoustic guitar and for now primarily sings harmony, but she does do some lead singing as well. Isaac, 16, has been playing bass guitar for us for a couple of years. John, 14, started playing drums at around ten years old. He was a big inspiration for us starting the band because he picked up on them so quickly. Lilly and Ella, 12, are our twins. Kristi thought it would be neat to have twin girls playing twin fiddles. Everybody loves fiddles. They also sing harmony, and Lilly plays keyboard on some songs. Owen, 3, does not play an instrument yet, but does dance on the stage sometimes and entertains everybody. Kara is one, and if you watch her real close, you will catch her bobbing her head to the music while strapped on Kristi's back on stage. Kristi sings and plays mandolin, and I sing and play guitar. I'm very proud of all my kids. They've worked very hard and have accomplished so much in a short amount of time.
3. When the group has some free time from singing, what is your favorite family activity?
We love eating snacks and watching a movie or playing Jeopardy or Wheel of Fortune together on the Xbox. Living in Alabama near Cheaha mountain, there are a lot of hiking trails nearby. We love it and try to take advantage of it when we have time! There's nothing like packing a snack and having a picnic on the big rocks near the waterfalls. Although we aren't what you would call outdoorsmen, we love to take a family day and drive to Bass Pro Shops. We just like the big store, the fish tank, and riding in the glass elevator…and we always buy salt water taffy.
4. Kristi, tell us how you and Bryan met.
I started babysitting Madison and Morgan for Jeff & Sheri Easter a few months after Bryan got the job as their guitar player. I got on the bus in Lincolnton, GA for my first weekend with them and I went to bed pretty early. Later, they picked him up in Alabama. The next morning, I was sitting up front when Bryan walked in. He jokes that we have no idea where we met…we just know it was on the bus somewhere in America!
5. How can we purchase your product or book you for a concert?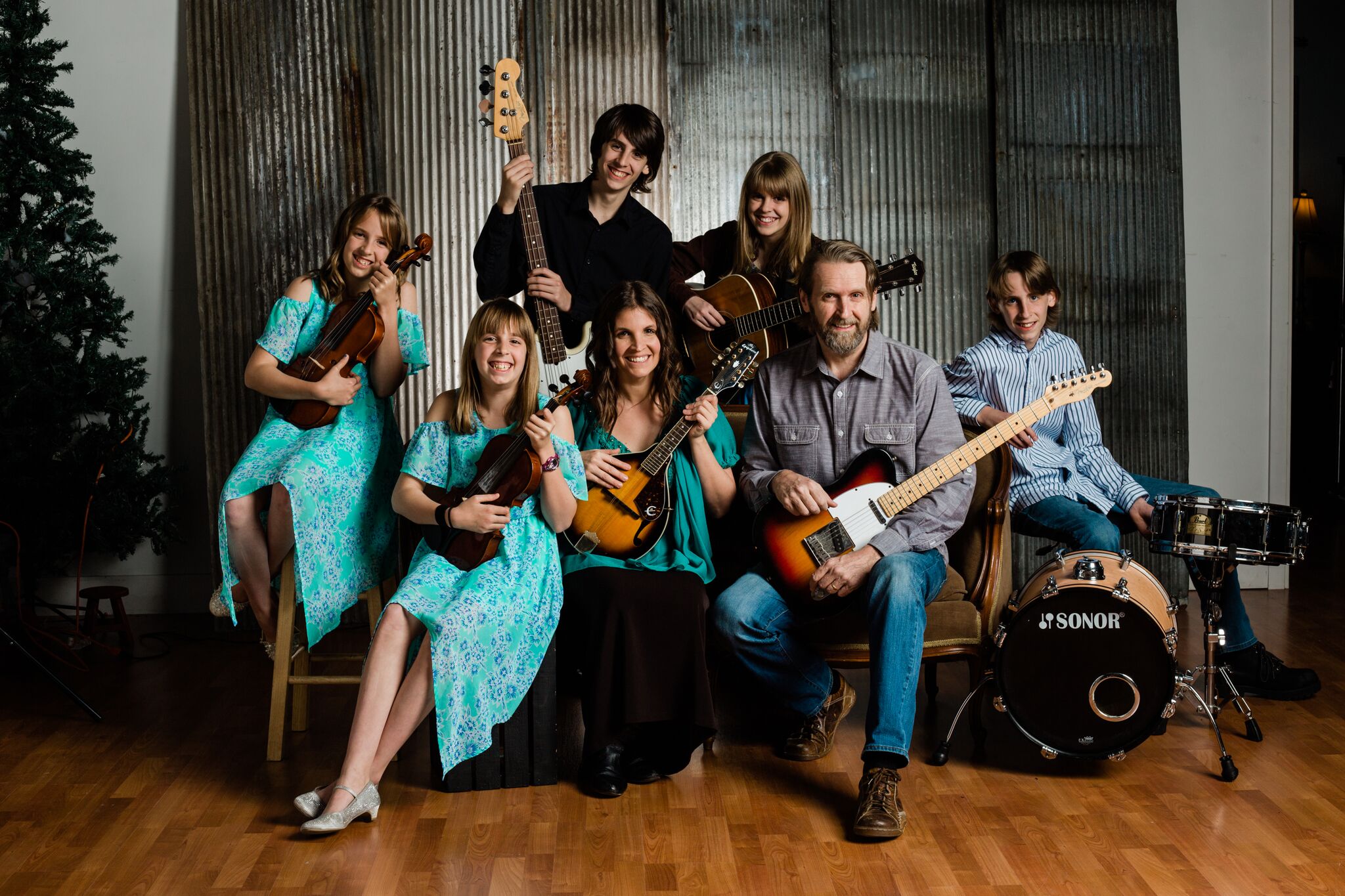 Tags:
SGN Scoops Fast Five
,
The Carter Family Band
Posted in
announcements
|
Comments Off

on Fast Five with The Carter Family Band
Written by scoopsnews on July 24, 2017 – 10:48 am -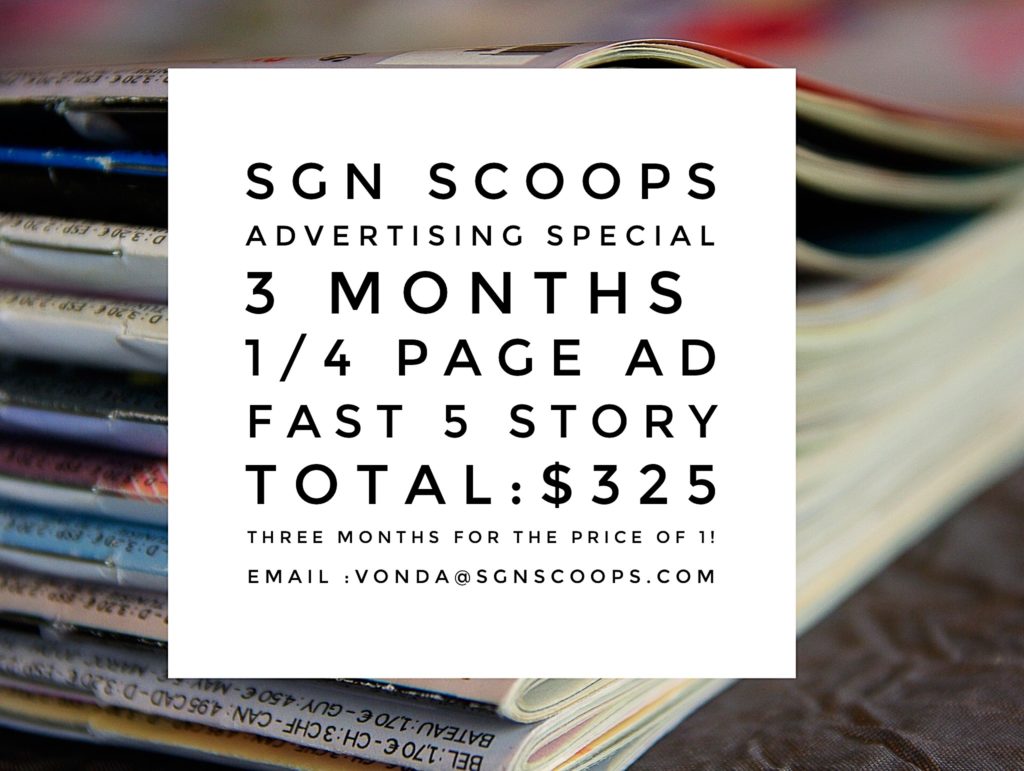 We want to HELP  you spread the word about your ministry! This is our most popular package however we also offer 1/8 page for as little as $175.
These prices include a Fast Five Story and this is total price for 3 months! No one else offers that……
We're Digital, We're Printed, and We Are Ready to work for you!
Call Me!
Vonda Easley
VP Sales and Marketing
SGN Scoops
256-310-7892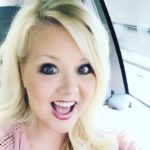 Tags:
SGN Scoops Fast Five
,
sgn scoops magaine
,
Vonda Easley
Posted in
announcements
|
Comments Off

on Let Us Help You Spread The Word About your Ministry…
Written by Staff on September 16, 2015 – 6:07 pm -
SGN Scoops is pleased to announce another Fast Five with our guest, Mike Anderson. Hailing from Madisonville, TN, he has been a musician since the age of nine. From drums to guitar to steel guitar, country to rock to praise teams, Mike has been a player and singer and radio DJ. He is now traveling as a Gospel music artist, sharing his love of music and the Lord with his audiences.
Join us as we find out more about Mike Anderson!
SGN: Tell us what's going on with Mike Anderson these days…
Mike: The Lord is continuing to open doors for my music ministry and I'm excited! I just finished my new radio single, "I'm Going There." The song was written/produced by Phil Cross and will be released to radio in September on Patterson Promotions. Phil says: "It's been a tremendous pleasure working with Mike on this project. He's a tremendous singer, musician, and brother in Christ. I'm honored and blessed by the great job he did on one of my songs!"
I also just recorded a concert video with Phil Cross producing. Making the concert video was a lifelong dream come true for me and the Holy Spirit was in the house that night! The video is currently in post-production and will be available on DVD soon.
SGN: When you are out on the road, what is your favorite restaurant?
Mike: My wife Jane and I love to eat at Cracker Barrel. You always get the same great quality of food and service no matter the location.
SGN: If I wanted to purchase your music, how would I go about doing that?
Mike: Go to MikeAndersonMusic.com and click on Music Store. In the near future you will be able to click on just Store to order the concert DVD and other items from the store.
SGN: Share your testimony!
Mike: The most important day of my life was the day I accepted Jesus Christ as my personal Lord and Savior. That happened when I was nine years old, at an old time revival meeting, and I still remember it like it was yesterday. I have always been involved in the music ministry at church as a choir member/soloist or in a group at church. I served as the Minister of Music at Walnut Grove Baptist Church in Vonore, TN for four years and was a Deacon there. At present I am playing guitar/singing with the Praise Band at First Baptist Church in Madisonville where my wife Jane and I are members. Most recently I have been led by the Lord to take my music ministry to a whole new level and I am continuing to pray that He would increase my territory. Please pray for my ministry that I will continue to see hearts touched and lives changed by sharing the love of Christ Jesus through music.
SGN: What are some upcoming goals for the ministry?
Mike: Record a brand new CD project.
We recently purchased a larger motor home and I would like to put it to good use traveling to sing.
Thanks so much to Mike Anderson for sharing his heart and life with us. Visit his website today!
Tags:
Mike Anderson
,
SGN Scoops Fast Five
,
southern gospel
Posted in
artists
,
sgn scoops magazine
|
Comments Off

on SGN Scoops' Fast Five: Mike Anderson
Written by Staff on July 6, 2015 – 3:23 pm -
SGN Scoops welcomes 2nd Generation to their Fast Five platform! This mixed trio has been around for some time, engaging audiences with their smooth harmonies, light banter and worshipful Gospel music. 2nd Generation's latest project is Soul Searching, to be released later this month. Their current radio single you may have heard is entitled "He Saved Me."
Welcome Elaine, Brenda and Randy to SGN Scoops Fast Five!
SGN:  What is one venue you would like to sing at?
Elaine- There have been many events we have already sung at and experienced. I'm with Brenda, probably a Bill Gaither event.
Randy-There are so many great events, it's hard to choose; but I would love to sing with Triumphant Quartet again, so – their homecoming event! They are a blast to be around!
Brenda- My dream as long as I can remember has been to sing at a Bill Gaither event. Growing up our family, the Singing Greens would attend events like that and I would sit and admire all the groups on the stage and think how awesome it would be to sing on a stage like that, or to know those people. God has blessed us to know many of those people and we call them our friends. God places dreams in our hearts and He doesn't forget them. We believe that we will sing on a Gaither event very soon.
Tags:
2nd generation
,
brenda denney
,
Elaine Robinson
,
gospel music
,
Randy Barnes
,
sgn scoops
,
SGN Scoops Fast Five
,
southern gospel
Posted in
artists
,
christian entertainment
,
Christian interest
|
Comments Off

on SGN Scoops Fast Five: 2nd Generation
Written by Staff on June 30, 2015 – 6:03 am -
Alliance Quartet is a male quartet from Alabama, who are in their tenth year of singing Southern Gospel. Members Dustin Bearden, Bill (BT) Thomas, Jeff Smith and newcomer Keith Wix are well known in the Alabama/Georgia Gospel music scene and loved for their tight harmony and engaging presentation. Their latest CD is entitled I Know What Lies Ahead which includes Gospel favorites like "We Shall See Heaven Someday," "I Wanna Know" and "Working On A Building," as well as newer songs like "Sandals," "When I Start My Day With You," and "Heart Break Ridge and New Hope Road."
Alliance sings part-time and all of the members have full-time jobs, yet they hold down a very busy schedule. The decision to remain part-time and keep their jobs was a choice they made to keep their performance fee as low as possible, allowing them to appear at any venue, regardless of size.
Be sure to follow the links below to find out more about these fine gentlemen!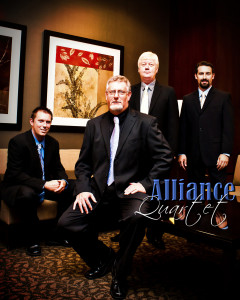 Join Vonda Easley as she peppers The Alliance Quartet with the rapid-fire Fast Five questions…
Vonda: B.T., at what age did you begin singing Gospel music? Who is your favorite Gospel singer ever?
B. T. : I started at the age of thirteen. I led the singing at my home church.
My favorite Gospel singer is Elvis Presley.
Vonda: Dustin, tell us about your experience in Gospel music through the years.
Dustin: In the past, I sang with Providence, New Vision, Narrow Way Quartet, The Florida Boys, and The Blackwood Gospel Quartet. I now sing with Alliance  and I sing tenor.
Vonda: Keith, tell me a funny bus story. Also, what is the group's favorite place to eat?
Keith: This happened on August 5, 2012 on Highway 69 near Oakman, Alabama on the way to a homecoming singing. No sooner had we stopped after the rear differential blew up, then there were two men there who each had a tractor discussing among themselves who would be best to get us up the hill and out of the middle of the road. While they were talking, another man drove up who was pulling a tractor on a trailer behind him, and he joined the discussion with the other two men. A few minutes later, a small Kubota tractor with a mower deck behind it was brought up and the bus was towed about one-quartet mile up a fairly steep grade hooked to the mowing deck. To see that little tractor pulling that Eagle bus was pretty funny.
The bus was down for a year. The first singing we did in 2013 with it was the same place we were going when it broke down the year before.
Favorite eating place while on the road I guess would be Cracker Barrel. I order from their breakfast menu quite a bit.
Vonda: Jeff, since you sing bass, who is your favorite bass singer?
Jeff: Hands down, Rex Nelon. I saw him sing bass several times live.
Vonda: B.T., what are some goals you have for Alliance in the future?
B.T.: It is our desire to see souls saved for the Kingdom of God. That is our main goal. We also would like to sing in some new areas and venues.
Find out more about the Alliance Quartet online and on Facebook.
Be sure to hear Alliance Quartet at the Creekside Gospel Music Convention in November!
For more Fast Five features, keep checking the SGN Scoops mainpage.
Tags:
Aliiance Quartet
,
Bill (BT) Thomas
,
Blackwood Gospel Quartet
,
Dustin Bearden
,
Jeff Smith
,
Keith Wix
,
Narrow Way Quartet
,
New Vision
,
Providence
,
sgn scoops
,
SGN Scoops Fast Five
,
The Florida Boys
,
Vonda Easley
Posted in
announcements
,
artists
,
christian entertainment
,
Christian interest
|
Comments Off

on SGN Scoops Fast Five: The Alliance Quartet
Written by Staff on June 15, 2015 – 9:33 am -
Welcome to SGN Scoops Fast Five! Today we introduce you to Fayth Lore of the Lore Family. The Lore Family is based in Ohio and is a mixed family group, who recently left their church to begin a full-time music ministry. The patriarch of the group, Darren, writes some of their music and they also sing current and classic Southern Gospel music.  They have recently been seen on both the SGN Scoops Top 100 and the Singing News charts with their latest release, "The Only Way Out Is Through."
We offer you a peak inside the life of Fayth and all of The Lore Family with this edition of SGN Scoops Fast Five!
SGN: What is one venue you would like to sing at?
Fayth: As of now, our family has ministered in ten states. We have been privileged to sing on some exciting stages. We were blessed to sing on the National Quartet Convention's Main Stage for the past three years. We have also sung at Dollywood, which was a ton of fun! We will return to Dollywood again this year. But my prayer is that our family will start getting bookings all across this country. We fully believe that God is calling us into a full-time, evangelistic ministry. I loved traveling out West a few years ago. So, I would really enjoy singing at the Fan Festival in Visalia, CA. I have extended family in the Sunshine state that I would like to see!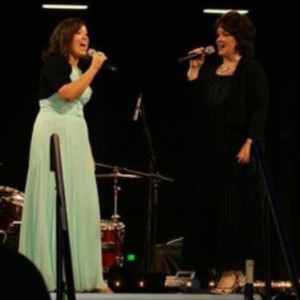 SGN: What is one talent you have that people would be surprised to learn about you?
Fayth: I don't really have a cool talent that would make a person go ooh or ahh! But, I do thoroughly enjoy public speaking. I believe that something that sets our family apart from other artists is that our ministry extends beyond singing. Each member of my family enjoys speaking; whether preaching, teaching or testifying. Also, I love conducting Women Conferences. Sometimes at these conferences I minister alongside my Mom. At other times, I'm a part of a team of workers. My passion is to speak to youth groups and young adults. I love encouraging people in their walk with the Lord.
Tags:
Christian Music
,
Fayth Lore
,
gospel music
,
sgn scoops
,
SGN Scoops Fast Five
,
southern gospel
,
The Lore Family
Posted in
announcements
,
artists
,
christian entertainment
,
Christian interest
,
sgn scoops magazine
,
special feature
,
Uncategorized
|
Comments Off

on SGN Scoops Fast Five with Fayth Lore of the Lore Family
Written by Staff on June 2, 2015 – 9:08 am -
Welcome to another edition of SGN Scoops' Fast Five! Today we welcome The Bridgemans from Cumming, Georgia. A husband and wife duo, The Bridgemans have been singing together for 37 years. They love to sing and share Southern Gospel as well as promote concerts in their area. Travis Bridgeman is on the advisory board of the Southern Gospel Music Association Hall of Fame and Museum in Pigeon Forge, Tennessee.
Travis and Alecia are a busy couple as they also are in full-time ministry at their church where Travis pastors. Their church home is Antioch Bible Church, where you will also find Travis directing the choir and playing the piano. Alecia is not only a singer, pastor's wife, and mother of their son Lee, she is also active in women's ministries and plays the flute.
The Bridgemans have recorded four projects and their latest is entitled Walking, But Not Alone. Be listening on the radio for their latest release, "If Not Today."
SGN: What is your all-time favorite concert event that you have attended?
Travis and Alecia:   The last Southern Gospel concert at the Georgia Mountain Center in 2012. After thirty-two years of promoting Southern Gospel music in Gainesville, Georgia, Hayne Tatum of "T & T Promotions" asked us to sing on his final program.
SGN: Where would you like to retire to?
Travis and Alecia: The north Georgia mountains.
SGN: Who in the Bible would you like to talk to?
Travis: Jesus first, and then Paul
Alecia: Jesus first, and then Mary of Bethany
SGN: What is your favorite TV commercial? 
Travis: Subaru Legacy junior driver.
Alecia: Sears Optical raccoon commercial.
SGN: What is the best thing you learned this week?
Travis: After singing and preaching at a homeless shelter, I was reminded that greater joy comes from giving to those who cannot repay you.
Alecia: From Wednesday night Bible study, Matthew 13:54-57, the people in Jesus' hometown of Nazareth saw too much of His humanity to see His Deity.
Thanks to the Bridgemans for answering our Fast Five today! Be sure to visit their webpage.
Keep watching on SGN Scoops mainpage for more Fast Five!
Tags:
gospel music
,
sgn scoops
,
SGN Scoops Fast Five
,
southern gospel
,
The Bridgemans
Posted in
announcements
,
artists
,
christian entertainment
,
Christian interest
,
sgn scoops magazine
,
special feature
|
Comments Off

on SGN Scoops Fast Five: The Bridgemans
Written by Staff on May 25, 2015 – 1:32 pm -
SGN Scoops welcomes The Wine Family to the stage of Fast Five.
The Wine Family shared their story with us:
Based out of Lake Wales, Florida, The Wine Family's beginnings can be traced to a Valentine's banquet. Fifteen minutes was the given time. Four songs were planned. Three very nervous people stood to sing for the first time. And while that night won't go down in history as being perfect, God had a plan.
Now five years later, the family is still singing and the Lord is blessing. With a busy schedule, four projects recorded, and now several singles to radio, it would be very easy to become sidetracked. This family however, has stayed true to their calling through it all.
The Wine Family's desire has and always will be, to share the love of Christ.
The Wine Family members are:
John Wine – Dad – Baritone – Bass Guitar – Pays the bills. 🙂
Cindy Wine – Mom – Biggest fan and cheerleader. She doesn't sing.
John and Cindy's children:
Joseph Wine – 24 years old – Lead – Sound man – Piano – Computer.
Tabitha Wine – 19 years old – Alto – Piano – Makes us look good.
Isaac Wine – 16 years old – Baritone – Guitar.
Current project: He Still Does.
Current single: "What A Beautiful Day."
SGN: When each of you were little, what did you want to be when you grew up? 
John: Since I was a little boy, I've always been into electronics. If it had wires, I would tear it apart to see how it worked. Back then, the only electronics store was Radio Shack and at any given time, there was a stack of their catalogs next to my bed. My dream as a little fellow was to work for them.
Joseph: Maybe a mechanic or a race car driver. Dad comments that he really liked cars… still does.
Tabitha: Two things I wanted to be: an airplane pilot and a pirate.
Isaac: I'm still fairly young, my dream is to be a studio musician.
SGN: Can you tell us the nicknames of each group member? 
John: Not everyone has a nickname. I call Tabitha "Little Girl" and also "Sissie." At one time Isaac's nickname was "I-Pie."
SGN: Who is your musical inspiration? 
John: There are many: Phillips, Craig and Dean, Larnelle Harris, Steve Green, The Archers, Truth, Michael English, The Martins, Talley Trio, Gaither Vocal Band, The Whisnants, The Perrys and on and on and on.
Joseph: Michael English (vocally)
Tabitha: (Did not answer). Dad comments: "Musically, my daughter is old school. One example of someone she likes is Michael Buble'."
Isaac: Joe Bonamassa and Mateusasato. I'm really into guitars in these days.
SGN: What Gospel song or hymn would you like to have written/recorded? 
John: Once again, there are many. "To God Be The Glory," "I Rest My Case At The Cross," "I'm Gonna Make It," Sinner Saved By Grace," just to name a few.
Joseph: Well I love the hymn "It Is Well," but I'm scared to say I would've liked to write it because of the back story/ history.
Tabitha: "How Great Thou Art."
Isaac: "It Is Well." The story of how it was written is pretty amazing.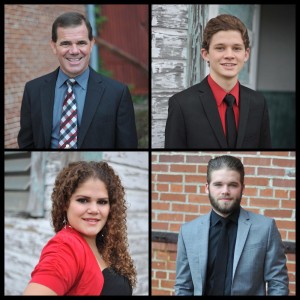 SGN: Who is your favorite Bible person and why? 
John: No way can I give just one. David was an amazing man who seemed to live way before his time. Abraham was called the friend of God… what more needs to be said. And then there is Peter. I relate to him because he was constantly putting his shoe in his mouth. 🙂
Joseph: In these days, it would be David. Because he knew where to turn when he made mistakes. Psalms 51
Tabitha: Jesus, He gave new life and hope.
Isaac: Paul, because he was a cool dude. I also love the story of Ruth.
Thanks so much to the Wine Family for contributing to SGN Scoops' Fast Five. To learn more about the Wine Family, visit their website.
For more Fast Five from SGN Scoops, visit our website every Monday!
Tags:
Fast Five
,
gospel music
,
sgn scoops
,
SGN Scoops Fast Five
,
southern gospel
,
Wine Family
Posted in
artists
,
christian entertainment
,
Christian interest
,
sgn scoops magazine
|
Comments Off

on SGN Scoops Fast Five with The Wine Family
Written by Staff on May 18, 2015 – 12:08 pm -
SGN Scoops welcomes the Troy Burns Family to this edition of Fast Five. We hope you will enjoy getting reacquainted with the lead singer of The Inspirations, and meeting the rest of this fine group.
Troy shared the biography of the group, which we have excerpted for you: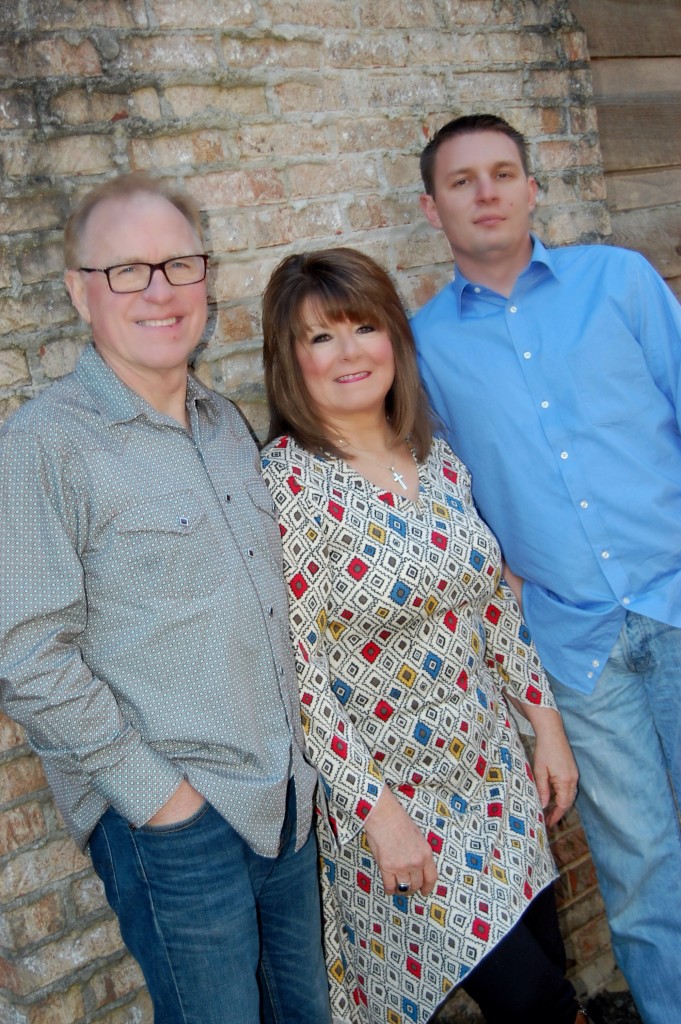 Troy Burns is a founding member and lead singer of The Inspirations for 30 years and is the current lead singer for Archie Watkins and Smoky Mountain Reunion, and The Old Inspirations. When not on the road with Smoky Mountain Reunion, Troy and his family do concerts at churches and other venues. Close family harmony and loving Jesus is what the Troy Burns Family is all about.
Troy has recorded over 700 songs in his career, "Jesus Is Coming Soon," "Touring That City," "Is That Footsteps," and many other great Southern Gospel songs. Troy has performed over 6,000 concerts, won numerous awards and currently sings weekly on Daystar TV worldwide. Tammy has had formal training as a singer and sang for The Sound Of Youth from Robbinsville, North Carolina. Tammy's voice has been compared to Patsy Cline and Barbara Streisand. The newest member of the Troy Burns Family is Roland Kesterson, from Crossville, Tennessee. He sang with his family growing up and then sang for a Bluegrass group called Set Apart for seven years. Roland's smooth harmonies form a third part for Troy Burns Family that is unparalleled in Southern Gospel Music.
Latest Project: It's Only Goodnight
Radio Release: "It's Only Goodnight"
SGN Scoops Fast Five with the Troy Burns Family
SGN: What single accomplishment of your group (or yourself) is the most important to you?
TBF: Group: Our concept video of "I'm Praying For You." It has given people hope around the world.
Troy and Tammy: Our children and grandchildren
SGN: What is in your closet that you just can't throw out?
Tammy: Clothes that do not fit anymore (I think I may get small enough to wear them again).
Troy: Old singing shirts.
SGN: Who is the most under-appreciated person in Gospel music right now that you would like to see get some recognition?
Tammy: Troy Burns (of course I would say that …he's my husband).
Troy: Amber Nelon
SGN: What is your favorite song from Sunday School?
Tammy: "Jesus Loves The Little Children Of The World"
Troy: "Jesus Loves Me"
SGN: What one thing do you make sure you do before a concert?
Tammy: I ask the Lord to create in me a clean heart and a right spirit within me when I pray.
Troy: The group meets and we pray!
Be sure to find out when the Troy Burns Family is coming to your area!
Click to watch video link to the Troy Burns Family video: "I'm Praying For You"
Tags:
Archie Watkins
,
gospel music
,
Inspirations
,
SGN Scoops Digital
,
SGN Scoops Fast Five
,
southern gospel
,
Troy Burns
,
Troy Burns Family
Posted in
announcements
,
christian entertainment
,
Christian interest
,
exclusive report
,
scoops
,
sgn scoops magazine
,
special feature
|
Comments Off

on SGN Scoops Fast Five with the Troy Burns Family!